Commentary: Hugh Hefner left a problematic legacy, but his Playboy Jazz Festival endures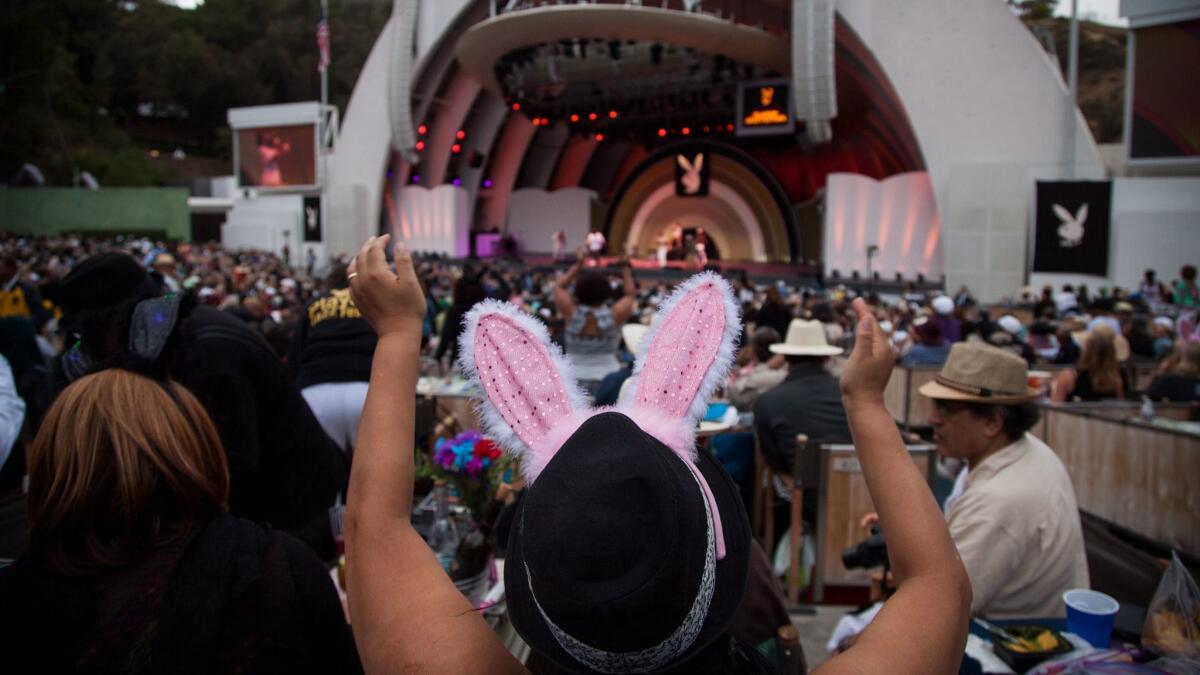 A figure who was as influential as he was polarizing, Hugh Hefner built an empire that was ultimately based on ideas.
Sure, the dominant ones could easily be called lascivious — as well as exploitative, and inarguably retrograde — but his Playboy brand was also built on providing a platform for ideas on liberation, literature, politics and, of course, music.
For Hefner, jazz was a frequent beneficiary of that platform in his pages, clubs and the festival that bears his publication's name. Though an L.A. institution for decades, the Playboy Jazz Festival also has inspired mixed feelings for at times leaning more on crowd-pleasing headliners than a lineup that could fully live up to its name.
But even for purists, Playboy still offered a broad and accommodating platform for artists more commonly seen at the club level. So if you didn't like the sound of something, tilt your head back and have a drink. The next act was only a rotation of the stage away.
As has been often cited in remembrances of Hefner since his death on Wednesday at 91, Miles Davis was the first long-form Playboy Interview published by the magazine in 1962 (he was interviewed by Alex Haley, who would go on to write "Roots"). And as Hefner's empire grew, his Playboy Clubs and resorts became part of the touring circuit for jazz musicians.
When the then-Chicago-based magazine made the jump to syndicated TV with the swinging house party-styled show "Playboy's Penthouse," Hefner made room for Ella Fitzgerald and Nat "King" Cole on his roster of guests, a move that reportedly cost the series sponsors. That show ran from 1959 to 1961, but the same year it was launched, another was born and would ultimately reach much further: the Playboy Jazz Festival.
Staged over three days in the city's Chicago Stadium in celebration of the magazine's fifth anniversary, the lineup reads like a greatest hits collection (something else the magazine went on to produce). In addition to Davis and Fitzgerald, the inaugural festival also featured Sonny Rollins, Louis Armstrong, Dizzy Gillespie, Duke Elllington and Count Basie for a weekend that attracted upwards of 68,000 fans.
In a quote frequently circulated with the festival's future press materials, Los Angeles Times critic Leonard Feather called it "one of the greatest single weekends in the history of jazz."
After making such a big splash, the festival was dormant for another 20 years before making a comeback in Hefner's new Los Angeles home in 1979. Hefner called on George Wein of the storied Newport Jazz Festival to assemble the bill, which included longtime emcee Bill Cosby as well as Herbie Hancock, Chick Corea, Dexter Gordon, Freddie Hubbard and Joni Mitchell, who was backed by Hancock.
Though Hefner's tastes ran pretty traditional by jazz standards — he frequently spoke of his fondness for big band swing and '20s cornetist Bix Beiderbecke — the festival grew to cast a wide net, drawing from the worlds of pop, funk and global music. As the years went on, smooth jazz became one of the festival's favorite subgenres, offering early exposure to a long-haired saxophonist named Kenny G.
But it's that eclecticism that could lead to a perception that Playboy was not a "serious" jazz festival, a source for taking the temperature of the genre of any given year — like Newport. But, to be fair, that was never the festival's goal.
"You can compare the Playboy Jazz Festival to the Los Angeles Lakers: It's showtime!" Wein told The Times in 1988. "The Lakers are the glamour team of basketball; Playboy is the glamour festival of jazz festivals."
"We are running the gamut on this thing," then-festival president Dick Rosenzweig told me in 2009. As Hefner's assistant in 1959, Rosenzweig had helped Playboy assemble that first festival. "If a reviewer, starting with Leonard [Feather], booked the show . . . we'd have, you know, 8,000 people there."
"I think it makes more sense for Playboy to do that, considering the audience," Hancock told me that same year. "Because it's a cross-generational festival. That's the good news."
The festival has changed somewhat since the L.A. Philharmonic took over presenting the lineup in 2014. Bunny ears are still a common sight, but women in bunny outfits far less so. And the bookings, while still freely reaching across genres, are less reliant on the smooth side of things. But that communal, celebratory spirit remains.
I had never gone to the Playboy Jazz Festival until my first time covering it in 2009. True to the festival's nature, Kenny G was on the bill, but so was Wayne Shorter, Davis' "Kind of Blue" drummer Jimmy Cobb and Esperanza Spalding, who two years later would win the Grammy Award for best new artist and later go on to even greater heights musically.
Also on the bill was R&B powerhouse Sharon Jones, who died of pancreatic cancer last November. But on that night she was a force of nature, living up to her billing as "110 pounds of pure soul excitement," regardless of any distraction far-flung Mardi Gras beads, beach balls or the dinner hour may have had in store.
As Jones' set began, Hefner and his trio of "girlfriends" made their entrance, something I was made to understand was a big moment every year. And indeed, much of the crowd and their cameras turned his way. Whatever was happening onstage took a backseat.
Recognizable in his white captain's hat, Hefner and company slowly made their way to their seats. Mid-song and a bundle of perpetual motion, Jones noticed the commotion down front and beamed as she said, without missing a beat, "Mr. Hefner, welcome to my house."
Jones is gone now, as is Hefner. And so is Cosby after retiring from his duties in 2012 — and in the wake of later criminal charges for sexual misconduct, he too carries a deeply problematic legacy. But that house changes its beat every year. And it still stands.
Follow me over here @chrisbarton.
ALSO:
Playboy Jazz Festival maintains a wide-angle appeal
Inventive and influential jazz guitarist John Abercrombie dies at 72
Herbie Hancock and Kamasi Washington cross the generational divide at the Hollywood Bowl
Transcending genre labels, Vijay Iyer leads the Ojai Music Festival toward bold new territory
Get our L.A. Goes Out newsletter, with the week's best events, to help you explore and experience our city.
You may occasionally receive promotional content from the Los Angeles Times.