Review: Transcending genre labels, Vijay Iyer leads the Ojai Music Festival toward bold new territory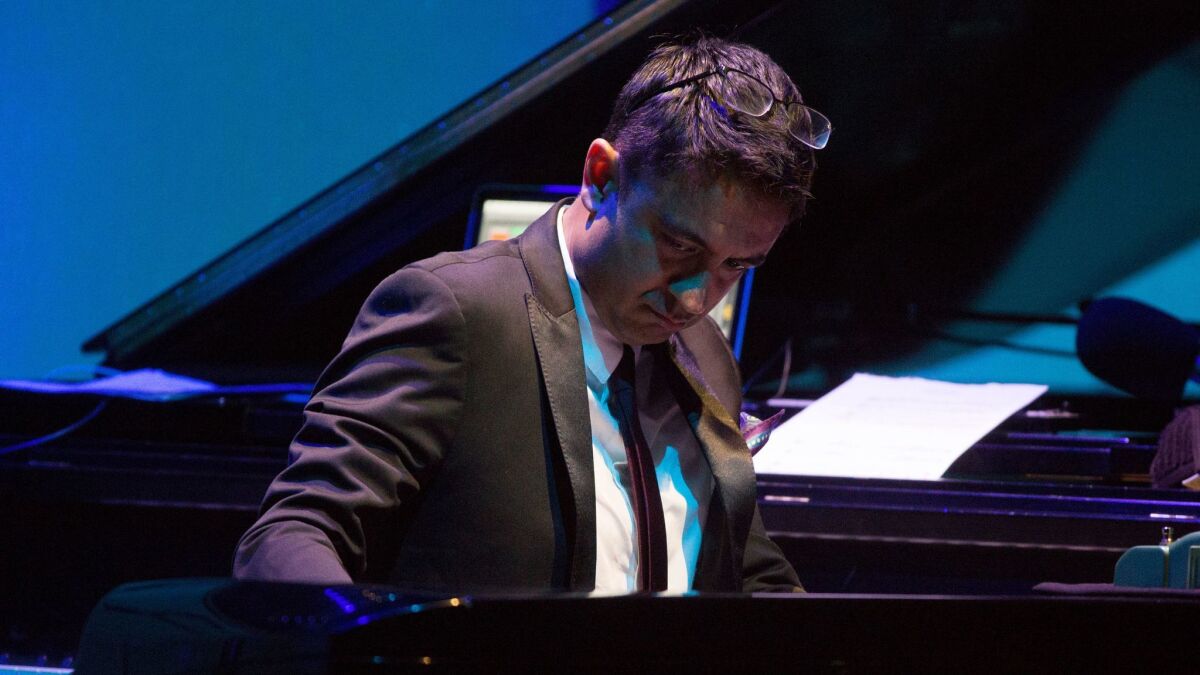 Reporting from Ojai —
Standing near the lip of the stage, Vijay Iyer struggled for the right words as he addressed the Ojai Music Festival crowd Saturday night at a sold-out Libbey Bowl. Reaching for some way to describe his feelings heading into the performance, Iyer settled on "something between a family gathering, a rock concert and that TV show 'This Is Your Life.'"
On the night's bill was a piece called "Radhe Radhe," a tribute to Stravinsky's beloved "Rite of Spring" with music by Iyer, who was set to collaborate with the International Contemporary Ensemble, or ICE, and composer Tyshawn Sorey, the longtime drummer in his trio.
Rhythms bustled, melodies spiraled and the churning string section made time to clap in a sort of punctuation with Sorey's drive of bells and drums. It was an ecstatic piece to match ecstatic visuals by the late filmmaker Prashant Bhargava of the Hindu rites of Holi, Iyer's restless piano circling the piece's framework from the rear of the orchestra.
The set was just one of many shifts in direction for Iyer and for the Ojai festival as a whole. Though it proudly boasts a long-held tradition of reinvention that rises from each year featuring a new music director from a different discipline, the festival has been most associated with classical music, albeit while allowing for the occasional nod toward jazz (a 1962 appearance by Eric Dolphy has been a frequent touchstone).
This year offered something of a reverse, a move that inspired The Times to offer impressions of the festival from both the classical and jazz perspective.
And while the four-day festival undoubtedly bore Iyer's unique stamp as a musician, there was an increasingly clear sense that any temptation to categorize that impression — a sort of "Ojai goes jazz" shorthand — felt like a diminishment and a betrayal of the broad, borderless and ultimately communal view of music that Iyer aimed to convey.
Certainly, if you went looking for jazz at Ojai this weekend, you would find it. Quotations from Thelonious Monk, John Coltrane and Charles Mingus topped a number of performance descriptions inside the festival program, and the closing concert from Iyer's sextet — a rambunctious, furiously funky set that the pianist introduced as "his easy gig" with a horn section of Mark Shim, Steve Lehman and Graham Haynes — offered the sort of head-bobbing drive and invention that has landed Iyer on multiple best-of lists over the years and, in part, into this gig too.
Conductor Steven Schick acknowledges Vijay Iyer as he hugs violinist Jennifer Koh after performance of Iyer's "Trouble" at the Ojai Music Festival's opening night June 8, 2017.
(Brian van der Brug / Los Angeles Times)
Violinist Jennifer Koh takes the stage for performance as soloist for Vijay Iyer's "Trouble"' at the Ojai Music Festival.
(Brian van der Brug / Los Angeles Times)
Violinist Jennifer Koh during performance of Vijay Iyer's "Trouble."
(Brian van der Brug / Los Angeles Times)
Conductor Steven Schick at the Ojai Music Festival.
(Brian van der Brug / Los Angeles Times)
Tyshawn Sorey on drums at the Ojai Music Festival.
(Brian van der Brug / Los Angeles Times)
Wadada Leo Smith on trumpet at the Ojai Music Festival.
(Brian van der Brug / Los Angeles Times)
Vijay Iyer on a Rhodes electric piano playing "A Cosmic Rhythm With Each Stroke" at the Ojai Music Festival.
(Brian van der Brug / Los Angeles Times)
But his music and the festival at large was much harder to pin down and gratefully struck a considerable blow against the genre labels that Iyer and so many artists before him have vigorously resisted.
Where, for instance, would you file Saturday afternoon's "Conduction" performance? Featuring ICE in a continuation of the work of the late Butch Morris, the piece found Sorey conducting the ensemble's improvisations with a variety gestures. A flick of the wrist spurred a few clanging of bells and a sweep of the arm drew ideas further forward. Other gestures — four pointers jutting from Sorey's hand, or a hand-held whiteboard bearing some directive to the musicians on the bandstand — were more inscrutable.
Claire Chase boldly leaned into multiple ventures on flute, and Rebekah Heller conjured the spirit of Albert Ayler on bassoon. The music, which featured all manner of clicking valves and unexpected sound across the stage, was stormy and raw and also ventured somewhere well beyond words.
Of a similar spirit, an early morning free concert between three lions of Chicago's AACM in Muhal Richard Abrams, Roscoe Mitchell and George Lewis displayed a mastery of open improvisation. Mitchell, who has a double-album "Bells for the South Side" due on ECM this summer, shifted between (or shared) two saxophones as Lewis, seated behind a table and alternating between trombone and laptop, shadowed him electronically or otherwise over a spacious, ever-shifting piece. Abrams, his head low over the piano, conjured dense, fog-like rumbles that were briefly recast by Lewis with a bassy, trance-like pulse that continued to shift until it dissolved, another moment that arrived, was addressed and was gone.
Late the night before, Iyer shifted into chamber music with the Brentano Quartet for a stormy piece dedicated to the late poet-activist Amiri Baraka, but it was framed by two startling vocal contributions. Strikingly bathed in a stark spotlight, baritone Davóne Tines summoned a kaleidoscope of emotions as he stretched and carved into the familiar form of "Amazing Grace," and Courtney Bryan's much-anticipated "Yet Unheard" summoned the spirit of the late Sandra Bland through lead vocalist Helga Davis. As it closed, the piece was received with a moment of haunted silence that had been unprompted; there was simply no other way to respond.
Sunday also brought together another anticipated collaboration in Iyer with longtime friend and alto saxophonist Rudresh Mahanthappa along with tabla great Zakir Hussain and vocalist Aruna Sairam.
Iyer and Mahanthappa, both South Asian Americans, have a long history of incorporating their shared background into their music (while, as Iyer put it in the program notes, "negotiating the pitfalls of pigeonholing and self-exoticization"), and here the group gracefully navigated territory beyond labels. Seated on a drum riser next to Hussain with her arms twisting before her with every extended syllable, Sairam's voice arced amid the rustle of the trees to open "City of Sand," an Iyer piece that as his piano bounded to the forefront seamlessly twisted into a sort of blues.
As the set went on, Carnatic ragas of Sairam's South Indian tradition merged with the Hindustani classical tradition of Hussain. Improvisation and invention from two continents staked out new ground somewhere in between. Was it jazz? Maybe. But as a whole, this year's gathering in Ojai thrived under its long-held, suitably broad umbrella of "music festival," and an excellent, engrossing one at that. Ultimately, those are the only labels that matter.
See the most-read stories in Entertainment this hour »
Barton writes about jazz for The Times.
Follow me over here @chrisbarton.
ALSO:
Review: Vijay Iyer jazzes up night one of the Ojai Music Festival
Get our L.A. Goes Out newsletter, with the week's best events, to help you explore and experience our city.
You may occasionally receive promotional content from the Los Angeles Times.