Exclusive: KCRW mainstay Jason Bentley to step down as 'Morning Becomes Eclectic' host
For the last decade, fans of indie rock, left-of-center electronic music and experimental pop have soundtracked their mornings with DJ Jason Bentley.
That ritual is coming to an end. On Thursday morning, the longtime host of KCRW-FM's flagship show "Morning Becomes Eclectic" announced his retirement from both his daily three-hour 9 a.m. slot and as the Santa Monica-based public radio station's music director.
Bentley will host his final show on Aug. 30, he said during Thursday's broadcast. He'll continue spinning electronic dance music on his Saturday night KCRW show "Metropolis."
"I just feel like it's time," Bentley told The Times on Wednesday, adding that the position "requires 150% from somebody who is really able to take on that responsibility."
For the station's devotees, the news won't come as a shock. Bentley, 48, told The Times in March that his days running the music department and hosting "Morning Becomes Eclectic" were numbered.
From its new $38-million home, can radio tastemaker KCRW adapt to a podcast world? »
The DJ, who has spun continuously on Los Angeles airwaves since the birth of the Southern California rave scene nearly three decades ago, celebrated his 10th anniversary in the dual role late last year. He said then that he considered himself to be "at the tail end" of his tenure.
Along with news of Bentley's retirement, the station announced that it will commence a national search for the next host of "Morning Becomes Eclectic." In a first, the station will also undertake a separate search for a new music director. Longtime on-air personality and music supervisor Anne Litt will serve as interim music director.
KCRW President Jennifer Ferro said that Bentley's job is too much for one person, so she plans to create two different positions.
"It's going to be intense," Ferro said of the pending search. "There's a lot of ways to go, and every one of them has a positive and a negative." Among the options: moving a KCRW show host from the current roster, which includes DJs Garth Trinidad, Liza Richardson, Raul Campos, Mario Cotto, Eric J. Lawrence, Anthony Valadez and others, into the "Morning Becomes Eclectic" position.
The switch comes a few months after the station departed its longtime broadcast home in the basement of Santa Monica College's campus cafeteria for a new $38-million compound called the KCRW Media Center.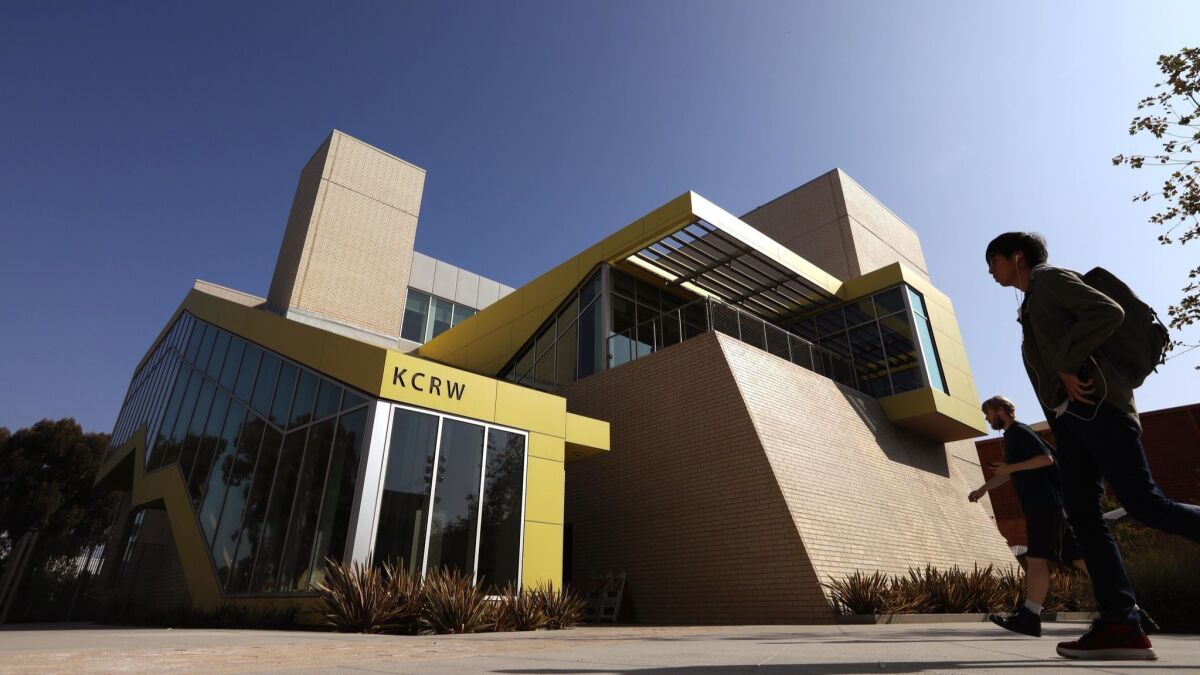 The move into the facility has offered new opportunities for the station to further expand its audience in ways not possible when it first made its name as an engine of artistic discovery.
Citing podcasts such as KCRW's music-focused "Lost Notes," Ferro noted "the countless other ways that you can touch people with music without them listening to your radio show." The central question: "What form does that take?"
KCRW reaches an average of 540,000 people per week and has 45,000 members, according to its 2018 audit. That's 10,000 fewer members than in its 2007 audit, but Ferro told The Times in March that the decline didn't reflect a decrease in money raised by the station. "If you look at actual dollars in our budget," she noted, "our revenue from individuals has grown by more than 15%."
The competition for listeners has expanded in many directions. The "Morning Becomes Eclectic" brand is locally and nationally known, but it's chasing the same ears as the increasingly sophisticated algorithm-driven streaming platforms Spotify, Apple Music and Pandora, and the satellite radio company SiriusXM.
Bentley is the fourth regular host of the long-running morning show. "Eclectic's" first permanent DJ was Tom Schnabel, who joined the show in 1979. Chris Douridas succeeded him in 1990 and helped transform the show into a national brand. After Douridas' departure eight years later, British expat Nic Harcourt, whose arrival from a Woodstock, N.Y., radio station was the result of a national search, carried on until just before Bentley's reign began.
When Bentley got the job, he went in hoping to follow his predecessors' example and do it for about a decade: "After I passed that, I really just needed to bite the bullet" and schedule his departure date, he said.
He helped expose a lot of talent along the way. Among the most notable moments during his time at "Morning Becomes Eclectic," which has long featured in-studio performances by rising and established artists, were buzz-generating early sets by pop singer Adele, singer-rapper-producer Anderson .Paak, singer-songwriter Courtney Barnett, Grammy-winning country artist Brandi Carlile and country rock band Dawes.
Bentley nudged the station toward electronic dance music just as the genre was experiencing a resurgence in the United States. Though the shift wasn't drastic, Bentley didn't hide the role that his formative years playing to dance floors had on his aesthetic.
A decade is a long time in the contemporary media landscape, said Mark Ramsey, a San Diego-based radio and podcast consultant who tracks the Southern California market. While listeners now access countless global platforms and stations, Ramsey said "there's something very L.A. and very Santa Monica about 'Morning Becomes Eclectic.' It's not easily duplicated."
Ramsey added that some listeners complained when Bentley took over for Harcourt, but that Bentley drew a new generation of fans in the process. "The audience recognizes that nobody stays in one place forever. That's life," he said. "At the movie theater we've got a new 'Spiderman,' we got new 'Men in Black' and now we've got a new host of 'Morning Becomes Eclectic.'"
Historically, the program's host has been the face of KCRW. With his camera-friendly appearance and calm, reserved on-air demeanor, Bentley thrived as that ambassador. He has been a frequent DJ at the annual Coachella Valley Music and Arts Festival, and as a music supervisor he has worked on films including "The Matrix" trilogy and "Tron: Legacy."
Behind the scenes, Bentley has also guided the station's sound. Though KCRW's programmers have freedom to define their own playlists, Bentley has asked that most — Henry Rollins being the notable exception — also play some selections from recently released records of his choosing. Bentley has picked on-air talent, consulted on KCRW's long-running World Festival at the Hollywood Bowl and helped drive the station's "Summer Nights" concert series.
But running a music department and hosting an influential daily program require different skill sets, Ferro said. "It's very tough to find one person who can excel at both. And who has the time, honestly, to do that?" Ferro said she expects the search for a permanent "Morning Becomes Eclectic" host and a new music director to take at least six months.
On Thursday as the show was beginning, Bentley posted a note to his Instagram page that acknowledged the news. Writing that he will be "forever grateful to KCRW for the dream job of a lifetime," he added that for the past 27 years he's been producing 10 to 17 hours of music programming each week. His weekdays are in for a big change, he said. "It's the ephemeral connection we have through playing records on the radio every day that I will miss the most," he wrote.
On Wednesday, Bentley said he didn't really have a master plan for his post-KCRW life. Right now, he said, "I'm just very focused on trying to stick the landing at the close of a wonderful career."
For tips, records, snapshots and stories on Los Angeles music culture, follow Randall Roberts on Twitter and Instagram: @liledit. Email: randall.roberts@latimes.com.
---
Get our L.A. Goes Out newsletter, with the week's best events, to help you explore and experience our city.
You may occasionally receive promotional content from the Los Angeles Times.