KROQ-FM's Kevin & Bean stunned at radio Hall of Fame honor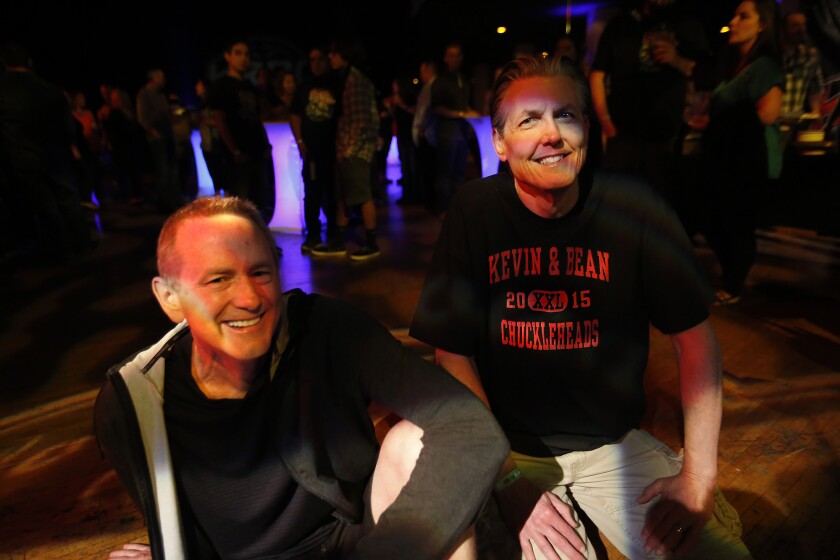 KROQ-FM's Kevin & Bean have a confession to make.
The long-running morning-show team composed of Kevin Ryder and Gene "Bean" Baxter didn't even know there was such a thing as a Hall of Fame for radio personalities — until they got a call a couple of months ago letting them know they were being inducted during the National Assn. of Broadcasters' annual convention in Las Vegas on Tuesday.
When station director Kevin Weatherly recently told them to report to his office at 10 a.m., "we thought maybe he was going to give us a check and say, 'Thanks, it's been nice,' " recalled Baxter, speaking of their 25-year run at the station that helped rewrite a lot of the rules of radio when it emerged as an L.A. powerhouse in the 1980s.
Even then, Ryder said, "For the longest time we were both thinking it was a prank by Jimmy Kimmel. I mean, in what world?
"The Hall of Fame is for people like Vin Scully, Larry King and Don Imus, not us," Ryder said during an interview at KROQ's studio in Los Angeles.
NAB Show officials, however, beg to differ.
"The 'Kevin & Bean Show' is a true radio success story," association exec John David said. "The morning show has made a huge impact on Los Angeles with its mix of music, entertainment and humor."
Although "The Kevin & Bean Show" debuted on KROQ (106.7) in 1989, which makes it virtually an institution in the ever-shifting landscape of Los Angeles radio, it began as a fluke.
Ryder and Baxter had been working at the same Phoenix radio station — KZZP-FM — but on separate shows. They'd worked together briefly on a loosely structured "Saturday Night Party Patrol" broadcast and felt an easy rapport, so they decided to put an audition tape together of what a team radio show might sound like.
"We asked our station manager if he wanted to hear it, and he said no," Ryder said. Not long after that, Baxter took another job in San Francisco. When they asked his new station manager to check out their audition tape, they got the same response.
Only after a mutual friend suggested their tape to KROQ program director Andy Schuon did they get the break that led to a career-changing jump to Southern California radio.
"We kept telling everyone, 'You understand that we've never done a morning show, right? That we have no idea what we're doing?' " recalled Baxter via a speaker phone on a desk in front of Ryder. Since 1999 Baxter has literally phoned in his half of the show to KROQ's studios since moving his family to Seattle.
They were hired by KROQ in November 1989 during the ascendancy of the "Mark & Brian" morning show at crosstown rival KLOS-FM (95.5), and Ryder notes that initially the station's ratings dropped noticeably. They immediately started getting hate mail from KROQ music fans who weren't accustomed to — or particularly interested in — being bombarded with talkative radio personalities in the morning.
"That's when we decided to embrace the hatred," Ryder said. "We started reading the letters on the air," a move that started to endear them to listeners as underdogs in the morning radio wars.
Still, it took about a year before the station's ratings edged back up. Through the '90s their show gradually moved into the Top 10, where it has remained for most of their ride.
"The Kevin & Bean Morning Show" has weathered the onslaught of Howard Stern, the birth of satellite radio and shifting tastes in music from the alternative rock that dominated pop music in the early '90s to the dance music, R&B and hip-hop that rule the roost today.
"I don't think we study things and try to figure out how to adapt," Ryder said. "We both love music and pop culture, and so we just keep up with what's happening."
One of the biggest bumps in the road they've encountered cropped up in February, when longtime traffic reporter Lisa May was abruptly fired, then quickly replaced by Allie Mac Kay.
Though Ryder and Baxter admit it was a team decision to part ways with May, they take issue with the way the situation was handled by management after all her years with the show. "It didn't go the way we would have hoped, and she was treated badly, and Allie's been treated badly," he said. "But it was taken out of our hands, because Lisa never was an employee of KROQ." (May worked for an organization called Total Traffic, which provided the station with reports.)
May went public complaining of her dismissal and treatment, and the show's listeners pummeled station management with complaints. In a post on KROQ's web site, Ryder told listeners "We love Lisa May. Always will."
Off mike, Baxter and Ryder banter with each other the same way they do every day on the air, but there's an air of mutual respect between the cutting comments. Ryder praises Baxter for being able to keep the chemistry alive doing his half of the show by long distance, "something I don't think I'd ever be able to do."
The show's topics remain wide-ranging, encompassing music, sports and politics. Right-hand man Ralph Garman — Ryder calls him the show's comedy "genius" — brings absurdist humor to sketches, such as an interview they conducted one day last week with a racehorse, as voiced by Garman.
They still host regular "Breakfast With…" series of morning interviews with various musicians ("Getting musicians in here before noon isn't their favorite thing," Ryder noted), and they still show up at station promotions periodically like the KROQ Weenie Roast in the summer and the recent April Foolishness comedy fest at the Shrine Auditorium.
The biggest challenge a quarter-century in?
Ryder doesn't even have to pause to think: "Tomorrow morning's show," Ryder said. "We still never know exactly how things are going to go. People ask what I think it means to have been on for 25 years. Honestly, I never stop to think about it.
"It's always about what are we going to do tomorrow?"
---
Your essential guide to the arts in L.A.
Get Carolina A. Miranda's weekly newsletter for what's happening, plus openings, critics' picks and more.
You may occasionally receive promotional content from the Los Angeles Times.