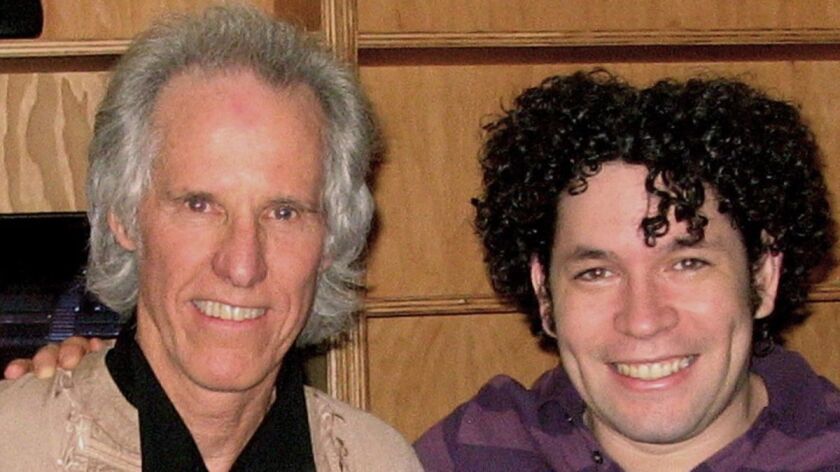 Los Angeles Philharmonic music director Gustavo Dudamel is putting a Golden State spin on the orchestra's 100th season opening concert and gala Thursday at Walt Disney Concert Hall, inviting John Densmore, the original drummer for the Doors, to join in a performance of that band's song "L.A. Woman" during the concert themed "California Soul."
The evening also will include music by avant-garde rocker Frank Zappa, contemporary composer John Adams, film composer Jerry Goldsmith and a newly commissioned piece from composer Julia Adolphe. The orchestra will be conducted by Dudamel, with stage direction by Elkhanah Pulitzer.

Other guests will include Coldplay's Chris Martin, singer-songwriter Corinne Bailey Rae, electric violinist Tracy Silverman and the Los Angeles Master Chorale.
"When I first saw him, before he was hired [by the L.A. Phil], I knew this guy was special," said Densmore, 73. "I'm a classical music buff, and what is so magic about him is that he is completely open to all music. You know how tight the classical music world can be. But he was very into Led Zeppelin, jazz, salsa music — he lets everything inform him.
"One time, after he had conducted a Mahler piece, I went backstage, and he said, 'Juan, Juan — Mahler is heavy metal!' Then he sings the melody, and it did sound very much like an AC/DC bass line. He uses whatever music informs him — that's part of his brilliance."
Densmore said he is working closely with arranger-orchestrator David Campbell on the orchestration the L.A. Phil will use for "L.A. Woman," which Densmore co-wrote with lead singer Jim Morrison, keyboardist Ray Manzarek and guitarist Robby Krieger.
Other works include Zappa's "G Spot Tornado," composed for electronic synthesizer, Goldsmith's "Love Theme From 'Chinatown'," two pieces by Adams ("Harmonium: 'Wild Nights'" and "Dharma at Big Sur: Part 2, Sri Moonshine") and the world premiere of Adolphe's "Underneath the Sheen."
Thursday's 7 p.m. concert will be followed by a post-show performance by electronica/lounge-music band Pink Martini and recordings spun by KCRW-FM (89.9) music director, "Morning Becomes Eclectic" host and deejay Jason Bentley.
Follow @RandyLewis2 on Twitter.com
For Classic Rock coverage, join us on Facebook
---