Reporter's Notebook: Lady Gaga, Gwen Stefani and when pop music works in Las Vegas
Reporting from Las Vegas, Nev. —
Las Vegas entertainment has long been an entity unto itself — a steadily growing niche among the world of live entertainment.
Historically, the Las Vegas production has been built on spectacle and diversion — shows created to keep high-rolling gamblers entertained when they take a break from the tables.

For the record:
11:15 a.m. Jan. 22, 2019An earlier version of this posted listed the Park Theater's capacity as 6,700. The theater's configuration for Lady Gaga Engima has a maximum capacity of 5,511.
And while the likes of Frank Sinatra, Dean Martin and Sammy Davis Jr. once epitomized the pinnacle of success in Sin City, for artists of the rock era a Vegas booking once meant your career was effectively over.
That's changed. Witness high-profile Las Vegas shows from Lady Gaga and Gwen Stefani, which follow such heavyweights as Celine Dion, Garth Brooks, Britney Spears and Santana. "Lady Gaga Enigma," which recently opened at the Park MGM (formerly the Monte Carlo) and Stefani's "Just A Girl," running across the street at Planet Hollywood, highlight two of pop's boldest female artists.
The challenge today: to bring a sense of artistic integrity and authenticity to a town that long has represented the most superficial of entertainment settings.
Gaga's "Enigma," for all its high-tech, sci-fi imagery, largely appears steeped in old-school Vegas. Stefani's show, however, opts to go a more personal route. Gaga's performance opens with grandeur, with the artist suspended from the rafters on wires in the resort hotel's 5,511-capacity Park Theater.
She slowly glides down toward the generous stage with a spotlight on her glittering bodysuit as she not only sings her hit "Just Dance," but also accompanies herself on the keytar, a guitar-wannabe that looks awkward on just about everyone.
The show hopscotches from one number to the next with little connective thought. Intentionally or not, it possesses a certain ADHD-like disjointed quality.
It does, however, boast lots of flashy effects, including the projected image of an androgynous alien avatar on the screen behind the stage who periodically reminds Gaga to stay true to herself. That's something anyone might understandably forget, even momentarily, while riding atop a chrome behemoth robot claw creature that's wheeled out midway through the show.
She's also attacked by aliens wielding giant drill-like weapons. First, they aim for her temples, and then direct themselves toward less cerebral areas of her anatomy.
It's imaginative, to be sure, and impressively designed and constructed, but to what metaphorical end? For those not steeped in the language of Gaga, the primary message appears to be to avoid wormholes while rocketing through space.
Meanwhile, Stefani's show, which resumed performances Dec. 27 after premiering last spring, opens with a number that's totally bananas. Literally.
In bringing her 2005 No. 1 hit "Hollaback Girl" to life on stage, she goes Old Hollywood rather than Old Vegas, making her entrance down a giant stairway that would do Busby Berkeley proud. Her dancers appear carrying giant bananas for the song's lyric hook: "This [stuff] is bananas!"
There's an equal amount of colorful costuming, elaborate set design, demanding choreography and musical expertise on display in Stefani's show, but there's also a more personal vision and coherence that's largely absent from Gaga's.
"Just a Girl" offers a nominal journey through the life of Stefani, who indeed was just a girl when she came to fame in the 1980s with O.C.-based ska punk band No Doubt. After her brother Eric left the group to pursue a career as an animation artist on "The Simpsons," the songwriting mantle fell to his younger sis, who proved herself more than up to the challenge.
The show tracks her growth from a wide-eyed kid from Anaheim who grew up loving '30s movie musicals, as well as '60s and '70s rock, reggae, ska and punk music. It tracks her emergence as a confident frontwoman and first-rate songwriter who could crank out hits for herself and her bandmates, such as "Don't Speak," "Hey Baby," "Underneath It All" and the song that gives her show its title.
Film clips between production numbers show Stefani as a cute but awkward kid, and she points out that the clothing design and sewing gene runs deep in her family tree, which helps make the costume changes feel personal rather than perfunctory.
Likewise, the presence of several musicians who've been with Stefani for years, both with No Doubt and during her solo career stints, speaks to the family affair quality of most everything she's done.
She also touches on the hardships she's faced, albeit obliquely, yet fans know that the pain she references includes the high-profile breakup of her marriage to Bush singer Gavin Rossdale. Additionally, the show's country-flavored denouement reflects her personal and career rejuvenation and her subsequent relationship with country star and wiseguy Blake Shelton.
There's a depth of feeling and sense of honesty that shine through "Just a Girl," which lend it an individualized narrative from start to finish. In contrast, it was only during Gaga's climactic performance of "Shallow," her showstopping ballad from "A Star Is Born," in which her Vegas bid felt handcrafted and genuinely heartfelt.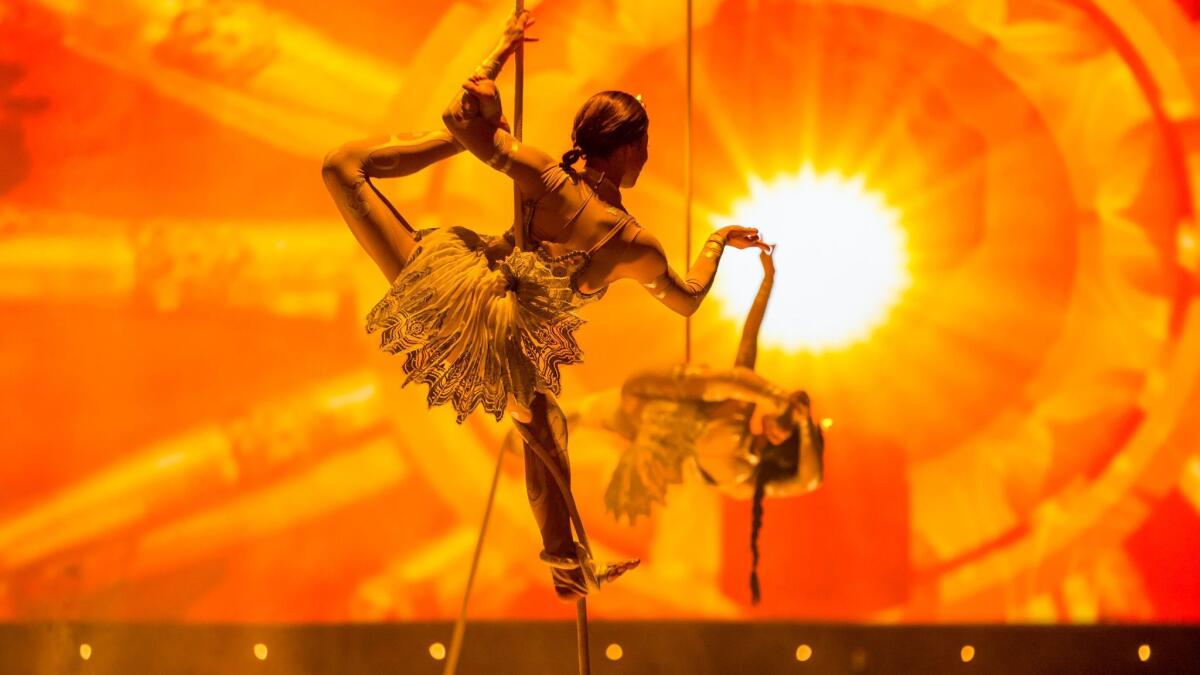 Yes, Glitz remains king in Las Vegas, but a few shows have succeeded in delivering more to discerning pop music lovers: Cirque du Soleil's Beatles-centric show "Love" standing at the top of the heap — an achievement the troupe failed to repeat with its disappointing Elvis Presley and Michael Jackson tributes.
"Love," for instance, brought the Beatles to Las Vegas without a hint of schlock, a mission that was apparently impossible with Elvis given that his association with Sin City virtually defined the contemporary notion of pop-culture kitsch. "Viva Elvis" skewed more toward fans who were captivated by the cultural excess of Graceland than those most drawn to the startling power of Presley's best music.
A few others have pulled off something special in Vegas, including in recent years Brooks' refreshingly intimate and low-tech solo residency at the Wynn Encore Theatre from 2009 to early 2014 and Bette Midler's raucous "The Showgirl Must Go On" residency at the Colosseum at Caesars Palace from 2008 to 2010.
Gaga's stripped-down companion show "Jazz & Piano," which promises to be a more intimate affair, may yet offer more of a bona fide emotional impact. To survive, after all, in a town driven by excess, one must find ways to resist some of its overly lavish impulses.
Follow @RandyLewis2 on Twitter.com
For Classic Rock coverage, join us on Facebook
Get our L.A. Goes Out newsletter, with the week's best events, to help you explore and experience our city.
You may occasionally receive promotional content from the Los Angeles Times.