Lady Gaga's Las Vegas show 'Enigma' is perfectly suited to the excess of Las Vegas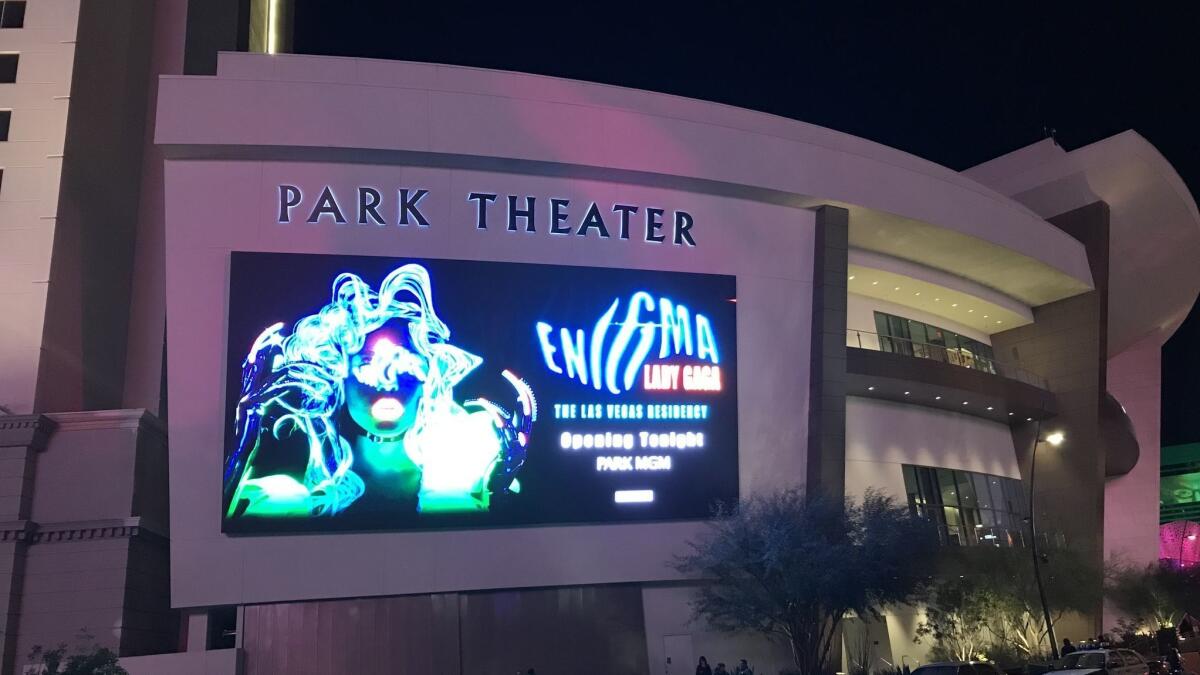 Lady Gaga's new show, "Enigma," which opened Friday at the rebooted Park MGM hotel's Park Theater, is perfectly attenuated to its host city of Las Vegas: dazzling to the eye, assaultive to most of the rest of the senses and, in the end, arguably more than a bit shallow.
"Enigma," of course, is only half the story of Gaga's arrival in Sin City: She's scheduled to give rein to her more sensitive side with "Lady Gaga Jazz & Piano," which premieres Jan. 20 and which she'll alternate with "Enigma" over the course of what's been announced as a two-year engagement.
It's all part of a $550-million face-lift and rebranding for the former Monte Carlo hotel and resort, one that targets millennials as its primary audience.
A full report will follow, but suffice to say Lady Gaga's "Enigma" is generous by Vegas showroom standards, running just under two hours, which may help offset the sting of ticket prices that average $400 to $500 face value and which are going on the resale market for upward of $9,000.
From the moment she appeared Friday, suspended in a harness high above the 6,200-seat theater and gliding toward the stage while playing her strap-mounted hand-held electronic keyboard, until the finale with her inaugural live performance of "Shallow," the breakout hit from "A Star is Born," Gaga was in full pop star mode.
The show's main conceit is her interaction with an animated avatar projected on the massive video screen behind the stage. The avatar is Enigma and, without giving everything about the show away, let's just say that Enigma serves as something of a spirit guide, aiding Gaga in an earnest quest to discover her "true" self — while dodging menacing alien creatures, laser lights and fireworks at nearly every turn.
The true-to-oneself mantra has long been central to her work, and it explains the deep bond she's forged with fans who in one way or another feel misunderstood, marginalized, alienated or mistreated. That's a significant population today of young people, women, people of color and members of the LGBTQ community whose lives play out to a large extent in an online world where bullying and shaming are amplified.
Several moments in the show honor that connection, and Gaga stresses the importance of friends—in her case, they're in the form of the energetic dancers and musicians who accompany her onstage. But they're also represented in the fans themselves, without whom she said more than once, "I would be nothing."
The hits are here — "Poker Face," "The Fame," "Telephone," "Paparazzi," "The Edge of Glory," "Born This Way" and others — but as a piece of theater, Lady Gaga's "Enigma" is fairly disjointed, despite the attempted framing device of Gaga's adventure through a series of life simulations courtesy of Enigma.
The choreography in which she and her thoroughly committed dancers engage in offers little in the way of physical expression or amplification of her songs' lyrics or music, but it does provide plenty of thrilling kinetic energy. Still, some of the eye-popping set pieces are goofy at best and head-scratching at worst, such as the giant chrome robotic claw creature she ostensibly pilots in one sequence.
Perhaps she's reserving a better sense of through-line and theatrical coherence for "Lady Gaga Jazz & Piano."
Get our L.A. Goes Out newsletter, with the week's best events, to help you explore and experience our city.
You may occasionally receive promotional content from the Los Angeles Times.