Festival attacked by Las Vegas shooter had been success story in creating outdoor music destination
Before it became the site of Sunday's deadly mass shooting, the Route 91 Harvest festival was one of a handful of concert blowouts aiming to burnish the Las Vegas Strip's reputation as a live-music destination.
Jason Aldean, Eric Church and Sam Hunt were among the major country music stars performing at the sold-out, three-day festival at Las Vegas Village. Last month, the iHeartRadio Music Festival used the same outdoor space for its Daytime Village performances.
The 15-acre plot near Luxor and Mandalay Bay is one of two open-air venues on the Strip owned by MGM Resorts International.
For years, owners of the Village and the much larger Las Vegas Festival Grounds have been looking to turn the venues into preeminent destinations for music fans in a city boasting a seemingly unlimited supply of entertainment options.
Electric Daisy Carnival may be the king of Vegas festivals — it drew an estimated 400,000 EDM fans this year — but the event, which moved from Los Angeles in 2011, is anchored miles away from the glitz of the tourist-driven Strip.
Route 91 was one of the events trying to draw music fans closer to the Strip. The Live Nation-promoted concert did so by breaking ground as the first festival in Vegas strictly dedicated to country music.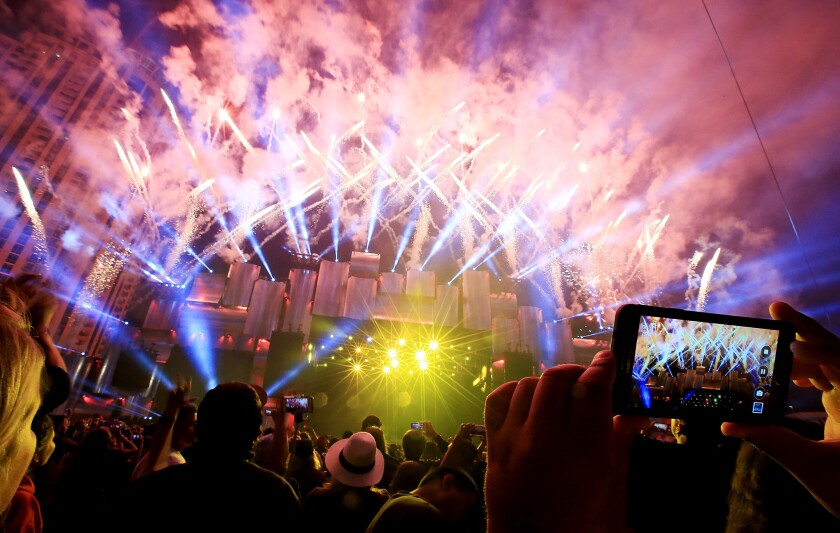 Launched in 2014, Route 91 was a success out of the gate and served as an example of what could be pulled off on the Strip. In its inaugural year, when Aldean, Blake Shelton and Miranda Lambert headlined, the event lured 30,000 fans over three days to a parking lot that had been converted into a festival space. Last year, Route 91 attracted 25,000 guests per day.
Aside from the main stage, the festival promoted emerging acts on its Next From Nashville stage. It also featured line dancing and, because it's Vegas, nightclub-like lounges.
Route 91's success stands in contrast to MGM's attempt to up the festival ante with the massive, multi-genre Rock in Rio USA at the 40-acre Las Vegas Festival Grounds in 2015. Taylor Swift, Bruno Mars and No Doubt headlined the inaugural, two-weekend event.
The Las Vegas Festival Grounds, like the smaller Las Vegas Village, once housed vehicles: It served as a recreational vehicle campground for Circus Circus before MGM decided to diversify its entertainment offerings.
Anchoring a festival on the Strip came with a number of selling points that executives proudly touted: No port-a-potties, no camping in brutal heat and no snarled traffic in and out of festival grounds considering the tens of thousands of hotel rooms overlooking the Strip.
"This is not Coachella," Chris Baldizan, senior vice president of entertainment for MGM Resorts International, said ahead of Rock in Rio's 2015 launch. "People can have their usual Vegas stay … and then walk or take a shuttle to this great music festival and head back to the Strip, which will still be going on." He added that the festival grounds were "within walking distance of 80,000 hotel rooms."
Even so, Rock in Rio reported losses of up to $28 million and attendance figures well below the anticipated 328,000.
"Going to a new country, especially one as important as the U.S., we were afraid people might not like it," festival founder Roberto Medina told The Times during the inaugural weekend.
After Rock in Rio USA, the Festival Grounds have been mostly unused — with the exception of the Academy of Country Music's Party for a Cause Festival in April 2016. Recently, there was chatter that Route 91 would relocate to the larger property.
MGM executives were for it, arguing it would provide more growth, but promoters had a different idea: Stay put and set a manageable capacity of 25,000 guests.
"The 'look' of that site … is one of the things that makes Route 91 so great," Live Nation executive Brian O'Connell told the Las Vegas Review-Journal last year amid rumors of an impending move. "The casino's bright lights and that real Vegas look. You go north, you lose a little of that, and we don't want to lose Vegas. That's why we are here."
Being able to manage crowd sizes was crucial to Vegas' Life Is Beautiful festival, which continues to grow each year.
Now in its fifth year, the festival is spread over 18 blocks in downtown Las Vegas and merges music, food, art and creative expression over three days.
The festival, which has grown from 17,000 guests per day to 50,000 this year, has been successful at proving it's not impossible to do big business outside of the many residencies that power Vegas' entertainment. Last year, Life Is Beautiful was named Pollstar's 2016 Festival of the Year and Chance the Rapper, Lorde and Muse were among the marquee acts at the September event.
Some have attributed the festival's rise to organizers staying focused on its fundamental purpose — and not looking to expand its reach outside of the city.
"We made the decision to keep the fabric of it being an intimate, low-key festival experience," Justin Weniger, one of two organizers behind Life is Beautiful, said ahead of September's event.
"I grew up on Bonaroo and Coachella and these amazing festivals, but it gets harder to go out to a field or a desert," Weniger continued. "We wanted it to be relatively easy for people to get a flight and a less expensive hotel than other cities for festivals."
Ahead of last weekend's Route 91, MGM was hard at work planning on other uses for its larger festival grounds as executives hadn't yet given up on making both of its open-air venues a larger part of its entertainment portfolio.
"Entertainment is a huge component of our company," Baldizan said this past summer. "The biggest thing we learned is we have to be in it or not. We're going to dedicate a bit more of our resources to make festivals a bigger part of our experience."
Certainly many of those resources will be spent on beefed-up security. Whether that will be enough to ease music fans concerns is impossible to know in the immediate wake of Sunday's tragedy.
For more music news follow me on Twitter:@GerrickKennedy
ALSO
Las Vegas shooting, no matter how horrific, won't bow music fans; we don't break like that
Fyre Festival organizer pleads not guilty to fraud
Rock in Rio debuts in Vegas to 82,000 fans: Did it deliver?
---
Your essential guide to the arts in L.A.
Get Carolina A. Miranda's weekly newsletter for what's happening, plus openings, critics' picks and more.
You may occasionally receive promotional content from the Los Angeles Times.