Review: Lorde is stronger than she seems on 'Melodrama'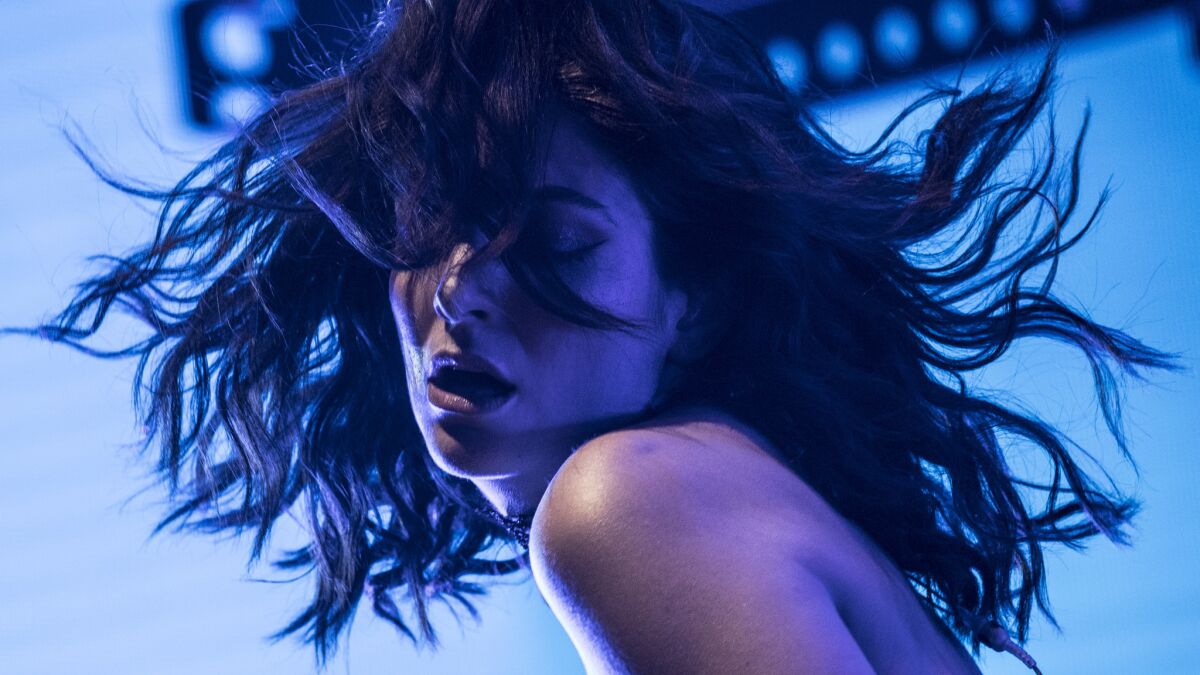 Pop Music Critic
Well, she's certainly seen a diamond in the flesh by now.
When Lorde appeared four years ago, the idea that drove the young New Zealander's music was a prideful alienation from the supposedly hollow pageantry of pop culture. In "Royals" she sang about not relating to rappers' displays of the type of bling she'd glimpsed only in the movies; in "Team" she said she was "over getting told to throw my hands up in the air."
At a moment when social media was beginning to rearrange the way fans relate to their idols, Lorde's proposition was an effective one — so much so that pop culture welcomed her in spite of her disdain. "Royals" topped Billboard's Hot 100 and won a Grammy Award for song of the year, while "Pure Heroine," the singer's 2013 debut, went triple platinum.
Suddenly, sparkly things were a fact of Lorde's life.
Yet the outsider remains a powerful archetype, which is why even superstars like Taylor Swift — who quickly struck up an oft-photographed friendship with Lorde — try to present themselves that way. So on her follow-up album, "Melodrama," Lorde, 20, still wants us to think of her as someone in a state of opposition.
"I hate the headlines and the weather," she sings in "Perfect Places." In "Liability" she recounts being rejected by someone, then zooms out to declare that "I'm a little much for everyone."
And the experience of pop stardom? "Hated hearing my name on the lips of a crowd," she insists in "Writer in the Dark," whose title says plenty about how she wants us to see her.
None of this is especially believable. What made "Royals" work, of course, wasn't the awkwardness that Lorde was describing but the strength with which she described it.
And she's become only more forceful a performer since then: At April's Coachella festival, she started her excellent set a few minutes behind schedule, then openly taunted organizers to cut her off before she was finished.
She knew they likely wouldn't.
Yet "Melodrama," which Lorde made primarily with producer Jack Antonoff, is full of moments in which she claims she's falling apart, barely able to keep herself together — a self-styled alternative to the glamazons that rule Top 40 radio (many of whom, it happens, offer the same kind of performed vulnerability).
"Perfect Places" goes down on "just another graceless night"; in "The Louvre" she's "just the sucker who let you fill her mind."
It's not that Lorde can't sell this story line. She's a remarkable singer, with a range of vocal tones and dramatic approaches, including the gorgeously tender croon she sets against the stripped-down piano of "Liability."
And Antonoff is a great match for her: His cinematic production — lush with echoes of Prince and Kate Bush and 1980s New Wave — matches the burrs and scrapes in her voice in a way that draws out far more emotion than she got on the comparatively minimal "Pure Heroine."
But "Melodrama" is so much more potent when Lorde is owning her newfound authority, as in the album's dizzying opening track, "Green Light," in which she urges a lover to follow her "wherever I go" over a surging house groove that keeps escalating in intensity.
She's equally convincing in "Supercut," a fizzy electro-pop jam about a relationship that was "wild and fluorescent." Lorde says she'll "be your violent overnight rush, make you crazy over my touch," then reveals that she's merely looking back at memories of a broken romance.
What you hear, though, are a winner's regrets.
Victory suits her. She should embrace it.
Twitter: @mikaelwood
ALSO
Katy Perry is a woman of many minds on 'Witness'
Jade Jackson is taking her small-town country songs to the world
What Chuck Berry's and Glen Campbell's final albums have to say about the end of the road
Get our L.A. Goes Out newsletter, with the week's best events, to help you explore and experience our city.
You may occasionally receive promotional content from the Los Angeles Times.