Review: Luke Bryan brings an inclusive country-rock message to Dodger Stadium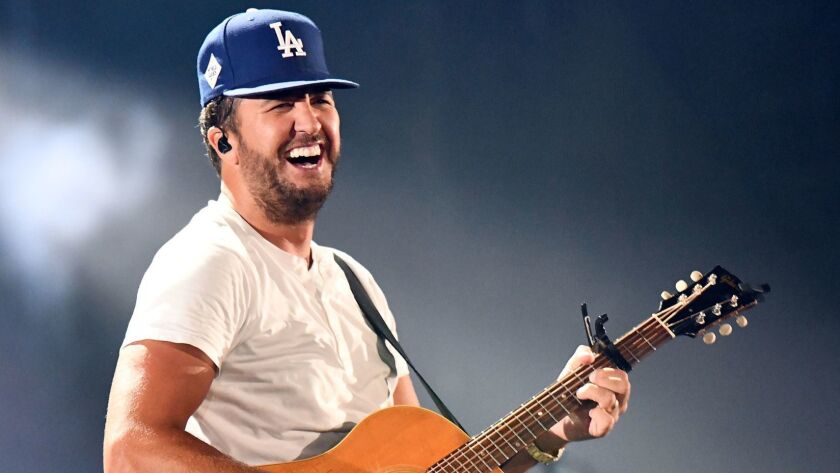 Even on the world's biggest stages, a man alone with an acoustic guitar can still speak with special force. Things didn't start off that way during country superstar Luke Bryan's sometimes noisy concert at Dodger Stadium on Saturday, but he always sounded happy to get there whenever he could.
Bryan began his set by overcompensating for the wide-open spaces, rising from the stage floor in jeans and black cap to the sound of wailing electric guitar and fireworks exploding overhead. Bouncing and kicking along the catwalk to "Country Girl (Shake It For Me)," his vocals were warm and muscular, but his band was almost comically overblown, crushing all melody in its path.
After that big hello and the mushroom-shaped towers of flame, the night was brought back to earth on "Huntin', Fishin' and Lovin' Every Day," hinting at the range of sounds and life experience that have made Bryan one of the era's leading country artists. (A key line: "Thank God he made me this way!")
How big a deal is Bryan? He's a multiplatinum-album artist with a multitude of No. 1 country hit singles just this decade. He's a bona-fide TV star as a popular judge on the resurrected "American Idol." And as of Saturday, he's massive enough to headline a full house at arguably the worst-sounding music venue in L.A.
The quality of the setting was hardly his fault. He had to fit all those tens of thousands of fans somewhere, and Bryan was billed as the first country artist to headline the stadium. The old ballpark at Chavez Ravine is a great place for shutouts and Dodger Dogs but has never been a satisfying venue for live music (with the possible exception of Elton John in 1975, for his sequined Dodger blue outfit alone).
Even so, Bryan delivered some genuinely resonant moments during a two-hour performance that had fans swaying all the way to the upper deck. Bryan's romantic, feelgood sound is ideally suited to his moment in mainstream country, incorporating pop and other nontraditional elements represented by a full night of talent with Bryan, Sam Hunt, Jon Pardi and Morgan Wallen.
Bryan is most identified with this decade's "bro country" movement and its American obsessions of pickup trucks, beer and tight cutoff jeans (on women only). He's maybe less simplistically "bro" than some of his contemporaries, and he sometimes itches for a blast of an old tradition or another.
His sixth album, "What Makes You Country," is at times subtly retro without the cowboy hat and aggressively modern in other ways. Bryan was at his most good-natured and preacher-like on his newest single, "Most People Are Good," with positive if uncomplicated sentiments that are welcome at times like these, embracing what is shared versus what divides.
At Dodger Stadium, the song urged tolerance in quietly charged ways: "I believe you love who you love / Ain't nothing you should ever be ashamed of." That's not a hard sell in 2018 California, but significant as a nationwide single from a major country music singer. Fans were hugging and singing along.
That soon led into the title song from "What Makes You Country," sung with confidence and ease, embracing his pride in culture and geography that was more inclusive than defiant. Somehow, that was only a couple of brews away from the self-explanatory tune "Drunk on You," and the inebriated lyrics: "Girl, you make my speakers go boom boom / Dancin' on the tailgate in the full moon / That kinda thing makes a man go mm-mm."
Fans held up their phones, stuffed animals, half-empty beer cups, a pink cowboy boot, etc. "Thank you for changing my life tonight," Bryan told the crowd at this latest stop in a tour full of stadium dates. "You don't know how much this means to me."
Second-billed Hunt shares many of Bryan's roots as a heartfelt troubadour, but he blazed up the charts by stepping far outside that tradition, with hits that are barely country at all. Early in his hour-long set, Hunt began "Take Your Time" with a spoken rap, in this case finding a place where country and modern pop seamlessly coexist and feed into one another.
While his mission to abandon country music stereotypes has led to him adopting those of other genres, he sometimes found a balance beyond simple pop and hip-hop lite.
His weakness for molten guitar solos doesn't hurt either, giving momentary bite to songs that would otherwise lack heat. "We Are Tonight" sounded more like country U2 before going full pop and Hunt purring, "It's a Friday night, it's a small town, girl..." There was more pop on "House Party" with disco colors flashing behind the band.
After showing a vintage film clip of Johnny Cash driving a Jeep filled with kids, Hunt and the band reappeared at the front of the stage for a handful of acoustic songs to re-create the feeling of a honky-tonk. Rather than pacing the stage in profile like a pop-rapper, Hunt finally looked straight into the crowd without interruption, making music that was both personal and once again back at human scale.
---
The complete guide to home viewing
Get Screen Gab for weekly recommendations, analysis, interviews and irreverent discussion of the TV and streaming movies everyone's talking about.
You may occasionally receive promotional content from the Los Angeles Times.