Mike Nesmith revisits influential post-Monkees country-rock with First National Band
Reporting from Pioneertown, Calif. —
It's not terribly surprising that record executives were at a loss when "the smart Monkee" Mike Nesmith said farewell to the hit TV show that had made him a pop superstar and launched a solo career making music that, at the time, was fairly uncategorizable.
Yet the post-Monkees music he created starting with his 1970 solo debut, "Magnetic South," helped establish the template for what would soon become a country-rock explosion thanks to the Eagles, Linda Ronstadt, Poco and others who were similarly marrying rock attitude with country's love of character and narrative storytelling as well as folk music's lyric sophistication.
On Sunday at Pappy & Harriet's in Pioneertown, nearly half a century after he and three like-minded colleagues created the First National Band, Nesmith revisited this fertile period of his long and multifaceted career in the first of several shows this week dedicated to what Rolling Stone once described as "the greatest music you never heard."
See the most-read stories in Entertainment this hour »
He opened Sunday's show with "Nevada Fighter," a driving country-rocker that evoked the fraught relationship between Native Americans and the U.S. government: "Lands of the people / Drying in the sun / Waiting for the promised help / That never seemed to come."
It was the beginning of a richly rewarding 90-minute set that predominantly focused on the half-dozen albums he recorded for RCA Records from 1970 to 1973, before he abandoned the major label system and helped pioneer the DIY-indie approach to making records by starting his own Pacific Arts label.
Two of the original four members of the First National Band since died — steel-guitar ace Red Rhodes and bassist John London — so when Nesmith's eldest son, musician Christian Nesmith, floated the idea of reviving the First National Band repertoire, it wasn't an option to reassemble the original lineup.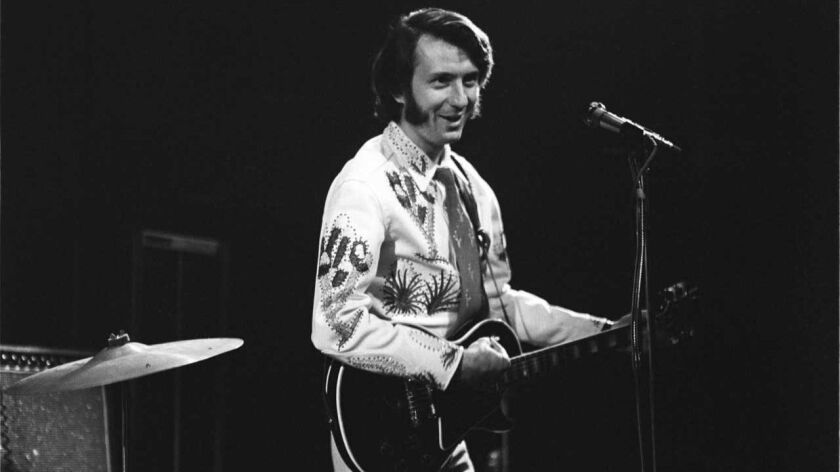 For this brief tour, which stops Tuesday at the Coach House in San Juan Capistrano, Thursday at the Troubadour in West Hollywood, Friday in Santa Cruz and Sunday in San Francisco, Christian is leading a seven-piece ensemble that includes two backup singers as well as Nashville steel guitarist Pete Finney, who is stepping into the central role that Rhodes played.
The catalog is vibrant mélange of genres that Nesmith helped concoct, one that other musicians were exploring around the same time in Los Angeles, notably the latter-day Byrds, Buffalo Springfield, the Flying Burrito Brothers, Ronstadt and her first band, the Stone Poneys, and another former teen idol, Rick Nelson and the Stone Canyon Band.
Yet in an interview during rehearsals for the tour, Nesmith noted that due to his role in "The Monkees," "I was so far on the fringes, I didn't really feel part of that community."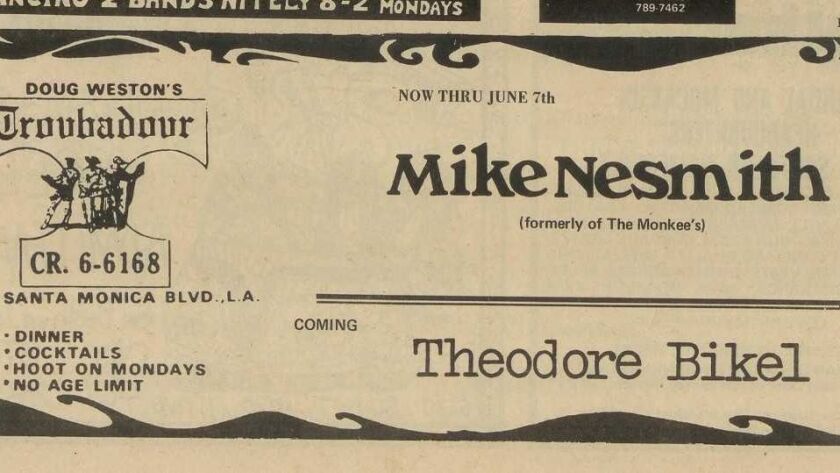 "Hank Williams, Jerry Lee Lewis and Jimmie Rodgers are to me something of a musical triumvirate," he wrote in a note for "Magnetic South." "Somehow I always get back to them. They, like Dylan, Presley, Cash and the Beatles, had, and have, a clearly defined musical position — a pure approach to what they have sung and written — free from euphemisms and alive with their own emotions."
"Freedom" wasn't what Nesmith had in the Monkees, a project for which he, Micky Dolenz, Davy Jones and Peter Tork were hired as actors to portray a fictional band for a TV sitcom. Oddly enough, life imitated art when the "Prefab Four" started delivering bona-fide hit singles and albums.
Nesmith, like Tork, had been knocking around the music business before he was chosen for "The Monkees," and was able to contribute a cut or two to each Monkees album. But the response wasn't always favorable.
"We can't do anything with these," he recalled during rehearsal on Saturday at a studio coincidentally a block away from RCA's former West Coast headquarters in Hollywood, and around the corner from the amplifier repair shop that Rhodes ran when he wasn't recording and touring with Nesmith or leading the house band at the fabled Palomino club in North Hollywood.
His Texas roots came through on the Monkees' first album with his song "Papa Gene's Blues," which demonstrated a level of lyrical and musical ambition that was impressive within the context of a manufactured pop group. His songs for the Monkees became increasingly sophisticated and accomplished:
He included that song Sunday in a midshow solo acoustic segment spotlighting the four songs he performed at the Troubadour one night in a pre-Monkees performance that he said redefined the role music would play in his life — an experience he detailed in last year's memoir, "Infinite Tuesday — An Autobiographical Riff."
"The audience's approval and acknowledgment were overwhelming," he wrote. "This was real understanding and encouragement from a crowd I knew to be authentic music lovers and connoisseurs. I discovered a reciprocity between performer and performee, the actor and the audience, that was a balance."
A similar response greeted him Sunday, when cheers of recognition erupted at the strummed opening chords of "Calico Girlfriend," the first track from "Magnetic South." The set included a half-dozen songs from that initial solo outing, with another six from its successor, "Loose Salute," three from "Nevada Fighter" and fleshed-out arrangements for the band of three songs from 1972's "And the Hits Just Keep on Comin,'" the album he recorded as a duo with Rhodes.
Finney often used Rhodes' innovative parts from the recordings as his starting point, but frequently added dimensions of his own to prevent the set from simply replicating the original versions. Rhodes — and Finney — employ the steel guitar inventively, not just to evoke notes of melancholy often found in country music, but to bring an orchestra's worth of color, texture and shading to the arrangements.
Nesmith demonstrated his facility for thinking, and writing, beyond the short-form tradition of pop song in "Tomorrow and Me," a meditation on the end of a relationship that unfurls with unhurried elegance: "I've forgotten how long I've been sitting here / Watching my reflection in a disappearing beer / The loneliness is so thick you can slice it / The emptiness is too much for me to fight it."
Nesmith's lithe voice, even at 75, remains limber enough to execute the yodels that punctuate a few of his songs, the fine-grit edge somehow embodying the wide-open spaces of the West much of his music channels.
Producer-promoter Andrew Sandoval, the man behind much of the latter-day Monkees activity, said he's long hoped for a First National Band outing with Nesmith, and said both audiences and Nesmith himself appear hungry for it.
"In some ways it seems like he's grown into this music," Sandoval said during a break in the rehearsal on Saturday. "It suits him really well now."
Nesmith closed the set with "Thanx for the Ride," something of a benedictory song from "Loose Salute" that tied in with the rustic surroundings in the mountains above and beyond Palm Springs.
"Desert clearing, forgotten miles, hand me my remembered smiles," Nesmith sang, gesturing a loose salute of his own to the packed house as he finished the line, "I'll just mosey on/Thanks for the ride."
Follow @RandyLewis2 on Twitter.com
For Classic Rock coverage, join us on Facebook
---
The complete guide to home viewing
Get Screen Gab for weekly recommendations, analysis, interviews and irreverent discussion of the TV and streaming movies everyone's talking about.
You may occasionally receive promotional content from the Los Angeles Times.