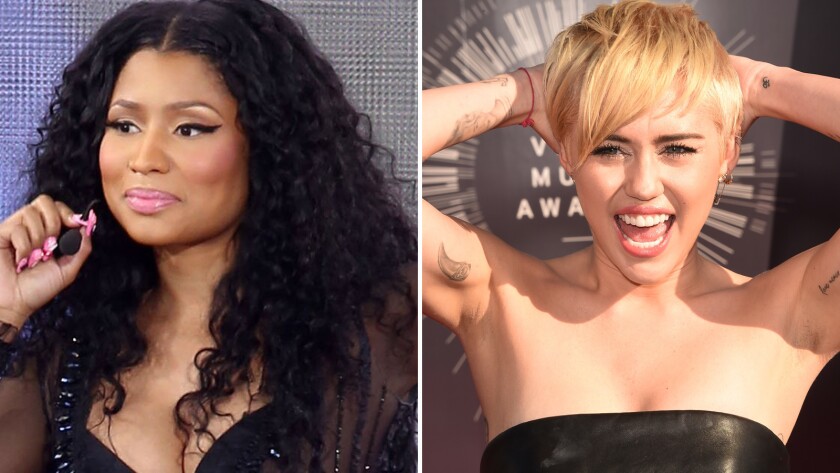 Los Angeles Times
The MTV Video Music Awards are the only awards show out there where courting controversy and providing spectacle are just as — if not more — important than passing out trophies.
Where else but the VMAs could Madonna tongue-kiss Britney Spears, Diana Ross jiggle Lil' Kim's breast, Kanye West make Taylor Swift cry, Eminem zing Moby or Kid Rock and Tommy Lee trade punches (during an Alicia Keys performance, no less) and all be considered entertainment?
SIGN UP for the free Essential Arts & Culture newsletter >>
This year's show, which will take place Sunday in downtown L.A. at the Microsoft Theater, is shaping up to be just as absurd — or must see.
Pop instigator Miley Cyrus will serve as the night's ringmaster.
For those who've forgotten, her performance at the 2013 VMAs with Robin Thicke became one of the most controversial moments in the sordid history of pop music awards. Flanked by dancers dressed as teddy bears, the latex-bikini-clad singer groped Thicke, waggled a foam finger between her legs and twerked her way into VMA infamy, obliterating her wholesome Disney image along the way.
In anticipation of Sunday's awards, Cyrus has already planted the seeds of social media outrage, this time in an interview published Thursday by the New York Times. She went after pop-rapper Nicki Minaj, who is scheduled to open the VMAs despite her recent criticisms of the show.
"What I read sounded very Nicki Minaj, which, if you know Nicki Minaj, is not too kind. It's not very polite," said Cyrus, referring to Minaj's complaints that she was overlooked for top honors (the best video award) because of race-related issues. "I think there's a way you speak to people with openness and love. You don't have to start this pop star against pop star war."
"If you want to make it about race, there's a way you could do that," Cyrus continued. "But don't make it just about yourself. Say: 'This is the reason why I think it's important to be nominated. There's girls everywhere with this body type.'"
Minaj's smash, "Anaconda" — which is up for hip-hop video and best female video — was excluded from video of the year (Taylor Swift, Beyoncé, Ed Sheeran, Mark Ronson, Bruno Mars and Kendrick Lamar will compete there). When the nominations were released in July, Minaj tweeted:
"If I was a different 'kind' of artist, 'Anaconda' would be nominated for best choreo and vid of the year as well," Minaj wrote in a series of tweets. "If your video celebrates women with very slim bodies, you will be nominated for vid of the year," another note read.
Taylor Swift, who will also be at this year's VMAs, took offense, and social media back and forth ensued.
Minaj's sentiments did raise larger questions about race and body image in pop music, but it was the beef between pop stars that prompted headlines.
Whether Cyrus' statements were a ploy to drum up pre-show hype (Cyrus' interview and Minaj's performance announcement came in the same day) or just her unfiltered reaction, it has set the tone for this weekend's telecast.
Though Minaj has yet to respond, there are plenty more opportunities for watercooler moments come Sunday.
After years of shedding his teen pop-star image with train-wreck behavior, Justin Bieber will continue his image rehab by delivering his first VMA performance in five years with his comeback single, "What Do You Mean."
Kanye West is set to receive the night's highest honor, the Video Vanguard award, which celebrates an artist's impact on the visual medium. No word on whether West will take the stage for the honor, but anticipation will be high considering it was the VMA stage where he infamously crashed an acceptance speech from Swift as she accepted an award he believed should have gone to Beyoncé, forever skewing public opinion of the rapper.
Whatever happens, brace for buzz — and outrage.
Though L.A. Live is the epicenter for the awards, banners outside the Orpheum Theatre in downtown L.A. sporting the Moonman logo signal the awards broadcast may be expanding its base to two locations. The street was closed off to through traffic.
Swift, Sheeran and Beyoncé lead in nominations at this year's VMAs. Swift is up for nine trophies, Sheeran has six nominations. They also are competing for the night's biggest award, video of the year, alongside Lamar. Ronson is also up for the honor for his Bruno Mars-assisted smash, "Uptown Funk."
Beyoncé, who dominated last year's ceremony with the most nominations and stole the show with a performance that ran through the entirety of her provocative, self-titled visual album, is up for five trophies.
The Weeknd, Pharrell Williams, Demi Lovato, Macklemore & Ryan Lewis, ASAP Rocky and Twenty One Pilots are also expected to perform.
The 2015 MTV Video Music Awards will be shown live from Microsoft Theater at 9 p.m. (Eastern), a recorded for the West Coast broadcast at 9 p.m.
Twitter: @GerrickKennedy
MORE:
MTV Video Music Awards: Nicki Minaj to open the show -- so all is forgiven?
She's just being Janet: VMAs host Miley Cyrus' undercover reveal on 'Kimmel'
Kanye West to receive Video Vanguard lifetime achievement award at VMAs
---