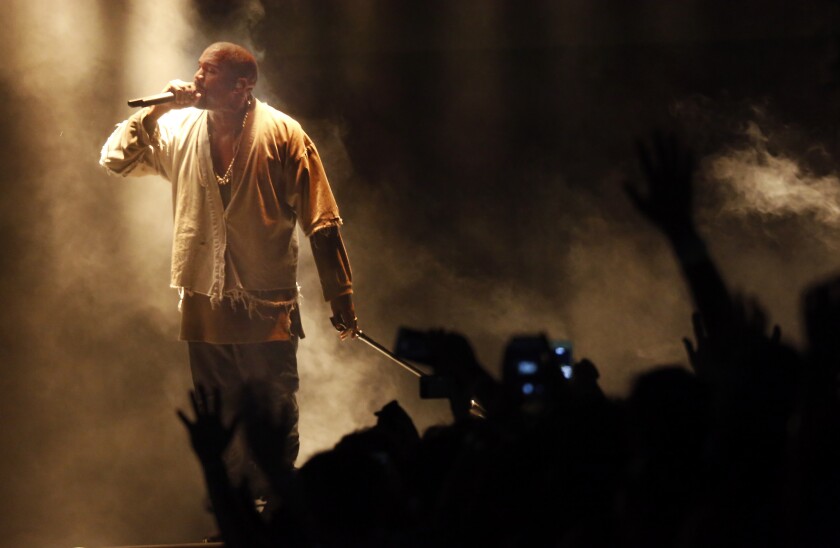 Kanye West will be honored with a lifetime achievement award at this year's MTV Video Music Awards, the network announced on Tuesday.
The superstar rapper is set to receive the night's highest honor, the Video Vanguard award, which celebrates an artist's impact on the visual medium. He is being feted for his innovative visuals, performances and contributions to music, art and fashion.
FULL COVERAGE: 2015 MTV Video Music Awards
West has been nominated for more than 30 VMAs -- but has only walked away with two, winning best male video in 2005 for "Jesus Walks" and a special effects Moonman in 2008 for "Good Life."
No word on whether West will take the stage in conjunction with the honor. However, judging from the past two winners -- Beyonce and Justin Timberlake -- should he perform, viewers can expect an epic moment.
SIGN UP for the free Essential Arts & Culture newsletter >>
When Timberlake accepted the honor in 2013, he ran through a 15-minute retrospective of hits and recruited 'NSync for a mini-reunion with the boy band that launched him to stardom. Beyonce was given a similar lengthy slot, and performed a medley of every song from her groundbreaking self-titled visual album.
Whatever West has planned might make us all forget about the infamous stage crash of 2009 when he interrupted Taylor Swift as she accepted an award he believed should have gone to Beyonce, forever skewing public opinion of the rapper.
Swift, unsurprisingly, leads all nominees this year. The country turned pop superstar is up for nine trophies, with the majority of her Moonman nominations for her fiery, action-packed visual for "Bad Blood."
The 2015 MTV Video Music Awards will air live from Microsoft Theater in Los Angeles on Sunday at 9 p.m. Miley Cyrus is set to host.
For more music news follow me on Twitter: @gerrickkennedy
ALSO:
FYF Fest review: Kanye West thrills, but we've seen it plenty
Taylor Swift leads 2015 MTV Video Music Award nominations
MTV turns Jeremy Scott Moonman design into a #VMA award show emoji
---