Itching for some tunes, like, now? You're not alone.
Listeners as a whole are flocking to streaming services such as Spotify, Apple Music and YouTube more than ever before, and continue to ditch their hard copies and downloads, according to Nielsen Music's midyear report on recorded music consumption.
Released Thursday, it reports that across the first half of the year, listeners tallied a record 507 billion on-demand audio and video streams, part of an overall 13% increase in what are called "equivalent album units," the current algorithmic measuring stick for commercial activity.
The analysis from data measurement company Nielsen crunched numbers on music sales, streaming service usage and other relevant variables across the first six months of 2019.
Some key conclusions: On-demand listening dominates the music business, having jumped by nearly 28% since June 2018. Rap and R&B rule the roost when it comes to U.S. music consumption. Rock fans like their hard copies, especially on vinyl. Downloads are basically over, and the closing of iTunes won't help matters. Listeners spun more Michael Jackson and R. Kelly tracks than last year. And, to the surprise of no one, Lil Nas X's hit song "Old Town Road" has been an unstoppable force.
Below, some takeaways from the report.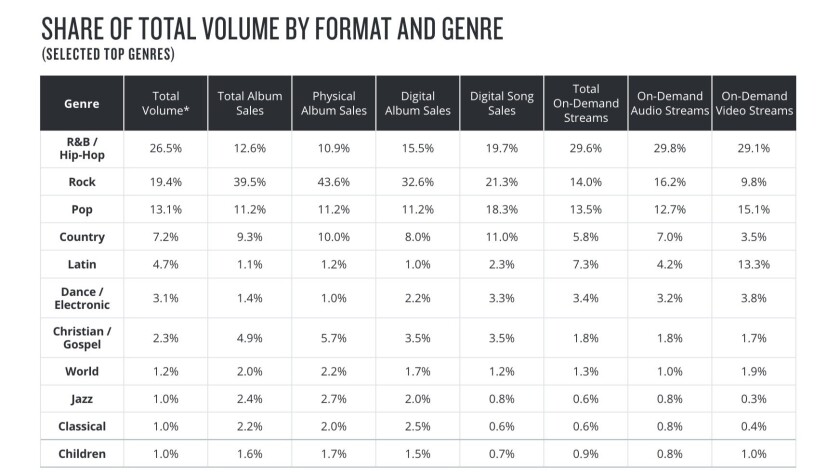 Warning: the information below includes confusing terms such as "total album equivalent consumption" and "streaming equivalent albums." Billboard explains the terms best: "Equivalent album units are comprised of traditional album sales, track equivalent albums (TEA) and streaming equivalent albums (SEA). Each unit equals one album sale, or 10 individual tracks sold from an album, or 3,750 ad-supported on-demand audio streams generated by songs on an album, or 1,250 paid subscription on-demand audio streams generated by songs on an album." It's an algorithm that calculates popularity based on a variety of listener-focused data points. Got it?
1. Rap and R&B run the game when it comes to overall consumption — unless you're pop streaming drivers Billie Eilish or Ariana Grande — most notably among on-demand audio listeners. Of the top 10 artists in the category, eight are rappers or R&B singers: Drake leads the chart (2.7 billion streams), followed by Grande (2.6 billion), Post Malone (2.3 billion) and Eilish (2.2 billion). Also making the list: so called "mumble rappers" Juice Wrld, Xxxtentacion and YoungBoy Never Broke Again.
At 1.3 billion streams, Lil Nas X's "Old Town Road" is the most played song of the year so far, and given the twang-rap ditty has been at the top of the Billboard's Hot 100 chart for 12 weeks, that number will continue to multiply. Grande's album "Thank U, Next" is the bestselling album of the year so far, as conveyed in equivalent album units.
In the months after HBO's airing of the damning documentary 'Finding Neverland,' Michael Jackson's on-demand streams increased by 41%.
How's rock doing? Great, if you're a Queen or Imagine Dragons fan. The former is the no. 1 rock artist so far this year; the latter is No. 2, and Queen's songs, which propel the hit movie "Bohemian Rhapsody," occupy three of the top five slots in the rock songs vertical. Panic! at the Disco hasn't had a bad year, either: Halfway through the year, its "High Hopes" is the most-streamed rock song.
2. Consumers love it when a song is featured in a movie or TV show. After "A Star Is Born" earned its Oscars and Golden Globes, Lady Gaga's "Shallow" saw an immediate surge. After the Elton John biopic "Rocket Man" opened, the artist's music saw a 84% increase compared to the period ending June 2018. The viral video for the children's song "Baby Shark" has so far banked nearly 400 million on-demand video streams.
Artists are also exploring new platforms to market and share their music. After an in-platform performance on the interactive game Fortnite, streams of the EDM producer Marshmello's music saw a 316% increase. The socially driven music-meme app TikTok was a crucial early driver of Lil Nas X's "Old Town Road" success.
On the flip side, listeners haven't punished artists for negative attention. In the months after HBO's airing of the damning documentary "Finding Neverland," Michael Jackson's on-demand streams increased by 41%. Despite the sexual abuse allegations highlighted in "Surviving R. Kelly," the R&B singer Kelly's numbers are up 13% year-to-year. Mötley Crüe's catalog saw a 683% increase in listenership after the movie "The Dirt" celebrated the hair metal band's rowdy, borderline criminal antics. Ja Rule's Fyre Fest debacle helped his numbers.
3. Overall, listeners heard 15% more commercially available music than a year ago, according to Nielsen's total album equivalent consumption chart. Music video streams rose by nearly 40%. Combined audio and video streaming numbers jumped by 32%.
The bad news: in the same period, total albums sales — the volume of people who have paid money to own music either as physical copies or digital downloads — dropped by a sharp 20%, down to 67 million units from 83 million last year.
4. Country fans are a minority on Spotify, Apple Music, YouTube and other services. Compared with hip-hop/R&B's 30% share of total volume on the platforms, country music tallies a mere 7% (as compared with pop's 13% and rock's 16% share). Those country listeners are mostly hearing male artists, notes Nielsen's report. Aside from outlier Kacey Musgraves, men dominate charts across sales, radio and streams.
The opposite is true in pop music, a genre driven by female pop superstars and breakouts including Grande, Eilish, Halsey and Lady Gaga. Ed Sheeran and the Jonas Brothers are the only notable dudes on the list.
5. As has been the case for the past decade, vinyl is the only physical format to see an increase, and this year that success has been powered in no small part by the annual Record Store Day retail event. During the week ending April 18, vinyl fans bought 827,000 albums, up 13% from 2018.
Still, vinyl sales constitute a tiny fraction of music the overall music-listening public. Buyers have collected a mere 7.7 million new LPs so far in 2019; by comparison, the top five streamed albums alone earned nearly 5 million album-equivalent spins during the same period. The soundtrack to the Queen biopic "Bohemian Rhapsody" has clocked the most vinyl sales this year, with 61,000.
One interesting side note from the report: Billie Eilish, who came up in Highland Park, has nine tracks among the 200 most consumed songs so far this year. According to Nielsen, which also tracks data on the emotional content of commercial music, Eilish's work "registered the most unique mood and style pivots of any other major pop catalogue."
Noting her "dark, melancholy and sometimes even grim moods," the report said her stylistic juxtapositions "activated an immediate and deep connection with young fans across the country. This contrasted with the mix of the more sensual, energetic and defiant moods otherwise populating the Top 200."
For tips, records, snapshots and stories on Los Angeles music culture, follow Randall Roberts on Twitter and Instagram: @liledit. Email: randall.roberts@latimes.com.
---