Review: Patti Smith rekindles some Roxy magic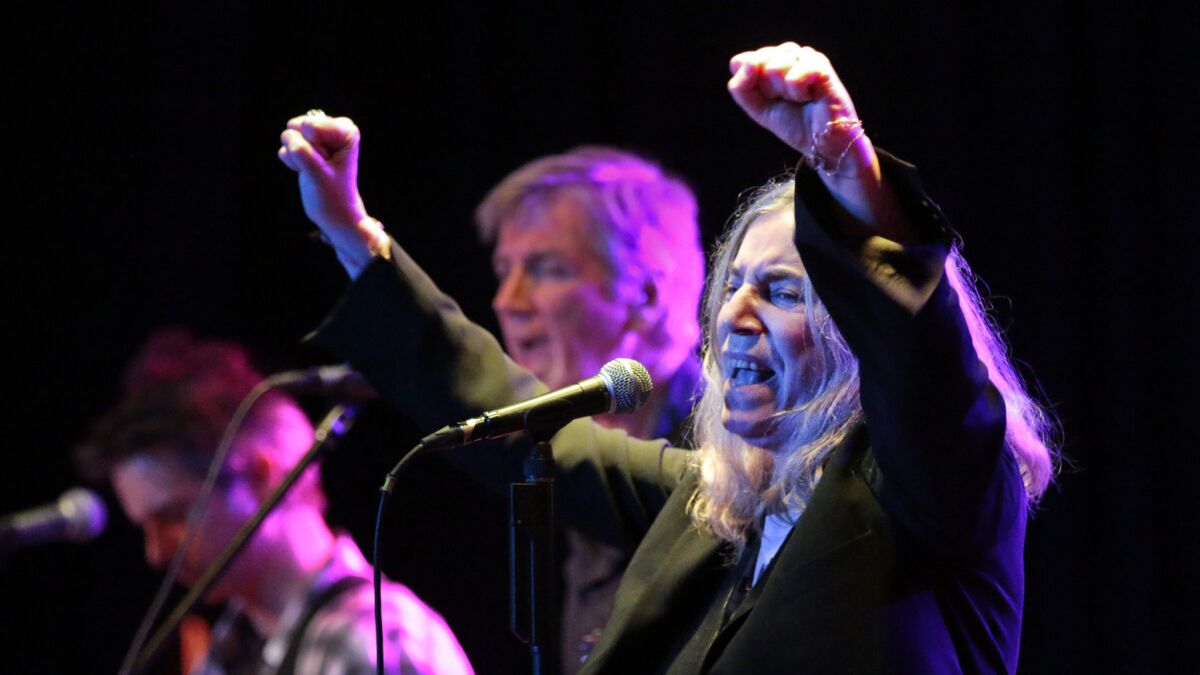 Los Angeles Times Pop Music Critic
Writer, singer and rock 'n' roll disciple Patti Smith returned to the Roxy in West Hollywood nearly 40 years after her first set at the Sunset Strip club. That show, on Jan. 30, 1976, was broadcast on FM radio and later pressed onto a bootleg LP. This one was captured on a dozen smartphones and disseminated in tiny digital increments.
Her messages, though, didn't require technology any more advanced than amplification. Standing before a microphone stand Monday night, her four-piece band surrounding her and delivering distorted, chord-heavy rock that rolled with a soul groove, Smith sang of desire and death, of isolation and invisibility, of people, power, freedom and slavery. Within the sold-out club, the 500 people caught for a fleeting few hours a master artist transmitting ideas and emotions with a force that likely left dents in the walls.
With an eye for snapshot detail, Smith, 68, celebrated "some strange music" drawing her in during "Dancing Barefoot," documented "women all standing with shock on their faces" after seeing a "sweet suicide" victim on "Redondo Beach," indicted in her version of Them's "Gloria" a savior who "died for somebody's sins but not mine." Smith sang of birth during a delicately laced rendition of John Lennon's "Beautiful Boy," and read aloud Sylvia Plath's poem "The Eye-Mote" near the end of the evening.
Generous and effusive, she dedicated chunks of the show to Morrissey, Jimmy Iovine, Amy Winehouse, Bill Murray, "Johnny" (Depp? Rotten? Weir? Appleseed?), and professed love for Scottish actor David Tennant, the so-called "10th Doctor" of the long-running BBC series "Doctor Who."
Wandering the stage, her hair slate gray and dangling, Smith wore a loose-fitting black jacket. (In fact, she stressed that her coat was definitively not a blazer, expressing frustration with critics who wrongly described it as one.) With the ease of an artist who long ago erased the thin neon line between stage and dance floor, she admitted that unlike three recent West Coast shows (two at the Theatre at Ace Hotel and one in San Diego), for this evening's Roxy show she wore a fresh pair of pants.
Despite the good humor, though, a groove-filled dozen songs supported serious ideas. Delivered with off-beat reggae riffs, garage-rock chops and epic backbeat rhythms courtesy of longtime drummer Jay Dee Daugherty, she sang with the urgency of an artist who'd experienced the lyric's emotions earlier in the dressing room, not, in many cases, decades earlier. "Desire is hunger is the fire I breathe / Love is a banquet on which we feed," she sang in her biggest hit, "Because the Night."
Fans bellowed as Smith and her longtime band played the opening chords of "Dancing Barefoot," about the thrill of getting lost in music and falling in love: "I'm dancing barefoot," she sang, moving in rhythm, gesticulating, "Heading for a spin / Some strange music draws me in / Makes me come on like some heroine."
The range of Very Important People in the expensive seats confirmed Smith's status. Perched on the high-back of the best booth in the house were producer-mogul-maestro Iovine and, next to him, Grammy album of the year nominee producer-singer Pharrell Williams. A few tables away was Sonic Youth's Thurston Moore, not too far from DJ Rodney Bingenheimer.
If Smith's mood was buoyant between songs — all those familiar faces, swirling memories — she approached her music with steely eyed determination. The artist sweated, spit, growled and chanted. Within a monstrous, distorted version of "Land," from her landmark 1975 debut album, "Horses," she sang of sexual passion through lines about "open coiled snakes white and shiny twirling and encircling — our lives are now entwined, we will fall yes we're together twining."
On the grand elegy "Beneath the Southern Cross," from her 1996 album "Gone Again," guitarist Jack Petruzzelli strummed sheets of distortion while bassist Tony Shanahan guided below. On 2012's "Banga," from her album of the same name, she pierced darkness with precision: "On the lonely night / On a golden road / Night is a mongrel / Believe or explode."
During a mid-set break, longtime Smith guitarist (and rock journalist and curator of the classic "Nuggets" collection of '60s garage rock) Lenny Kaye and the band honored "Nuggets"-era '60s Los Angeles rock band Love with covers of their great songs "Little Red Book" and "7 and 7 Is."
Those were good but only served as a reminder of Smith's nonstop magnetism, the kind that drew bouquets and random expressions of fandom. Receiving roses from one follower, the artist smiled like an Oscar winner. "I'd like to thank my mother for having me," she said in a mock acceptance speech.
Once again, she spoke the truth.
Get our L.A. Goes Out newsletter, with the week's best events, to help you explore and experience our city.
You may occasionally receive promotional content from the Los Angeles Times.