Review: Randy Newman's 'Dark Matter' shows why he's still his best interpreter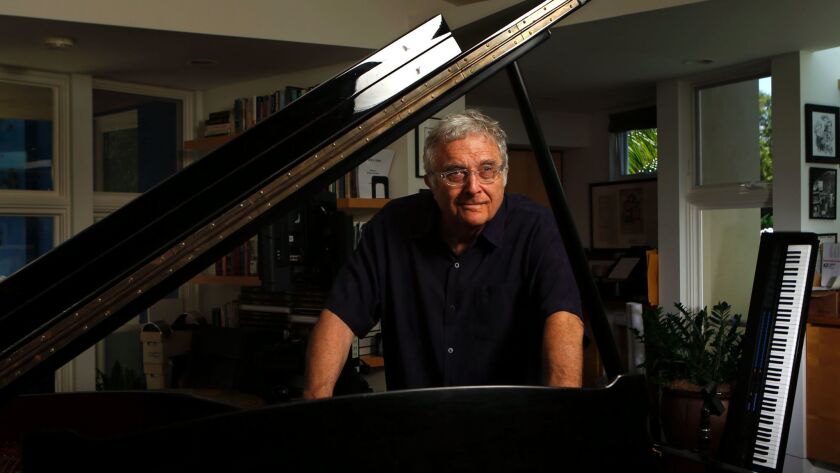 Pop Music Critic
We don't talk enough about Randy Newman as a singer and a maker of pop records.
Oh, we talk plenty about the 73-year-old Los Angeles native who's won Grammys and Emmys and Oscars and been inducted into all the relevant halls of fame.
But these days the focus tends to be on Newman's songwriting and composing — his groundbreaking use of unreliable narrators, for instance, or the eerie prescience of his song "Louisiana 1927," which he wrote in the mid-1970s about a great flood trying to wash that Southern state away. (Thirty years later, after Hurricane Katrina, the tune became something of a standard among performers in New Orleans.)
To an extent Newman has encouraged this view. Busy with film work, he puts out a new studio album only about once every decade, and last year he released the latest in a series of stripped-down voice-and-piano recordings of his best-known material.
In 2007 his "A Few Words in Defense of Our Country," about the end of the American empire, ran as an op-ed in the New York Times — a writerly achievement, no music required.
Yet even as pop production has advanced, Newman has kept his skills sharp in a way many of his fellow veterans have not. That's easy to hear — and I do mean hear — on "Dark Matter," Newman's first set of new songs since 2008.
Produced with his usual team of Mitchell Froom, Lenny Waronker and David Boucher, it's a masterful collection so rich with sonic detail that you almost hope he never gets around to making "The Randy Newman Songbook Vol. 4."
The record starts with its most elaborate number in "The Great Debate," an eight-minute epic in which Newman stages a noisy public battle between religious folks and "some of the most expensive scientists in the world," as he puts it in a characteristic flourish of backhanded praise.
They're gathered to hash out the truth about knotty topics such as evolution and climate change, and as the debate jumps around, so too does the music — from swinging New Orleans jazz to creepy deep-space psychedelia to lively two-beat gospel.
The song should be a chaotic mess, especially given that Newman sings the different parts himself (and in a signature mumble that's become only more idiosyncratic with age). But he and his studio hands guide the listener carefully through the changes, pausing here for a dramatic reset and using sound effects there to suggest a man speaking into a microphone in a crowded arena.
The result is like a little radio play as sophisticated as any high-end podcast.
Other tracks are only slightly less ambitious. "Brothers" depicts an imagined conversation between John F. Kennedy and his brother Bobby as they discuss the Bay of Pigs Invasion — at least until it morphs into a loving tribute to the late Cuban singer Celia Cruz.
And "Putin" uses various Russian musical motifs — all knowingly crude — to put across a barbed celebration of the leader who "can power a nuclear reactor with the left side of his brain."
Throughout these songs, expert players including guitarist Blake Mills and drummer Matt Chamberlain lend dramatic and emotional depth to ideas that might have felt like mere sketches in other hands.
Take "Sonny Boy," for example, in which Newman recounts the short life and complicated legacy of Sonny Boy Williamson, the 1940s bluesman whose identity was later borrowed by another artist. Newman's lyric — delivered, he tells us, from beyond the grave — is tender and funny, with just enough outrage. But it's the woozy, dreamy groove that sells the song's conceit.
Not that Newman can't do damage on his own. As usual with one of his records, "Dark Matter" complements the topical stuff with a handful of more ostensibly personal ballads. And in these you're reminded how powerful a singer he can be — not just a maker of words to be interpreted by Barbra Streisand or Neil Diamond (to name two of the many stars who've performed his songs) but a maker of rhythm and inflection and vocal decay.
In the handsomely orchestrated "Lost Without You" he's a widower recalling an encounter with his grown children just before his wife's death; the combination of warmth and fear with which he goes back over the wife's instructions to the kids — "Make sure he sleeps in his bed at night / Don't let him sleep in that chair" — is devastating.
"Dark Matter" closes with another weeper in "Wandering Boy" in which Newman again plays a father, in this case to a son who's drifted away from him in adulthood. Here the music is simple: just Newman's voice over the kind of rolling piano accompaniment you might hear at last call in an old-Hollywood version of an Irish bar.
Yet even at its most straightforward, Newman's record conjures a deeply believable world — one we need more frequent invitations to visit.
Twitter: @mikaelwood
ALSO
Why I felt betrayed by Fleetwood Mac at Classic West
On the road with Billy Joel: The Piano Man talks Trump, L.A. — and new music?
'I overcooked it': Randy Newman on stripping down his complicated music for his 'Songbook' series
---
Your essential guide to the arts in L.A.
Get Carolina A. Miranda's weekly newsletter for what's happening, plus openings, critics' picks and more.
You may occasionally receive promotional content from the Los Angeles Times.