From the Archives: After struggling with addiction, Scott Weiland of Stone Temple Pilots tries to fly straight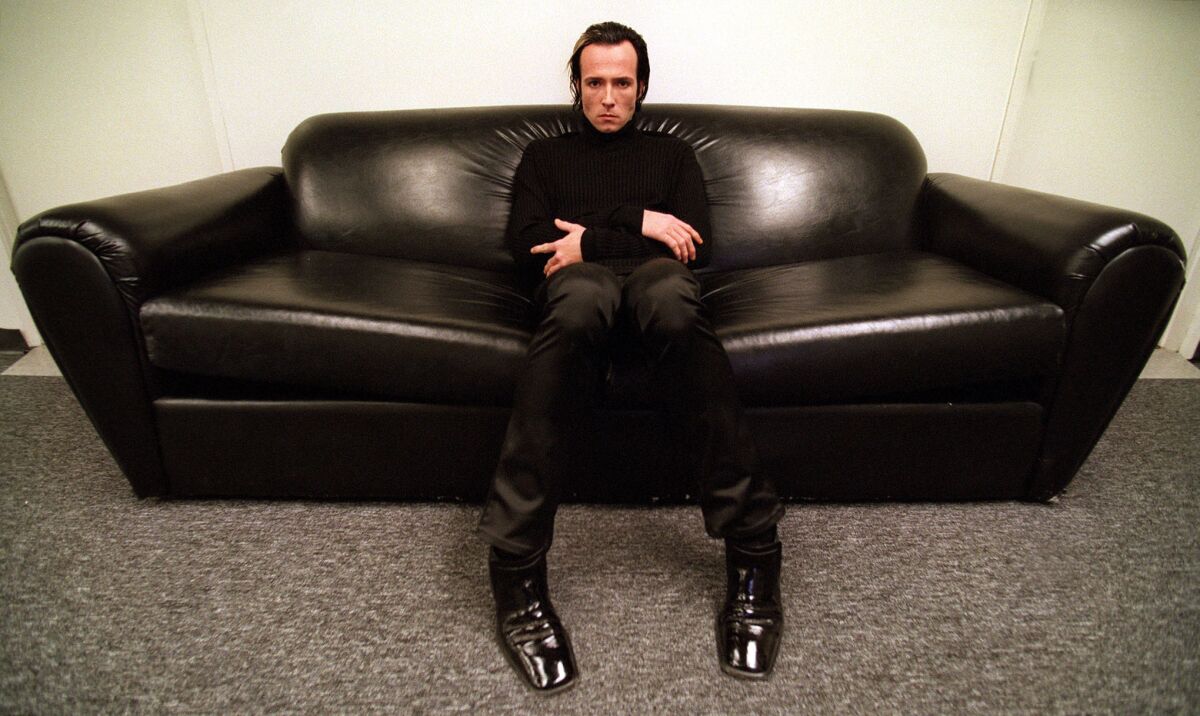 Scott Weiland was found dead at 48 on Dec. 3, 2015. What follows is a 1998 story and interview with the musician as he released a solo album.
Scott Weiland, the Stone Temple Pilots singer who is embarking on a solo career, is cranky. He's eight hours into a 17-hour video shoot near downtown Los Angeles and is losing patience.
Sitting on a black leather couch in a spacious dressing room between takes, a pack of cigarettes and a basketful of candy and cookies on a table in front of him, the man who has sold 13 million albums with STP bristles when it is suggested that the drudgery he is experiencing must be par for the course in video-making.
"This is not like any other shoot," he snaps dismissively. "This is a mini-epic."
Weiland, 30, is obviously a man prone to overstatement. In fact, he seems cocky enough to believe it when he says that his music will "save rock 'n' roll."
It's a pretty audacious comment, especially coming from a singer whose band has been largely dismissed by critics as a shameless clone of such grunge leaders as Pearl Jam, Nirvana and Soundgarden.
The real question, some pop insiders believe, is whether Weiland is even capable of saving his own career.
"This is a crucial time for him, personally and professionally, because those things seem to be so intertwined with him," says Scott Frampton, editor in chief of the CMJ New Music Monthly trade publication. "I think it's almost make or break as far as him remaining a star."
As recently as last summer, Weiland's life seemed to be spinning out of control.
Three years into a heroin addiction that had badly strained his relationship with his bandmates, he appeared to be hellbent on derailing all that he'd worked for since he formed his first rock band at age 16. His partners in STP had seemingly given up on him, recruiting another singer and starting a second band, Talk Show.
Life doesn't make any sense unless you can enjoy the journey, and sometimes I take that for granted. But I try not to do that now. I try to learn from my mistakes.
— Scott Weiland
Meanwhile, Weiland was back in rehab for the third time in less than a year.
Weiland's new solo album, titled "12 Bar Blues" and due March 31 from Atlantic Records, may surprise critics of his work with Stone Temple Pilots. It's a remarkably eclectic collection in which Weiland seems to explore all his musical influences--from David Bowie and the Beatles to the Doors and Brian Wilson.
Many rock fans will also be surprised to see who is in Weiland's corner musically: Daniel Lanois, the Grammy-winning producer whose credits include such acclaimed works as Bob Dylan's "Time Out of Mind" and U2's "The Joshua Tree."
Lanois, who was brought in to remix five tracks on "12 Bar Blues" and will tour with the singer as a guitarist, calls Weiland's music challenging and adventurous. Of Weiland, he says: "He has that drive, that obsession that I have and others I've worked with have . . . who are in the limelight and are successful and smart."
The album has been preceded by a single, "Barbarella," in which Weiland addresses his addiction--"Can't you see it's a disease?"--and pleads with the futuristic superbabe of the title to "save me from my misery."
Weiland, whose grueling day is devoted to the video for the single, realizes his career is at a crucial point, and he seems grateful for the second chance.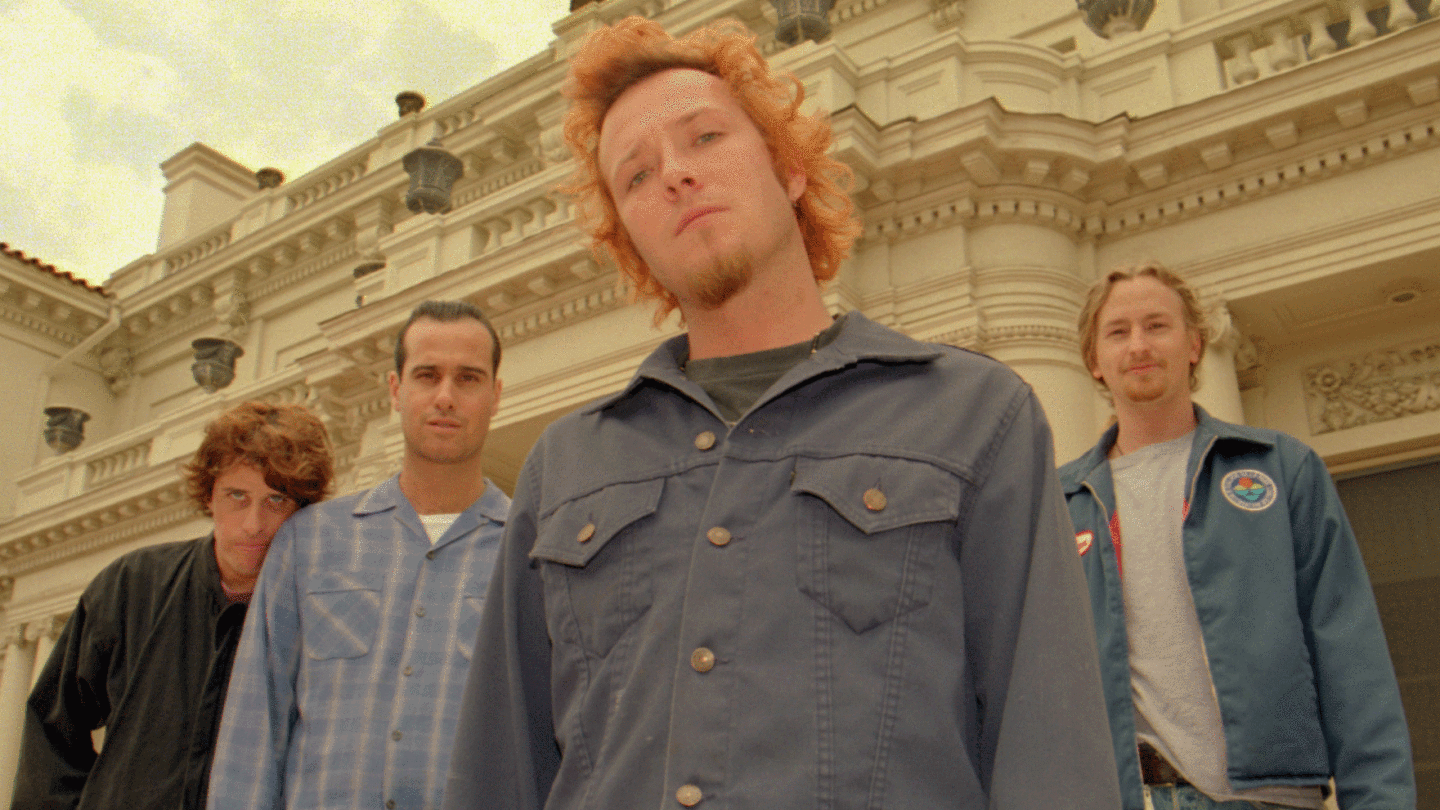 Scott Weiland, center, at the Huntington in San Marino with his Stone Temple Pilot bandmates on May 16, 1994.
(Ken Lubas / Los Angeles Times )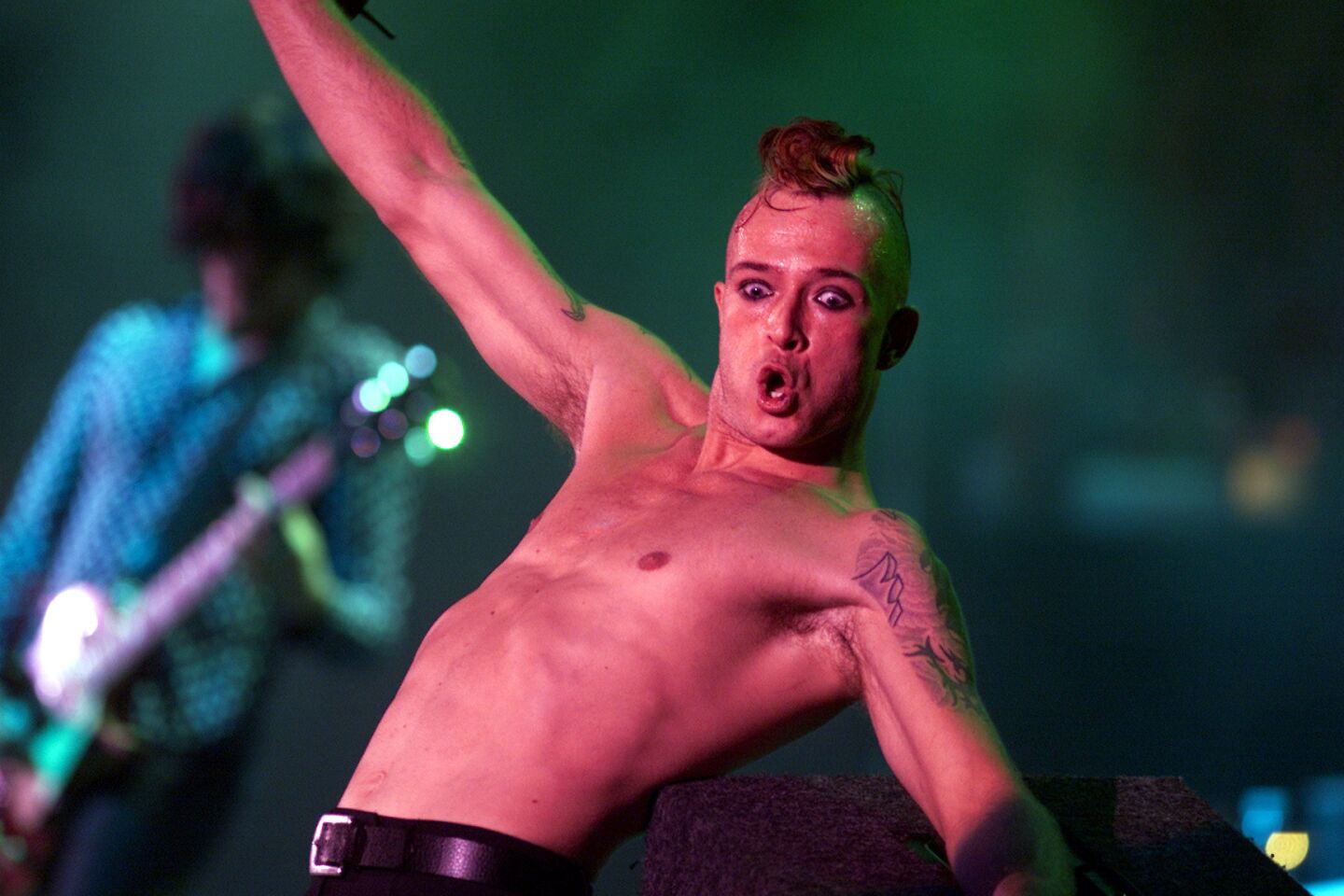 Weiland with STP at Verizon Amphitheatre on Sept. 1, 2000.
(Kevin P. Casey / Los Angeles Times)
Stone Temple Pilots in May 1996.
(Michael Edwards / Los Angeles Times )
Scott Weiland appears in a Pasadena courtroom in 1995. The band member was facing arraignment on charges of possessing cocaine and heroin.
(Kevork Djansezian / Associated Press)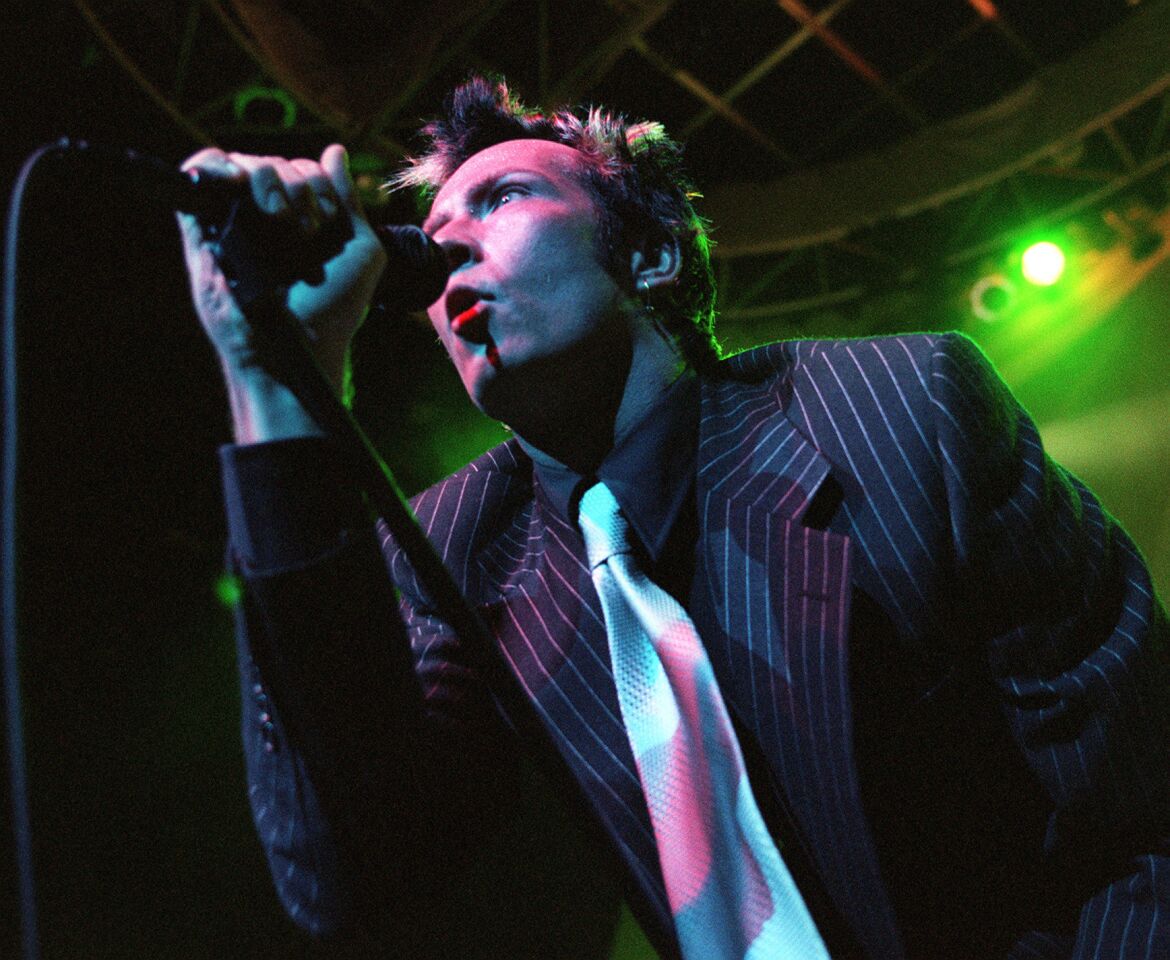 Scott Weiland performs in L.A. after getting out of drug rehab in 1996.
(Paul Morse / Los Angeles Times)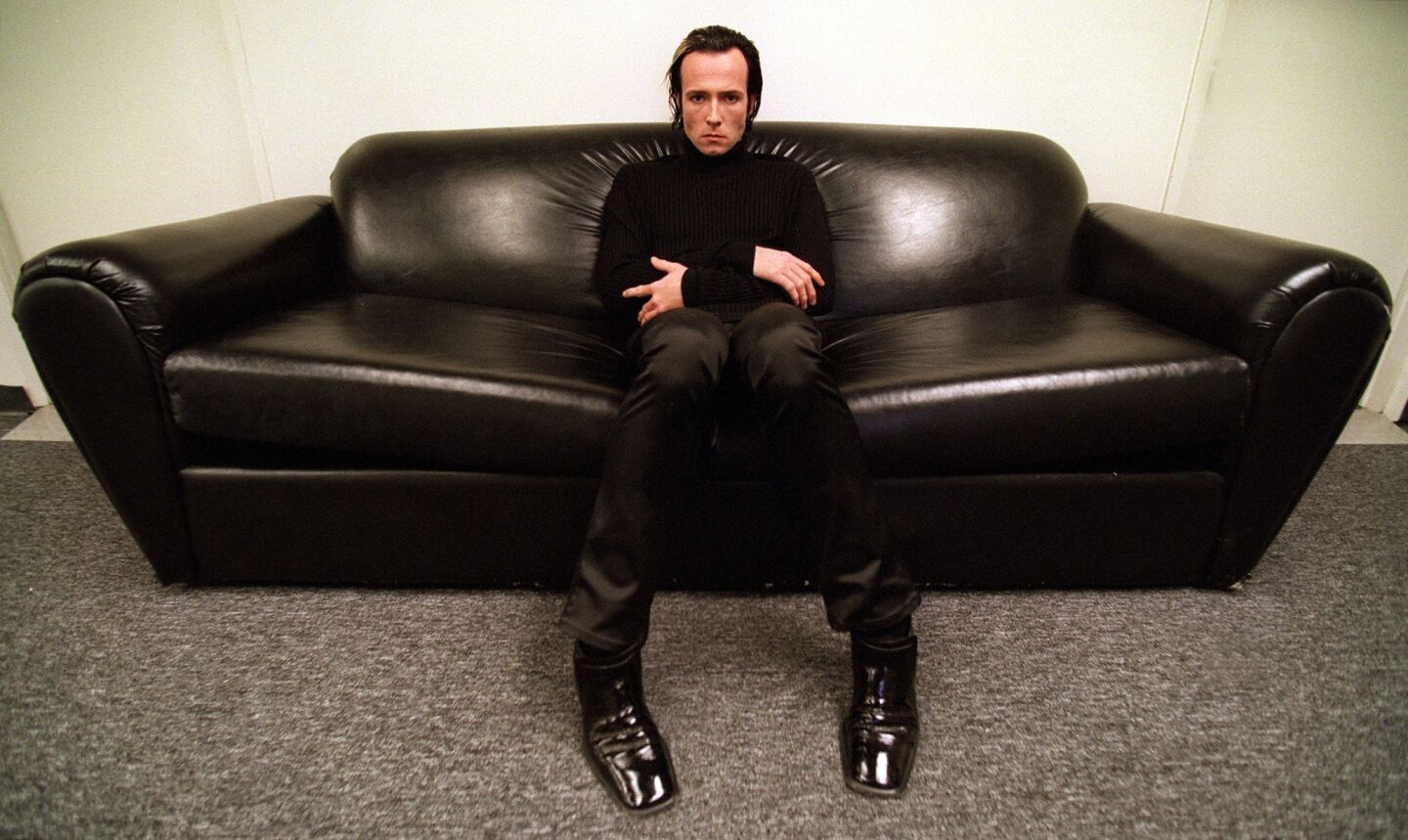 Scott Weiland, lead singer of Stone Temple Pilots, promotes his solo album "12 Bar Blues" in 1998.
(Lawrence K. Ho / Los Angeles Times)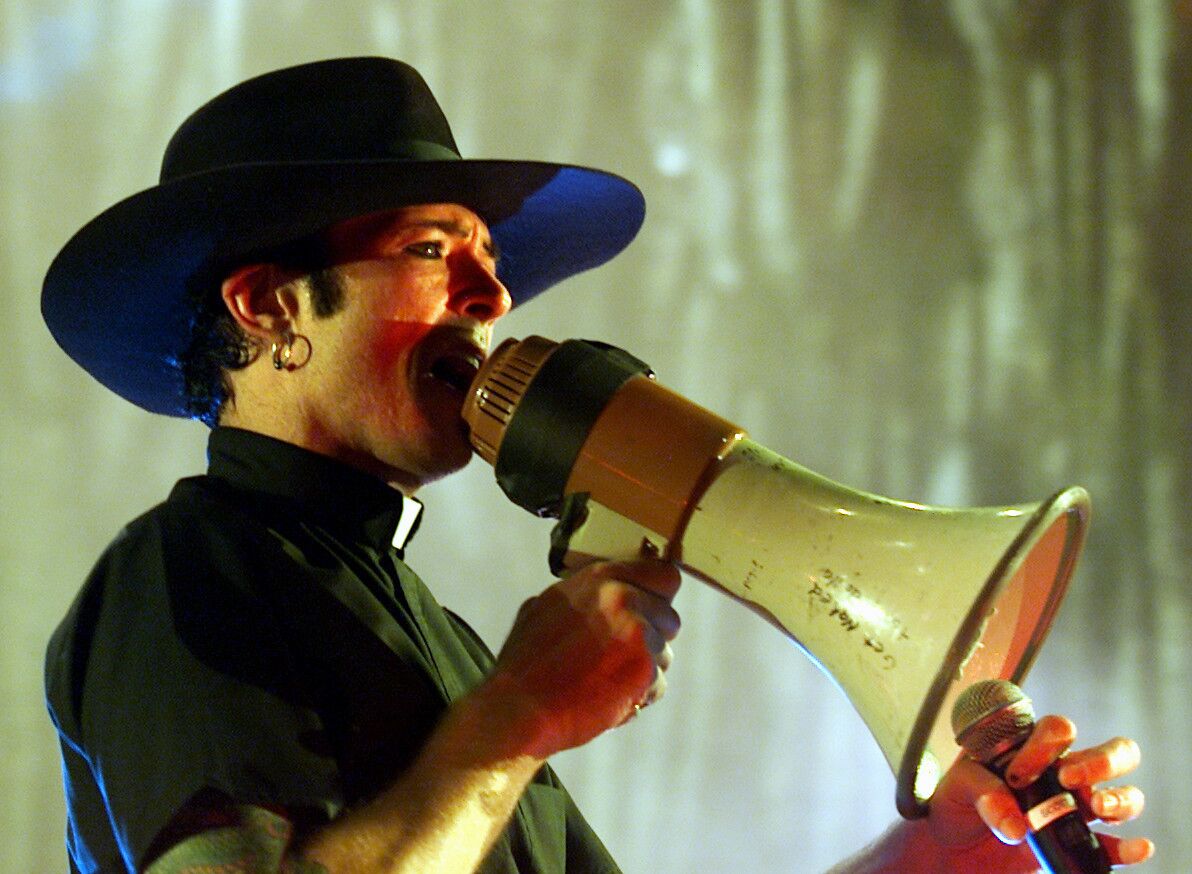 Scott Weiland at the Arrowhead Pond in Anaheim in 2001.
(Christine Cotter / Los Angeles Times)
Scott Weiland, lead singer of Stone Temple Pilots, in Anaheim in 2001.
(Christine Cotter / Los Angeles Times)
Scott Weiland with Stone Temple Pilots during the first night of the group's tour after Weiland's drug rehab in 1996.
(Paul Morse / Los Angeles Times)
Scott Weiland performs during a Stone Temple Pilots reunion concert in Columbus, Ohio, in May 2008.
(Paul Vernon / Associated Press)
Weiland at the KROQ Acoustical Christmas on Dec. 6, 1997 at Universal Amphitheatre.
(Lori Shepler / Los Angeles Times)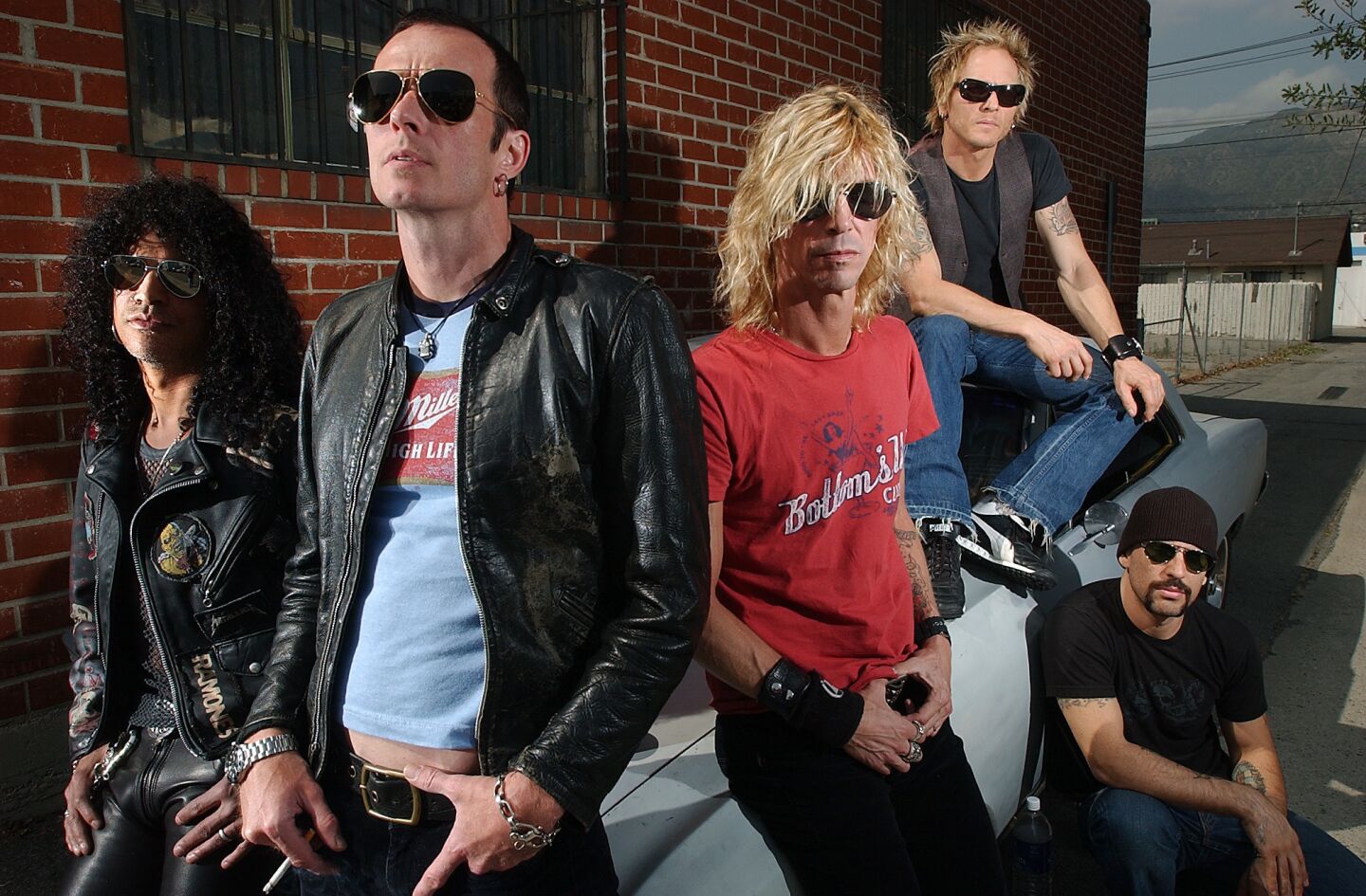 Slash, left, Scott Weiland, Duff McKagan, Matt Sorum and Dave Kushner (kneeling) of Velvet Revolver in 2004.
(Myung J. Chun / Los Angeles Times)
Scott Weiland arrives at the premiere of "Hulk" on June 17, 2003, at Universal City.
(Mark J. Terrill / Associated Press)
Weiland at Edison International Field for the KROQ Weenie Roast in 2000.
(Kevin P. Casey / Los Angeles Times)
Scott Weiland spends a day at the Santa Monica Pier with daughter Lucy, 2, son Noah, 4, and wife Mary in 2005.
(Ken Hively / Los Angeles Times)
Scott Weiland performs with Velvet Revolver at the 944 Magazine Super Bowl party in Scottsdale, Ariz., on Feb. 2, 2008.
(Matt Sayles / Associated Press)
Scott Weiland and Stone Temple Pilots at Showbiz Studios in Van Nuys in 2008.
(Robert Gauthier / Los Angeles Times)
Scott Weiland at KROQ's Weenie Roast at the Verizon Wireless Amphitheatre in Irvine in June 2001.
(Francine Orr / Los Angeles Times)
"I feel lucky to be alive," he says, lighting up a cigarette. "Life doesn't make any sense unless you can enjoy the journey, and sometimes I take that for granted. But I try not to do that now. I try to learn from my mistakes."
Weiland's life these days is a far cry from his many times in rehab. On the video shoot, he relaxes in his dressing room as a publicist and a personal assistant cater to his every whim.
They bring him lunch and later apologize for him as he keeps an interviewer and a photographer waiting while he sits alone and watches the climactic scenes of "Devil's Advocate" on videotape.
Flash back two years and things were dramatically different for the Santa Clara, Calif., native, who spent most of his teen years in Huntington Beach.
Weiland has been in and out of rehab programs about a dozen times since he was arrested in Pasadena in 1995 and charged with possession of cocaine and heroin.
That led to a court-ordered stay in a rehab center that forced Stone Temple Pilots to postpone a tour timed to the band's 1996 album, "Tiny Music . . . Songs From the Vatican Gift Shop," which turned out to be the least successful commercially of STP's three albums, with an estimated 1.5 million copies sold.
Weiland's life in a Pasadena drug treatment center at the time included early-morning wake-up calls, military-style room inspections, sharing a tiny space with one or more roommates and working menial jobs such as washing dishes or raking leaves.
He and the rest of STP (guitarist Dean DeLeo, his bassist brother Robert DeLeo and drummer Eric Kretz) returned to the road in the fall of 1996, but the tour ended with the band canceling its last few shows when Weiland relapsed. The singer entered rehab at the time and then again after another tour with STP last spring.
Weiland's bandmates declined to comment for this article, but Robert DeLeo said last year that dealing with the singer's addiction became a nightmare.
"You end up putting everything you have into wondering whether someone's going to be alive the next day," he told the Toronto Star in September.
Asked about his drug problems, Weiland shrugs.
"Some people suffer negative circumstances when they use, and others don't," he finally says. "Bad luck follows me around when I use, so I don't use."
Though he has spent most of his life in Southern California, Weiland first got excited about music while growing up in Chagrin Falls, Ohio, where he had moved with his mother, stepfather and younger half brother, after his parents were divorced in the early '70s.
Young Weiland's favorite acts were pop bands such as the Beatles, Cheap Trick, the Beach Boys and the Sweet. After he moved with his family to Huntington Beach when he was 14 and enrolling at Edison High School, his tastes expanded to include harder-edged groups--everything from the Sex Pistols and Depeche Mode to Black Flag.
In and out of bands from age 16, he eventually formed what became Stone Temple Pilots after meeting Robert DeLeo at a Black Flag concert in the mid-'80s.
Their 1992 album debut, "Core," was a smash, breaking into the Top 10 and ultimately selling more than 4 million copies. The 1994 follow-up, "Purple," was an equal hit. But as the band's success escalated--driven by radio hits such as "Creep," "Interstate Love Song" and "Vasoline"--so did Weiland's drug use.
The singer--who is separated from his wife of three years, Jannina--says that working on the new album enabled him to "exorcise some of my demons."
Though a handful of the songs deal with his drug use, "12 Bar Blues" is not an album about addiction. It also touches on sex, relationships and other topics.
"Why would I want to make an album about my addiction?" asks Weiland. "For one thing, it's unoriginal. And second, I would hope that I have a little more depth to my soul. I'm 30 years old, and my main experiences with drugs have been over the last four or five years, so there's a lot of living I've done without them."
It's getting dark outside. It has already been a long day, following four days of shooting in Las Vegas and the Nevada desert, and Weiland seems to sense that he'll be here for several more Hours.
His nerves are frayed.
But Weiland's mood brightens as his manager, Arnold Stiefel, enters the room. Stiefel has just come from the studio, where he's seen a playback of the video footage.
"I've never seen lip-syncing that flawless," gushes Stiefel, who has helped guide the careers of Rod Stewart and Toni Braxton, among others. "It looks like it's live. It's flawless . . . just extraordinary."
It was more than pinpoint lip-syncing, of course, that won Stiefel over when Weiland recruited him to be his manager last summer.
The singer's drug problems were a concern, Stiefel says, but "I was blown away by the music. Then I met Scott and I found him to be unexpectedly warm and self-deprecating, very intellectual and with a great sense of humor. We bonded immediately."
Atlantic, too, is excited about the prospects of the solo album and tour, which may include a spot on the Lollapalooza bill. Sources say the label paid about $500,000 for the "Barbarella" video, believed to be the most it has ever spent for a promotional clip.
"He's going to be under the microscope here, so we've really just got to go for it," says Val Azzoli, co-chairman and co-CEO of the Atlantic Group, defending the high cost of the video. "You either believe in it or you don't, and we believe Scott is a star."
So, where does all this leave Stone Temple Pilots?
Weiland vows to return, but Stiefel says it's unclear when that might happen.
"What Scott's really saying is, yeah, he'd like to make another record with Stone Temple Pilots," the manager says. "Those are his mates--who he lived with and grew up with. It's like a fraternity.
"But the truth is, if this record has the kind of reception with the mass market that I expect that it will, it would be very difficult for him to make his next project anything other than another Scott Weiland solo album. And if he remains successful, I really believe that an STP record is three records away--unless this record falls on its face like their [Talk Show] record did."
For now, in other words, Weiland is focused on his solo career.
"I really found myself musically on this album," he says. "And I've also come to terms with celebrity and being a famous rock star. I'm comfortable with it now.
"I used to feel guilty about my success, but I'm over that now. It's like, hey, some people cook for a living and some people milk cows. I write songs."
---
Get our L.A. Goes Out newsletter, with the week's best events, to help you explore and experience our city.
You may occasionally receive promotional content from the Los Angeles Times.