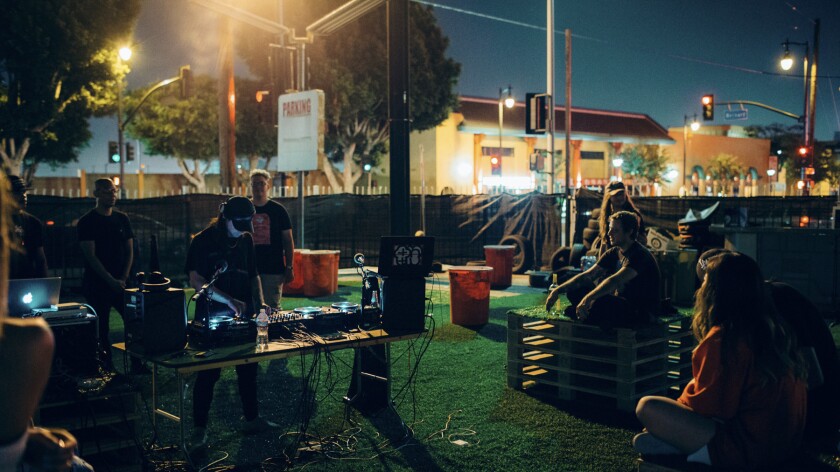 Electronic music producer Skrillex has over the last few months become an expert at dodging Chinatown traffic.
The EDM hitmaker, who since his rise in the early '10s is responsible for massive, moment-defining records in collaboration with Justin Bieber, Diplo, Rick Ross and dozens of others, has been renovating one of the most prominent buildings in the neighborhood.
Located in the northernmost tip of downtown Los Angeles, the 28-year-old artist born Sonny Moore is building a creative hub that he calls the Nest. It already houses his thriving music and apparel label OWSLA, and is the future home of a high-end recording studio.
Anyone who regularly exits the southbound 110 into Chinatown will recognize the building: the Midcentury, two-story property is immediately visible from the ramp and, at 10,000 square feet, is hard to miss.
Nearby, located in a once-empty gas station, is a pop-up shop that opened in July to sell Skrillex and OWSLA merchandise, as well as host the occasional barbecue or late-nighter. Since the OWSLA pop-up shop is more quickly accessed by snaking through cars rolling on and off the freeway, the artist has mastered the art of the dodge.
It's one of many skills to add to his résumé.
Under the Skrillex moniker, Moore has issued a brand of jolting, beat-based music that's come to define contemporary youth culture. As part of the duo Jack U with producer Diplo, he teamed with Bieber for the smash 2015 single "Where Are U Now?"
In tracks that wed hard EDM beats, heavy metal-sized distortion and dubstep bass drops and have featured a roster of rappers including Vic Mensa, the Game and Pusha T, Moore's been a musical bridge-builder. Recently listed as the seventh highest-earning DJ of 2016, he has so far brought in more than $20 million, according to Forbes.com.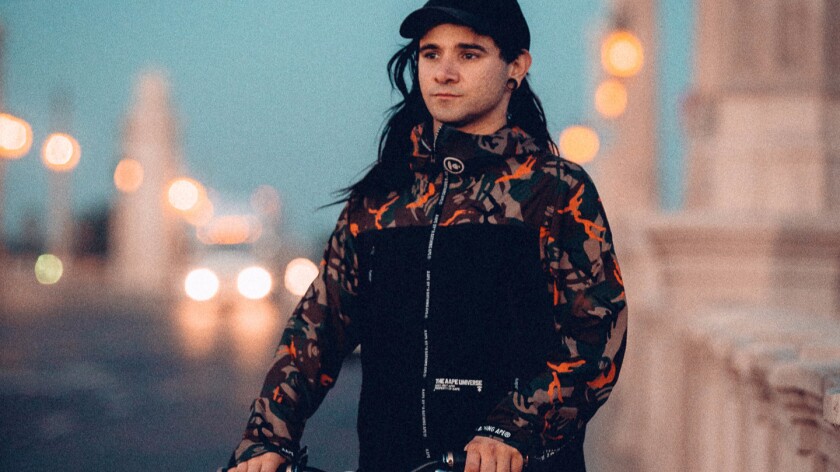 In August, he opened for Guns N' Roses soon after his collaboration with rapper Ross, "Purple Lamborghini," shot up the charts. A few weeks later, at a sold-out screening at Ace Hotel in downtown Los Angeles, he and OWSLA label-mate Wiwek debuted a 20-minute short film with a six-figure budget.
Even the tiny store in the shuttered gas station has been a triumph. Moore wants to buy the property, and the store is staying open until at least the end of the year. But the question now is whether the Skrillex touch can translate to the sort of real-world, big budget endeavors that Sonny Moore envisions.
His ambitions are no longer just musical, but empire-building.
"It's not like there's a label guy in the room that I'm trying to impress," he said.
Rather, he's more interested in "the people that have my livelihood in their hands, that have disseminated my music to the world and are my friends -- who are really capable people. I'm playing it for them and I know we're on the same page. I know, no matter what, if we're stoked on this, that's everything."
Walking inside the Chinatown complex, Moore wandered second-floor offices talking to his posse, a few dozen strong sitting on couches and around big tables. They get paid to further the OWSLA and Skrillex brands and include designers, stylists, bloggers and musicians.
I'm playing it for them and I know we're on the same page. I know, no matter what, if we're stoked on this, that's everything.
Skrillex
Touring the ground floor recording studio construction, where carpenters were framing walls and electricians laying wire, Moore moved like a dervish, brainstorming as he walked.
He pointed to the would-be reception area, imagining "maybe something for people to draw on when they're hanging out? I don't know -- art? Something interactive and fun."
Someone suggested a coloring book. "A coloring book! Like a gigantic one!" Decision made.
He walked past an area that would soon have glass doors that led to a bar and kitchenette. In the basement? "A creative space, we don't know exactly what."
Outside sits a patio, which he envisions surrounded by a 12-foot fence dense with greenery. "Put a fire pit out here and then hang some bulbs," said Moore. "Like a chill area, you know?"
The first thing he did when he started making serious money, said Moore, was invest.
"The thing that was happening," he said, "was happening in my head, but it didn't actually happen until you buy the building and you put the people in the room and hope to God it works because you've invested everything in it. But at the same time your gut tells you it's going to work."
Not too many years ago he was sleeping on the couch of his manager Tim Smith in Gainesville, Fla., after ditching an Orange County emo-punk band and striking out on his own. But whether racing across Hill Street to the shop or issuing huge volumes of music through OWSLA, the artist gets energy from constant motion.
After navigating traffic and greeting a few fans out front of the pop-up shop, Moore entered and headed to a rack. Holding up a long-sleeved black T-shirt, he said, "We cut and sew everything in South Central L.A. Everything made in America with our stuff."
OWSLA clothing is made by an as-yet-unnamed company founded by former American Apparel head Dov Charney, whose cousin Melissa Gross oversees OWSLA's merchandising. Elsewhere on shelves and racks were black hoodies, long-tailed T-shirts, swim trunks, socks, lighters and iPhone cases, all with the OWSLA logo prominently displayed.
Later, standing on a balcony of the Nest overlooking Chinatown and, in the distance, the downtown skyline, Moore mimicked holding a phone and said, "This is where people pace. This is where the phone calls happen, right?"
As a talent scout, Moore played a key role in the rise of superstar producers Zedd and Porter Robinson, and seems to have found a new blockbuster in Marshmello, a beat producer who performs in a ridiculous white costume. Those artists and dozens of others have appeared on tracks from across OWSLA's catalog, which has issued nearly 200 singles, albums and EPs and just celebrated its fifth anniversary.
"We want to try to capture lightning in a bottle," said OWSLA label manager Blaise DeAngelo. "It's all about signing that right thing at the right time and moving quickly on it. That's how stuff explodes."
DeAngelo previously worked for the streaming site Grooveshark, which went bust after it failed to negotiate agreements with the major record labels. But he learned some lessons. Success, he said, involves "using not only digital marketing tools and strategies, but also applying data analytics to sort of drive our decisions."
Whether they're related to music or not, a lot of people now are making careers out of just putting great content online.
Blaise DeAngelo, OWSLA label manager
For example, before Skrillex opened for Guns N' Roses, DeAngelo had an idea: "Why don't we ask Spotify what are the hottest rock songs in Houston in the last month right now?'" The artist worked his remixed versions of those tracks into the set.
Smith, as one of the most powerful managers in electronic dance music -- and co-owner of OWSLA with Moore -- has another rule: release a lot of music. The head of Blood Company, he works with Zedd, Jack U, Bloodpop and Boys Noize, and runs his business out of the Nest.
"We're very spontaneous, very punk rock and we're releasing a lot of stuff," he said.
Smith got his start in a metal band and looks it, with long, brownish-blonde hair and a serious beard. Notably friendly, he nonetheless can reveal a sense of menace when he gets competitive: "Show me somebody, especially on this level, that's releasing the amount of content with a regularity and volume we are. Not very often."
Added DeAngelo of OWSLA's underlying model, "It's content now. That's the commodity."
He cited the new wave of social media stars as examples. "You've got Vine stars and Snapchat accounts, and whether they're related to music or not, a lot of people now are making careers out of just putting great content online."
Hence Moore's forthcoming recording studios.
When finished at the beginning of 2017, Moore predicted that "these will be some of the best mixing rooms in L.A. This guy Thomas from Belgium, who's designing the studios, is so particular about sound. The paint was the wrong color for sound. We had to, like, get different doors."
As he talked, Moore passed two middle-aged carpenters, who smiled at him. "What's up, fellas?" They shook hands with the producer and told him they were fans. "Nice to meet you guys," replied Moore. "Thanks for working so hard."
There's a lot of terrible music out there. For tips on the stuff that's not, follow Randall Roberts on Twitter: @liledit
---