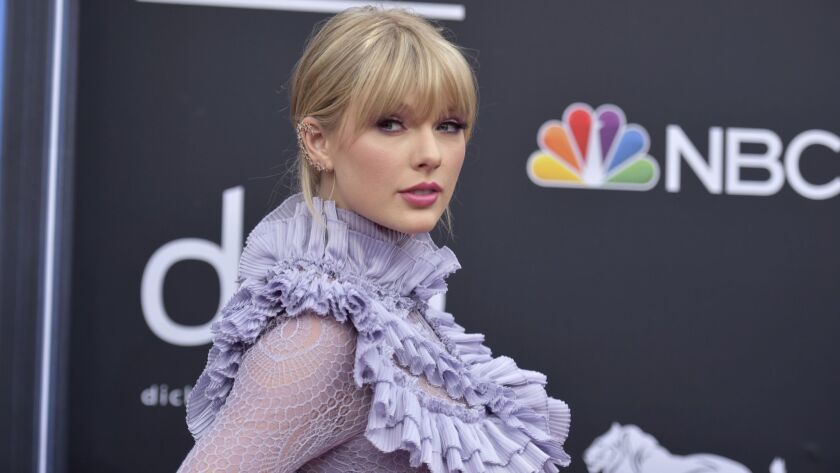 Officials at Taylor Swift's former label, Big Machine Records, are wasting no time moving into a new era following the June 30 announcement of the company's sale to talent manager Scooter Braun, pumping out a "limited edition" vinyl of her second hit single, "Teardrops on My Guitar," to mark "13 Years of Taylor Swift," according to a news release.
The item, offered for $10 and slated to ship Aug. 30, was announced Wednesday.
"This is the second of five [limited-edition singles] that we have launched as part of an anniversary campaign," a Big Machine source told The Times. The first was for her debut single, "Tim McGraw," which went on sale June 20. "It quickly sold out upon announcement," the source added.
Social media lit up with responses from Swift fans about the "Teardrops on My Guitar" single, some viewing it as opportunistic:
Earlier this month, Swift criticized Big Machine founder Scott Borchetta's decision to sell the company to Braun, including all the master recordings Swift made with the label, dating back to her self-titled debut album in 2006, saying she had not been afforded the same opportunity to buy the label, which would have given her control over how her earlier music is marketed and sold in the future.
In fall 2018, she signed a new contract with Republic Records, an imprint of corporate giant Universal Music Group, which is also the parent of Big Machine.
A representative for Swift did not respond immediately to The Times' requests for comment.
Also on Wednesday, Forbes magazine announced that Swift had topped its annual Celebrity 100 wealth list, with estimated earnings during 2018 of $185 million. That put her comfortably ahead of the No. 2 celeb, Kylie Jenner, with $170 million, and significantly above rapper Kanye West at No. 3 with $150 million. Other musicians in the top 20 of the publication's earnings list are Ed Sheeran (No. 5 with $110 million), the Eagles (No. 8, $100 million), Elton John (No. 18, $84 million) and Beyoncé and Jay-Z (tied at No. 20 with $81 million each).
It was the second consecutive year Swift led the list. The figures are based on Forbes' calculation of pretax earnings for musicians, TV and film stars, athletes and various "personalities."
Follow @RandyLewis2 on Twitter.com
For Classic Rock coverage, join us on Facebook
---