Why the bilingual Marías are 'the perfect indie band for L.A. kids'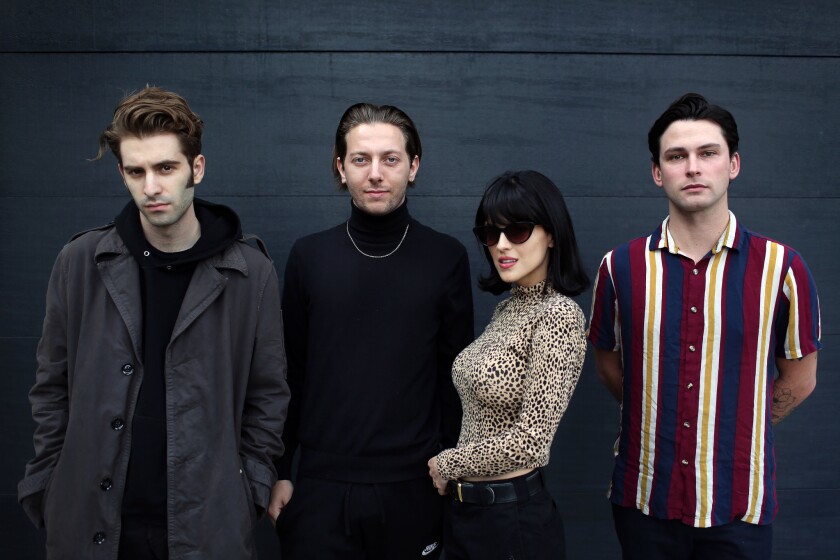 Pop Music Critic
María Zardoya makes a strong first impression.
This breathy-voiced singer, who was born in Puerto Rico and grew up in Atlanta before moving to Los Angeles in 2016, was performing at the Kibitz Room at Canter's Deli one night not long after she'd arrived in town. She was sixth or seventh on the bill — long enough into the show that the guy running sound, Josh Conway, was already thinking about wrapping up.
"And then her first note, I was just like, 'Whoa,'" Conway recalled recently. Afterward, he approached her with a proposal: "Do you want to write and record and hang out and date?"
"He didn't say that last part," the singer clarified with a laugh.
"But I was thinking it," Conway replied.
Three years later, the musicians' creative collaboration — along with their romantic relationship — are at the core of the Marías, one of L.A.'s most buzzed-about young acts.
The band, set for a sold-out concert Friday night at the Regent Theater, plays smooth, melodic pop with sensual lyrics in both English and Spanish, not to mention complicated grooves that hint at soul music and Latin jazz.
On a pair of carefully produced EPs, both titled "Superclean," María (who prefers to go by her first name alone) sings about love in a hushed murmur that invites the listener to lean in to catch every word. But if the Marías' music can summon a couple's private universe — "Babe, I'd rather stay inside your dream," goes one line she and Conway deliver in harmony — the group also reflects shifts in the wider world.
María's approach to language connects the band to Cardi B and to Hawthorne's much-adored Cuco at a moment when American demographics are changing. And the intricate arrangements point to the widespread reappraisal (by Tame Impala and Daft Punk, among others) of once-unfashionable acts like Steely Dan.
"They're like the perfect indie band for L.A. kids," said José Galván, a DJ at Santa Monica's taste-making KCRW-FM (89.9) who's played the Marías on his radio show. "They're bilingual in a casual way. Josh is kind of mellow on the drums.
"And María — she has this incredibly sexy vibe with a voice that's like …" Galván trailed off, then echoed Conway's initial reaction.
"Wow."
Long before that night at the Kibitz Room, María learned to sing while idolizing Selena, the Grammy-winning Tejano star who was murdered in 1995. Later, she got into Norah Jones, whose jazzy-folky balladry was along the lines of what María was doing when she met Conway and took him up on his offer to hook up.
The two began writing together and soon were approached by an acquaintance who asked if they'd be interested in creating music for film and television.
"Nothing we wrote got placed," María said as she snuggled with Conway on a sofa at their home in the Hollywood Hills. In a corner of the cozy living room, a keyboard and microphone were arranged around a computer, while a vinyl copy of Radiohead's "In Rainbows" album sat propped on a window sill.
"But we got a lot of good songs out of it," María went on. "So eventually, we figured we should make this a thing and start playing shows."
Conway, whose father is the veteran music publishing executive Lionel Conway, recruited his pals Jesse Perlman and Edward James to handle guitar and keyboards, respectively. (All four members are in their mid-20s.) The group rehearsed twice a week for six months before playing its first show, which paid off: The Marías moved quickly from a gig in the lobby of downtown's Freehand Hotel to selling out the El Rey with Cuco; they appeared at last fall's Tropicália festival then filled the Observatory in Santa Ana on Valentine's Day.
Audiences were responding to the band's refined presentation — Perlman said Conway spends hours obsessing over the perfect snare and kick drum sounds — but also to its distinctive makeup.
"I don't think there are many bands that have a female Latin singer with a bunch of white Jewish guys," María said with a laugh. At the same time, she added, the mix of Spanish and English lyrics makes the group relatable to a generation of young Americans who've grown up in homes in which both languages are spoken.
"Today there are more people like me than ever in the U.S.," the singer said. "What we've seen and experienced — I want the music to show that."
For all its built-in appeal, the group has worked hard to establish a foothold in an increasingly crowded music scene. María remembers doggedly pitching the band's songs to makers of playlists on SoundCloud and Spotify, where tracks from both volumes of "Superclean" have racked up tens of millions of streams. (On the former platform the group recently posted a slinky cover of Britney Spears' "… Baby One More Time.")
Terms like "content creation" and "brand partnership" roll easily off the members' tongues, as is the case with many acts born in the Instagram era. But they also seem keenly attuned to the risk of cheapening their music through alliances with … well, they didn't want to say which cred-hungry companies they may already have turned down. Perhaps Conway's dad, who's worked with Madonna and Tom Waits, taught him something about the art and science of commercial pop.
Another sign of the digital times: The Marías have so far gone without a record label.
"In the '90s there was no other way to be heard," Conway said. "Now you can get yourself to a certain point on your own."
He and his bandmates aren't necessarily opposed to the idea of teaming with a label in the future. The group's manager, Gonzo Lubel, says he's fielded much interest in the Marías, especially since Cuco announced this month that he'd signed to Interscope in a reported seven-figure deal.
At María and Conway's place, though, that seemed less pressing than the prospect of new music. In January the couple spent two weeks at Joshua Tree National Park writing songs, which they'd brought back to L.A. to flesh out in the group's lush but uncluttered style.
Where in town were they recording?
"Oh, right there," Conway said, pointing to the little setup in the corner. "That's actually more than we had when we did 'Superclean.'
"We just upgraded."
Twitter: @mikaelwood
---
The complete guide to home viewing
Get Screen Gab for weekly recommendations, analysis, interviews and irreverent discussion of the TV and streaming movies everyone's talking about.
You may occasionally receive promotional content from the Los Angeles Times.