Review: How Tropicália quickly became one of L.A.'s most inviting festivals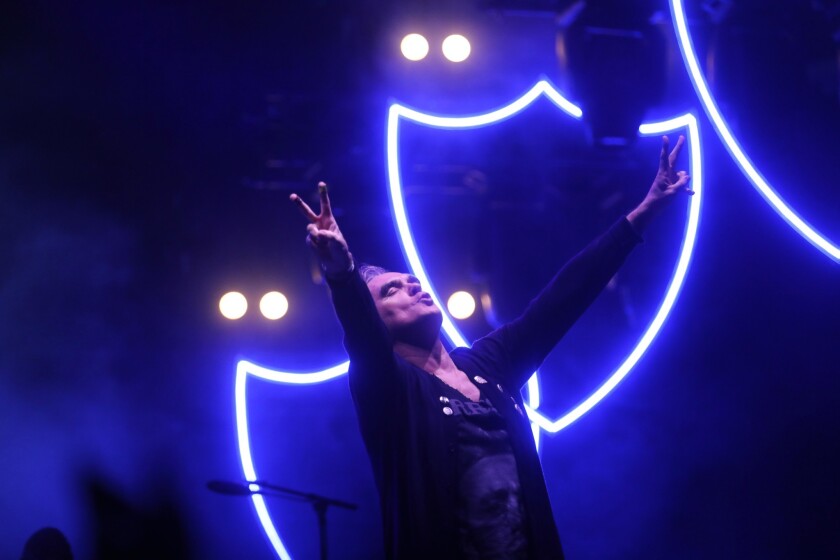 Pop Music Critic
"Estoy en casa!" Morrissey cried to begin his headlining performance at this past weekend's Tropicália Music & Taco Fest, and as far as I know he wasn't speaking literally.
Yes, the British post-punk veteran has lived in Southern California on and off since the 1990s — long enough that last year the Los Angeles City Council designated Nov. 10 as Morrissey Day in L.A.
But to my knowledge he's never laid his head in Long Beach, where Tropicália took place Saturday and Sunday at the waterfront Queen Mary Events Park in the shadow of that retired ocean liner.
Which means that Morrissey was deploying his carefully chosen words — "I am home!" — in a kind of spiritual sense: Famously beloved by many Mexican Americans here, the singer wanted to make it clear that he felt he belonged at a festival in which white Englishmen were in short supply.
"Gracias," he said to cheers after a crisp but hard-hitting rendition of "Hairdresser on Fire."
Morrissey's booking — and the presence of hundreds of folks wearing T-shirts with his face on them — told you a lot about Tropicália's aim in its second year (and first under the aegis of Goldenvoice, the powerful L.A.-based promoter that puts on Coachella and Stagecoach).
With a smartly curated bill that also featured Kali Uchis, Mazzy Star, Natalia Lafourcade, Mac DeMarco and SZA — the last of whom stepped in at the 11th hour following a cancellation by Cardi B — the two-day concert wasn't intended to be a definitive survey of Latin pop in 2018; instead, it was after something of the texture of life around these parts for members of the Latin American diaspora.
So in addition to established Spanish-speaking stars like Mon Laferte, the dramatic alternative rocker from Chile, and Mexico's Lafourcade, Tropicália offered musicians such as Toro y Moi and SZA, whose diverse audiences of course count people from California's largest demographic group.
And along with a host of young acts using social media to build followings — the Marías, Surf Curse, Boy Pablo, the Frights — there were old-timers like Bronco, the long-running Mexican group likely familiar to many teenage festival-goers thanks to their parents.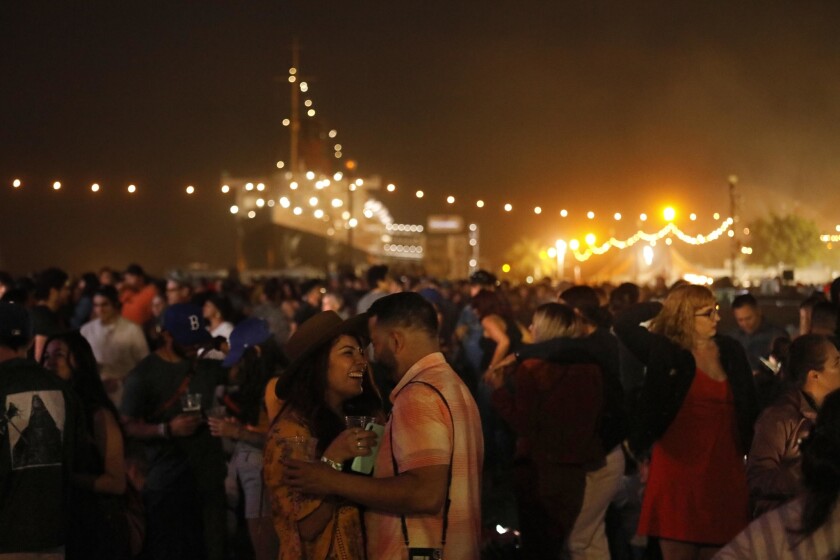 Vendors sold the promised tacos (though only in vegetarian form on Saturday night at the request of Morrissey, a committed animal-rights activist). But there was pizza for sale as well. And crispy Korean-style wings. And a variation on the Moscow Mule.
You get the idea: an expansive representation of a distinct experience defined too often these days by those seeking from outside to limit or demonize.
Indeed, that Tropicália came together in such beautifully friendly fashion on a weekend when President Trump was warning about invaders from the south — well, it made you only happier to be among musicians of so many kinds telling their own stories.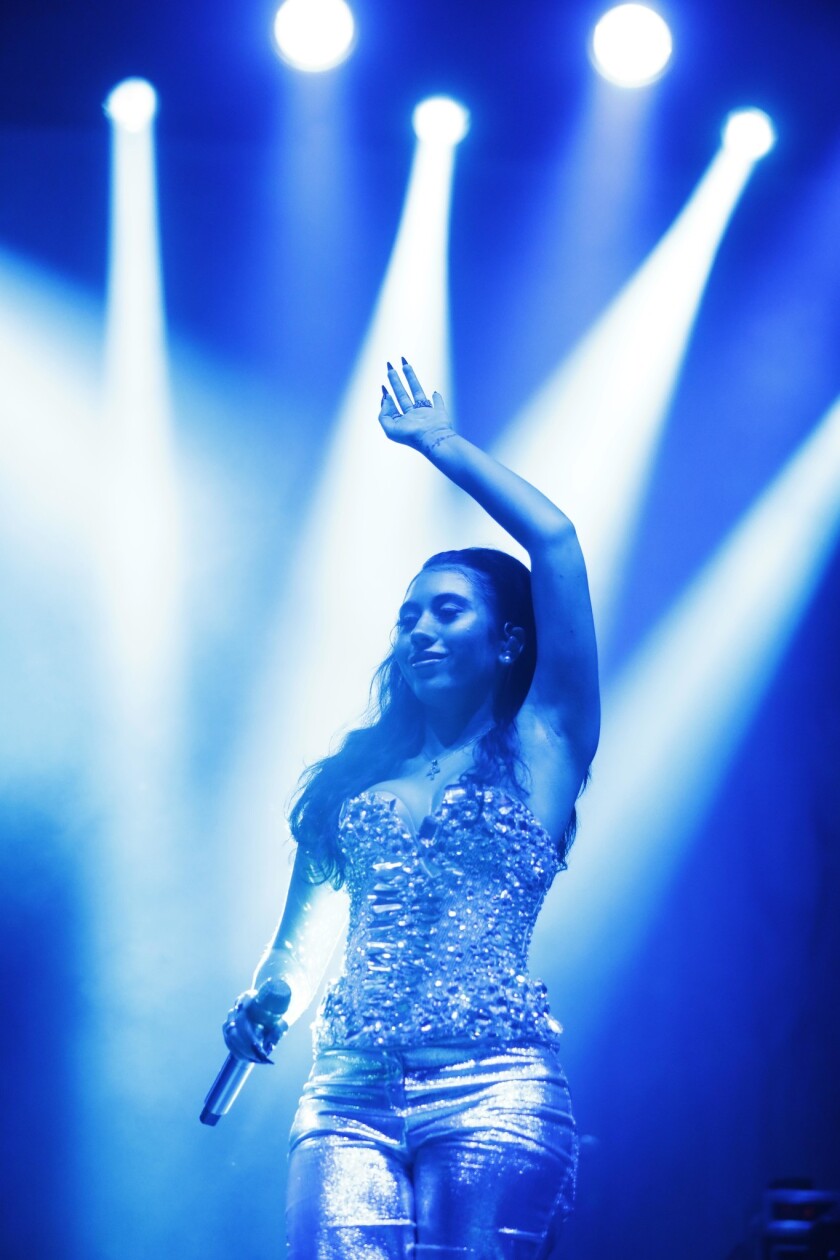 For Uchis, a Colombian American singer who lives in L.A., that story had to do with her thoughts on romance and labor and her fascination with hip-hop and vintage movie music. For Mazzy Star, it was the glamour of depression in songs that paired Hope Sandoval's breathy vocals with David Roback's slow-motion strumming.
The Mexican ska band Inspector played a spirited version of the standard "Bésame Mucho" — here was one way to keep the old things alive — while Chicano Batman demonstrated its belief that hand-played funk and rock can still move listeners increasingly accustomed to machines.
DeMarco, wearing a blow-up turkey costume, performed solo with only a laptop to accompany him; Laferte and Lafourcade set their big voices against big bands complete with horn players and percussionists.
Closing the show Sunday night, SZA used her gloriously off-kilter R&B tunes to sing about her "crippling" anxiety, which she admitted was in overdrive because she was filling in for Cardi B. (The rapper, one of 2018's breakout stars, was one of several no-shows at Tropicália, along with Ronnie Spector, Cuco and BadBadNotGood.)
Yet the crowd received SZA warmly, and that seemed to lead her to loosen up a well-practiced festival set she's performed at numerous events around California over the last couple of years.
Among the up-and-comers, '70s-era yacht rock was a common touchstone, with the Marías and Triathalon embracing the sound to put across languid love songs and Mild High Club to get some goofy laughs. Surf Curse and SadGirl looked back even further, to rockabilly and surf music from the '50s, but their technique was just as sharp.
Those styles came through in Morrissey's set too, which combined songs from his long solo career with oldies by the Smiths (including the deathless "How Soon Is Now?") and a tender rendition of the Pretenders' "Back on the Chain Gang."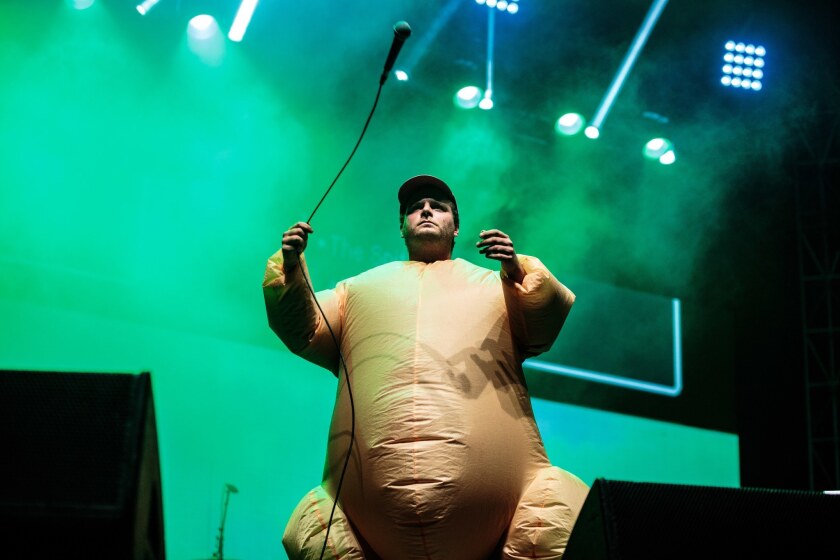 During "The Bullfighter Dies" — in which the next lyric is "and nobody cries" — a large video screen behind the singer showed gruesome footage of animals suffering as part of that sport. It was a typically hard-nosed move from one of pop's great provocateurs — though one wishes he might've taken advantage of the setting to straightforwardly explain his confusing position on immigration in the U.K. (where his crypto-nationalist views seem at odds with Tropicália's progressive ideal).
Another contradiction I found myself pondering in Long Beach: As much as this festival's value was tied to its broad scope, its relatively small size — with somewhere between 10,000 and 15,000 attendees — was a big part of what made it such a pleasure.
Unlike Coachella, Tropicália wasn't hard to navigate; unlike Coachella, this easygoing weekend didn't constantly force you think about which wristband you had and whether it would get you where you wanted to go.
I had such a good time that naturally I want more people to experience it next year. If they do, though, that might make it harder for anybody to feel at home.
Twitter: @mikaelwood
---
Inside the business of entertainment
The Wide Shot brings you news, analysis and insights on everything from streaming wars to production — and what it all means for the future.
You may occasionally receive promotional content from the Los Angeles Times.