From the Archives: Tom Petty breaks down 10 of his songs, including big hits and obscure gems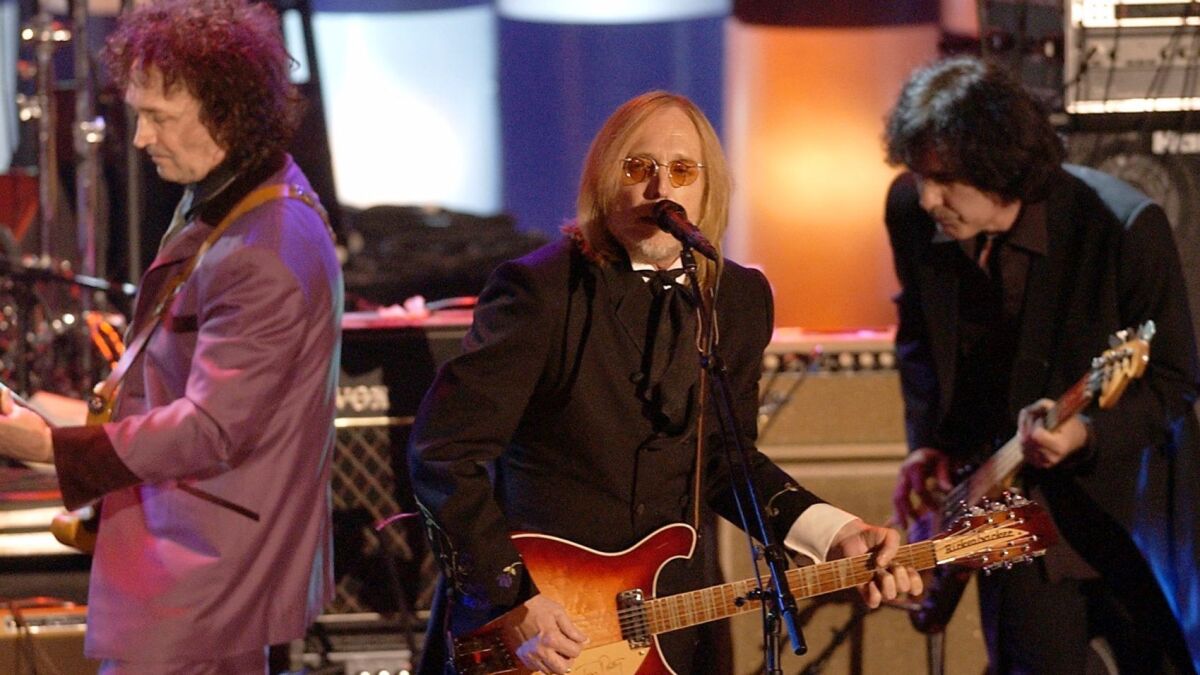 Singer-songwriter Tom Petty has died at age 66. In advance of the Heartbreakers' 2002 induction into the Rock and Roll Hall of Fame, Petty commented on then-Times pop music critic Robert Hilburn's 10 favorite Petty songs. This article was originally published on March 15, 2002.
Tom Petty's music has always reflected the purity and faith of a musician who had the courage and conviction to simply listen to his heart.
Rather than tailor his style to better fit critical or commercial trends, the singer-songwriter and his band the Heartbreakers have remained true, in themes and presentation, to the basic rock 'n' roll tradition that they learned from the records of such classic figures as Elvis Presley, the Beatles, the Rolling Stones, the Byrds and Bob Dylan.
On Monday in New York City, Petty and the Heartbreakers will join those and other early heroes as members of the Rock and Roll Hall of Fame. Jakob Dylan will induct them in a ceremony whose taped highlights will be broadcast at 9 p.m. Wednesday by VH1. Other inductees this year include Isaac Hayes, Brenda Lee, Gene Pitney, the Ramones and Talking Heads.
"I feel like a lucky man," Petty, 51, said this week at his home in Malibu, where he lives with his second wife, Dana, and her 9-year-old son from her first marriage. "A lot of people really struggle to find out what they want to do in life, but I knew as soon as I saw Elvis Presley, when I was 11. From that point, music became my religion, my nourishment.
"It was also a safe haven for me. My life was very turbulent as a child and a little scary, and music made everything seem right. It has also pulled me through some other dark times. It's very touching to be voted into the Hall of Fame because it's an award given by your peers, and it's a nice feeling to think you're going to be remembered."
Rock and roll legend Tom Petty is photographed in the studio of his L.A. area home.
(Jay L. Clendenin / Los Angeles Times)
Tom Petty performs at the Inglewood Forum on Jan. 20, 1980.
(George Rose / Los Angeles Times)
Tom Petty tries to get the crowd involved at a November 1979 performance in New York.
(George Rose / Los Angeles Times)
Tom Petty plays in Santa Monica on June 7, 1978.
(Marianna Diamos / Los Angeles Times)
Tom Petty at his home on April 28, 1985.
(Iris Schneider/Los Angeles Times)
Tom Petty on stage for a soundcheck in Burbank during a May 1987 tour.
(Ellen Jascol / Los Angeles Times)
Tom Petty in concert in July 1979 in Santa Cruz.
(George Rose / Los Angeles Times)
Tom Petty at a Santa Cruz concert in July 1979.
(George Rose / Los Angeles Times)
Tom Petty and the Heartbreakers in Irvine on Aug. 14, 2005.
(Karl Walter / Getty Images)
Tom Petty holds up the key to the city of Gainesville, Fla., he received from Mayor Pegeen Hanrahan in 2006. From left are drummer Steve Ferrone, guitarist Scott Thurston, Petty and bassist Ron Blair.
(Tracy Wilcox / Associated Press)
Tom Petty is interviewed in 1996.
(Bob Carey / Los Angeles Times)
Tom Petty, third from the left, touches the star he and his band, the Heartbreakers received on the Hollywood Walk of Fame on April 28, 1999.
(Vince Bucci / AFP/Getty Images / )
Tom Petty performs during a sold-out concert at the Inglewood Forum on Jan. 20, 1980.
(George Rose / Los Angeles Times)
Mike Campbell, left, Tom Petty, Stan Lynch, Benmont Tench and Howie Epstein of Tom Petty and the Heartbreakers on Nov. 28, 1993.
(Caroline Greyshock / Los Angeles Times)
Tom Petty and the Heartbreakers perform at Pine Knob Music Theater in Clarkston, Mich., on June 18, 1999.
(Paul Warner / Associated Press)
Mike Campbell, left, Tom Petty and Tom Leadon of Mudcrutch perform at the Troubadour in West Hollywood on May 1, 2008.
(Tim Mosenfelder / Getty Images)
Tom Petty performs during the Hangout Music Festival on May 18, 2013, in Gulf Shores, Ala.
(Skip Bolen / WireImage/Getty Images)
Tom Petty in the studio of his L.A.-area home on June 30, 2014.
(Jay L. Clendenin / Los Angeles Times)
Members of Mudcrutch, from left, Benmont Tench, Mike Campbell, Randall Marsh, Tom Leadon and Tom Petty at Warner Bros. Records in Burbank on April 7, 2016.
(Brian van der Brug / Los Angeles Times)
Tom Petty and the Heartbreakers play the Arroyo Seco Weekend festival in Pasadena on June 24, 2017.
(Luis Sinco / Los Angeles Times)
Tom Petty at his home in Malibu on Sept. 27, 2017.
(Genaro Molina / Los Angeles Times)
Tom Petty at his Malibu home on Sept. 27, 2017.
(Genaro Molina / Los Angeles Times)
Tom Petty and the Heartbreakers play the Hollywood Bowl on Sept. 21, 2017.
(Luis Sinco / Los Angeles Times)
Tom Petty and the Heartbreakers at the Hollywood Bowl on Sept. 21, 2017.
(Luis Sinco / Los Angeles Times)
Joining the Florida native on stage will be the original Heartbreakers lineup of Mike Campbell on guitar, Benmont Tench on keyboards, Stan Lynch on drums and Ron Blair on bass. Howie Epstein, who replaced Blair in the early '80s, will also participate.
It's easy to see why so many of Petty's songs, including "Refugee" and "I Won't Back Down," are anthems about struggling to pursue your dreams. He came into rock in the mid-'70s, a time when the pop airwaves were devoted to disco or bland pop-rock, and he subsequently went through some highly publicized battles with record companies to maintain his personal and creative independence.
Unlike most Hall of Fame inductees over the years, Petty is still a Top 10 album sales contender and a top arena draw. His next collection is due by the fall and he will continue to tour periodically with the Heartbreakers.
Petty, who also has two grown daughters from his first marriage, finds it hard to come up with a list of his own favorite compositions, but he agreed to comment on 10 of my Petty favorites. The songs are listed chronologically.
'American Girl'
Served up with guitar-driven textures so wonderfully Byrds-ian that Byrds leader Roger McGuinn quickly recorded the song, this 1976 number introduced Petty's key theme of struggle in pursuit of dreams. Key line: "Well, she was an American girl, raised on promises. She couldn't help thinking that there was a little more to life, somewhere else...."
Petty: "I wrote that in a little apartment I had in Encino. It was right next to the freeway and the cars sometimes sounded like waves from the ocean, which is why there's the line about the waves crashing on the beach. The words just came tumbling out very quickly--and it was the start of writing about people who are longing for something else in life, something better than they have.
"A lot of people think the girl in the song commits suicide, but it's not about suicide. It has also been interpreted as a statement about the country. I was watching the 9/11 concert in New York and the Goo Goo Dolls played 'American Girl.' I could see the crowd cheering in this really patriotic context. But it was just a story when I wrote it. In my mind, the girl was looking for the strength to move on--and she found it. It's one of my favorites, and we'll probably play it Monday."
'Listen To Her Heart'
From the exuberance of the music to the details of the lyrics, this 1978 tune felt like a companion piece to "American Girl." Here was someone else at a crossroads, but this time the ending was more obviously positive. Key line: "You think you're going to take her away with your money and your cocaine ... but she's going to listen to her heart, it's going to tell her what to do."
Petty: "This was a love song. I wrote it after my wife at the time told me about going to a party at [a famous musician's] house and there being all this cocaine around, and I think that kicked off the opening line of the song. There was a lot of resistance from radio to the word 'cocaine.' The record company wanted me to change it to 'champagne,' but that was a whole different image and I wouldn't do it. It started with this guitar riff I had. I was looking for something with the sound of the Searchers' record 'Needles and Pins.' I still love to play the song live."
'Refugee'
This 1979 hit single largely defined Petty's musical stance--the fighter who wouldn't give up, regardless of odds. It was an old rock 'n' roll theme, but Petty infused it with new energy and conviction. Key line: "Everybody's got the right to be free ... you don't have to live like a refugee."
Petty: "This was a reaction to the pressures of the music business. I wound up in a huge row with the record company when ABC Records tried to sell our contract to MCA Records without us knowing about it, despite a clause in our contract that said they didn't have the right to do that. I was so angry with the whole system that I think that had a lot to do with the tone of the 'Damn the Torpedoes' album. I was in this defiant mood. I wasn't so conscious of it then, but I can look back and see what was happening. I find that's true a lot. It takes some time usually before you fully understand what's going on in a song--or maybe what led up to it."
'The Waiting'
This 1981 song was another tale of struggle, but a more optimistic one.
Petty: "That was a song that took a long time to write. Roger McGuinn swears he told me the line--about the waiting being the hardest part--but I think I got the idea from something Janis Joplin said on television. I had the chorus very quickly, but I had a very difficult time piecing together the rest of the song. It's about waiting for your dreams and not knowing if they will come true. I've always felt it was an optimistic song."
'Straight Into Darkness'
This 1982 song spoke about the tensions of trying to keep your spirits up when everything around you is in turmoil. Key line: "I don't believe the good times are over, I don't believe the thrill is all gone."
Petty: "I like that song a lot. I don't know why it was never put out as a single. Maybe it was just a little too dark. There were a lot of tensions going on around me and I was trying to combat the pessimism. I wanted to say that love is the great redeemer. We played it quite a bit live, and it always went over well."
'Southern Accents'
"Southern Accents" may be Petty's most thoughtful and ambitious album. The 1985 collection is a sometimes affectionate, sometimes disheartened look at his Southern roots, and the way young people there have to battle stereotypes and peer pressure in trying to choose their paths. Key line: "There's a Southern accent where I come from--the young-'uns call it country, the Yankees call it dumb."
Petty: "That may be my favorite among my songs--just in terms of a piece of pure writing. I remember writing it very vividly. It was in the middle of the night and I was playing it on the piano at home in Encino. I was just singing into my cassette recorder and suddenly these words came out. I was at the point in my career where I was very much trying to find some new ground. I thought I had used up what I had started with and I wanted a new direction.
"We had lived in California for about 10 years at that point and I started thinking about growing up in northern Florida, which is a lot different from Miami Beach. It's close to Georgia and I came from a real Southern family, and I wanted to address that world. Once I came up with this song, I decided to write an entire album about the theme."
'The Best Of Everything'
Also from "Southern Accents," this is one of Petty's most compelling narratives--a more mature look at the kind of story he was telling in "American Girl."
Petty: "I wrote that before 'Southern Accents,' but Nick Lowe gave me the idea of putting it on the album. He said it sounded like a Southern story to him. I love Robbie Robertson's horn arrangement on the song. It's about a girl I was fond of when I was a teenager, and me just wondering about whatever happened to her."
'You Don't Know How It Feels'
This 1994 song was a memorable look at isolation and despair.
Petty: "One of the things that happened with the 'Southern Accents' album is that I started writing about specific characters, rather than just from my own experience, and this was a song in that style. This guy had no place to go, and he's just trying to find a place to fit in."
'Angel Dream'
This is from the music Petty wrote for the soundtrack to the 1996 film "She's the One," and it's one of his most tender tunes. Key line: "I saw an angel, I saw my fate. I can only thank God it was not too late."
Petty: "That's one of my all-time favorites. It's about my wife, Dana, and it's the truth, line for line. That has always been our song."
'Room At The Top'
This song, from the 1999 "Echo" album, is strikingly atypical of Petty's music. Rather than the clarity that is his trademark as a writer, this number finds its strength in its mystery. There's such a rowdy, disoriented feel to the arrangement that you have to struggle to even make out the words, but it feels like an absolutely accurate snapshot of disillusionment and pain.
Petty: "That 'Echo' album was one of the dark times. I can't even play it. It scares me because I was so down when I made it. It was the toughest period of my life. The character in that song is really desperate. It was the time of my divorce and the aftermath, when I was having to rebuild a lot of relationships, including those with my daughters. There was a lot of misunderstanding. I probably spent a year withdrawn from everyone, just staying home. It was a lonely, weird time, and I guess a lot of that is captured in the song.
"But time really is a healer and my life is wonderful now. You'll be able to tell in the songs I've been writing. I feel like I'm back in control again--that my world is whole again."
ALSO
From the Archives: For Tom Petty, a songwriter's greatest achievement is to 'get someone to think about things'
Tom Petty and the Heartbreakers, an L.A. band, stare at 'Hypnotic Eye'
Review: Tom Petty and the Heartbreakers look back on four decades, but leave the nostalgia at home
---
Get our L.A. Goes Out newsletter, with the week's best events, to help you explore and experience our city.
You may occasionally receive promotional content from the Los Angeles Times.