'Polk Salad Annie' singer-songwriter Tony Joe White dead at 75
The recipe is intimidating: Take the greens of a toxic plant common throughout the Southern U.S., boil them long enough to render them edible, then cook them with bacon fat or other hot oil and eggs.
Not only is the result a dish that's prized among those who know it but it also gave Louisiana-born and bred musician Tony Joe White his one and only top-10 hit back in 1969: the deliciously swampy pop-R&B song "Polk Salad Annie," which Elvis Presley quickly latched onto and highlighted in his concerts for the rest of his career.
The song grew out of the culture that informed much of what White wrote and sang about throughout his life, until shortly before his death from natural causes on Wednesday at his home in Leipers Fork, Tenn., according to a spokeswoman for his record label. He was 75.
"When you listen to Tony, he invites you in to a world and, for a few minutes, you become part of that world," actor-musician Billy Bob Thornton said after collaborating with White on the song "The Middle of Nowhere" for White's 2016 album "Rain Crow." "What an honor to be a small part of a song by one of my heroes and a true legend like Tony Joe White. Growing up in relatively the same neck of the woods down South, I share his love for storytelling in song."
White scored back-to-back early successes, thanks to his own hit version of "Polk Salad Annie," which reached No. 8 on the Billboard Hot 100 singles chart in summer 1969, and a few months later with another of his compositions, "Rainy Night in Georgia," which climbed to No. 4 on the same chart in a recording by soul singer Brook Benton.
Born July 23, 1943, near Oak Grove, La., White injected a deep strain of Southern Gothic mystery and foreboding into many of his songs, both through his consistently colorful writing and the rich Louisiana drawl with which he delivered them.
But the quality he strived for most, he said during a 2016 question-answer-performance session at the Grammy Museum, was authenticity.
"It has to be real, man," he told a crowd of about 200 gathered to hear him discuss the album he released that year, "Rain Crow. "It has to be real or don't even take the guitar out of the case."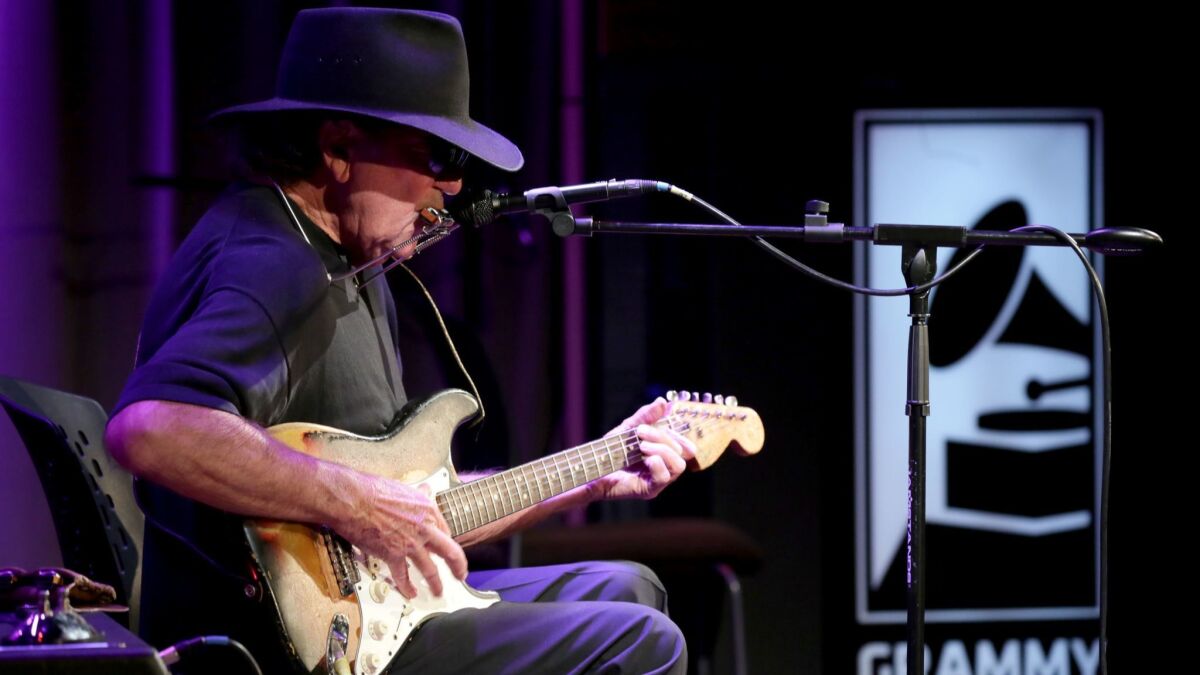 His credibility as a songwriter and singer struck most of those who ever heard or met him.
"There's nothing like that voice anywhere in popular music," said Scott Goldman, the artistic director of the Grammy Museum who conducted interviews with White twice at the facility in recent years. "Every time I was fortunate enough to be around him, the moment he starts speaking to you, it's almost like you're connected to a different part of the world.
"He wrote about things that came directly from his experience. The whole story about polk salad — this bitter root they would go gather and boil up — he only knew of that because he had experienced it. Not only did he make a hit out of it, he got Elvis Presley to record it."
White landed a handful of other singles on the charts through the 1970s, including "Roosevelt and Ira Lee (Night of the Mossacin)," "High Sheriff of Calhoun Parish" and "Save Your Sugar for Me," although none of them made it close to the Top 10 again.
But he became a respected figure among roots-music enthusiasts, through deeply felt songs that tapped into what he saw and did growing up not far from Louisiana's Bayou Macon region. Songs such as "Night in the Life of a Swamp Fox," "Black Panther Swamp" and "Whompt Out on You" were inspired by the culture and traditions in and around those swamps.
His songs appealed to a broad swath of artists including Presley, Ray Charles, Willie Nelson, Waylon Jennings, Kenny Chesney, Joe Cocker, Tim McGraw and Tina Turner, who recorded four of White's songs, including the title track, on her 1989 album "Foreign Affair."
White noted that he'd never met Turner, so he sought her out while she was on tour to thank her for the songs she had recorded.
"I walked into her dressing room, and she was putting on her makeup, and she looked into the mirror and just started laughing," White said at his Grammy Museum session in 2016. "It went on for quite a long time. Finally she said, 'And all this time, I thought you were black.'"
He also co-wrote the title track for Nelson's 2017 album "God's Problem Child," a song he collaborated on with maverick singer-songwriter Jamey Johnson, both of whom sang on the recording with Nelson.
His appeal to other singers afforded him a degree of financial stability that relatively few songwriters ever achieve.
"It's a kind of freedom with music, you know, man," White told the Nashville Tennessean in 2006. "I've always been lucky to be able to write and play the way I felt, but sometimes to put it out to people you have to do a record deal, stuff like that, and get into all this [expletive]. But now the studio's right here, we go in there and lay it down, come out here and sit, look at the night a while, then we'll go back in and lay some more down.
"I don't think about Grammys or awards," he said, "and without the pressure of trying to make it, it leaves you open to be a receiving station. I don't carry no paper around or no pencils. I write on a lot of napkins here and there, stuff like that. If the songs are worthwhile enough that they're gonna move me, they stay in my head."
He held cult favorite status through most of his career, writing and releasing new albums every two or three years. About a dozen years ago, he experienced a latter-day career renaissance with a string of albums including "Uncovered" in 2006, "Deep Cuts" (2008) and "The Shine" (2010), all three released on his own Swamp Records label, which he ran with his son Jody.
For his three most recent albums — "Hoodoo" (2013), "Rain Crow" (2016) and his latest, "Bad Mouthin'" released in September — he aligned himself with the indie Yep Roc label.
At the time he released "Hoodoo," White told The Times that he didn't give much thought to the idea of retirement, but that he felt no pressure to keep writing out of anything other than genuine inspiration.
"There's not a push nowhere," he said. "Maybe I'll stop playing shows and making records when the songs quit coming to me. But they still come to me.
"You see, I don't work for a song — but once I get a hold of it, I don't let go. I just keep writing, and when I do, I want to go out and play it for somebody. It's the songwriting that keeps me going."
In addition to his son Jody, White is survived by his wife, Leann, daughter Michelle, sons Jim and Bob and several grandchildren. No plans have been announced for a memorial service.
Follow @RandyLewis2 on Twitter.com
For Classic Rock coverage, join us on Facebook
---
Get our L.A. Goes Out newsletter, with the week's best events, to help you explore and experience our city.
You may occasionally receive promotional content from the Los Angeles Times.