After years of silence, activists are forcing music festivals to take sexual assault seriously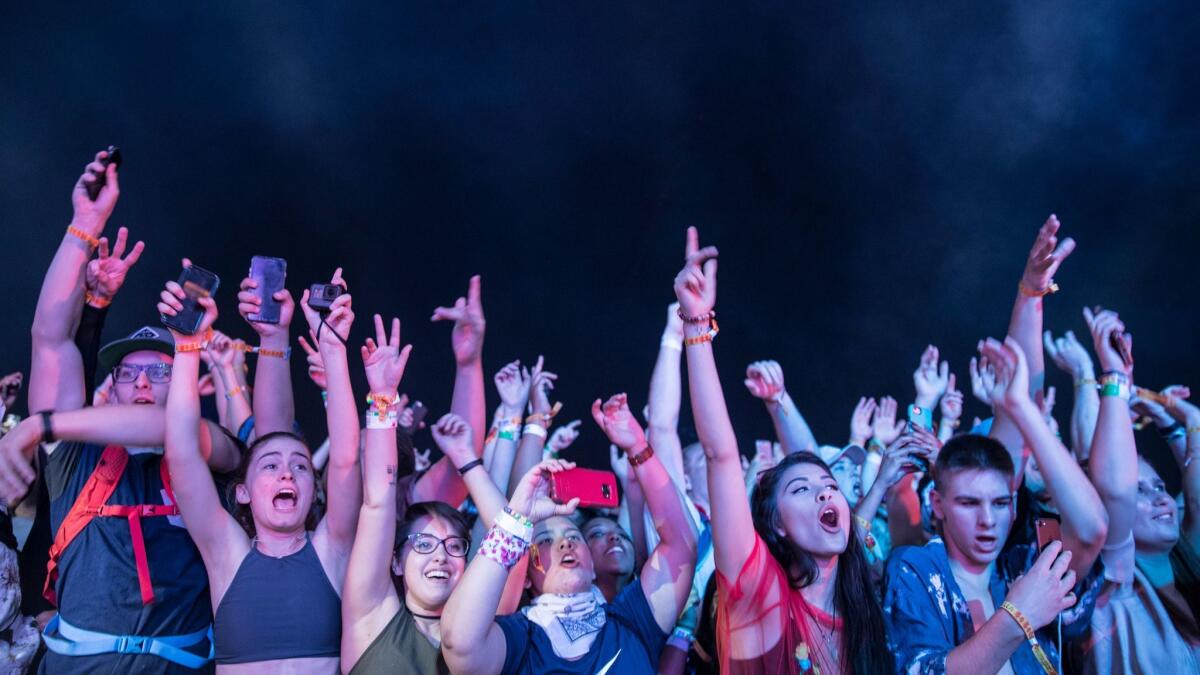 Two weeks before their Central Coast electronic music festival Lightning in a Bottle, the L.A. concert promoters at Do LaB were busy with the usual tasks: prepping campgrounds, checking sound equipment and stocking up on psychedelic art.
But this year, they also held a new class for fans and staff that focused on fighting sexual harassment at festivals: "Creating Safer-Braver Spaces: Consent Culture & Social Care."
Do LaB, which is a Coachella collaborator, will also have a medical team specifically trained to fight sexual harassment as well as counselors available for any victims. "All of Do LaB's departments [train] on how to spot a person in need or a situation that might escalate," said Erica Seigel, a coordinator for the festival safety firm involved. "The teams are trained to act quickly, provide support and create a safe space for anyone who needs it."
For a new generation of activists fighting sexual assault in the music scene, that's exactly what fans and promoters need.
Sara St. Hilaire vividly remembers the last time she went to the Bonnaroo festival in Manchester, Tenn., because a man followed her through the crowd and began touching her.
"This guy was creeping up on me and groping me, and I had to get away," she says. That was seven years ago; she never went back to Bonnaroo. But the L.A.-based music marketer said she's endured groping at more recent events too.
"One time a guy even lifted up my shirt in the crowd," she said. "There's a sense of community and 'we're all in this together' that gets misconstrued at festivals. I remember being younger and not understanding that kind of thing as sexual assault. Society raises everyone to think 'boys will be boys' and it gets excused."
Musician Ilima Considine says she was stalked by a man while on her way to her band's unofficial showcase at a club near the South by Southwest festival in Austin, Texas, this year. "What started as street harassment escalated into me being chased for five blocks, to the point that I picked up a rock off the ground so that I had a weapon."
When she tried to keep the man from coming into the venue, she says, no one would help her.
"Most of the harassment we get, we don't mention to anyone because we don't want to get labeled as not cool or difficult to work with," she said. "When we're scared enough to mention it, we need to be protected without question."
London festival promoter Alice Whittington thought being behind the decks DJing would afford her some protection. But actually, she said, "it means I am a sitting duck. A few years ago a guy entered the DJ booth and came up behind me, grabbed my hips and started thrusting up on me while saying really sick sexual things. It felt like the ultimate show of power because I felt I couldn't react like I normally do."
There's a sense of community and 'we're all in this together' that gets misconstrued at festivals ... Society raises everyone to think 'boys will be boys' and it gets excused.
— Sara St. Hilaire
From the misogyny and coercion underlying much of the "free love" culture of the '60s rock scene to the 40-plus reports of rape and groping at Sweden's Bravalla and Putte i Parken festivals over one weekend last year, music festival culture has long included unwanted sexual advances and assault.
Now, as recent allegations against label executive L.A. Reid and the queer-punk band PWR BTTM have reignited the conversation about sexual harassment in the music business, a cadre of young activists are speaking out about incidents at festivals, using social media to share stories and pressure festivals to do more. From educational workshops and booking quotas to new ways of reporting threatening behavior and women-only stages, activists are demanding that organizers follow their lead.
And it isn't just women being harassed. Garrett Ficacci said that at one San Diego event, a man offered to buy him a drink, but "I wasn't being led towards the back bar. I was being led towards the women's restroom. He pinned me against the door, locked it and immediately tore my shorts off."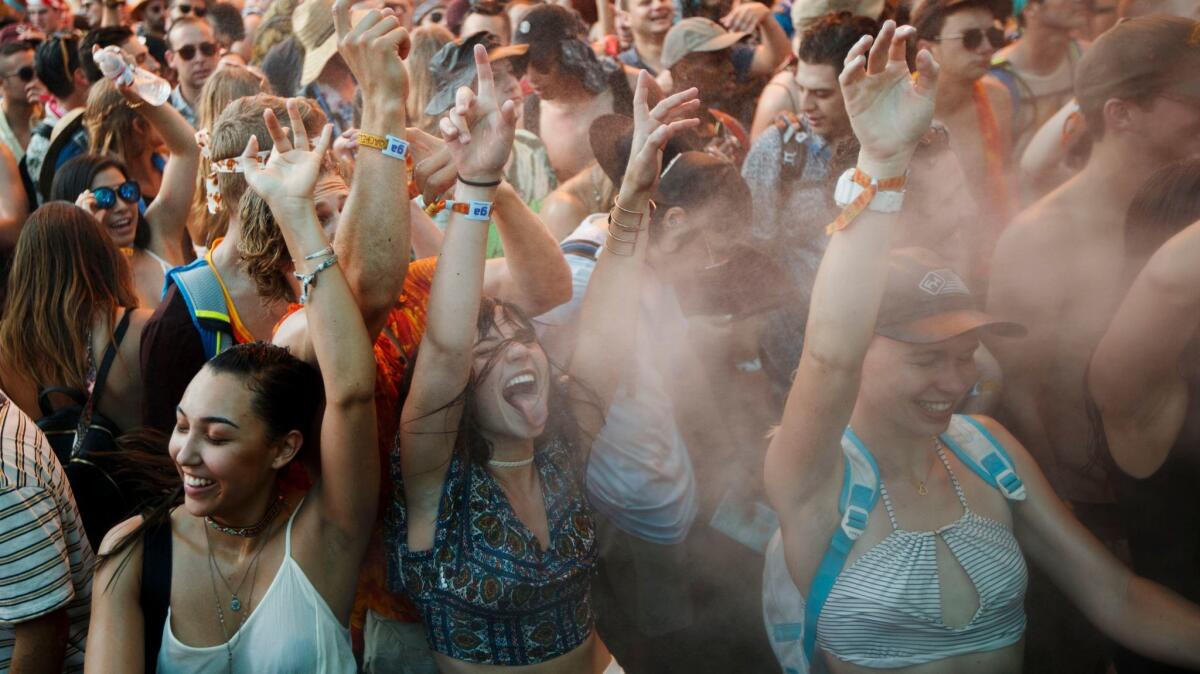 Music festivals are supposed to create a sense of freewheeling joy. But in large crowds sometimes fueled by heavy drinking or drug use, some men take advantage of anonymity; some even think it's the point.
"There's a lot of music that celebrates a lack of consent," said Kelly Oliver, a professor of philosophy at Vanderbilt University and the author of "Hunting Girls," a study of images of women and violence in popular culture. "Men take it as carte blanche — once you enter into a fest or party, it's like she signed off whatever happens. If she's dancing, it's an invitation." At music festivals, she added, "the [assault] reporting rate is low because [the women] buy in that they're to blame."
"When we look at music festivals, locally, nationally and internationally, we see similarities to campuses when it comes to social dynamics and rape culture," says Stefanie Lomatski, sexual assault network coordinator for Project Soundcheck, a 2-year-old Canadian group designed to fight sexual assault at large events by training security and audience members about warning signs of harassment and how best to intervene.
As an example, she cited a 2015 photo that went viral of a Coachella attendee wearing a T-shirt that read: "eat sleep rape repeat."
"When music festivals do not address rape culture, then they are ignoring the issue and contributing to the unsafe space," she said.
At the major Southern California-area festivals, incidents reported to police have been rare. Departments are aware of the problem and have been instituting new measures.
"Over the last two years, we've taken a very proactive approach," said Sgt. Daniel L. Marshall, public information officer of the Indio Police Department.
At this year's Coachella and Stagecoach festivals, he said, "more lighting was a significant priority so there are no dark corners, "especially around restrooms."
The police department also instituted a text message-based system for fans to report assaults, threatening behavior or medical issues among fans.
"Even if someone's under the influence, we don't care," he said. "Nothing should ever prevent anyone from going to the police." (Representatives from Goldenvoice and AEG declined to comment for this story.)
When music festivals do not address rape culture, then they are ignoring the issue and contributing to the unsafe space.
— Stefanie Lomatski, sexual assault network coordinator for Project Soundcheck
Many activists believe that nothing will truly change until festivals themselves become more diverse. They see putting more women and members of the LGBTQ community onstage and behind the scenes, and including them in the best-practices rules of law enforcement, as the best solution.
"It's like at a tailgate or any other party where it's all men. It just has this ... feeling," said Marea Stamper, a DJ and producer who performs as the Black Madonna and has played at major festivals like Coachella and FYF Fest. "When you have women in leadership, it changes the dynamic of an event."
"Venues and promoters must work harder to demolish this notion of the dance floor as just a place for hooking up and treating women as objects of desire," said Cay Horiuchi, an activist and educator with C.A.R.E.S., a Portland, Ore.-based group that holds workshops on creating safer festival environments.
Increasingly, clubs and fests are taking creative measures to address these concerns. At the Decibel electronic music festival, which just moved from Seattle to L.A., staff members pass out cards reminding fans about consent rules, printed with a polite rejection notice meant for anyone giving unwelcome attention. Other clubs have posters in women's restrooms advertising "angel shots," or another specific drink order that will prompt a bartender to call security. Social media sites such as Girls Against and Good Night Out give fans a space to document experiences at unsafe clubs and events.
Last year, the Glastonbury festival in Britain introduced a new stage and audience area only open to female-identifying fans, and the Electric Forest festival in Michigan introduced a women-only camping area for those who would feel safer there.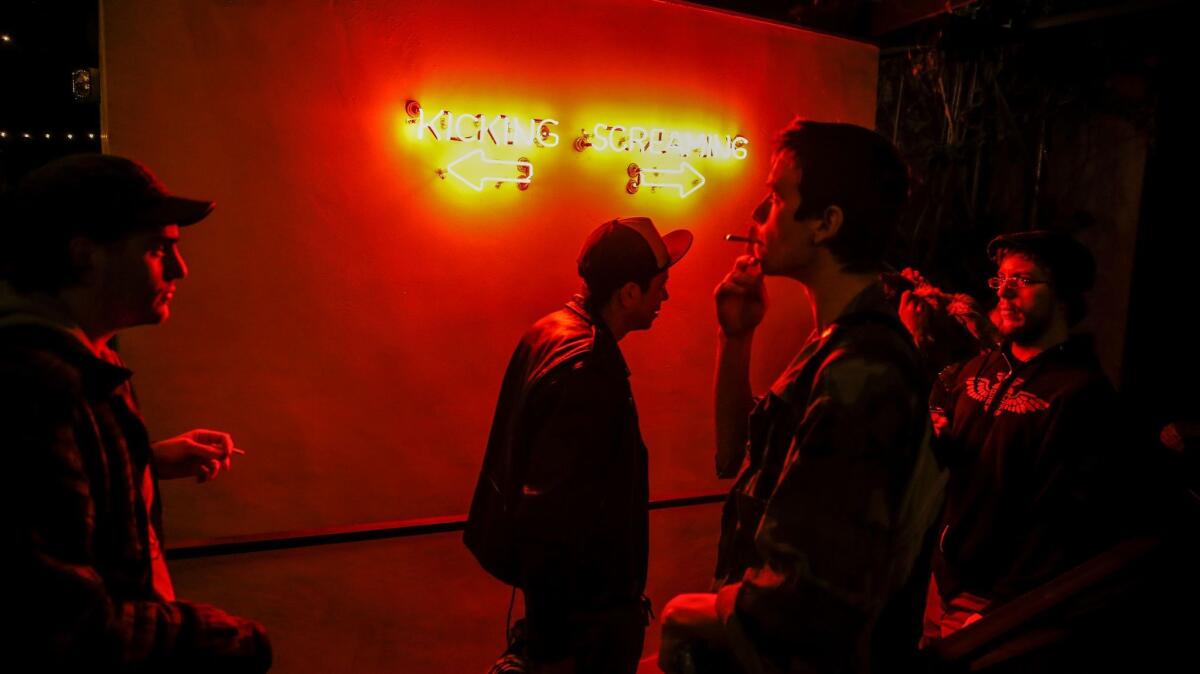 "Women need to feel like some drunk jerk isn't going to make them uncomfortable or that [the music] isn't going to feed into some macho identity," said Duncan Smith, the talent buyer at the Arts District club Resident. Smith (who is male) helped institute Feminist Fridays, where the peak night of the week is devoted to female-centered musical acts.
He said it has made for more interesting bookings and a friendlier environment.
After the 2016 presidential election, he said, "there's been a huge raising of consciousness. Art plays a role in people transcending their circumstances, and if we can do that in a small way, we can open a few minds."
St. Hilaire says that proactive attention to safety makes a real difference. "If people that work at a venue would speak up and say 'Hey, you've got to leave,' it'll have an effect over time and make for safer shows." Similarly, Whittington wants "more promoters and club staff held accountable or take responsibility for dealing with harassment. Staff training for identifying serious harassment and how to deal with it would be welcome."
Those changes can come from better policing, but they have to come from within festival culture as well. "Activism and art with a more feminist approach gives us new ways of looking at assault and relationships," Oliver said. "We have to present alternative ways of relating to each other. "
For breaking music news, follow @augustbrown on Twitter.
ALSO
A 50th anniversary trip through 'Sgt. Pepper's Lonely Hearts Club Band' with Giles Martin
Katy Perry's 'Swish Swish' might be about Taylor Swift. And Ruby Rose is having none of it
Chris Stapleton on drinking, hobnobbing and letting his songs 'get some age on 'em'
Get our L.A. Goes Out newsletter, with the week's best events, to help you explore and experience our city.
You may occasionally receive promotional content from the Los Angeles Times.