Universal Music CEO Lucian Grainge promises 'transparency' over 2008 fire damage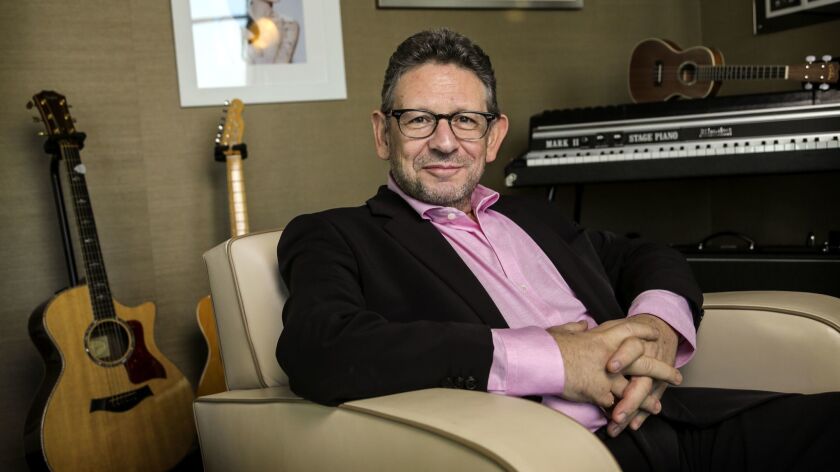 The chairman of the world's largest music conglomerate on Tuesday instructed all who work for him to be transparent with musicians who contact the company to find out whether their recordings were among those destroyed in a 2008 fire reported to have consumed as many as 500,000 recordings.
"Let me be clear: we owe our artists transparency," Universal Music Group CEO Lucian Grainge said in an internal memo that was issued to staff globally, a copy of which was obtained by The Times. "We owe them answers. I will ensure that the senior management of this company, starting with me, owns this.
"If any of you hear from any artist asking about the status of archived assets, please immediately have them contact … our SVP of Recording Studios & Archive Management. In the past few days, [he] has formed a special team specifically to field these requests and respond to them as promptly as we can."
Howard King, a prominent attorney who said recently that he plans to file lawsuits on behalf of a number of musicians his firm represents, responded Tuesday to Grainge's memo, telling The Times, "Sir Lucian is a class act who we trust will attempt to provide full transparency and appropriate compensation to all affected artists."
The extent of damage from the fire 11 years ago was detailed in a New York Times Magazine investigation published last week, a report that alleged widespread destruction of a vast number of original master recordings by artists including Louis Armstrong, Bing Crosby, Billie Holiday, Aretha Franklin, Chuck Berry, Buddy Holly, Elton John, Tom Petty & the Heartbreakers, Nirvana, Snoop Dogg and an untold number of others.
UMG quickly countered with a statement discounting the severity of the losses indicated in the New York Times story, and cited "numerous inaccuracies, misleading statements, contradictions and fundamental misunderstandings of the scope of the incident and affected assets."
Nonetheless, two law firms in Los Angeles told The Times last week that they are preparing to file lawsuits on behalf of multiple artists, none of whom were identified, in the days and weeks ahead.
On Tuesday, King, of King, Holmes, Paterno & Soriano, and Ed McPherson of McPherson LLP also jointly sent a letter to Grainge, a copy of which was obtained by The Times, requesting his firm be provided "a complete inventory of all master recordings, including finished sound recordings as well as outtakes, that were destroyed in the fire.
"It is important to all artists who may have been affected by this calamity to know the truth regarding the condition of their master recordings stored by Universal," King wrote, adding that his firm represents "multiple current and former Universal Music Group artists, who are distressed to belatedly learn that Universal suffered a catastrophic loss of hundreds of thousands of master recordings in 2008. …
"The angst over the possible loss of irreplaceable intellectual property they entrusted to UMG is palpable," King wrote.
In Grainge's memo to UMG staff, he wrote, "Even though that event happened more than a decade ago, and while I've been somewhat relieved by early reports from our team that many of the assertions and subsequent speculation are not accurate, one thing is clear: the loss of even a single piece of archived material is heartbreaking."
It continued, "All of us came into this business for one reason: a love of music. Our artists and songwriters count on us to be the stewards of their art – today and for the future.
"And that's one reason why the stories about the extent of the 2008 fire have resonated with all of us," he wrote. "Even though all of the released recordings lost in the fire will live on forever, losing so much archival material is nonetheless painful. These stories have prompted speculation, and having our artists and songwriters not knowing whether the speculation is accurate is completely unacceptable."
Grainge's use of the phrase "released recordings" alludes to another facet of the New York Times report: that an unknown number of previously unreleased studio outtakes, alternate takes and live recordings also may have gone up in smoke 11 years ago, along with documentation such as sessions notes, personnel details and other related information.
Neither UMG's public statement nor Grainge's staff memo addressed the original denials by a previous group of executives that losses from the fire were significant, or that the company kept the information from musicians and the public for more than a decade.
"In a sense, nothing was lost," a spokesman for UMG told The Times in 2008 shortly after the blaze through a storage facility on the lot of NBCUniversal Studios Hollywood had been extinguished.
The New York Times investigation, however, quoted internal memos from UMG publicists to their higher-ups at that time stating that they had "stuck to the script about physical backups and digital copies."
Yet in 2009, according to court documents, Universal Music sued NBCUniversal and its parent, Vivendi Universal, in Los Angeles Superior Court, alleging negligence in the maintenance of the storage unit and seeking unspecified compensation and damages. The suit played out for four years before a confidential settlement was reached in 2013.
UMG's public statement released last week sidestepped those questions.
"Music preservation is of the highest priority for us and we are proud of our track record," the statement said. "While there are constraints preventing us from publicly addressing some of the details of the fire that occurred at NBCUniversal Studios facility more than a decade ago, the incident — while deeply unfortunate — never affected the availability of the commercially released music nor impacted artists' compensation."
How and whether musicians might be compensated for lost master recordings offers little solace to some.
"This is a tragedy," Elliot Roberts, longtime manager to Neil Young, told The Times after confirming that Young did not lose any master recordings in the fire. "You can yell, you can jump up and down, you can look to insurance, you can sue," said Roberts, "but if you lose a master, you're [sunk]."
Follow @RandyLewis2 on Twitter.com
For Classic Rock coverage, join us on Facebook
---
Your essential guide to the arts in L.A.
Get Carolina A. Miranda's weekly newsletter for what's happening, plus openings, critics' picks and more.
You may occasionally receive promotional content from the Los Angeles Times.