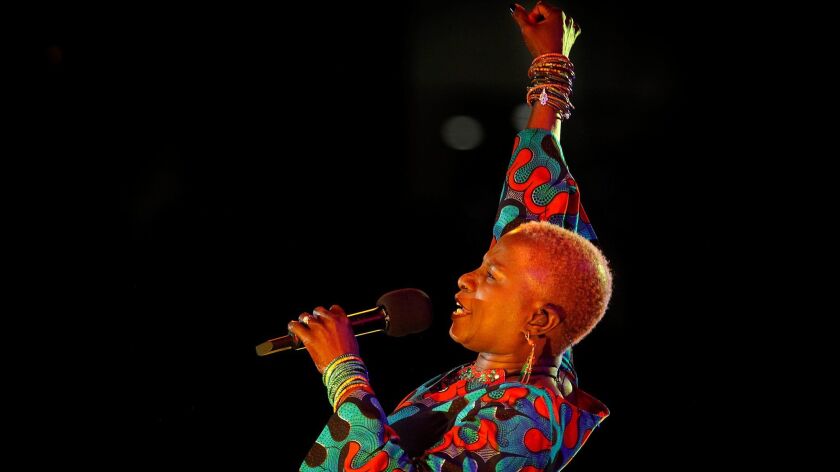 A weekly roundup of must-hear music from the Times staff. This week's picks include the latest single from rock-pop act Weezer, the return of Texas singer-songwriter Rodney Crowell and a pair of multi-artist works with worldly ambitions.
Les Amazones d'Afrique, "Republique Amazone" (Real World).
For many West African musicians, the statement "I play the kora" is hardly controversial. The stringed instrument, after all, is a central component of the region's music. That is, unless you're a woman; mastering the instrument had long been viewed as primarily a male-only trade.
This truth is central to "I Play the Kora," the first single from the new album by Les Amazones d' Afrique, an all-female supergroup of West African singers that includes Grammy winner Angelique Kidjo (Benin), Miriam Doumbia (half of the Malian duo Amadou & Miriam), Mamani Keita (Mali), Nigerian protest singer Nneka and five others.
Titled "Republique Amazone," the album was envisioned as a way to draw attention to the plight of women and to the Panzi Foundation, which supports gender equality in a region where women are victimized as part of a patriarchal system that considers them to be second-class citizens.
Noble causes, however, seldom generate music as exuberant as the stuff on "Republique Amazone." Produced by Liam Farrell (a.k.a. Doctor L of the Congolese group Mbongwana Star), the dozen songs on the album mix traditional tones with electronic flourishes, buoyant rhythms and collaborative energy. Variously sung in French, English, Bambara and Fon, lyrics address with unblinking conviction the plight of the powerless, battling oppression with musical fury. — Randall Roberts
Rodney Crowell, "Close Ties" (New West)
The esteemed Texas singer-songwriter continues his exceptional series of autobiographically tinged albums of late. Here, he further explores his early days in the opening track "East Houston Blues," and does so with what's always been an eye and ear on the revealing detail.
He name checks such friends and peers as Townes Van Zandt and Susanna Clark in "Life Without Susanna," and offers a roll call of a great class of country songwriters in "Nashville 1972," giving shout-outs to Guy Clark, Steve Earle, David Olney, Mickey Newbury, Willie Nelson and Harlan Howard in that rich honeysuckle tenor that never seems to grow or sound a day older. — Randy Lewis
Various artists, "¡Un Saludo! Mexican Soundsystem Cumbia in L.A." (Dutty Artz)
You usually don't have to go far to hear solid cumbia music in Los Angeles. But the catalog of Discos Barba Azul is about as good as it gets, and this new compilation from Dutty Artz spotlights how L.A. became a global center for the genre. The label's taste in cumbia is grounded in Mexico, but the comp traverses the Americas stylistically, highlighting how artists refracted its rhythms through Afro-Colombian traditions, analog synthesizers at the top of the Andres and heady tropical psychedelia.
Hear it in person on April 5, where Discos Barba Azul founder Vicente Pedraza presents a club night with live performances and DJ's to run you through the label's history and influence.-- August Brown
Weezer, "Feels Like Summer" (Crush Music/Atlantic)
Last year, just as Weezer's latest self-titled album was sparking talk of a comeback for the veteran L.A. band, frontman Rivers Cuomo told The Times he'd already started work on another record that turned dramatically from the group's classic power-pop sound.
"Feels Like Summer," a new single released this month, shows he wasn't kidding: Though he's still singing from the perspective of a lonely guy "hiding in the shadows," as he puts it, Cuomo sets his thoughts of longing not against crunchy guitars but a loping pop groove tricked out with chanting schoolyard na-na-nas. The countdown to a Pitbull collaboration starts now.— Mikael Wood
---