Los Angeles State Historic Park is slowly becoming a go-to music venue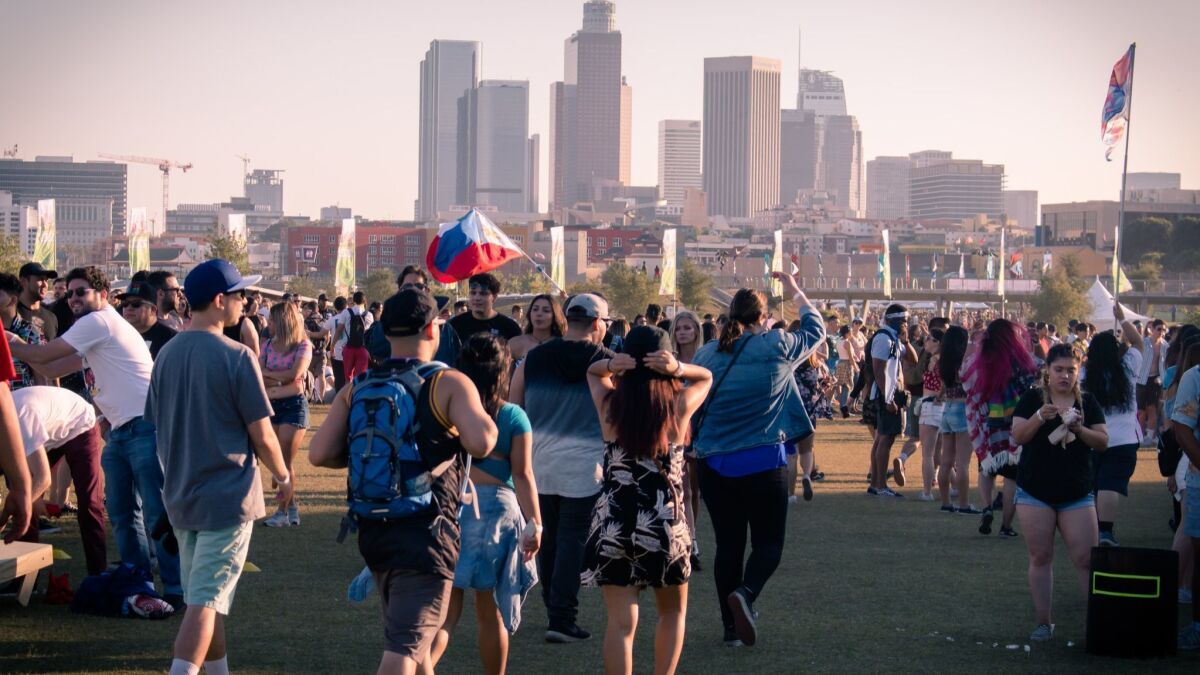 When it reopened last spring, the Los Angeles State Historic Park held the promise of becoming one of the city's better spots for outdoor concerts. Such was a vision held not only by those who worked with the space but artists who had previously performed there.
Anton Zaslavski, better known as the dance-music star Zedd, took over the 32-acre former rail yard in Chinatown in early July for his very own Zedd in the Park mini-festival. Having appeared at the venue as part of Hard Summer, Zaslavski and his team went in with numerous ideas for how to take advantage of the locale.
"There are not many places like this in L.A. that are easily accessible with public transportation that is more or less in the middle of L.A. I think there is also a little bit of history to this place, and people really missed going there for electronic shows," Zaslavski said. His Zedd in the Park featured not just music but summertime activities such as a water balloon contest.
After about a three-year closure, the L.A. State Historic Park has been dipping back into concerts. Last year, the KCRW-aligned Skyline Festival brought a host of electronic acts to the space. Rock group Interpol performed there in the fall. The park rose to prominence as a concert venue thanks to success of FYF Fest and Hard Summer, both of which eventually outgrew the space.
Zedd in the Park was produced by Insomniac Events, the company known best for the Electric Daisy Carnival mega-rave. The latter is now located in Las Vegas after being booted from the L.A. Memorial Coliseum following the 2010 death of 15-year-old girl who attended the event.
While some in the city then expressed concerns about hosting large-scale dance events on public land, Sean Woods, the superintendent of California State Parks' Los Angeles sector, has long believed music belongs in the spot.
Woods acknowledged he had received some complaints from locals when Hard Summer occupied the locale, but he has worked to better regulate the events. Although the park can host 25,000 people, Skyline kept the crowd to about 5,000 and reduced the volume of music.
Zaslavski was pleased to host a festival in the space.
"I think that there have been a couple of cases that didn't go well in the past," Zaslavski said, "but it's also important to highlight the cases where everybody went above and beyond to produce a festival or a show that runs extremely smoothly and safe for everyone who's going. You just need to do the right work and have the right security."
After seeing the success of Skyline Festival, Woods gave Insomniac the green light to return with Zedd in the Park. More than 15,000 people attended.
At Zedd in the Park, fans were treated to a mix of artists, from the upbeat dance-pop of Oliver Tree to a host of DJs, including the melodic electronic producer Medasin and tropical house producer Whethan.
"I just felt that was a really cool mix of electronic genres that isn't your go-to EDM festival lineup," said Zaslavski.
The headlining artist closed the night with a nearly two-hour set.
"It's funny because I didn't realize how big it was until I was standing on that stage, to be honest with you," he said. "It compares to any great festival that I have ever played."
Today, however, festivals are not just built around music. Zedd in the Park had a lighthearted vibe, thanks to the water balloon contest for fans and games such as croquet.
"Think about it from their perspective," Zaslavski said. "It's a long time to be on your feet and essentially just stand or wait for whatever you want to see."
Although the dance scene may never fully shake the stigma of drug use, Zaslavski is relieved Los Angeles is slowly welcoming it back to public spaces.
"They gave us the trust, and I think we took care of everything that needed to be taken care of for it run smoothly," he said.
And while even though there is no concrete plan to make this an annual festival, Zaslavski added that "hopefully it will be an event that everybody in L.A. will one day know and want to go to, every third of July."
diego.medrano@latimes.com
---
Get our L.A. Goes Out newsletter, with the week's best events, to help you explore and experience our city.
You may occasionally receive promotional content from the Los Angeles Times.