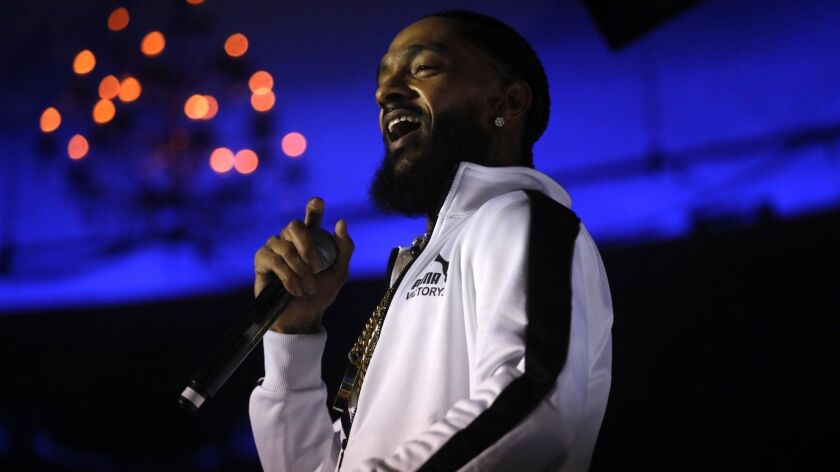 The large, predominantly black crowd outside of Staples Center was antsy, the way most crowds are when a concert or game is about to start and people are anxious to get inside.
There were conversations between strangers, laughter and an abundance of respect. The community had gathered Thursday to honor the life of Ermias Asghedom, and the one thought that kept repeating in my head was, "Look how beautiful we are." This thought was in contrast to how I felt when looking across the street at the barricades blocking chunks of L.A. Live normally open during other events at Staples: "Look how ugly we are expected to get."
And then we didn't disappoint.
The marathon continues, but cannibalism dwindles the numbers along the way. The harmonious atmosphere that wrapped downtown Los Angeles in warmth in the morning dissipated later in day at the corner of 103rd and Main streets as gunfire claimed one life and injured three more.
All the victims were black — again. It was a disappointing epilogue to what had been a heartwarming send-off. Obviously when there is an event involving thousands, there are going to be folks with a different agenda.
And although I'm not a subscriber to respectability politics, one would hope on a day in which the country is watching a beloved figure and community activist being celebrated that a drive-by shooting would be the last thing on a person's mind. But then I've covered enough high-profile incidents of gun violence, followed by high-profile funerals, followed by high-profile disturbances to know the barricades at L.A. Live were not unwarranted.
The heavy police presence was justifiable.
Calls for peace are far too often made in vain.
Perhaps the most frustrating aspect of this is knowing that the shooting will be characterized — if not casually dismissed — as an example of "black-on-black crime," as if "white-on-white crime" isn't a thing or American culture as a whole is nonviolent. The U.S. makes up roughly 5% of the globe's population, but we ranked second in firearm deaths in 2016. It's not "them" and "they." This is "us."
More than one speaker during Hussle's memorial made the connection between his death at 33 years of age and that of Jesus. While I found the loose connection too close for my comfort, it did get me thinking about that number.
It's been nearly 33 years since Scott La Rock, a one-time social worker who connected with rapper KRS-One to create Boogie Down Productions, was gunned down in the Bronx. Like Hussle, he was shot in the head.
The headline of the New York Times article back then could very well fit with recent Los Angeles Times coverage of Hussle: "Violent Death Halts Rap Musician's Rise." Certainly this passage from the New York Times article mirrored the two lives: "He was described as a big brother, a pied piper, a leader and inspiration to youth."
La Rock's death, along with that of a young man who was at a BDP/Public Enemy concert, prompted KRS-One to create the Stop the Violence Movement. That led to the single "Self Destruction," one of the greatest songs in hip-hop history.
Proceeds from the track were donated to the National Urban League. When it dropped, it felt as if a significant change was going to come. Nearly 33 years later, Staples was filled with thousands who came to mourn the violent passing of another big brother, pied piper, leader and inspiration to our youth.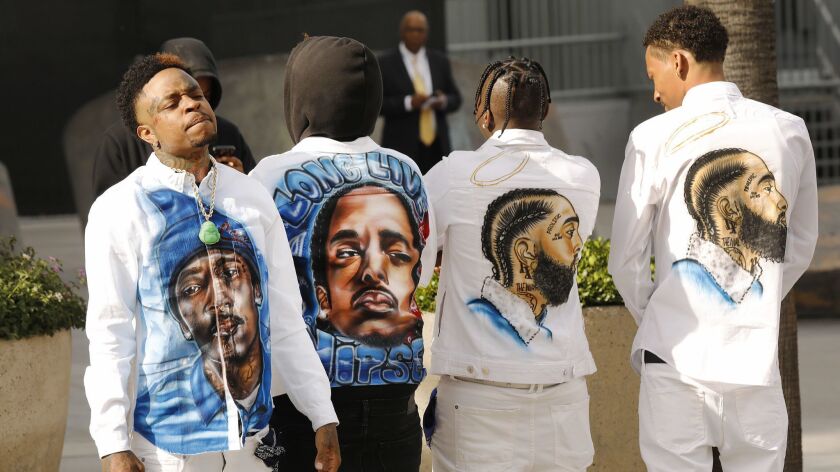 Unfortunately, "Self Destruction" appears to be less of a turning point and more like Shakespearean foreshadowing. And after Hussle's memorial was marred with gun violence and death, I couldn't prevent tears from pooling in my eyes. I was hoping to focus on the beautiful tributes from his mother, Angelique Smith; his fiancee, Lauren London; brother Samiel Asghedom; and Snoop Dogg. I wanted to focus on how the Congressional Black Caucus commemorated his life and how the L.A. City Council was expected to rename the intersection of Crenshaw Boulevard and Slauson Avenue after him. But it would be disingenuous to wax poetic on the ramifications of his death when the circumstances that followed it crowbarred their way into the narrative.
I hesitated writing about Hussle because I wasn't originally from Los Angeles and I lacked the institutional wisdom to fully appreciate his impact on the city. But I grew up on the east side of Detroit, and I know more than enough about gun violence and the pathological behavior that contributes to the undermining of my community's progress.
I've lived in Chicago, Atlanta and New York, and so I know that the external and internal issues that cripple black people in Detroit and Los Angeles are not exclusive to those two cities. All of the speeches by Minister Louis Farrakhan, performances by Stevie Wonder and letters from former President Obama won't mean a thing if we don't have the fortitude to value life the next day.
I don't write this because I'm seeking approval from white readers. I'm writing this because I've been in the streets hustling in the '80s, I've been in jail in the '90s, and I've been caught in tear gas covering the Ferguson, Mo., uprising in the 2000s, so I know Hussle's death — like La Rock's nearly 33 years ago — will become a faded memory if we don't replicate the love and respect we showed each other outside of Staples.
---