AEG moves to battle Ticketmaster head on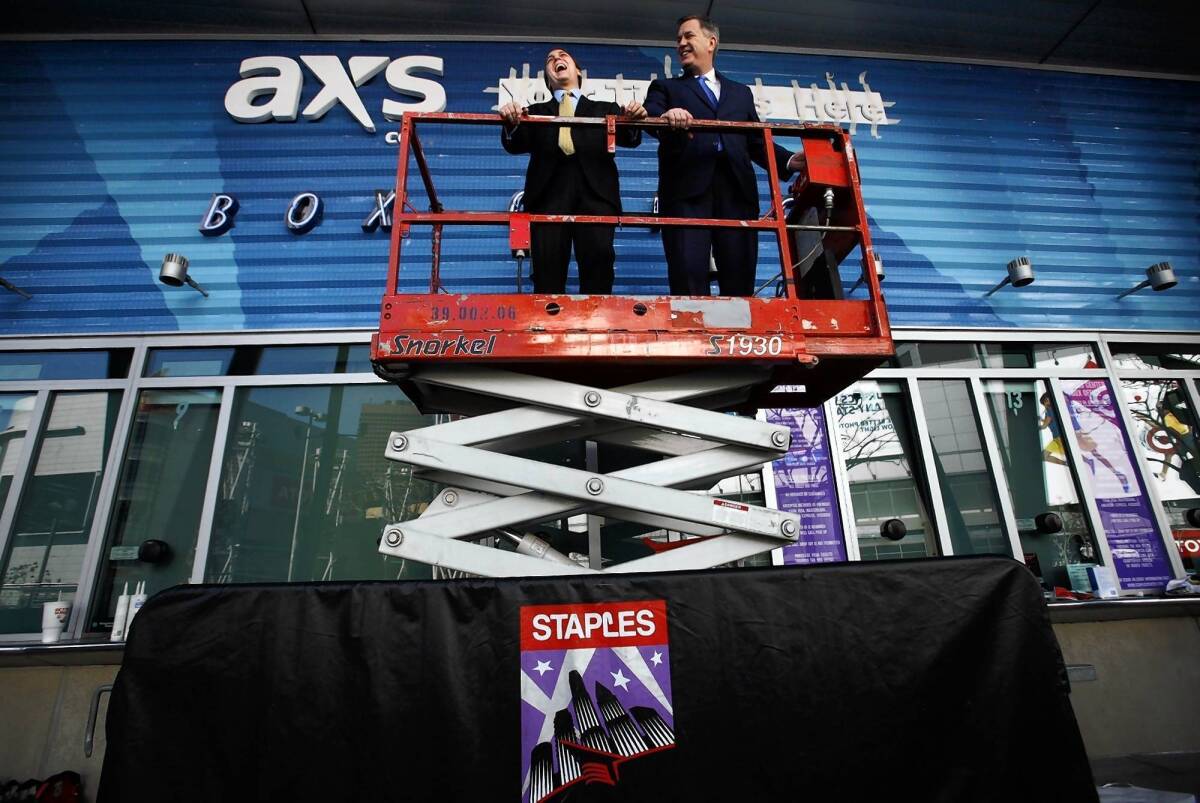 Ticketmaster, long the dominant player in the concert ticket space, now has major company.
Los Angeles-based AEG, the sports and entertainment empire that owns Staples Center, Nokia Theatre, L.A. Live, the Kings and a minority stake in the Lakers, is angling to reinvent the ticketing business. It's counting on Staples Center, the busiest concert venue in the United States, to get there.
AEG is now selling concert tickets at its trio of L.A. Live venues via its 18-month-old AXS ticketing platform. It's the company's attempt to build a national rival to Ticketmaster and challenge the traditional concert business, including battling scalpers.
---
FOR THE RECORD:
AEG ticketing: An article in the Feb. 4 Calendar section about AEG's ticket platform, AXS, said Beyonce would give a concert at Staples Center on June 26. The concert will be June 28. —

---
A mobile app, for instance, will allow fans to order concessions from their seats.
PHOTOS: AEG properties in Southern California
"AXS is not a ticket transaction for us," said AEG Chief Executive Tim Leiweke. "AXS is a relationship for us. From the moment someone says they want to go to an event, to the moment they walk out of the event, we want to capture that relationship from beginning to end."
Tickets for a June 26 Beyoncé show will go on sale Feb. 11, and that will be the first Staples Center concert available exclusively via AXS.com rather than Ticketmaster. For now, the trio of sports teams who call the venue home will continue to use Ticketmaster, but that will change this summer with Kings tickets for next season, said Bryan Perez, AEG's president of digital, ticket and media.
AEG has been considering a full-scale ticket service since antitrust regulators in 2010 approved Ticketmaster's merger with AEG rival Live Nation Entertainment.
How big a deal is AXS to Ticketmaster?
"Our potential flow of tickets from our owned-and-operated venues to AXS is about 20 million" tickets, Leiweke said.
Launching a ticketing firm can be fraught with peril, as Live Nation learned in 2009. The promoter opted to launch its own ticketing service rather than renew with Ticketmaster, but the ticketing system struggled with its first major on-sale. Days later, Live Nation and Ticketmaster announced they were merging.
Perez is confident that AXS is ready for the rush that selling Beyoncé tickets could bring. "We build buildings," he said, "so we're patient. We've been doing this for 18 months."
AEG's movement toward the development of its own ticketing arm makes strategic sense, said Dean Budnick, executive editor of Relix Magazine and co-author of "Ticket Masters," the definitive book on the event ticketing industry.
REVIEW: The Who performs 'Quadrophenia' and more at Staples Center
Ticketing events in its own venues, said Budnick, allows AEG to cash in on ticketing fees for events and keep that money from going to Ticketmaster, which essentially amounts to subsidizing its chief competitor, Live Nation.
Budnick theorizes that Live Nation has long been able to offer more money to performers by using ticket-fee revenue. Now AEG may be able to increase pay for performers at some of its venues, making them more competitive for major shows.
For concertgoers, this could mean higher ticket prices in cities where both Live Nation and AEG have venues — if the powerhouses enter bidding wars for major concert tours and events, Budnick said.
AEG's attempts to rewrite the ticketing rules include an endeavor dubbed AXS Invite that will allow ticket purchasers to reserve adjacent seats and then invite friends via email or social networks to purchase those seats.
Of even bigger interest to fans may be AEG's thoughts on how to thwart scalpers, who use computers to bulk-buy tickets.
"The current method of selling tickets is like Black Friday," Perez says. "You open the doors at midnight, and people get trampled to death."
PHOTOS: 2013 top Grammy nominees | Grammys 2013 Play-at-home ballot
AEG's solution is Fair AXS, which will allow fans to sign up to purchase tickets up to a week in advance of the on-sale date. Customers can select up to three sections in which they would like to sit, and tickets will be purchased in advance via a lottery system. If tickets remain, there will be a general on-sale.
"If it's a big-bang on-sale, and everyone has to buy at once, naturally the guy with the hardware to overwhelm the system is going to have the advantage," Perez said. "There's a better way to do this."
There's another reason AEG wanted to launch a competitor to Ticketmaster: data. If there are, for example, a lot of advance requests for tickets via Fair AXS, AEG can add shows. If there are few, the company will learn earlier that interest is low and perhaps "that the prices should be lower and there should be more marketing," Perez said.
AEG has also been buying and investing in technology companies such as Carbonhouse and ByPass to ensure that it's more than just a platform to move tickets. The goal, said Perez, is that if a repeat Kings customer walks into Staples Center, he can use an app to have his desired snack-bar items awaiting him at his seat. Other fan-friendly aspects include an elimination of print-at-home fees and more transparent ticketing costs, meaning consumers know up-front the final cost of a ticket.
AEG also intends to pitch a service to other venue owners that allows them to sell tickets directly on their sites rather than force consumers to visit a third-party destination.
"This isn't about controlling the front door," Perez said. "It's about controlling the process and making fundamental changes in the way people purchase tickets."
PHOTOS AND MORE
COACHELLA: Complete 2013 lineup
THE ENVELOPE: Awards Insider
PHOTOS: Grammy top nominees
---
Get our L.A. Goes Out newsletter, with the week's best events, to help you explore and experience our city.
You may occasionally receive promotional content from the Los Angeles Times.