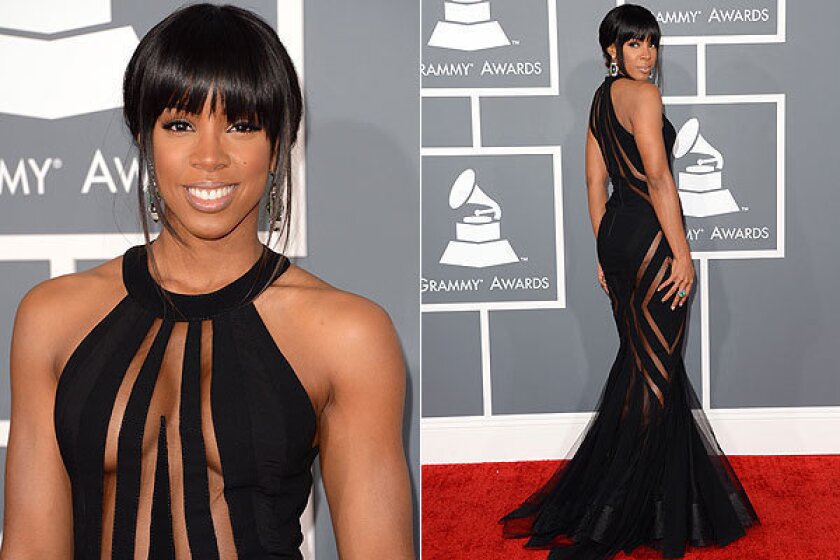 It's been a whirlwind two weeks for Kelly Rowland.
On Feb. 3, the singer was part of a Destiny's Child reunion with Michelle Williams and Beyoncé during the latter's show-stopping Super Bowl halftime performance in New Orleans. And on Sunday, Rowland did a bit of showstopping of her own when she presented at the Grammys in Los Angeles.
Donning a black gown with sheer geometric panels down the front, the singer turned more than a few heads. But Rowland laughed off her sexy dress ("What memo?" she asked coyly), and for good reason.
The R&B; singer has been teasing listeners to her more sensual side since her 2011 smash "Motivation." Her latest single, "Kisses Down Low," should leave little to the imagination.
Having recorded 50 to 55 tracks for her upcoming record, Rowland said songs such as the Mike WiLL Made It-produced single helped her recast the album. Instead of being called "Year of the Woman," Rowland revealed that her fourth disc is now called "Talk a Good Game."
"Funny enough, I've listened to the album again as a whole and I've decided to change the title," she said. "Going back into the studio and working with The-Dream and Kevin Cossum and all these incredible writers and putting everything together … I can't be more thrilled."
Rowland's previous album, 2011's "Here I Am," debuted at No. 3 on the Billboard 200 after selling 77,000 copies, according to Nielsen Soundscan -- her highest out-of-the-gate charting outside of the multiplatinum orbit of Destiny's Child.
Speaking of Destiny's Child, Rowland is still just as giddy as the rest of us that the trio came back together.
"I cannot begin to tell you how much fun that was, and it felt really good to look on the other side of the stage when we were walking in for 'Bootylicious,' " she beamed. "It was such a beautiful moment. I miss those with my sisters. I hope everyone enjoyed it. It was hard to keep that damn secret."
---