Review: Vince Staples and the power of 'nah': Taunts for El Rey 'industry' crowd in a kinetic, vital show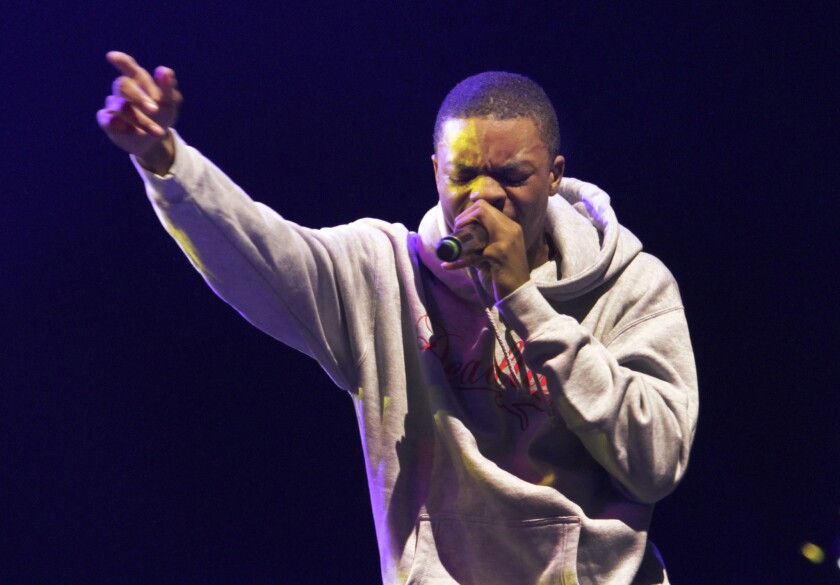 About two-thirds of the way through Vince Staples' 45-minute set at El Rey on Tuesday night, he asked his DJ, Westside Ty, to rate the audience.
"What, it's like a 6 or a 7?"
"Maybe 7," Ty said. And Staples responded, "Nah, 4."
This was maybe the third time they'd rated us. Hi, Vince.
SIGN UP for the free Essential Arts & Culture newsletter >>
Staples' appearance was one of the higher-profile dates in the "Red Bull Sound Select Presents: 30 Days in LA 2015" series, which is drawing to a close. The show did exactly what a concert like this should do: introduce a rising star, present the best-known songs and make his brand clear. Staples' brand is "nah," which he expressed by constantly snapping on the crowd.
Where Kendrick Lamar spent his recent show at the Wiltern continuously trying to connect with the crowd, Staples dared the crowd at El Rey to abandon him whenever possible.
The El Rey show began with Westside Ty playing "Ramona Park Legend," the intro from Staples' airtight "Summertime '06," one of the year's most important rap albums. Immediately, Staples noted that though the show was supposedly sold out, the room looked only half full. (Not inaccurate.) Repeatedly, he'd begin a song by jumping up and down, chanting "Bounce! Bounce!" The crowd disappointed him from the beginning, and so we paid for it. Staples called the audience an "industry crowd," full of "people who go to work with briefcases."
At one point he decided to taunt a man and his date in the front row. Someone close to me on stage left started screaming at Staples to stop talking and rhyme, setting off a shouting match between audience members.
But Staples was just reminding us what he will and won't sell. He's the gangbanger who won't relinquish his gang affiliations, the smart aleck who's never done drugs or taken a drink. He's already talking imminent retirement, just as his popularity surges. But this is why we like him, for the skepticism and clarity. Lamar sees police brutality and systemic oppression in his community and assures his fans it's going to be all right, while Staples sees the police chasing him, tapping his phone and simply throws the facts back at us.
Staples is on his own team and avoids any false feel-good opportunities. When he remembered that the show was sponsored by Red Bull, Staples launched into a sarcastic spiel about how much he likes the energy drink. "They have all these flavors now, blueberry. Oh man, some nights you can get turnt on it."
He then followed that with a coded exchange with Ty, mentioning lemon and lime and being "loyal to the soil." In other words, he's sponsored by Sprite, something a more affable MC might bury when a rival beverage is footing the bill.
Staples doesn't want you to think he's obsessing on his career arc or is interested in making a branded event fun for you when he can be making fun of you. He also didn't give us a chance to say he slept on his obligations. When he kicked into songs from "Summertime," like "Hang N' Bang" or "Norf Norf," he threw himself into the project.
As a performer, Staples is kinetic and mobile, moving from one side of the stage to the other in almost every song. His dissatisfaction permeates everything — this spot on the stage is no good, let's find another. He executes songs cleanly, without using any energy surplus to requirements. Always awake, never wired. Staples is the kid who skips class, shows up once in a while to crack jokes from the back row and somehow gets an A.
Here's hoping he is going to rethink that whole retirement idea and sticks with us. Few are doing it as well as Staples, even if he doesn't want us to know that he knows. When he was grading the crowd an F, he looked pretty comfortable up there, playing teacher, class clown and principal all at once.
Staples' next Southern California appearance is Dec. 18, 7 p.m. at The Observatory, 3503 S. Harbor Blvd., Santa Ana. Info: vincestaples.com.
sfj@latimes.com
On Twitter: @sfj
---
Inside the business of entertainment
The Wide Shot brings you news, analysis and insights on everything from streaming wars to production — and what it all means for the future.
You may occasionally receive promotional content from the Los Angeles Times.