Review: Adele returns to explain the big emotions of your life on '25'
When Adele sings on her new album, "25," about an emotional experience so vivid that "It was just like a movie / It was just like a song," she's probably thinking of a tune by one of her idols: Roberta Flack, say, or Stevie Nicks.
But for fans of this 27-year-old British singer, such a moment could only be captured by one thing: an Adele song.
SIGN UP for the free Essential Arts & Culture newsletter >>
With her big hair and bigger voice, Adele broke out in 2008 as part of the British retro-soul craze that also included Duffy and Amy Winehouse. Her debut album, "19," spawned a hit single in "Chasing Pavements" and led to a Grammy Award for best new artist. Yet she outgrew any style or scene with the smash follow-up, "21," which presented Adele as a great crystallizer of complicated feelings, an artist writing intimately about her own life (in this case about a devastating breakup) in a way that somehow made the music feel universal.
Despite -- or perhaps because of -- her lack of interest in modern pop-star gamesmanship, "21" also turned the proudly old-fashioned Adele into a profit center for a struggling record industry. In the United States alone, the album sold 11 million copies, enough to make it the biggest-selling title of both 2011 and 2012.
Clearly, the pressure is on to duplicate that commercial success with "25," which comes after a long period of public quiet in which Adele recovered from throat surgery and gave birth to a son (and tweeted no more than a few dozen times). "Hello," the record's brooding lead single, set a record when it was released last month, racking up 1.1 million downloads in a week. But the song's enthusiastic embrace only underscored the other, more pressing demand on the singer as she returns: that her music still provide its trademark catharsis.
Put another way, Adele's fans have been waiting for years for new Adele songs to explain their experiences to them. And they get a worthy batch on "25," an album so full of heavy-duty drama that it makes a more lighthearted peer such as Katy Perry seem like a Pez dispenser.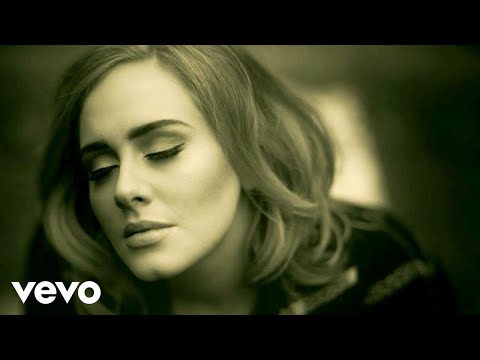 Over tolling piano chords that swell to an echoing throb, she's reaching out to apologize to an ex in "Hello" -- then realizing when he won't take her call that she cares about him more than she thought. "All I Ask" is a stunning ballad, co-written by Bruno Mars, begging a departing lover for one more night of tenderness, just in case "I never love again." And rest assured that the title of "I Miss You" doesn't oversell the song's emotional payload.
"Pull me in, hold me tight," she sings, her voice thick with desire as Paul Epworth's drums boom like cannons around her, "Don't let go / Baby, give me life."
Even as it fulfills those expressive requirements, "25" expands the scope of Adele's music, taking up new themes and textures. There are songs about her life as a mother, including the buoyant, shuffling "Sweetest Devotion" and "Remedy," in which she promises her child, "No river is too wide or too deep for me to swim to you." It's a well-worn lyrical idea refreshed by the ugly-cry intensity of her singing.
There are also songs -- lots of them -- that trade Adele's old righteous acrimony for a gentler sense of longing, as in "When We Were Young," the tune about viewing life as a movie, and the gorgeous "Million Years Ago," which with its sighing cafe-jazz arrangement feels like something Barbra Streisand would've performed four or five decades ago.
"I miss it when life was a party to be thrown," she sings, her youth already wasted (at 27!), "but that was a million years ago."
Time hasn't dulled her sharp edges entirely. "Send My Love (To Your New Lover)" feels like a sly sequel to "Rolling in the Deep," the scorched-earth kiss-off from "21" that described everything her ex was giving up. Here she's over the pain but can't resist poking a bit of fun at the guy, stretching out the word "lover" so that it sounds like she's mocking him -- especially as set against the tick-tock groove by Max Martin and Shellback, Swedish hitmakers known for getting a similar effect with Taylor Swift.
Those are two of Adele's new collaborators on "25," along with Greg Kurstin, who brings an '80s-R&B vibe to "Water Under the Bridge," and Danger Mouse, who sets "River Lea" adrift in waves of his signature organ haze. Yet throughout the album, these pop wizards are coming to Adele, not the other way around. They recognize her singularity and work hard to uphold it, to help fill these songs with as much Adele as possible.
What's truly remarkable is how many people will listen and hear only themselves.
Twitter: @mikaelwood
MORE:
Pop music stars unite for A&E special highlighting race issues
'Hunger Games' director reveals the one thing he refused to put in 'Mockingjay Part 2,' despite fan requests
Neil Young and Paul Simon join in Gershwin Prize tribute to Willie Nelson
Get our L.A. Goes Out newsletter, with the week's best events, to help you explore and experience our city.
You may occasionally receive promotional content from the Los Angeles Times.