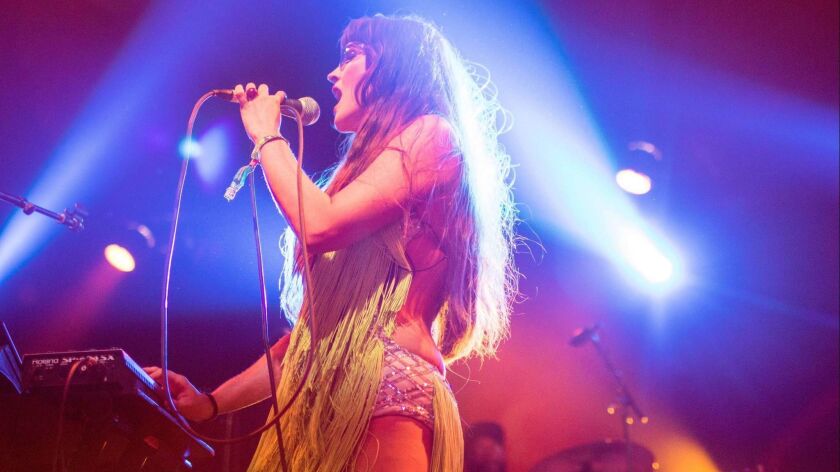 There's no going wrong with the week ahead in live music, with free shows, local favorites and outdoor gatherings kicking off summer in L.A.
James Supercave
L.A.'s maestros of surrealist pop are back, leading a stacked KCRW-curated bill of local favorites that includes Bay Ledges, Mack and Bloome. Their 2016 debut full-length "Better Strange" earned praise for its uncanny, dance-floor-ready instrumentation and incisive lyrics, and they've only been getting stranger with a recently dispatched slate of new tunes. This Thursday, the trio comes in hot off tour with Mini Mansions, ready to deliver the dystopian rapture that has established them as one of L.A.'s most beloved acts. The Bootleg Theater, 2220 Beverly Blvd., 8:30 p.m. Thursday. Tickets cost $15 in advance and $18 day of show.
Mariachi USA
The world's premiere mariachi festival returns to the Hollywood Bowl for a milestone 30th year. Saturday's bill features genre greats from the U.S. and Mexico, including Mariachi Nuevo Tecalitan, Mariachi Las Alteñas, Mariachi Los Arrieros, Mariachi Los Reyes, and special guest legends Trio Los Panchos with dance accompaniment from Ballet Mi Tierra — and, of course, fireworks. Tickets start at $43.45. Hollywood Bowl, 2301 N. Highland Ave., 6 p.m. Saturday.
Grapetooth
Chicago duo Grapetooth came out swinging at the end of 2018 with their acclaimed self-titled debut, melding new wave with rough-hewn folk and winning a devoted fan base in the process. With a feel akin to Arthur Russell scoring a John Hughes film, the pair brings its hazy, reckless vibe to the Echoplex for a night of swoon-worthy sounds. Ian Sweet and James Swanberg will open. Tickets cost $14 in advance and $18 day of show. Echoplex, 1822 W. Sunset Blvd., 8:30 p.m. Friday.
36th Annual Radiotron
As part of the Levitt Pavilion's robust free summer concert series, fan favorite Radiotron takes over MacArthur Park to honor L.A. hip-hop history with a night of DJs and break dancing. This year's theme of "Summer of Youth Empowerment" honors organizations providing creative spaces for youth, including Hip Hop Shop, Mama Hazze Hip Hop Dream Center, Homeland Cultural Center, JUICE, and 54 Chapters of Generation Hip Hop Global from around the world. Lock in your spot by RSVPing at concerts.levittlosangeles.org. Levitt Pavilion, 2230 W. 6th St., 4 p.m. Sunday.
...And You Will Know Us By The Trail Of Dead, Death Valley Girls, Goon
Enthusiasts of sludgy, jammy, feedback-laden rock won't want to miss this formidable bill Friday night at the Echo, with post-hardcore heavyweights Trail of Dead continuing to floor crowds 25 years into their career. Be sure to show up early to catch two of L.A.'s finest young guns, with the garage-psych ferocity of Death Valley Girls and the grunge-gaze antics of Goon ready to help you get heavy. Tickets are sold out, but you can still nab some through ticket resale sites. The Echo, 1822 W. Sunset Blvd., 8:30 p.m. Friday.
2nd Annual Sonidos Salvadoreños
Also part of the Levitt's summer concert series, Sonidos Salvadoreños offers an evening of traditional and contemporary Salvadoran music and dance. Attendance is free with RSVP at concerts.levittlosangeles.org. Levitt Pavilion, 2230 W. 6th St., 4 p.m. Sunday.
Buscabulla
Spanish language experimental pop duo Buscabulla hold down a lane all its own. Combining electronic and live instrumentation, the pair draws on old-school Latin influences including Cuban psych, salsa gorda and '80s Argentinian rock for a futuristic sound perfect for dancing into the weekend. The free show, which also features Reyna Tropical, is part of downtown's FIGFest Friday night concert series in June. Fig at 7th, 735 S. Figueroa St., 6 p.m. Friday.
---