Review: Caribou mesmerizes in the first of three sold-out Fonda concerts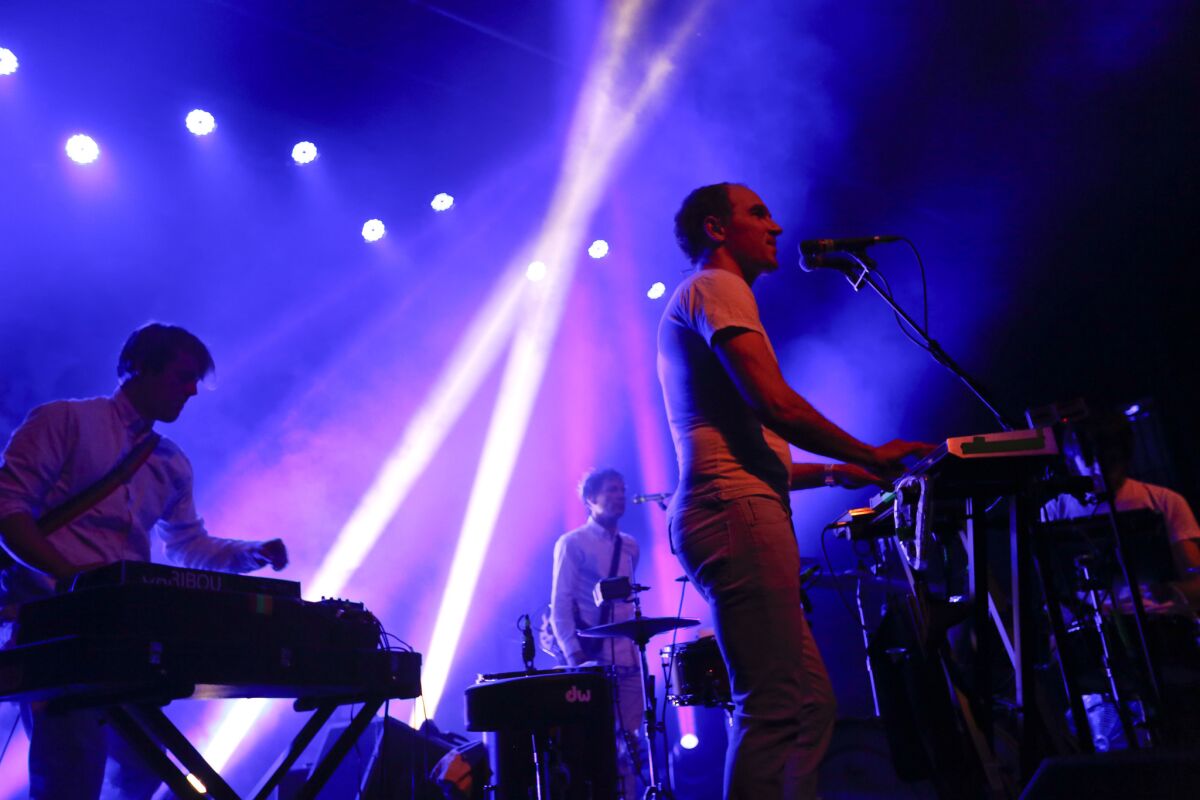 Many tone varietals run through pop music, some poisonously bitter and abrasive, others as sweet as honeysuckle. The sound the electronic artist Caribou (a.k.a. Dan Snaith) created at the Fonda on Thursday night hit the eardrums like velveteen berries: perfectly ripe and arranged in complex rhythmic patterns that seemed to luxuriate in hitting human pleasure receptors in the clearest, most striking ways possible.
On the first of three consecutive nights, Snaith cultivated a dance music feast of analogue and digital synth tones, human- and circuit-crafted beats, feedback-drenched noise, voices digitally altered and cleanly sung before a visual backdrop that displayed sprouting vegetation. The layers upon layers of textures propelled the 1,200-capacity Hollywood theater into heaving, bouncing dance mode.
With each new peak throughout the 70-plus minute set, first in a trio of tracks from the recent album "Our Love," on to a mid-set selection of tribal pounds from 2010's "Swim," and the back-to-the-start return of more selections from "Our Love," Snaith and band delivered thousands of perfect beats. Despite having a discography that stretches back 14 years, he focused solely on work from these two albums, and as such, it was an up-tempo set far removed from his more subdued earlier work.
That stands to reason. Snaith of late has been exploring electronic dance music's roots. Under the moniker Daphni, he went into full dance mode on his 2012 album "Jiaolong," crafting heavy house and techno beats that mixed well with the classic Chicago and Detroit tracks built around the Roland 808 drum machine. "Our Love" has a lot in common with his Daphni work. As such, Snaith crafted a seamless body of music at the Fonda that ran with the gradual build of a well-paced DJ set.
Which is a good thing, as Snaith is a superb DJ, and he and the band mixed tracks as though a Numark and a cross-fader were involved, morphing seamlessly and keeping the fans giddy. "Found Out," from "Swim," opened with Gothic-sounding organ chords and Snaith's uneasy falsetto before catching a bass-drum groove and setting the dance floor aloft like it had turned into a trampoline. Moving into the sweetened synth-drive of "All I Ever Need," from "Our Love," the group mixed human emotion with synthesized sounds.
Those emotions are what resonated on Thursday, and are what helped Caribou sell out three nights in a row. During an interview with the Quietus magazine, Snaith captured one reason why "Our Love" took hold of so many people.
Describing it as "by far the most personal record I've ever made," Snaith said that both being the father of a young daughter, born in 2011, and committing to music for 14 years pushed him "to take stock" and prompted a philosophical question. "'What are the most important things to me? What do I want to be in my music and say with my music?' And not just the lyrics, though they're far more personal than ever before -- I wanted to have that sense of warmth and sharing that I hear in those Alice Coltrane and Pharoah Sanders records."
That heat filled the Fonda. At times gushes of synthesized noise overtook tracks just as they were hitting peak momentum, resulting in huge crashes of sound that would then cascade forward in rhythm. A master of the build, Snaith knows how to pile tracks, knows how to make them viscous, fluid.
The kicker? The Fonda's sound system was its own kind of miracle on Thursday. A perfectly miked and mixed set that seemed to envelope the room, Caribou's performance was both ridiculously loud and ridiculously clean.
By the end, eardrums weren't ringing, though. Rather, they felt nourished, moisturized, as though soothed with some sort of natural salve.
Looking for music tips? Follow Randall Roberts on Twitter @liledit.
Get our L.A. Goes Out newsletter, with the week's best events, to help you explore and experience our city.
You may occasionally receive promotional content from the Los Angeles Times.