Carly Rae Jepsen at the Troubadour: 5 thoughts on her 'Emotion' release show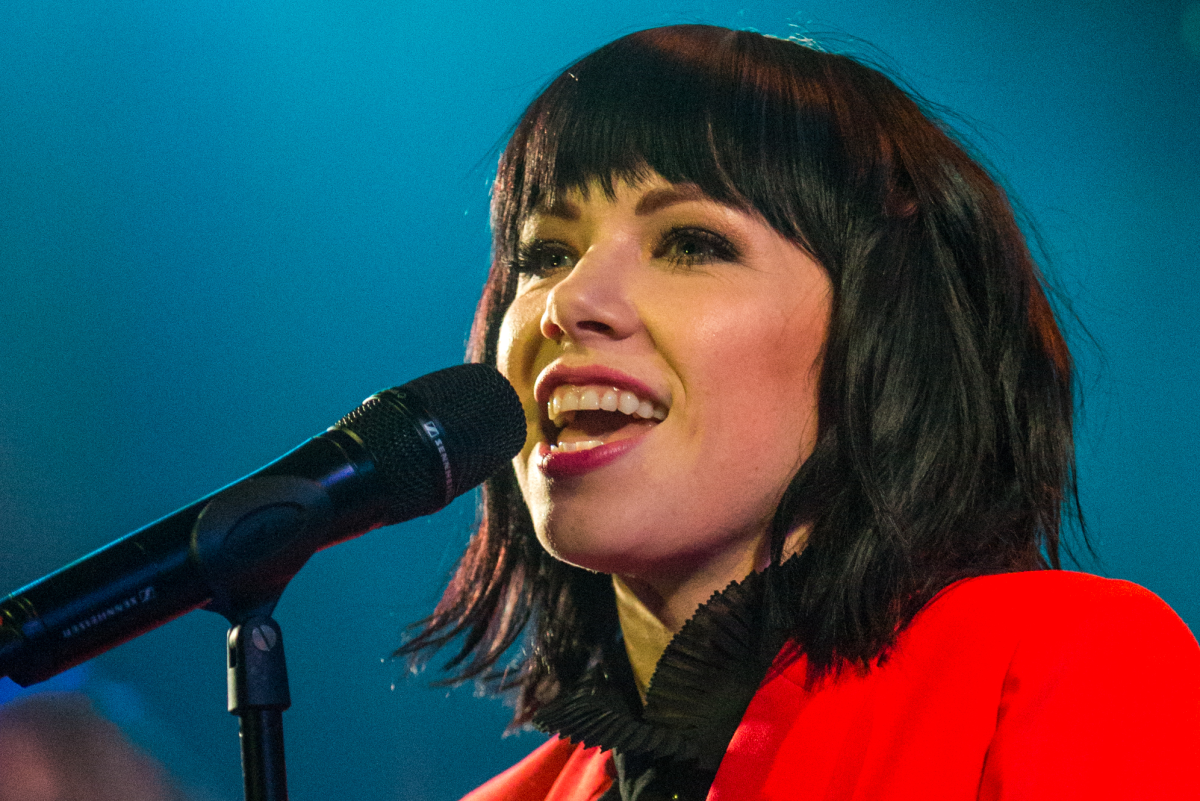 Taylor Swift wasn't the only pop singer in Los Angeles thinking about the late 1980s on Monday night.
While the "1989" superstar took over Staples Center for the third of her five shows there, Carly Rae Jepsen walked onstage at the Troubadour wearing a boxy red suit jacket more or less indistinguishable from the one Sigourney Weaver wore on the poster for "Working Girl."
Jepsen, of course, is the Canadian singer responsible for "Call Me Maybe," the viral 2012 smash whose global success seemed all but certain to turn Jepsen into a one-hit wonder. (Pour out a little for Gotye.)
Yet with her new album, "Emotion," which came out Friday, Jepsen is trying cleverly to sidestep that path: It's a smart set of hipster-artisanal pop songs full of gently grown-up lyrics and the retro '80s textures in vogue right now among acts as diverse as Haim, Disclosure and the Weeknd.
SIGN UP for the free Essential Arts & Culture newsletter >>
Performing for a sweaty, sold-out house that included Lorde and Tom Hanks (who starred in her video for "I Really Like You"), Jepsen celebrated "Emotion's" release by playing nearly every tune on the record. Here are five thoughts on the show.
1. In person, Jepsen stayed true to the album's slick Reagan-era sound. Her six-piece band featured a keyboard player who doubled on saxophone — crucial for the wailing "Run Away with Me," which opened the show — and a bassist capable of the funky slap part that drives "Boy Problems." There were also two backup vocalists singing creamy harmonies and, in an even more appropriate touch, doing light side-to-side choreography.
2. As a live performer, Jepsen has come a long way since 2012, when the explosion of "Call Me Maybe" led to a too-soon opening gig on Justin Bieber's arena tour. I remember seeing her at Staples Center that year and thinking how overwhelmed she looked, but on Monday, she appeared much more in control as she moved across the Troubadour's stage. She was more expressive too, working a sly grin during "I Really Like You" and flashing an unexpected fierceness in "Boy Problems."
3. Not that she's shaken what one of her "Emotion" collaborators, Rostam Batmanglij of Vampire Weekend, recently described to me as her appealing underdog quality. Introducing "Your Type," Jepsen said the song was about falling for a guy who didn't return the feeling, and that inspired a reaction from the crowd that suggested a kind of protectiveness on the part of her fans. (One dude cried out, "He's a dead man!") Jepsen then clarified that the guy probably had no feelings for her because his feelings aren't reserved for women.
4. They weren't exactly celebrities like those Swift has been bringing out at Staples, but Jepsen hosted a number of special guests Monday, including Batmanglij, who joined her to play "Warm Blood" (which he co-wrote and produced), and Dev Hynes and Ariel Rechtshaid, who took over guitar and bass, respectively, for "All That," the luscious soul-funk slow jam they helped Jepsen create. On Twitter, Batmanglij posted a picture of the three en route to the Troubadour together — basically the indie-rock equivalent of Swift's superstar squad.
5. As focused on "Emotion" as she was, Jepsen wasn't trying to erase her past. In addition to "Call Me Maybe," which she'll have to sing every time she picks up a microphone for the rest of her life, she reached back to her overlooked 2012 album "Kiss" for "Tonight I'm Getting Over You" and, after a fan requested it, the wistful "Curiosity." The band hadn't worked that one up, she said, so she and her longtime guitarist, Tavish Crowe, played a skeletal voice-and-guitar version that sounded like a lost Debbie Gibson demo. Mission accomplished, then.
Twitter: @mikaelwood
ALSO:
FYF Fest: Kanye West thrills, but we've seen it plenty
Taylor Swift at Staples Center: Where every fan is her best friend
Shania Twain goes off-script in an arena spectacle at Staples Center
Get our L.A. Goes Out newsletter, with the week's best events, to help you explore and experience our city.
You may occasionally receive promotional content from the Los Angeles Times.