Chris Brown arrested after altercation in Washington, D.C.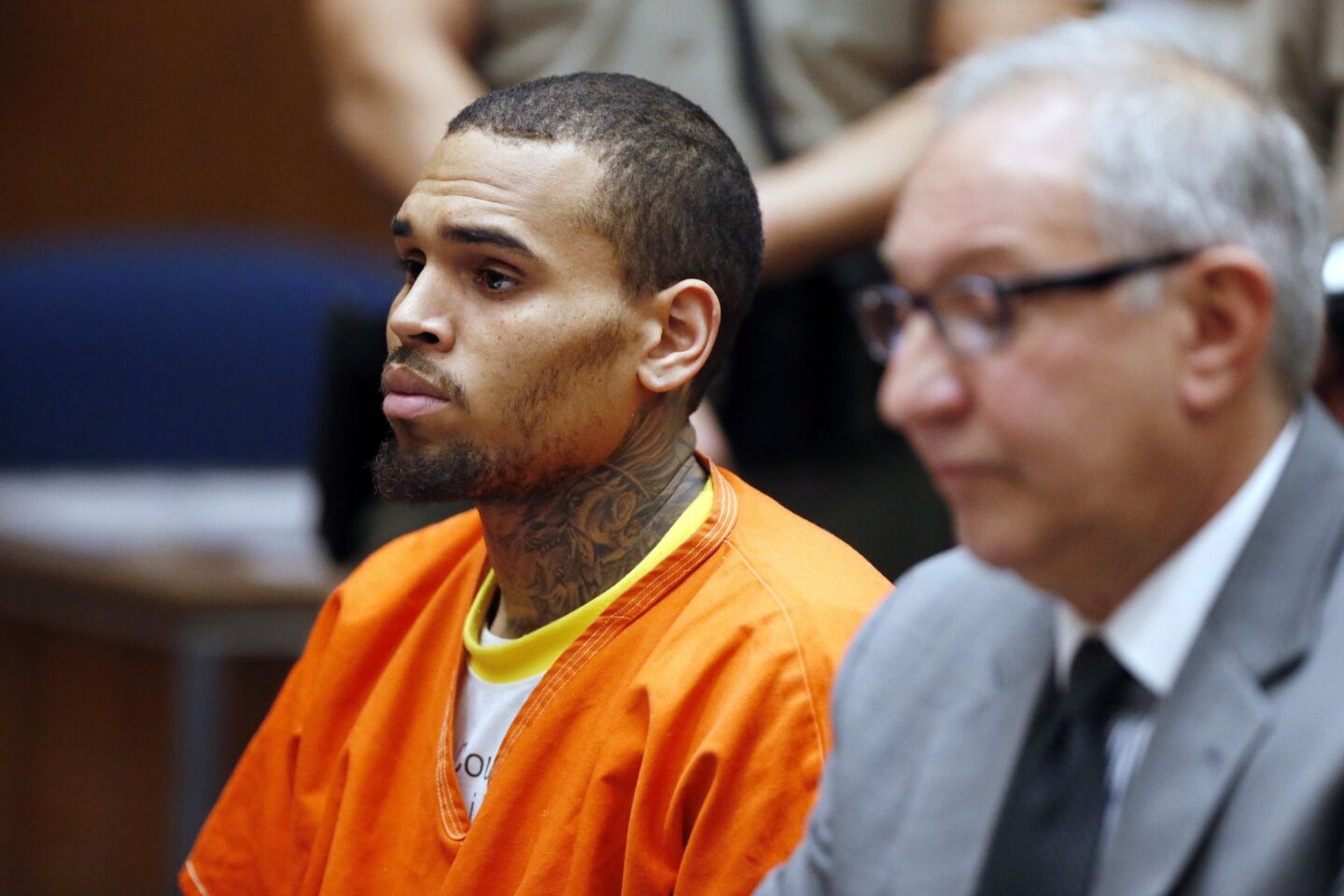 Singer Chris Brown appears in court with his attorney Mark Geragos on Monday for a probation violation hearing.
(Lucy Nicholson / Getty Images)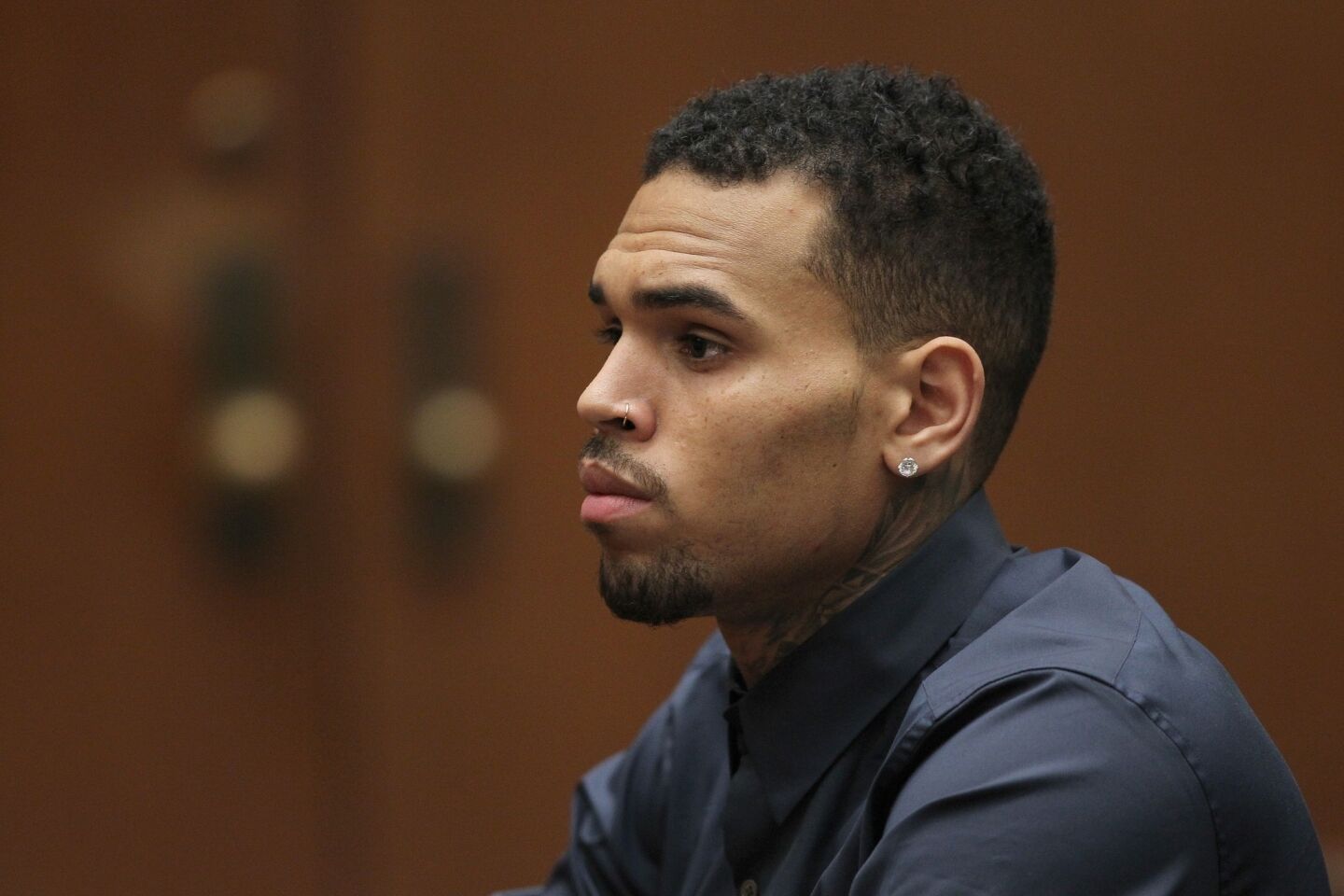 Chris Brown appears in court for a probation progress hearing on Feb. 3.
(David McNew / Getty Images)
Chris Brown enters the Los Angeles Courthouse on Feb. 3.
(Frederick M. Brown / Getty Images)
Singer Chris Brown arrives at L.A. Superior Court with attorney Mark Geragos for his sentencing in the beating of former girlfriend Rihanna.
(Gary Friedman / Los Angeles Times)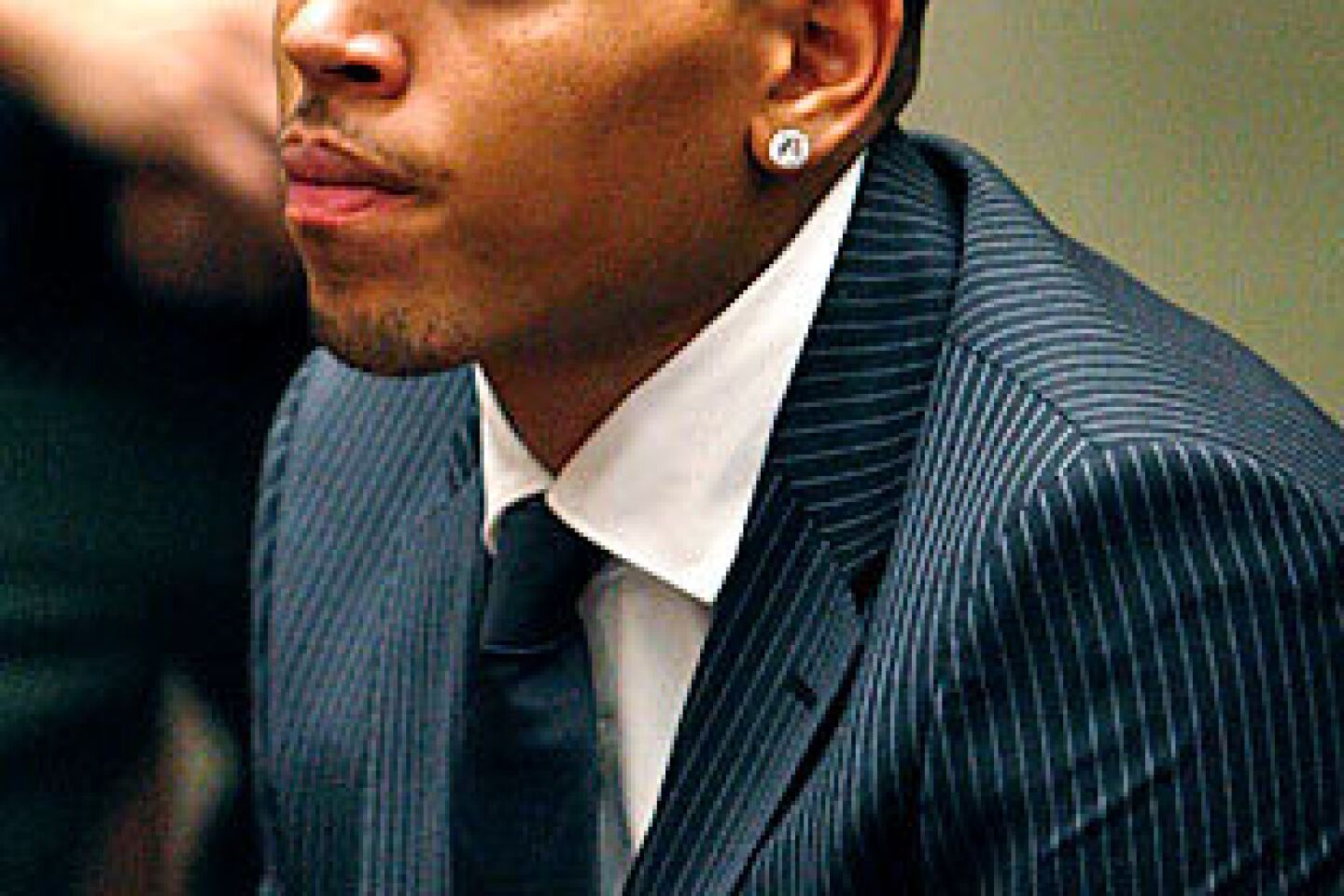 Chris Brown sits before the judge during his sentencing. He was convicted of beating and threatening Rihanna after a pre-Grammy Awards party.
(Rick Loomis / Los Angeles Times)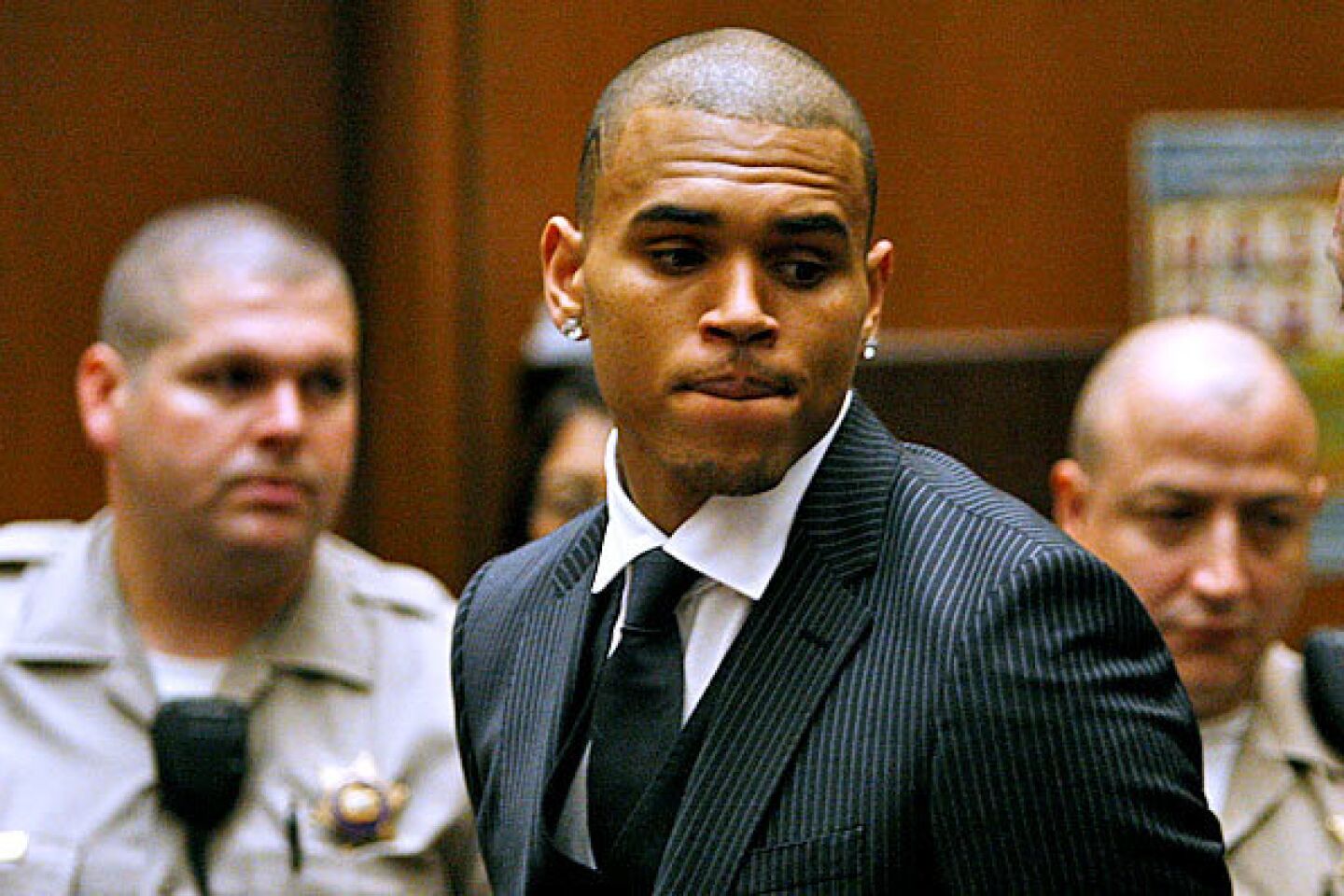 Chris Brown is sentenced to five years' probation and 180 days of community service. He was also ordered to stay at least 100 yards away from Rihanna for the next five years.
(Rick Loomis / Los Angeles Times)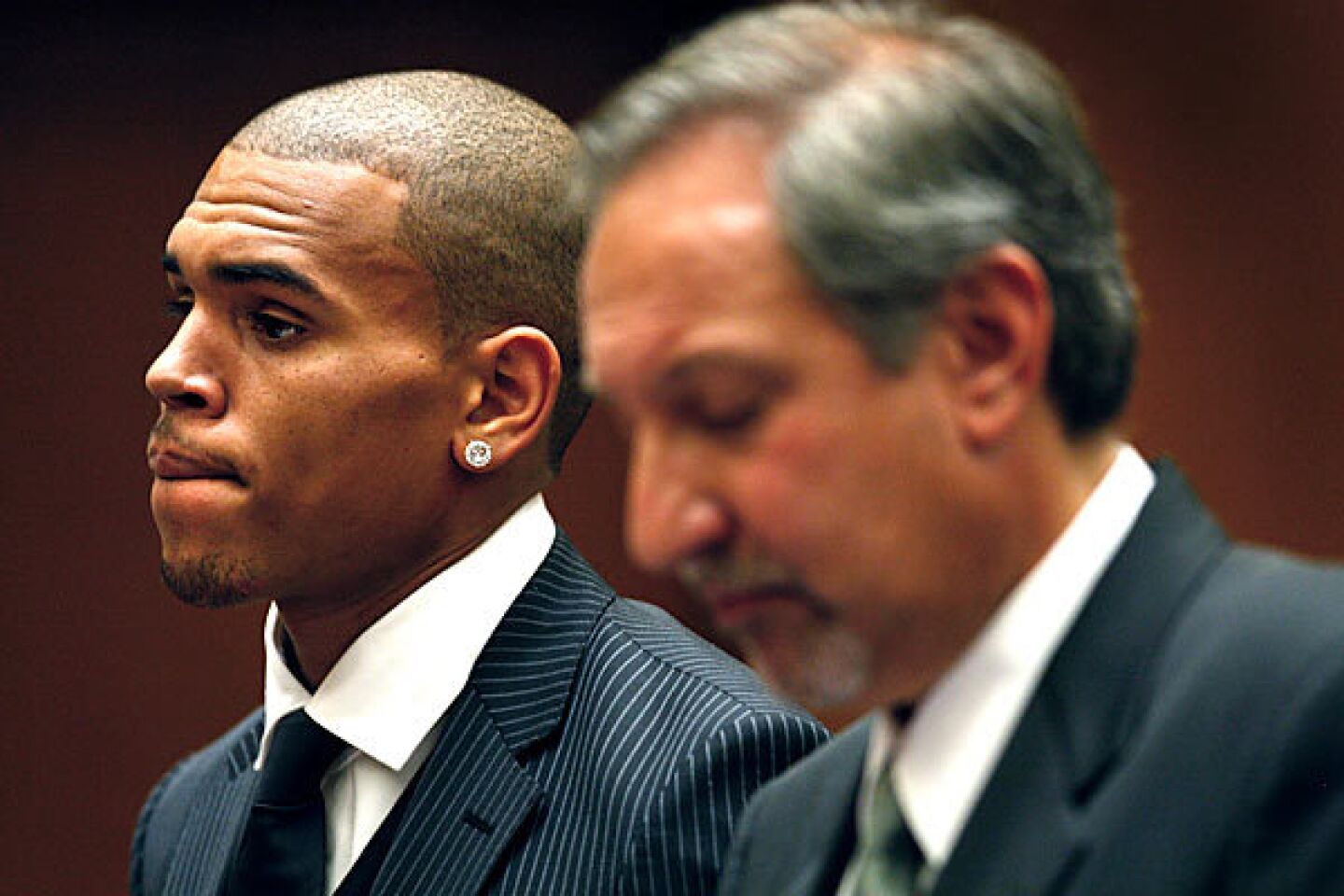 Chris Brown, in court with Geragos, will also have to take a domestic violence course.
(Rick Loomis / Los Angeles Times)
Chris Brown leaves the downtown courthouse after sentencing. According to a probation officer's report, the singer was involved in two unreported incidents "related to domestic violence" before the February incident.
(Gary Friedman / Los Angeles Times)
Chris Brown was arrested early Sunday and charged with felony assault after an altercation in Washington, D.C., police said.
The R&B singer and his bodyguard Christopher Hollosy were involved in a fight with another man outside the W Hotel just before 4:30 a.m. Sunday, the Washington Metropolitan Police Department said.
Brown, 24, and Hollosy were taken into custody, police spokesman Anthony Clay told The Times. The man who allegedly angered Brown was transported to an area hospital for his injuries, police said.
PHOTOS: Chris Brown - Life in pictures
Brown and Hollosy are being held in police custody until Monday, when they will be arraigned, Clay said.
The Grammy-winning singer was in Washington on Saturday night to host a party at downtown nightclub the Park at Fourteenth, according to his Twitter feed. The W is located just a few blocks from the club.
Brown is still on five years' probation from the 2009 assault case involving his then-girlfriend Rihanna.
Although he has been embroiled in enough controversies to permanently cement his bad boy persona with the public -- a nightclub blowout with Drake, a parking lot tussle with Frank Ocean, countless Twitter spats -- Brown in recent years had avoided serious trouble with the law until earlier this year, when prosecutors in L.A. accused him of failing to perform his community labor sentence as instructed.
A judge revoked Brown's probation briefly after a hit-and-run incident earlier this year. He was also given 1,000 additional hours of community service to perform.
A rep for the singer didn't return a request for comment Sunday.
ALSO:
Jay Z's Barneys collection protested after racial profiling claims
Tanay Jackson relies on family lineage, not talent, for music debut
With new album and L.A. acclaim, Former Runaway Joan Jett proves she never left
Get our L.A. Goes Out newsletter, with the week's best events, to help you explore and experience our city.
You may occasionally receive promotional content from the Los Angeles Times.