Coachella 2014: AFI, Afghan Whigs and Kate Nash lead a little rock revival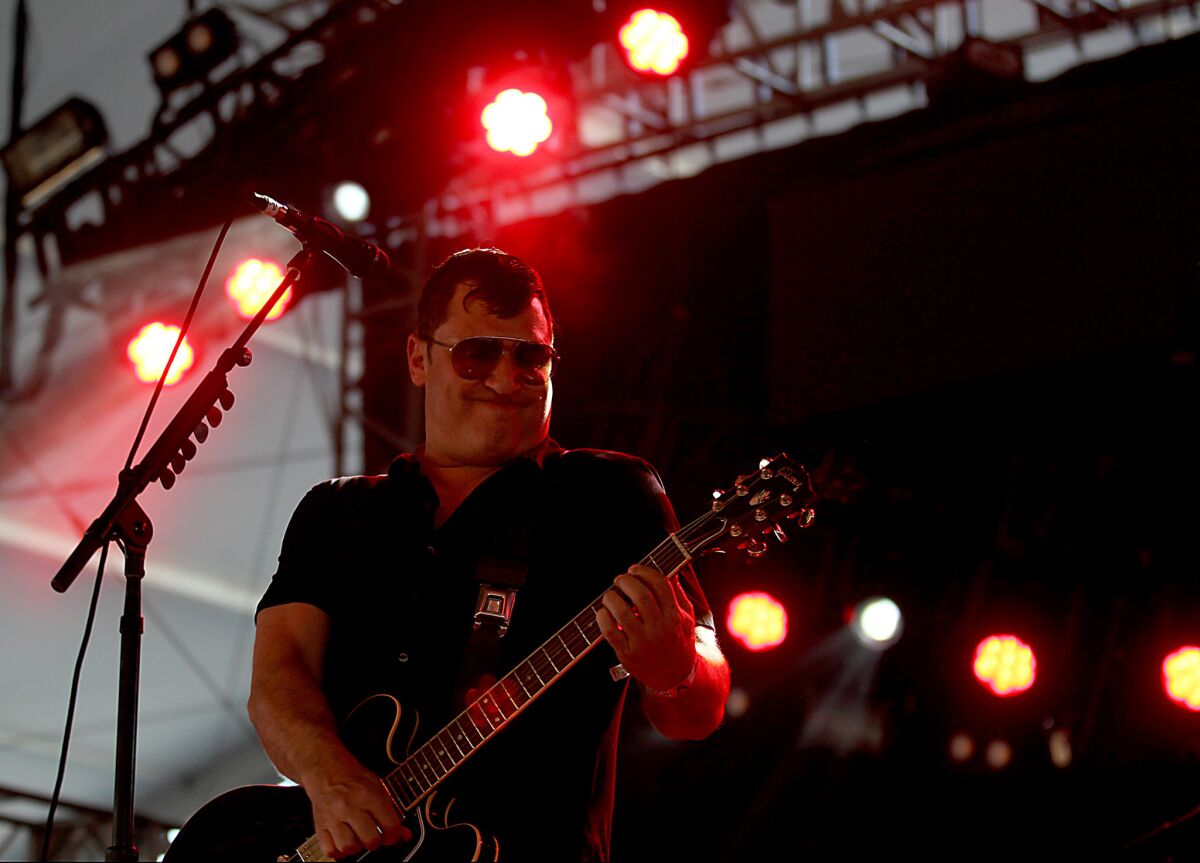 Coachella is for earnest young things. But every old misanthrope in Indio this weekend found their way to Mojave Tent on Friday for the Afghan Whigs.
Greg Dulli, the singer for the recently re-activated indie combo, led his band in one of the day's more scalding rock sets. They dug into loud and lecherous tunes like "Somethin' Hot" with the hormones of onetime collaborator Usher, but the bile of a 90's rocker jaded to the hilt.
While the rave tents were full of flexing bros and tweens dressed as forest sprites, Dulli's crowd was overwhelmingly wizened old cads, and nodded in quiet approval as he played harsh yet resonant bar ballads from his band's comeback album for Sub Pop, "Do To The Beast." Dulli sang from behind a pair of motorcycle-cop aviators, and the sentiment was definitely a bit like getting pulled over and knowing you're at his mercy.
RELATED: Coachella 2014 by numbers
It was one of a few really solid rock sets on Friday afternoon that tried to restore some edginess into guitars and drums. Earlier in the day, goth-punk lifers AFI reminded the teens and very-much-former-teens in the crowd why they've stuck around as punk waxes and wanes every few years. They put on one heck of an arena rock show.
Their new album "Burials" can be somber, but the songs pack a hell of a kick onstage. Singer Davey Havok's wails could be heard at all corners of even the farthest parking lot, while the rhymthm section fo Hunter Burgan and Adam Carson added some old-time Oi stomp to the band's double-time sass.
PHOTOS: Artists in their own words
Back in the Gobi, the singer Kate Nash made a gained-up ruckus of her own. Amidst a slumber-party themed stage set, Nash howled like Dolly Parton but thrashed her guitar like Carrie Brownstein. Her great new album "Girl Talk" hasn't had the commercial impact of her 2007 debut "Made of Bricks," but it is a small, spiky revelation of modern feminism and out-and-out rocking. Hopefully we'll have a lot more of such this weekend.
ALSO:
Coachella 2014: 10 rising acts you should know now
Coachella 2014: Fest to now offer fancy four-course meals
---
Your essential guide to the arts in L.A.
Get Carolina A. Miranda's weekly newsletter for what's happening, plus openings, critics' picks and more.
You may occasionally receive promotional content from the Los Angeles Times.