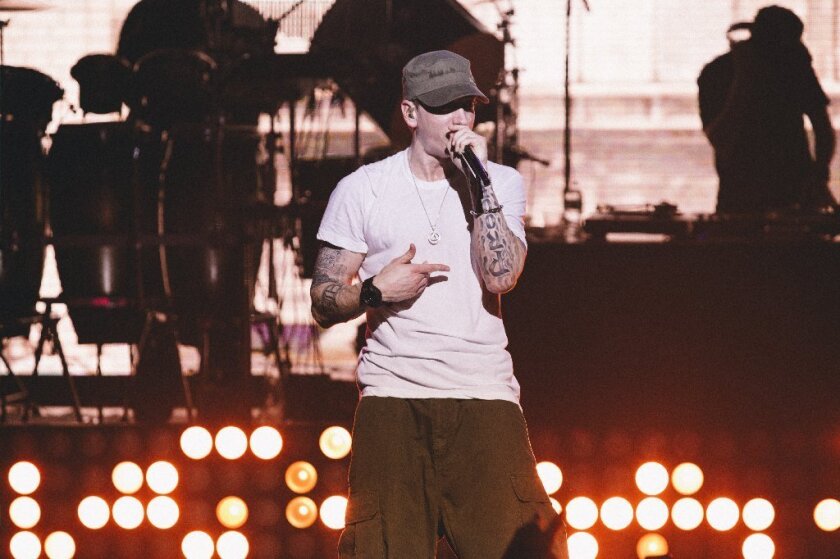 Los Angeles Times Pop Music Critic
Detroit rapper Eminem released the first glimpse of his forthcoming, as-yet-untitled new album via a "Call of Duty: Ghost" trailer on Wednesday, and it shows a man focused on a return to greatness as voluminous, venom-filled and explosive as the visuals that the song soundtracks.
Called "Survival," the track shows the man born Marshall Mathers at an aggressive peak, delivering cuss-filled lines about his return: "I'm … back again with another anthem/Why stop when it doesn't have to end?" He continues, answering his own question while the bombast of distorted electric guitar and a jumbo beat offer foundation.
"It ain't over til it's over – enough when I say enough/Throw me to them wolves and close that gate up," he demands. Em salivates at the thought of wrestling with alligators, commands an enemy to hold their hands up until "you dislocate a rotator cuff."
PHOTOS: 2013's year of controversial rap lyrics
The song first appeared Wednesday morning in teaser for a new installment of the wildly popular "Call of Duty" franchise. Whether you like it or not, the fall will be soundtracked by "Survival." It'll be featured in the game but will land in many more ears during the multimedia marketing campaign leading to the game's Nov. 5 release.
That's a concern, because "Survival" isn't very good. Produced by DJ Khalil, it's a steroid-sounding workout anthem whose chorus will no doubt score NFL highlight reels for the entire season. Sung by Liz Rodrigues of the band the New Royales, it's a cliché-ridden couplet that sounds like it took as much time to imagine as it did to scribble on a scrap of paper. "This is survival of the fittest/This is do or die/This is winner takes it all/So take it all."
"Survival" will be on Eminem's forthcoming album but won't be its first single. According to a press released issued by Interscope Records, "an announcement regarding the new album and its first single is expected soon."
[For the record, Aug. 16, 2013: The original version of this post wrongly identified the vocalist singing the hook of "Survival." It is Liz Rodrigues, not, as originally written, Skylar Grey. The post has been updated.]
ALSO:
Prince takes to Twitter, reveals fondness for pepper
Earl Sweatshirt confronts the pressures of hype with 'Doris'
How similar are Katy Perry's 'Roar' and Sara Bareilles' 'Brave'?
Follow Randall Roberts on Twitter: @liledit
---