George Harrison's 'All Things Must Pass' still inspires 45 years later
What kind of contrarian would single out 1970 as his favorite year for Beatles music? That was, after all, the year the Beatles disbanded and broke the hearts of millions of music fans around the world.
That's Chris Carter, host of the long-running "Breakfast with the Beatles" radio show heard Sunday mornings in Los Angeles on KLOS-FM (95.5).
"We got something like 14 Beatles records that year: not only the 'Hey Jude' and 'Let It Be' [Beatles] albums, but solo albums from Paul, George, John and two from Ringo, plus John's 'Instant Karma' single, 'My Sweet Lord' from George, etc. So it really is my favorite year."
SIGN UP for the free Essential Arts & Culture newsletter >>
It certainly was a year of dramatic transition for all four Beatles — and Beatle fans — as the group that brought so many innovations to pop music during its relatively brief eight-year recording career called it quits, and each member of the quartet moved forward with solo endeavors.
The biggest surprise of all, however, may have been Harrison's emergence from the long shadow under which he'd been working for so long being in the same band with Lennon and McCartney.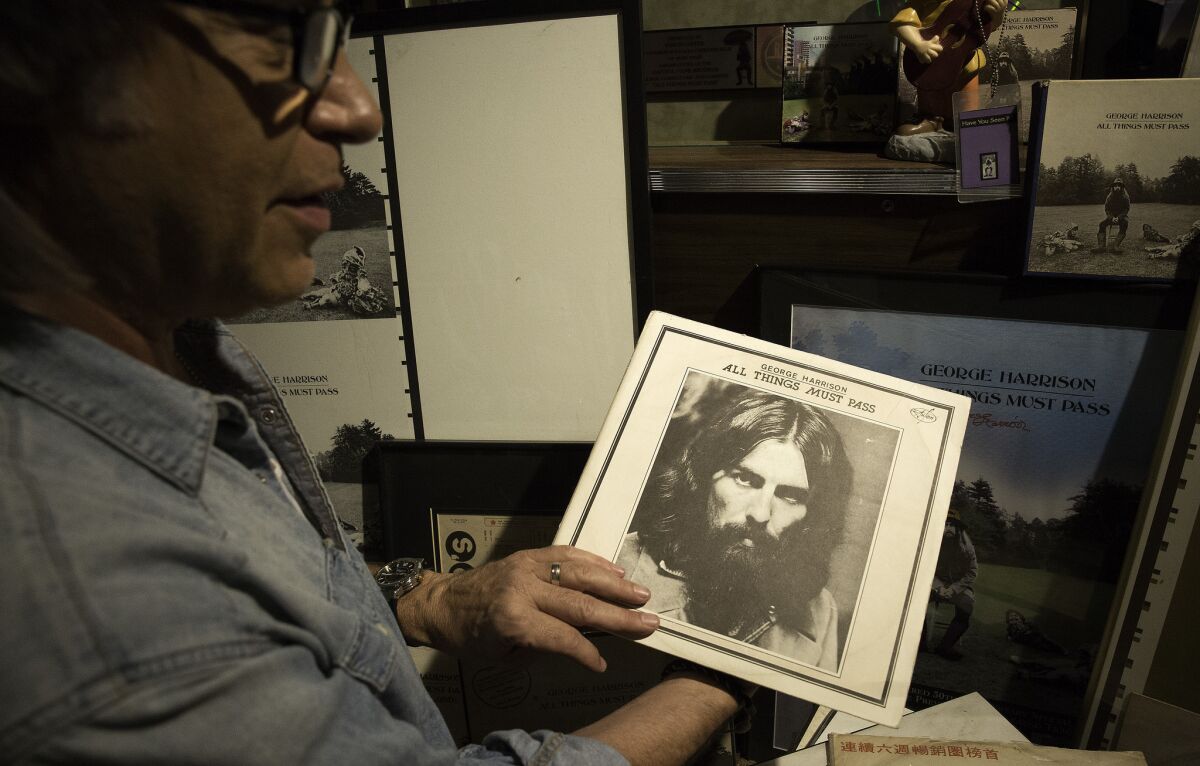 He did it with his first post-Beatles solo album, "All Things Must Pass," a triple album that surprised even Harrison admirers with the quantity and quality of music he delivered once he was no longer relegated to one or two tracks per Beatles release. It came out in the U.S. 45 years ago, on Nov. 27, 1970.
"In my opinion — and I've called it this on the air — it's a complete masterpiece," said Les Perry, host of Southern California's other weekly Beatles broadcast, "Saturday With the Beatles," which airs Saturdays at 10 a.m. on KCSN-FM (88.5).
"I was working at [L.A. radio station] KDAY in the music department when that came out," Perry said. "It was an event. It was this [physically] big album, it had a great poster of George inside, and everybody wanted it. We [programmed] two songs right away, that afternoon: 'My Sweet Lord' and 'What Is Life.' There wasn't one bad song on it."
Both "Breakfast With the Beatles" and "Saturday With the Beatles" will include spotlights on Harrison's music in general and "All Things Must Pass" in particular during this weekend's broadcasts.
Carter, as one of the world's foremost authorities on "All Things Must Pass," has amassed a collection of dozens of versions of the full album: U.S. and U.K. editions, of course, but also all the various formats on which it was released originally: LP, 8-track, reel to reel and cassette tapes, versions from Japan, Germany and other countries as well as promotional posters, the original singles and more recent vintage CD reissues.
Part of Carter's "ATMP" collection is a multi-platinum RIAA award certification created in 2001 after the 30th-anniversary reissue, which Harrison was involved with during the final year of his life. Carter was given the plaque for his contributions of liner notes and memorabilia that went into the 30-year anniversary reissue of "All Things Must Pass" in 2000.
The original version, Carter noted, "came out when I was 11 years old, and it was really my first 'grown-up' record purchase," he said at his home studio in Sherman Oaks. "It came in a box, so it looked like a classical album, and even at 11 I could tell the music was different, more grown-up, than other things I'd been listening to."
Carter remains an ardent devotee of the powerful musical statement Harrison made with "All Things Must Pass," containing several songs written for but rejected by the Beatles for latter-day albums such as "The Beatles" (a.k.a. the White Album), "Abbey Road" and "Let It Be." (Lennon and McCartney reportedly gave him thumbs down on the songs "All Things Must Pass" and "Hear Me Lord" as they were recording what would become the "Let It Be" album.)
He has noted on his radio show Harrison's not-so-subtle dig at his former band mates by positioning "I'd Have You Anytime" as the leadoff track for "All Things Must Pass."
He wrote with no less than Bob Dylan, and Carter thinks "That was George's way of telling John and Paul, 'Bob Dylan seems to think I'm a decent enough songwriter.' "
Said Perry, "I think there is a big, big Bob Dylan influence on that album. The style that George used in his lyrics — even the ones that weren't written by Bob had that influence."
Among its other milestone accomplishments, "All Things Must Pass" yielded the first No. 1 single from a solo Beatle: "My Sweet Lord," which topped the Billboard Hot 100 for four weeks and stayed on the chart for almost four months. A second single, "What is Life," made the Top 10 the following February.
It also features songs addressing mortality ("Art of Dying," which he'd written in 1966), the politics of religion ("Awaiting On You All"), spiritual yearning ("Hear Me Lord"), philosophy ("Beward of Darkness," the title track) and the ups and downs of love ("I Dig Love," "Isn't It a Pity").
"I don't think there's a week that goes by that I don't play something from 'All Things Must Pass' on the show," Carter said. "I even like the 'Apple Jam' disc," referring to the third part of the three-LP album containing largely instrumental jams among Harrison and his superstar pals including Eric Clapton, Ringo Starr, Leon Russell, Delaney and Bonnie Bramlett, Billy Preston, Dave Mason, Gary Wright, Klaus Voorman and numerous others.
Carter's "All Things Must Pass" plaque from the RIAA is another of the many perks he's received from his passion for the Beatles music that has been evident during his 14 years behind the microphone on L.A.'s "Breakfast with the Beatles" — the show title is used at dozens of radio stations across the country — a job he inherited from the show's original host, Deirdre O'Donahue, who died in 2001.
That's the same year Perry started hosting his Beatles show for KCSN, but he's been playing Beatles on the radio virtually since "All Things Must Pass" came out. He first hosted a Beatles show on public station KCRW-FM (89.9) in 1971.
"That's when I started realizing that a lot of the songs I liked from the Beatles were all George songs. 'While My Guitar Gently Weeps, 'Think For Yourself' — he wrote great songs, and at the time a lot of them were underrated. His songs talked about your mind, your life — George always had something unique in his songs."
Carter also has been touched by the spirit of Harrison's music and his family.
"One time I got a call from [Harrison's widow] Olivia, and she called to thank me for playing George's music," Carter said of a show entirely dedicated to Harrison's songs — with the Beatles and solo. "Her mother still lives here [in Southern California] and told her she'd heard it. Olivia was calling from their estate in Friar Park [in England], and she said it was raining, and she talked about how George loved the rain and he would always go out into the garden and plant something when it rained.
"I'm sitting here in Los Angeles, where the sun is shining and thinking, 'She took the time to call me just to say thank you for playing her husband's music,' " he said. "That shows you what kind of people they are."
Follow @RandyLewis2 on Twitter. For more on Classic Rock, join us on Facebook.
ALSO:
Music videos on Beatles '1' and '1+' offer fans a lot to chew on
To connect with the Beatles, all they needed was imagination — and a helicopter
Lennon-McCartney Monterey Pop poster sells for $175,000 at L.A. record shop
---
Get our L.A. Goes Out newsletter, with the week's best events, to help you explore and experience our city.
You may occasionally receive promotional content from the Los Angeles Times.