Listen: Five would-be pop hits that never quite were in 2013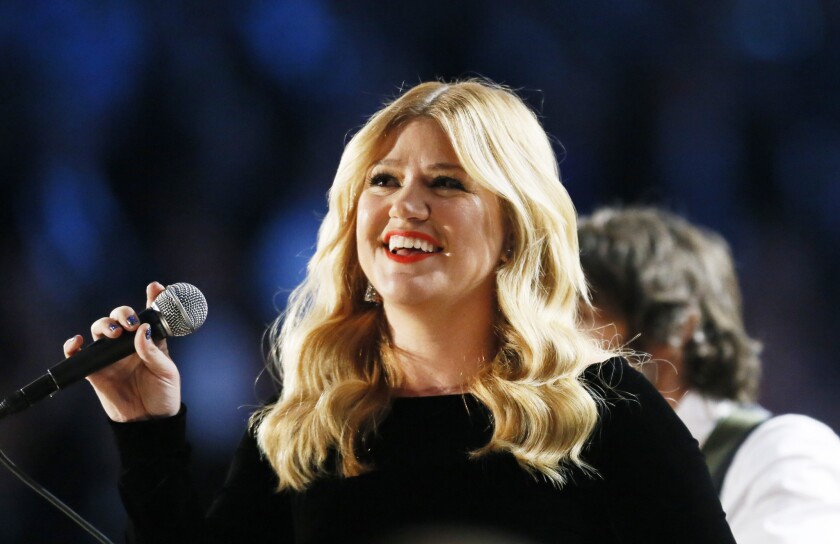 Have reports of the death of monoculture been greatly exaggerated? That's one takeaway from a look at the number of songs that reached the top of Billboard's Hot 100 last year.
In 2013, only 11 tunes made it to No. 1 on the singles chart -- fewer than in any year since 2005, when Mariah Carey's "We Belong Together" and Kanye West's "Gold Digger" together locked up the top spot for approximately five months.
Sure, those 11 songs covered a fair amount of ground, from Baauer's clattering "Harlem Shake" to Lorde's stripped-down "Royals"; from Robin Thicke's lecherous "Blurred Lines" to Katy Perry's self-empowering "Roar."
GRAPHIC: Times music staff best of 2013 picks
But the way this relatively small batch of tunes dominated pop music last year suggests that we're able to agree on more than we might think in this era of virtually infinite entertainment options. (I still hate "Thrift Shop," though.)
It also speaks, of course, to the enduring marketing power of gigantic record labels. And it's that aspect of the monoculture (or anyway an enforced version of one) that can feel like a bummer, as the relentless hammering of a few singles necessarily prevents others -- even those attached to reliable brand names like Prince and Justin Bieber -- from being heard as widely as they should.
With that in mind, here are five not-exactly-obscure songs that nevertheless died before their time.
Kelly Clarkson featuring Vince Gill, "Don't Rush"
One of three new tracks included on Clarkson's "Greatest Hits -- Chapter One," this slice of country-soul smoothness peaked at No. 87 on the Hot 100 (and only made it that high after Clarkson performed the song on last year's Academy of Country Music Awards). But "Don't Rush" is one of the "American Idol" champ's finest songs, with a sumptuous groove and a lovely vocal melody that recalls Shelby Lynne's plush 1999 classic "I Am Shelby Lynne." When Clarkson eventually tires of belting out pumped-up electro-pop jams like "Stronger (What Doesn't Kill You)" -- if indeed she ever does -- she'll probably be able to coast on this kind of stuff until she retires.
The Killers, "Shot at the Night"
Another bit of best-of bait (from the Killers' "Direct Hits"), "Shot at the Night" paired the Las Vegas dance-rock survivors with Anthony Gonzalez of M83, who evidently convinced the band that a corny disco ballad was just what it needed. And he was totally right! Though it ascended to No. 20 on Billboard's Alternative Songs chart, the track didn't even place on the Hot 100 -- obviously the rightful home for any tune with a drum fill as Phil Collins-tacular as the one here.
Prince, "Breakfast Can Wait"
"Hot cakes smothered in honey? / I'm-a have to pass," Prince sings, "Fresh cup of coffee, no, no / I'd rather have you in my glass." With lyrics like those and a slinky soul-funk groove, it's unclear why this killer R&B jam by Prince -- reportedly a taster from a new studio album due this year -- failed to make more of an impact than it did, especially given its clickable cover art, which depicted Dave Chappelle expertly attired as the singer holding a plate of those hot cakes. (Oh, right: Cover art = no longer a thing.)
Justin Bieber, "Change Me"
"Heartbreaker," the first installment in Justin Bieber's Music Mondays series of online singles, made it to No. 13 on the Hot 100 -- not bad for a singer whose public image took a beating in 2013. But although some of the subsequent tunes were better than "Heartbreaker," most stalled out in the 40s and 50s, including "Change Me," a very handsome piano ballad that set a semi-apology for Bieber's antics against an arrangement worthy of Brian McKnight.
Brian McKnight, "Sweeter"
Speaking of McKnight, the R&B veteran released his own album in early 2013, "More Than Words," which despite a sound fully in sync with the slick soul that defined much of the year, never made it out of the shadow cast by Justin Timberlake, Robin Thicke and Bruno Mars. In the disc's lead single, McKnight flexes his trademark ability to wring fresh meaning out of words that you might've assumed had given all they had. There's probably a metaphor in there about McKnight himself.
ALSO:
2013: The year pop stars got raunchy (again)
Listen: Pixies offer more cowbell in grungy 'Blue Eyed Hexe'
Stevie Wonder to join Daft Punk onstage at Grammy telecast
Twitter: @mikaelwood
---
Your essential guide to the arts in L.A.
Get Carolina A. Miranda's weekly newsletter for what's happening, plus openings, critics' picks and more.
You may occasionally receive promotional content from the Los Angeles Times.