Live review: Chance the Rapper trips out at Club Nokia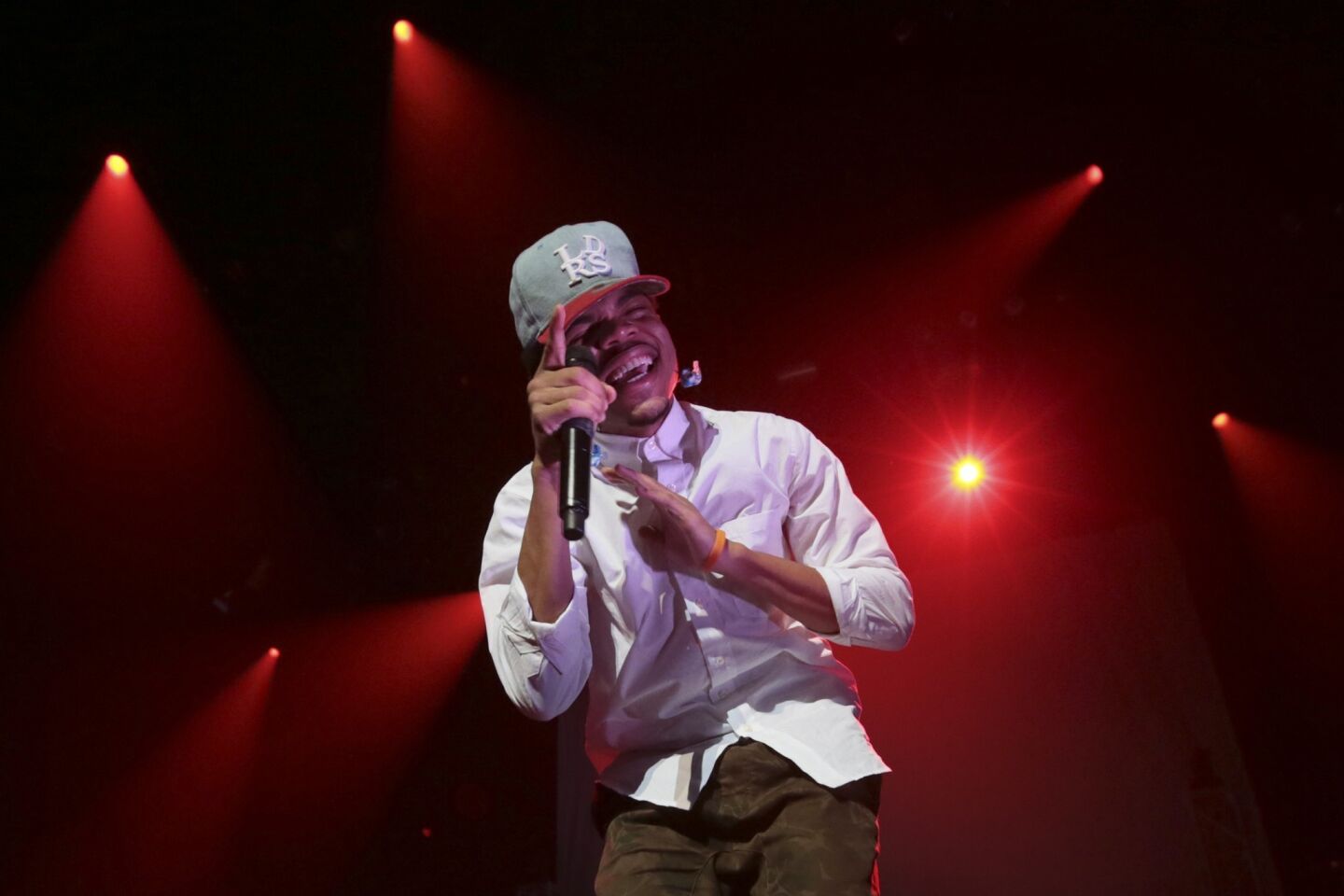 Chance the Rapper performs at Club Nokia.
(Robert Gauthier / Los Angeles Times)
Chance the Rapper performs at Club Nokia.
(Robert Gauthier / Los Angeles Times)
Chance the Rapper performs at Club Nokia.
(Robert Gauthier / Los Angeles Times)
Chance the Rapper performs at Club Nokia.
(Robert Gauthier / Los Angeles Times)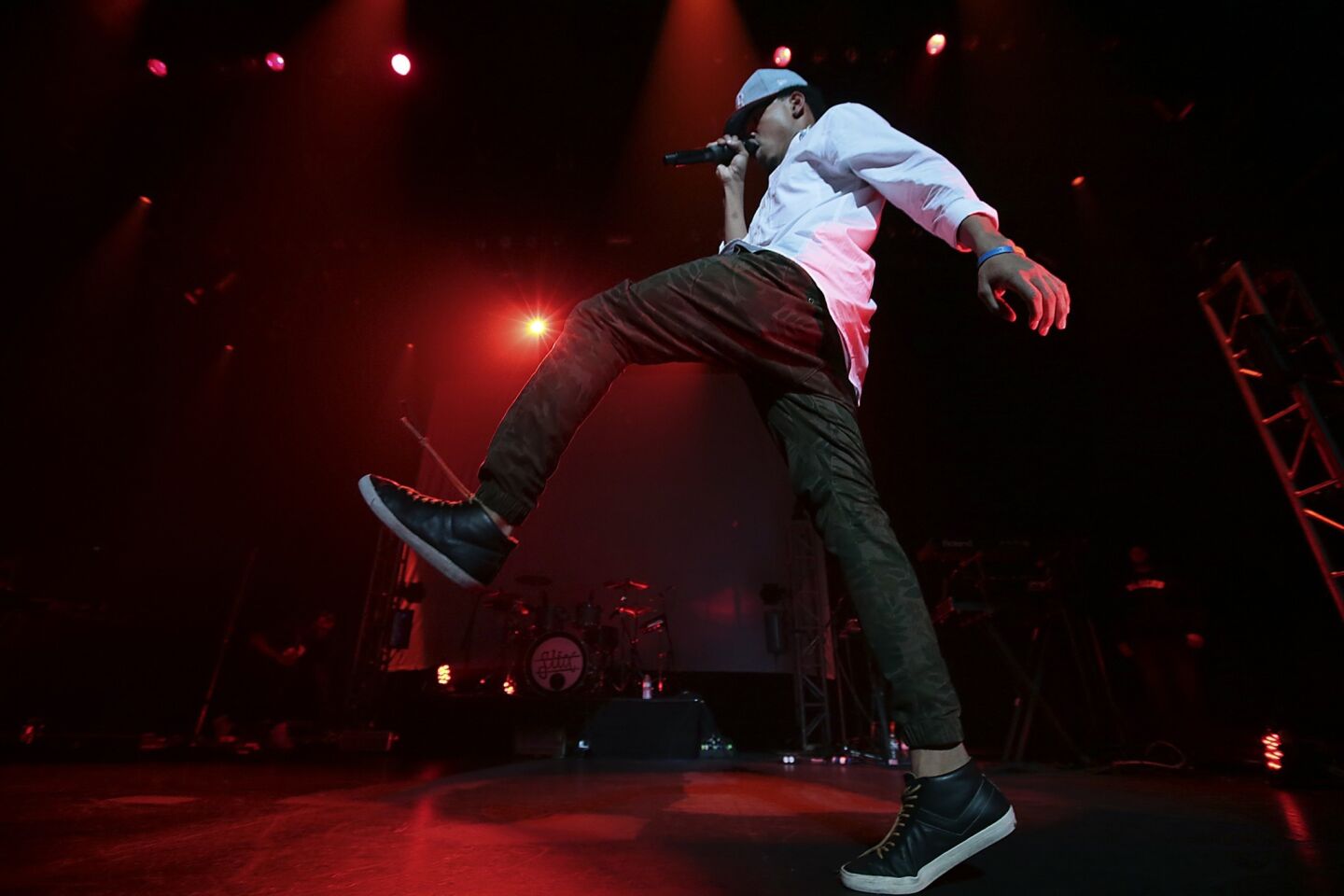 Chance the Rapper performs at Club Nokia.
(Robert Gauthier / Los Angeles Times)
During a run-through of his loopy, lusty song "Lost," Chicago MC Chance the Rapper got a little lost himself. He fell off the stage at Club Nokia.
That's what it looked like, at least, when the 20-year-old abruptly disappeared from view mid-verse, only to be lifted back to his feet by a few tense security guards seconds later.
The rapper seemed fine afterward, but it was an apt metaphor for his sometimes-enthralling but often halting show on Thursday night. One of hip-hop's finest new talents is, quite literally, finding his footing as a live performer.
The MC born Chancelor Bennett is a leading light of today's young, Internet-centric hip-hop scene. His only high-profile release is the free (and excellent) mix tape "Acid Rap," released in April to wide acclaim. On the record, he takes rap's recent flirtation with psychedelics away from strip-club nihilism and into something Jerry Garcia might recognize -- drugs as a means to find a higher plane of love and connection.
Over a raft of production styles, from regal soul to circuit-frying electronics, he slings a persuasive tale of what it's like to be young, listless, infatuated and experimenting in 2013.
Clearly he's onto something. When he polled the sold-out crowd to see if "I'm guessing most of you are between the ages of 17 and 22," almost all of them roared back in affirmation. Rap is a youthful enterprise, and Bennett is writing with the unbridled ambition of a guy in love with music and its possibilities.
But his career happened so fast that he's still figuring how to make a show of it.
Bennett is a fine performer in his own right, bounding around the stage and peeling off imprecise but enthusiastic soul vocals. But for the first few songs, like the chest-beating "Good Ass Intro" and the svelte "Brain Cells," it looked like he was flying solo onstage for the night, which would have been a dispiriting use of such evocative material. Then, a third of the way through the set, his band finally, anticlimactically emerged. Why he didn't just start the set with them?
When he found his groove, Bennett could make his sound feel like a movement. On "Everybody's Something," he (very accurately) claimed rock 'n' roll's history for himself and his city: "I got the Chicago blues / We invented rock before the Stones got through." With "Pusha Man/Paranoia" he documented a specific slice of young, African American fear of Chicago's murder spree, in the midst of all the Navy Pier festival jubilance: "I hate crowded beaches, I hate the sound of fireworks / I ponder what's worse between knowing it's over and dying first / because everyone dies in the summer."
PHOTOS: Unexpected musical collaborations
Yet Chance also had a habit of cutting songs off way too early, and he let his inner hippie get the best of him occasionally. It's hard to tell if his straightfaced take on Coldplay's exuberantly schmaltzy "Fix You" was a contrarian move or just a really weird choice of lite-FM fromage to cover. But he fixed that quickly with a rowdy version of "Juice" that proved he can bang right alongside his more aggressive peers.
He got his cosmic vibes exactly right when he wrapped up with "Interlude (That's Love)," which turned gorgeous live Stax horns into panorama of good feelings. "What's better than tripping is falling in love," he said. "What's better than rhymes, nickels, dimes, dollars and dubs / is dialing up your darling just for calling her up."
Sure, he'd tripped up a bit earlier in his set. But whatever his drug of choice -- love or something more synthetic -- Chance is on a roll that could take him to stardom.
ALSO:
Celine Dion's new, easygoing 'Life'
Album review: 'Beyonce' is full of surprises
Watch: Robin Thicke gets lucky in music video for 'Feel Good'
Get our L.A. Goes Out newsletter, with the week's best events, to help you explore and experience our city.
You may occasionally receive promotional content from the Los Angeles Times.