Exclusive: Premiere: Mike Eldred Trio's 'Hunder Dollar Bill'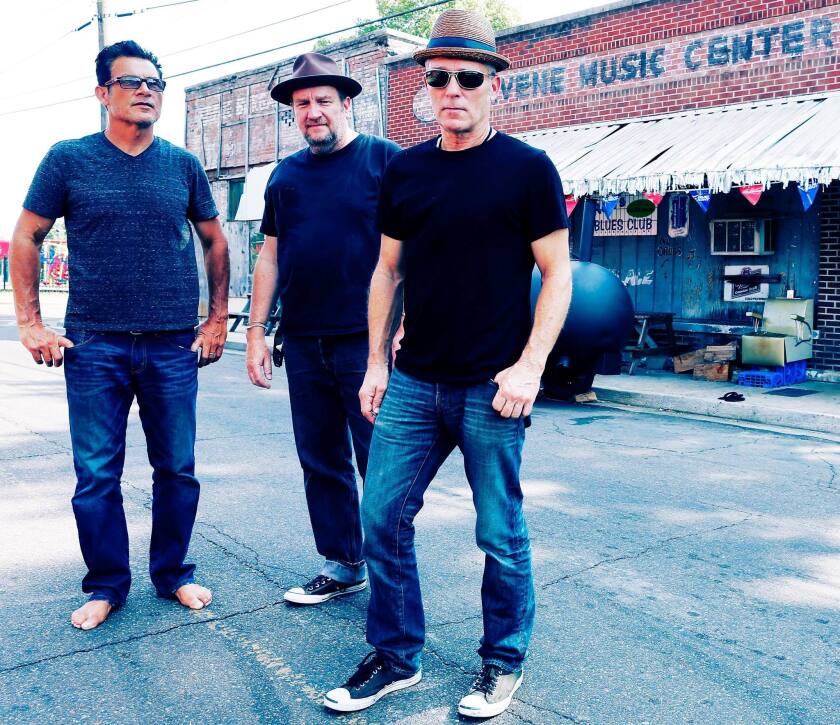 Guitarist, singer and songwriter Mike Eldred made the pilgrimage to rural Mississippi many years ago as countless musicians before him have, and countless after him no doubt will, in search of fabled blues man Robert Johnson's grave. But what he found wasn't exactly what he thought he'd gone after.
What that journey yielded for him, among other things, is the fourth album by his Mike Eldred Trio, "Baptist Town," slated for May 6 release and including the track "Hunder Dollar Bill," for which Calendar is premiering the new video.
The song barrels along like an 18-wheeler on a cross-country delivery, Eldred's grungy electric guitar work matched by the eerily distorted effect on his bluesy vocal.
The video, which was shot and edited by Adam Genzink, mixes footage from Baptist Town, a small community outside Greenwood, Miss., where Johnson's final resting place was only recently discovered some seven decades after his death, with scenes from the recording studio where the trio captured the songs.
"I had taken a trip down to Mississippi with my daughter, because she wanted to do a road trip with me through the South," he said of his child who had just graduated from high school at that time. "I was immediately struck with the harsh poverty and the contrast between the city of Greenwood, just across the railroad tracks, and the tiny, mostly unchanged community of Baptist Town."
For many years, Eldred had run the custom shop division of Fender Musical Instruments Corp., the wing that designs the snazziest high-end instruments for celebrity clients including Eric Clapton, ZZ Top, Brad Paisley and Keith Urban. But he left the company following a management shakeup, freeing him to fulfill his daughter's request for a road trip with her musician dad.
"It hit me hard," Eldred said, "and I have been back to Baptist Town at least four times now, getting to know the people, interviewing them, etc. It was that first trip that turned out to be the catalyst, though, to write about my experiences down there."
Even before he wrote the songs for the new album, however, Eldred said there was no question where he would record it: about 125 miles north of Greenwood, at the celebrated Sun Studio in Memphis, where studio founder Sam Phillips first recorded a stunning array of seminal rock, blues, country and R&B musicians including Elvis Presley, Johnny Cash, Howlin' Wolf, B.B. King, Jerry Lee Lewis, Roy Orbison, Carl Perkins.
"The room is overwhelming sometimes, especially when you realize where you are and what you are doing," Eldred said. "The last two songs we recorded were acoustic. Very quiet. You could hear the room. It's 'The Ghosts of Sun' as Jerry Angel described it. Beautiful.
"There was a time during the recording," he recalled, "and I was just looking down at the floor, realizing that it's the original tile floor… and I thought, 'Man, Howlin' Wolf stood there…' Crazy.
Eldred and his band mates, the Blasters rhythm section of bassist John Bazz and drummer Jerry Angel, were joined on a few tracks by such guests as Los Lobos' David Hidalgo, guitarist John Mayer, and singer-guitarist Robert Cray.
Ultimately it's been his interaction with the community of Baptist Town that has been the enduring part of the whole project.
"The songs are about traditions, folklore and culture, but also about what we all see in America… poverty, racism, over-indulgence, hate, and love," he said. "They poured out. Seeing that part of our heritage changed me forever."
Follow @RandyLewis2 on Twitter. For more on Classic Rock, join us on Facebook.
---
Get our daily Entertainment newsletter
Get the day's top stories on Hollywood, film, television, music, arts, culture and more.
You may occasionally receive promotional content from the Los Angeles Times.