Review: Pearl Jam's 'Lightning Bolt' — it's only rock 'n' roll
Something of a modern-day Brigitte Bardot, Georgia May Jagger is the youngest daughter of supermodel Jerry Hall and Rolling Stones guitarist Mick Jagger. She's taken a liking to modeling, with her signature asset: a gap between her two front teeth.
(Henry S. Dziekan III / Getty Images for Sunglass Hut)
Zoe Kravitz took the my-dad's-a-rock-star-and-I'll-be-one-too-thing to heart. As the lead singer of Elevator Flight, Zoe and her mates have performed on the same stages as the Roots and the Black Keys. She's also acted in "X-Men: First Class" (2011), "After Earth" (2013) and "Californication."
( Ilya S. Savenok / Getty Images for H&M)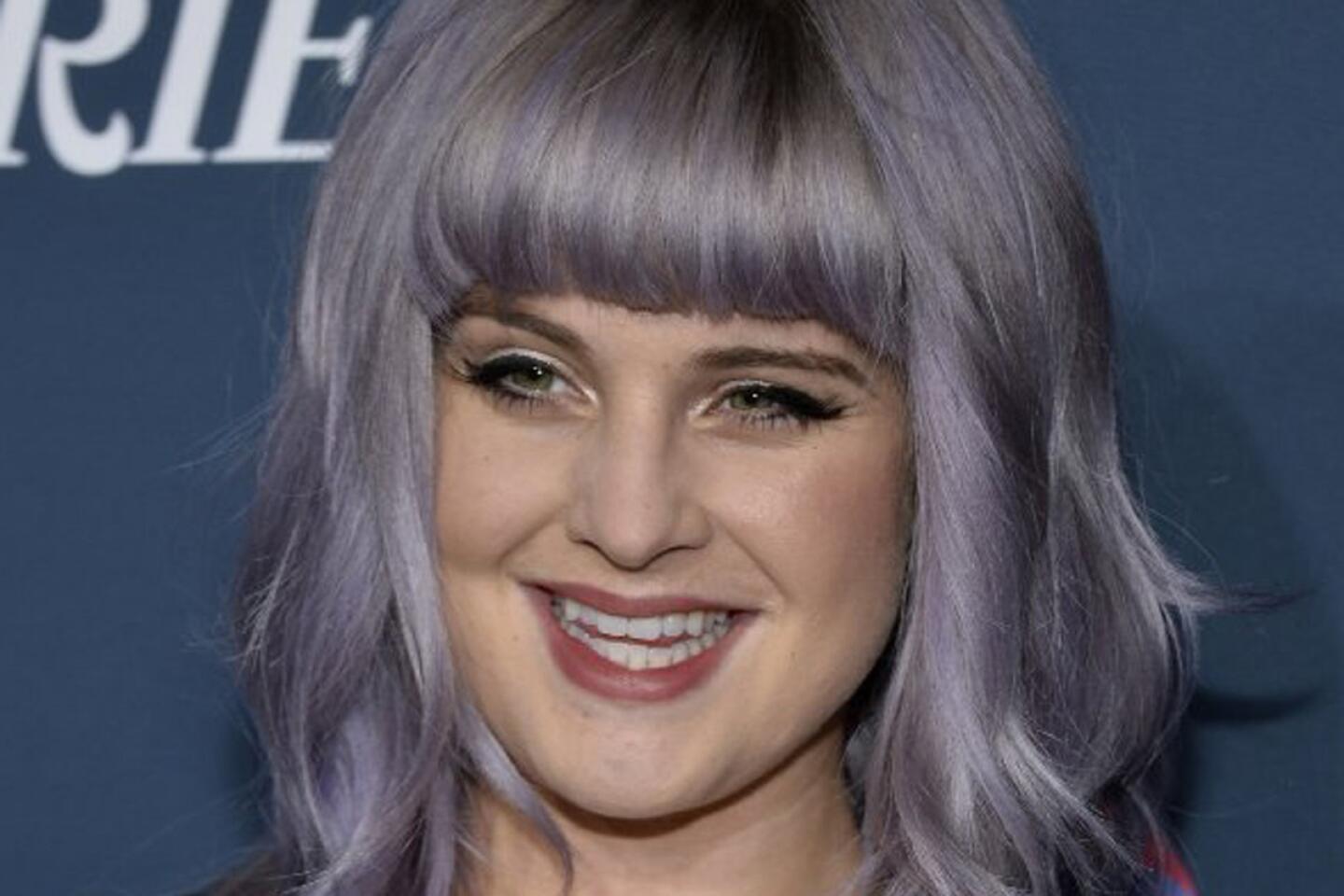 Kelly Osbourne was introduced to the world as a harshly honest, tatted teen on MTV's reality show "The Osbournes." She turned to music, launching two albums: "Shut Up" (2002) and "Sleeping in the Nothing" (2005), but has since evolved. She now gives style advice on E!'s "Fashion Police."
(Frazer Harrison / Getty Images for Variety)
Early on, Lily Collins took an interest in journalism and acting. She wrote the "NY Confidential" column for Elle Girl and was a Nickelodeon TV correspondent. Now an actress, she's appeared in "The Blind Side," (2009), "Mirror Mirror" (2012) and "The Mortal Instruments: City of Bones" (2013).
(Abraham Caro Marin / AP Photo)
Kimberly Stewart shot to fame as Paris Hilton's club-hitting sidekick. These days, she's a mother to young Delilah, whose father is Puerto Rican actor-producer Benicio Del Toro.
(Danny Martindale / Getty Images)
A paternity test revealed that Daisy Lowe was rock royalty. Since then she's been handpicked by designer Karl Lagerfeld to walk the Chanel runway and later modeled for Nanette Lepore, Vivienne Westwood and Burberry. She also posed topless for Esquire and nude for Playboy.
(Ben A. Pruchnie / Getty Images)
Fashion designer Stella McCartney didn't need to lean on her father's Beatles fame. At 16, she interned with French fashion designer Christian Lacroix and went on to study fashion design in London. Stella became chief designer of French line Chloe and then launched her own popular label.
(Peter Kramer / Getty Images for North America)
Theodora began modeling at 14 years old for a Tommy Hilfiger campaign alongside Mick Jagger's daughter, Lizzy. Since then she's been snapped by world-renowned photographers and scored the covers of Glamour Italy, Nylon UK and Rolling Stone. Her younger sister Alexandra plays the model cards as well.
(Henry S. Dziekan III / Getty Images for Sunglass Hut)
Frances Bean Cobain's mother, Courtney Love, supposedly used heroin during her pregnancy, so Frances was taken away. She also visited her father, Kurt Cobain, in rehab until he died. Love later disowned Frances, and photos of her taken by YSL's Hedi Slimane also drew a spotlight.
(Steve Granitz / WireImage)
Peaches wrote and starred in a documentary about herself as a teenager, "Peaches Geldof: Teenage Mind" (2005). That was after photos of her using heroin hit the Web. In addition to taking care of her two sons, she hosted TV specials. Geldorf was found dead in her home on April 7. She was 25.
( Mike Marsland / WireImage)
"Everyone's a critic," Eddie Vedder sings to open Pearl Jam's new album, "Lightning Bolt," the group's first since 2009.
It's an interesting introduction for the band, which after more than 20 years together (a Cameron Crowe-directed documentary marked the anniversary in 2011) have reached the level of being beyond anyone's opinion outside of their large and loyal fan base.
Much like road-tested fellow travelers the Dave Matthews Band, the Foo Fighters and even Phish, Pearl Jam need only to drop an album every few years to spur a national tour, and arenas quickly fill to catch a band whose strongest statements are best delivered in front of thousands of people.
PHOTOS: Iconic rock guitars and their owners
In a promo clip that artfully flexed the band's Q Rating with cameos by Judd Apatow, Sleater-Kinney (and "Portlandia") co-creator Carrie Brownstein, along with a pro surfer and an ALS-afflicted NFL player, bassist Jeff Ament explained Pearl Jam's lag between albums — the group's longest since between 2002's "Riot Act" and the self-titled record of 2006 — as waiting "until we have something to say."
After so many years, it's a fair concern. In the best case scenario, Pearl Jam could deliver something akin to the Rolling Stones' "Tattoo You," which yielded a true classic 17 years into that band's run with "Start Me Up."
Chronologically — and somewhat shockingly — Pearl Jam has already passed that window. While 2009's "Backspacer" received some strong notice, it found the band leaning back in its comfort zone with a blend of would-be anthems ("The Fixer"), soft-focused ballads ("Just Breathe") and a strong position on how nice it is to go surfing ("Amongst the Waves"). Nothing sounded terrible, and certainly not insincere, but nothing was surprising, either — unless you count Vedder's 2011 ukulele album, a collection laid back enough to make Jack Johnson sound like Skrillex.
PHOTOS: Daughters of rock stars
But after surviving a career forged during vertigo-inducing fame, Pearl Jam seemed content with sounding like Pearl Jam; an efficient machine of solid but safely nostalgic rock.
Still, for a band that once dominated pop culture, a question prompts asking from fans of the group's peak period: Did Pearl Jam become less vital because they got old? Or because their fans did?
With that in mind, it's hard to say what the ideal Pearl Jam album could sound like 2013. Rock 'n' roll isn't often kind to adulthood, and to be fair, Pearl Jam is no more capable of sounding as fiery as they were at 27 than its fans are. Still, while nothing on "Lightning Bolt" is half as immediate as "Alive," "Corduroy" or even "Wishlist," there are flashes on "Lightning Bolt" that show Pearl Jam still capable of delivering statements.
RELATED: Best albums of 2013 so far | Randall Roberts
Built around a glossy acoustic guitar, "Sirens" sags under some treacly heavy-handed production, but finds the 48-year-old Vedder confronting the frailty of life as emergency vehicles pass his window. "The sound echoing closer, will they come for me next time?" he asks, holding a loved one closer in a flash of vulnerability that no twentysomething rock star could consider.
In maybe the album's most striking moment, the atmospheric "Pendulum" is framed by ghostly guitar and echoey percussion as Vedder ventures into another dark night of the soul: "We are here and then we go," he murmurs. "My shadow left me long ago." The song never finds a way out of despair, and it's that much stronger for it.
After a herky-jerky start that recalls drummer Matt Cameron's roots in Soundgarden, "My Father's Son" finds the band again delivering strong material in the parent–and-child relationship, except in this case perhaps involving a reluctant messiah. "Can I get a reprieve? This gene pool don't hurt me," Vedder sings amid a loping low end that hurtles to a raw-throated finish that's a reminder of one of most powerful voices in rock. "Mind Your Manners" also ventures into question of faith with a vintage punk drive that Pearl Jam typically offers once an album or so.
Other trips into familiar territory are more mixed. The album sags in its second half, with "Infallible" wearing out its welcome with a feel-good Beatlesque churn, and the Neil Young-leaning guitar stomp of "Let the Records Play" restates Pearl Jam's well-established fondness for listening to albums. A country-tinged holdover from Vedder's solo album, "Sleeping By Myself" carries an incongruously jaunty air, and although the lush "Yellow Moon" builds to graceful heights, the similarly paced "Future Days" drifts into the middle of the road with a lovelorn sweep that will sound great at a Santa Barbara wedding.
Ultimately, "Lightning Bolt" may not be "Tattoo You," but it's not "Steel Wheels" either. For better or worse, Pearl Jam sound just like who they are right now, but after more than 20 years, that's not so bad.
--------------------------
Pearl Jam
"Lightning Bolt"
2 1/2 stars (out of four)
(Monkeywrench)
Get our L.A. Goes Out newsletter, with the week's best events, to help you explore and experience our city.
You may occasionally receive promotional content from the Los Angeles Times.