Prince made it easy to ignore his later work.
For starters, there was simply a lot of it, more perhaps than even his most devoted were looking to consume. At a point in his career when many artists' creative metabolism slows — whether by necessity or because fans just want to hear the hits — Prince was churning out new music at a remarkable pace, including two studio albums last year and another two before that in 2014.
He could also make the records relatively difficult to hear, holding them back from many streaming services and issuing 2009's "Lotusflower," for instance, as a Target exclusive.
FULL COVERAGE: Prince, 1958 - 2016
But anyone attempting to understand Prince, who died Thursday at age 57, needs to experience this stuff. Not unlike David Bowie and Merle Haggard, to name two other music legends we've lost in this annus horribilis, Prince kept revealing parts of himself until the very end.
Start where the man left off, with the two fine companion records he put out late last year, "HitNRun Phase One" and "HitNRun Phase Two." The first, which he made with producer Joshua Welton (who is married to the drummer in Prince's band 3rdeyegirl), found him pulling deeply from the kind of electronic dance music that now dominates pop. It's not always great, but the album demonstrates that, for all the hermetic mystery he cultivated, Prince had an interest in staying current — or at least being perceived as such.
"HitNRun Phase Two" showed us a bit of that as well; it's got a song, "2 Y. 2 D.," in which he pronounces a fellow performer "too fine for 'Idol,' too smart for 'The X Factor.'" (Prince's taste in TV shows is a topic worth digging into on its own. In 2014, he made a cameo appearance on the Zooey Deschanel comedy "New Girl," of all things.)
But with input by the New Power Generation, the expansive backup band he worked with on and off starting in the early 1990s, the sequel also reframed Prince as a smooth-talking boudoir specialist after years in which his affiliation with the Jehovah's Witnesses led him to renounce his proudly freaky early work.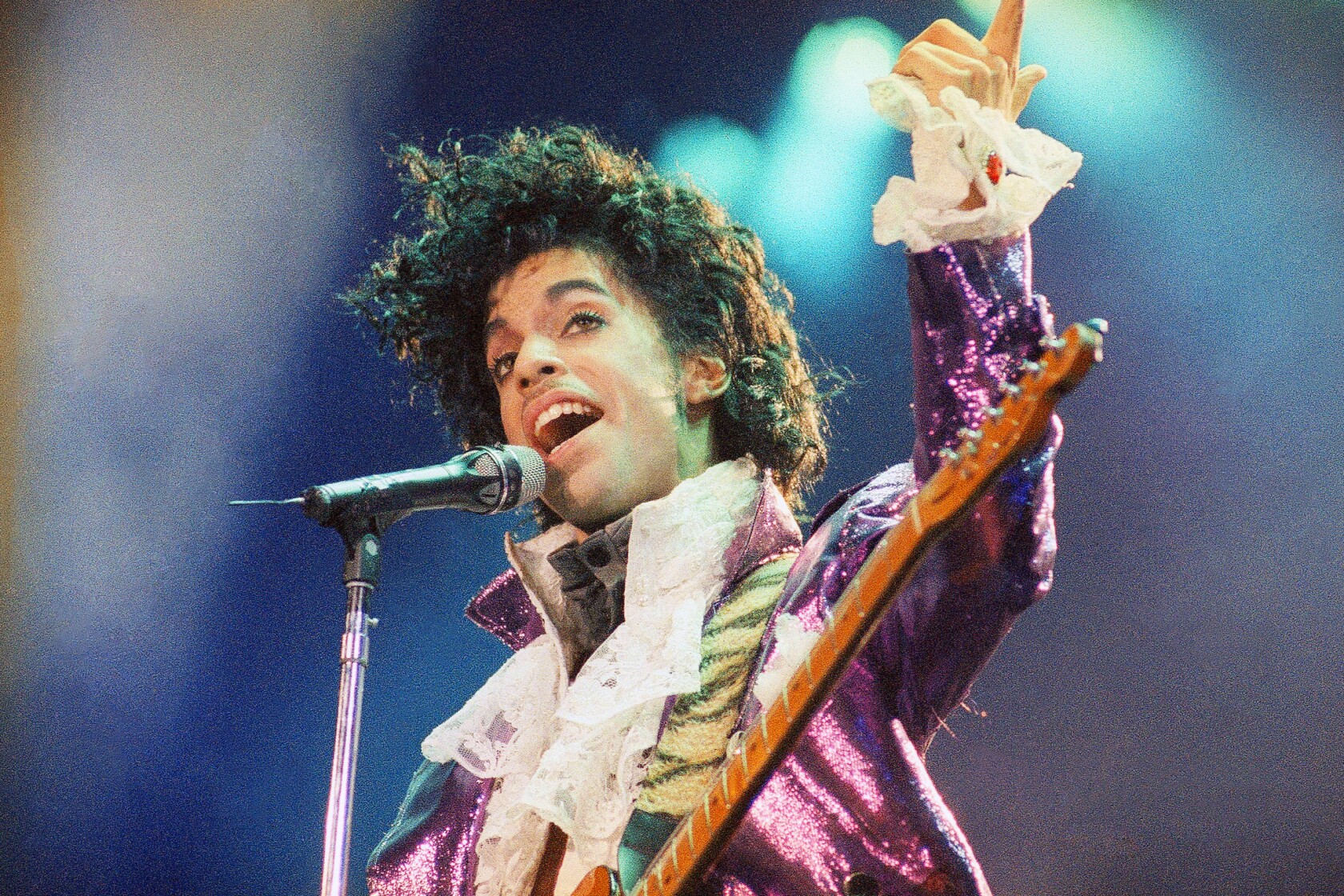 Prince performs at the Forum in Inglewood on Feb. 18, 1985.
(Liu Heung Shing / Associated Press )
Prince performs in Los Angeles in 1986.
(Los Angeles Times)
Prince performs his last concert April 14th at the Fox Theatre in Atlanta.
(Amiee Stubbs )
People get emotional while talking about Prince at a memorial for the artist in Leimert Park.
(Barbara Davidson / Los Angeles Times)
A rainbow appears over Paisley Park near a memorial for Prince in Chanhassen, Minn. Prince, widely acclaimed as one of the most inventive and influential musicians of his era with hits including "Little Red Corvette," ''Let's Go Crazy" and "When Doves Cry," was found dead at his home at Paisley Park on Thursday.
(Carlos Gonzalez / Star Tribune via AP)
Prince performs at the St. Paul Civic Center in St. Paul, Minn. on Dec. 25, 1984.
(David Brewster / AP)
Prince performs on stage on the Hit N Run-Parade Tour at Wembley Arena in London in August 1986.
(Michael Putland / Getty Images)
Prince performs at the Sziget Festival in Budapest, Hungary, on Aug. 9, 2011.
(Balazs Mohai / EPA)
Prince performs at the Nokia Theater in New York in 2006.
(Noa Daniel/Zuma Press/TNS)
Prince performing at the 47th Montreux Jazz Festival, in Montreux, Switzerland, on July 14, 2013.
(Marc Ducrest / Montreux Jazz Festival / 2013 FFJM)
Prince at the Sportpaleis in Antwerp, Belgium, on Nov. 8, 2010.
(Dirk Waem / EPA)
Prince presents an award at the American Music Awards in Los Angeles on Nov. 22, 2015.
(Matt Sayles / Invision / Associated Press)
Prince performs at Coachella Valley Music & Arts Festival in 2008.
(Spencer Weiner / Los Angeles Times)
A shirtless Prince performs in 1986.
(Mario Suriani / Associated Press)
Prince and Manuela Testolini arrive at the 2005 Academy Awards.
(Robert Gauthier / Los Angeles Times)
Prince and Manuela Testolini arrive at the 2005 Annual Academy Awards.
(Al Seib / Los Angeles Times)
Prince performs at the Super Bowl in 2007.
(Evan Agostini / Getty Images)
Prince in 2008.
(Spencer Weiner / Los Angeles Times)
Prince performs "Purple Rain" at the 46th Annual Grammy Awards in 2004.
(Richard Hartog / Los Angeles Times)
Prince performs at the Super Bowl in 2007.
(Chris O'Meara / Associated Press)
Prince with Beyonce at the 2004 Grammy Awards.
(Richard Hartog / Los Angeles Times)
Prince performs on ABC's "Good Morning America" in 2006.
(Peter Kramer / Getty Images)
The crowd at the Roosevelt Hotel in Hollywood before a Prince concert in 2007.
(Lori Shepler / Los Angeles Times)
Prince performs in France in 2011.
(Bertrand Guay / AFP/Getty Images)
Prince made a special appearance in 2014 on "New Girl" with Zooey Deschanel.
(Fox)
Prince.
(Afshin Shahidi / Universal Music)
Prince crossed from records to movies with "Purple Rain" in 1984.
()
"Whenever you need someone to take a shower with, call me up, please" he urged in the disco-flecked "Xtraloveable." In "Stare," he adopts the royal "we" to remember fondly when "we used to go onstage in our underwear." And then there's "Look at Me, Look at You," a plush R&B ballad in which he entertains "a dozen fantasies," including one in which his lover is "standing over there like a Nefertiti or the queen Dido."
And yet "HitNRun Phase Two" wasn't just his friskiest set in years. The album opens with "Baltimore," a heavy-hearted but buoyant soul-rock tune inspired by the death of Freddie Gray, who suffered a fatal injury last year while in police custody.
"We're tired of crying and people dying / Let's take all the guns away," he sings, as clear a political statement as any the singer ever made.
What else to hear from the last decade? No list of Prince's greatest singles is complete without "Black Sweat," an irresistible 2006 slice of minimal electro-funk in which he threatens, "You'll be screaming like a white lady when I count to three."
"Guitar," from 2007's "Planet Earth" album, has a slashing riff that feels like Prince out-Foo Fighting the Foo Fighters (whose "Best of You" he famously covered during the 2007 Super Bowl halftime show). "Breakfast Can Wait" is a slinky slow jam built around a food metaphor he takes way further than you expect.
And the raw garage-rock jam "Screwdriver" provided a perfect excuse (as though any were needed) for Prince to do a thrillingly stripped-down club tour I caught in 2013 at the Grove of Anaheim.
That was the second time I saw Prince that year, following an earlier gig at the South by Southwest music festival in Austin. Heading into that show, which had been arranged by a smartphone company to roll out some new product, I hadn't necessarily been expecting much. But despite the corporate setting, Prince absolutely killed, doing six encores (!) that kept him onstage until 3 a.m.
Even at that length, the show — like his career — felt too short.
Twitter: @mikaelwood
MORE:
10 great moments from Prince's career
Prince's movie legacy: Will there ever be another like 'Purple Rain'?
From the Archives: Prince: 'If I knew the things I know now before, I wouldn't be in the music industry'
---