Appreciation: Scott Weiland's gift and curse: beyond the addiction, a generation's powerful rock voice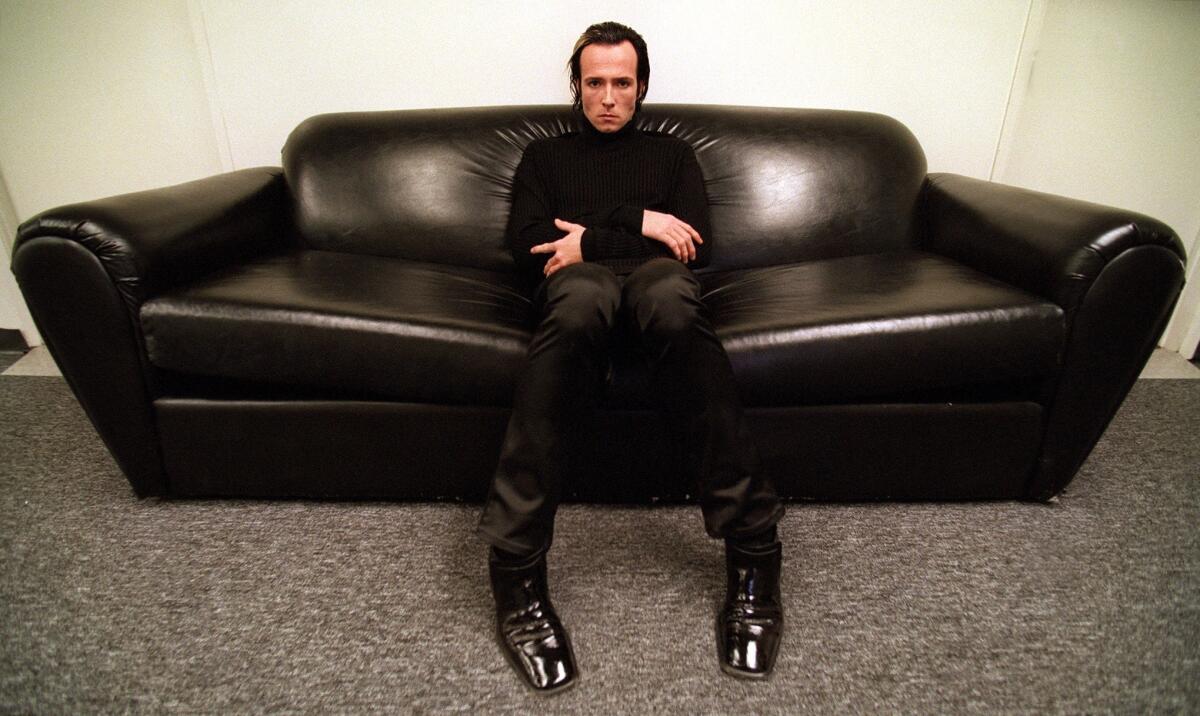 In a profession known for excess, rock singer Scott Weiland's troubles stood out.
As news spread that the charismatic rock vocalist had died Thursday before a concert in Minnesota, it was only natural for fans to speculate that drugs had played a part. Weiland had been in and out of rehab for much of his adult life. And when an avowed rocker-addict is found unresponsive in a tour bus while on the road, well, that's rock 'n' roll, right?
A cause of death has yet to be determined, but cocaine was found near his body, according to a police report released Friday.
No matter what the coroner finds, Weiland, who first gained fame with the multi-platinum 1990s Los Angeles quartet Stone Temple Pilots, died in his natural habitat: in the middle of a tour with his newest band, the Wildabouts.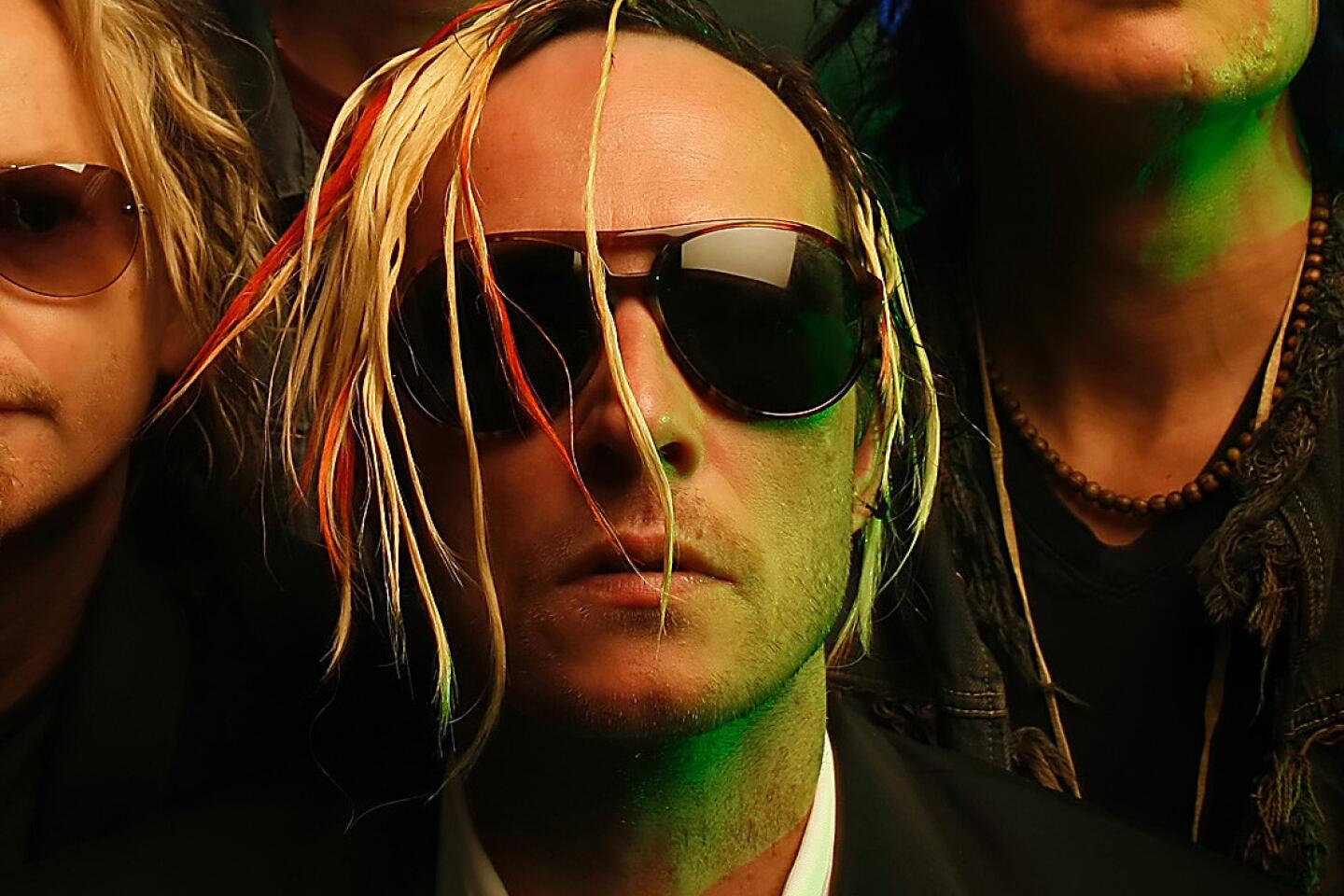 Scott Weiland with Stone Temple Pilots in May 2008 at Showbiz Studios in Van Nuys.
(Robert Gauthier / Los Angeles Times)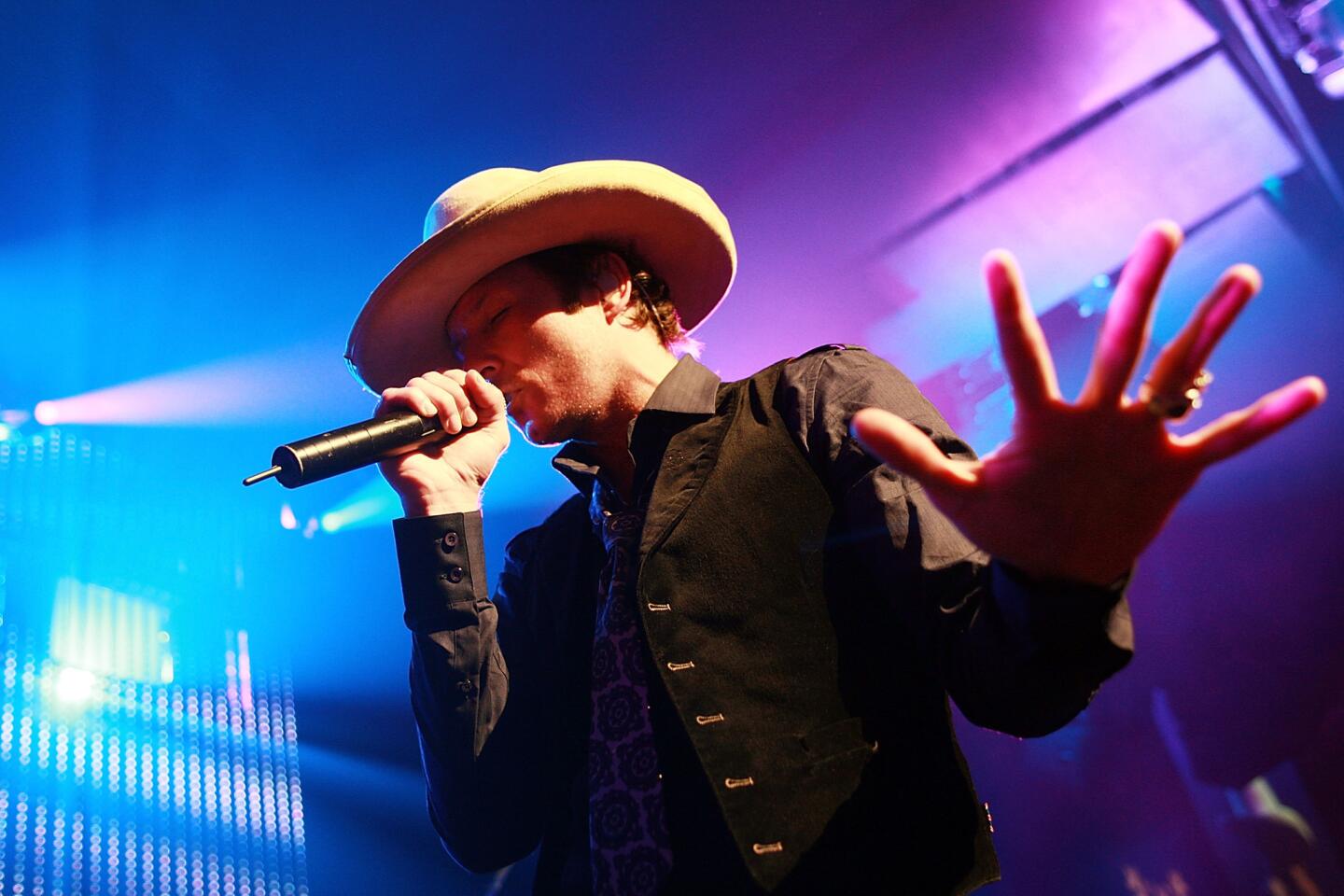 Scott Weiland performs at Gibson Amphitheatre in Universal City in December 2008.
(Karl Walter / Getty Images)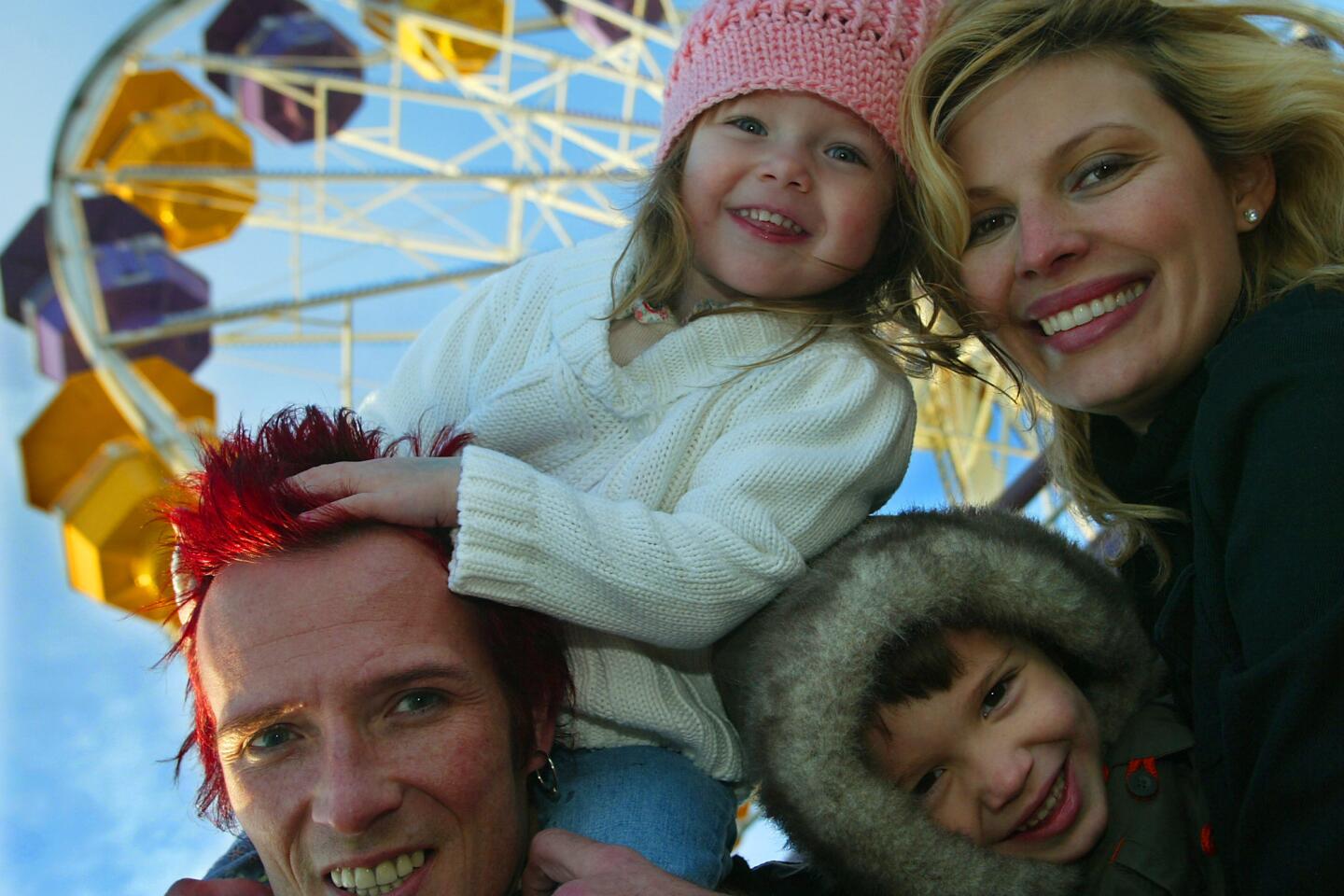 Scott Weiland with his family -- Lucy, then 2, Noah, 4, and wife Mary -- at the Santa Monica Pier Ferris wheel in January 2005.
(Ken Hively / Los Angeles Times)
Scott Weiland performs at the Hollywood & Highland complex in Los Angeles to promote his new album, "Happy in Galoshes," in November 2008
(Chris Pizzello / Associated Press)
Scott Weiland at a promotional event for his album "Happy in Galoshes" in Los Angeles in November 2008.
(Chris Pizzello / Associated Press)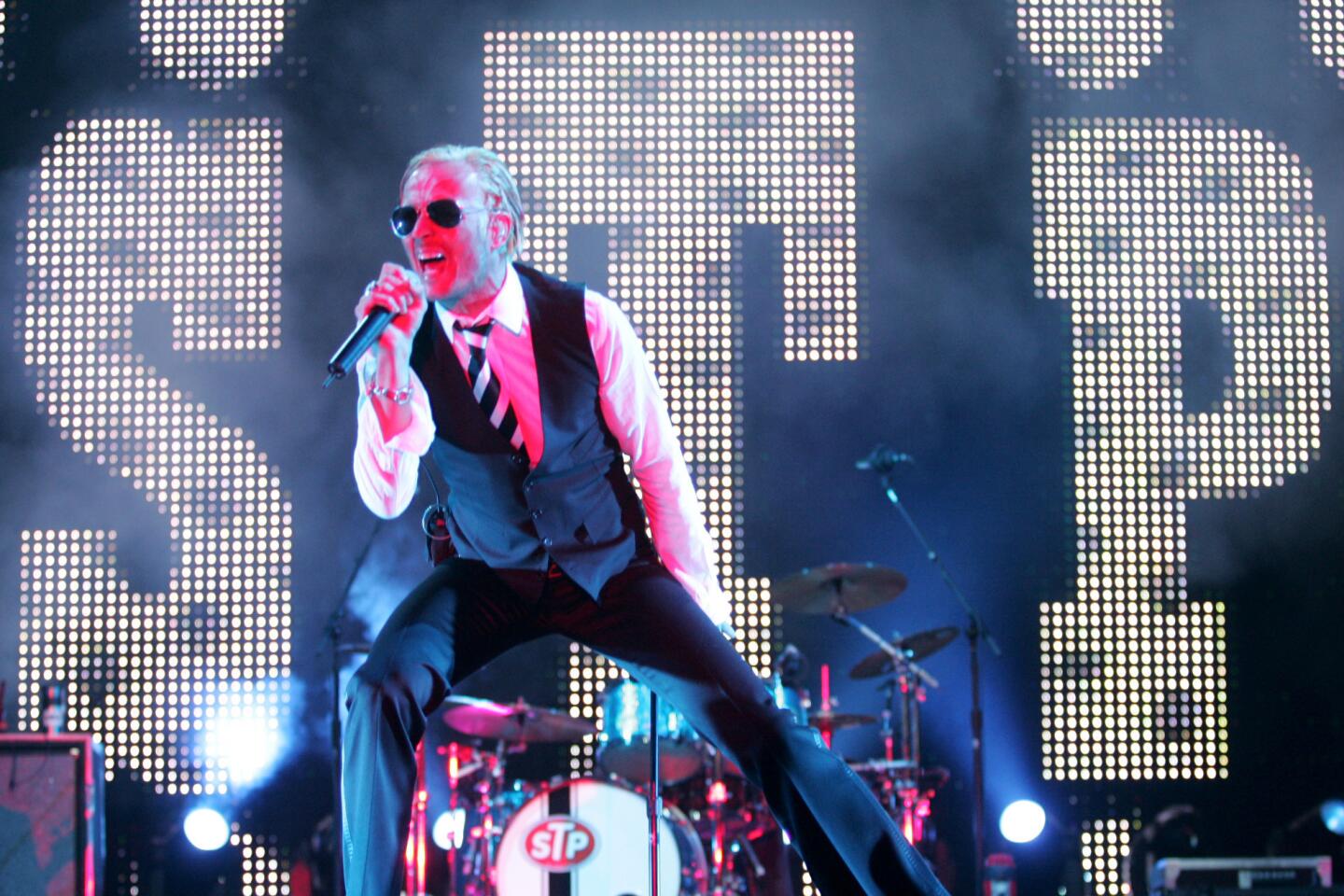 Scott Weiland performs with Stone Temple Pilots in Columbus, Ohio, in May 2008.
(Paul Vernon / Associated Press)
Scott Weiland and bassist Robert DeLeo perform with Stone Temple Pilots in Columbus, Ohio, in May 2008.
(Paul Vernon / Associated Press)
Vocalist Scott Weiland and guitarist Dean DeLeo of Stone Temple Pilots perform at a special private show in Los Angeles in April 2008.
(Chris Pizzello / Associated Press)
Scott Weiland, left, and Slash as Velvet Revolver perform in Carson in September 2007.
(Richard Hartog / Los Angeles Times)
Velvet Revolver -- from left, Dave Kushner, Scott Weiland, Slash and Duff McKagin -- pose with their statues after winning the hard rock performance category at the 2005 Grammy Awards on Feb. 13, 2005, in Los Angeles.
(Robyn Beck / AFP/Getty Images)
Scott Weiland, left, and Slash perform with Velvet Revolver in Los Angeles in December 2004.
(Mark J. Terrill / Associated Press)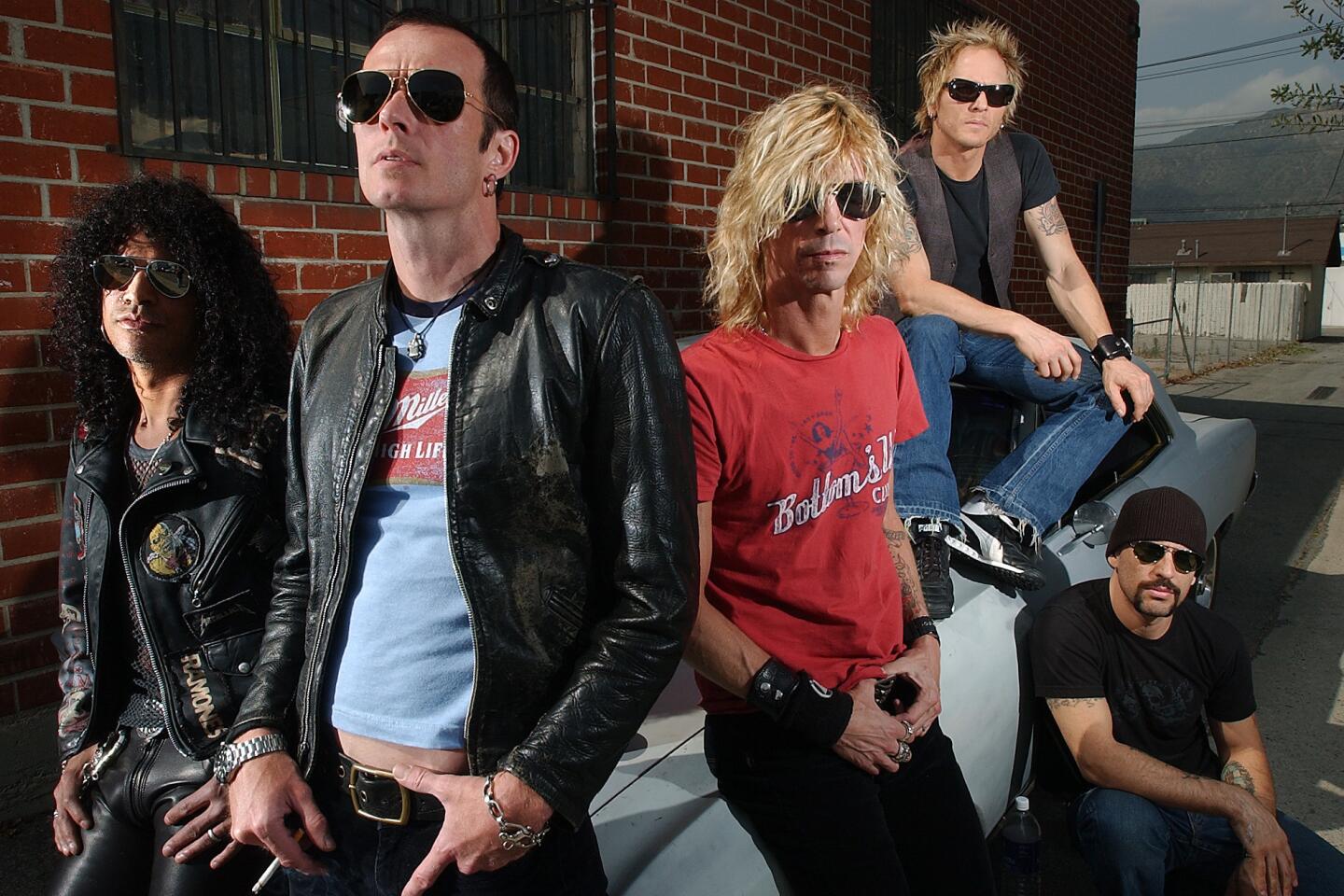 Slash, from left, Scott Weiland, Duff McKagan, Matt Sorum and Dave Kushner of Velvet Revolver.
(Myung J. Chun / Los Angeles Times)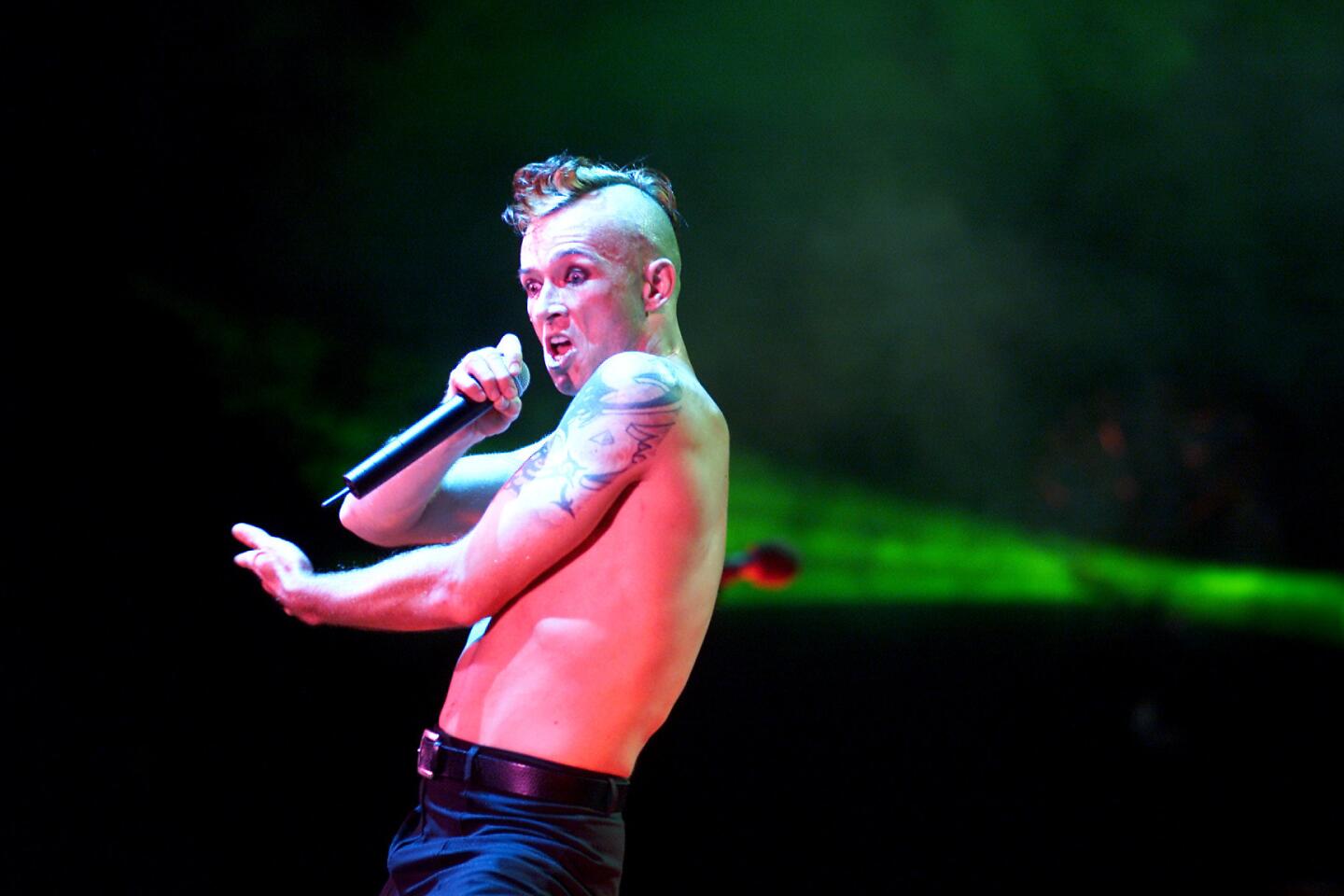 Scott Weiland performs with Stone Temple Pilots at Verizon Wireless Amphitheatre in Irvine in September 2000.
(Kevin P. Casey / Los Angeles Times)
For a generation too young to have experienced Robert Plant, Freddie Mercury or Mick Jagger in their primes, Scott Weiland, seen here in 1998, was the definition of a rock singer.
(Lawrence K. Ho / Los Angeles Times)
The Grammy-winning singer, 48, had a strikingly long career considering his disease. He earned newfound success after leaving Stone Temple Pilots in 2002 as frontman for the multiplatinum supergroup Velvet Revolver. Such second acts are rare in rock. As a result, Weiland was a regular presence on the charts and in constant rotation on commercial rock radio. For a generation too young to have experienced Robert Plant, Freddie Mercury or Mick Jagger in their primes, Weiland was the definition of a rock singer.
Sadly, by the end Weiland was as well known for his disease as for his art. A much-shared video of him and the Wildabouts performing earlier in the year was notable for Weiland's demeanor: barely present, foggy-eyed, lost. It's tough to watch. After the video was uploaded, Weiland's press representative blamed the poor performance on exhaustion, alcohol and sound issues.
On Friday, remaining Stone Temple Pilots members Robert DeLeo (bassist), Dean DeLeo (guitar) and Eric Kretz (drums) issued a statement expressing their grief. "Let us start by saying thank you for sharing your life with us," they wrote. "Together we crafted a legacy of music that has given so many people happiness and great memories. The memories are many, and they run deep for us. We know amidst the good and the bad you struggled, time and time again. It's what made you who you were.
"You were gifted beyond words, Scott. Part of that gift was part of your curse. With deep sorrow for you and your family, we are saddened to see you go."
Brendan O'Brien, who got one of his first producer credits on Stone Temple Pilots' debut, "Core," and produced the band's following four albums, said that watching Weiland work in his prime was a singular experience.
"At one time, honest to God, he was one of the best to my mind," O'Brien said on Friday. After the band would record a take it was happy with, recalled O'Brien, Weiland would move to the vocal booth. "He would sing, and it would suddenly become a record. It was like, 'Oh, that's how that works.' That was talent, but it was also skill. He knew what he was doing."
On Twitter, peers lined up to pay respect.
"We all grew up on Scott's incredible talent, one-of-a-kind voice and STP's exceptional music. Our hearts go out to his friends and family," wrote the band Linkin Park via Twitter.
Actress Sarah Michelle Gellar, who was featured in the band's video for "Sour Girl," posted a photo of herself with Weiland, captioned "#RIPScottWeiland your music will live and your demons will leave ? your #sourgirl."
In a brief conversation with The Times, Jamie Weiland, the singer's wife, could only say in confirming Weiland's death while sobbing, "I can't deal with this right now. It's true."
Weiland's demons were well known to anyone who followed the singer's successes. He had long acknowledged struggles with opiate addiction.
In "Not Dead & Not for Sale," his 2011 autobiography (with David Ritz), Weiland wrote at great length about the allure of the wild life when he was a rising artist: "I associated heroin with romance, glamour, danger, and rock 'n' roll excess."
"The opiate took me to where I'd always dreamed of going," he told Spin magazine in 2011. "I can't name the place, but I can say that I was undisturbed and unafraid, a free-floating man in a space without demons and doubts." A Times profile of the band in 1996 featured nearly as many quotes from his drug counselor as from Weiland.
Those flights took their toll throughout Stone Temple Pilots' first run. In 1995, he was arrested in Pasadena when police caught him with cocaine and heroin. He checked in to rehab soon thereafter. That would prove a pattern.
In the beginning
Weiland got his start as a rocker in Southern California — and met future Stone Temple Pilots bassist Robert DeLeo at a Black Flag show in Long Beach. Though known for harnessing hardened energy to create commercially palatable rock, Stone Temple Pilots gigged early shows at underground Hollywood spots such as Club Lingerie and the Whisky a Go-Go.
Released by Atlantic Records, Stone Temple Pilots' 1992 debut album, "Core," came out a year after Nirvana's "Nevermind" had rewritten the rules for commercial rock music. Where once Los Angeles was teeming with pop metal bands, a darker sound had hit, and Stone Temple Pilots entered with heavy chords and grim themes. "Core" has sold more than 8 million copies.
Like kindred spirits Alice in Chains, Soundgarden and Pearl Jam, Stone Temple Pilots preferred slow-tempoed incantations to the quick, hook-heavy hair metal of Motley Crue or the more structurally gymnastic Metallica. That so-called grunge scene was especially plagued with heroin. Before committing suicide, Nirvana frontman Kurt Cobain spent his last years wrestling with addiction; Alice in Chains singer Layne Staley died of an overdose in 2002. And tragedy struck Weiland newest band in March, when guitarist Jeremy Brown died at 34 of a drug overdose, just a day before the release of the Wildabouts' debut album.
"I was shell-shocked when the first album took off," Weiland told the Times' Lorraine Ali in 1994. "It was pompous to assume we were gonna be big stars, but I must have known something would happen because I didn't have a plan B."
Burden on the band
Turns out he did have another plan. The band made four more albums and toured arenas. But Weiland couldn't outrun the rumors. With each landmark came questions about his sobriety. The issues were taxing on the band too.
"You end up putting everything you have into wondering whether someone's going to be alive the next day," Robert DeLeo told the Toronto Star in 1997.
After acrimoniously splitting with Stone Temple Pilots in 2002, former Guns n' Roses members Slash, Duff McKagan and Matt Sorum invited him to join them on a post-Axl Rose project they were working on. Weiland said he was skeptical when he heard the demos — he thought they sounded too much like Bad Company. But playing onstage with them at an industry event, he said, he had second thoughts.
'Like a street gang'
"These guys attacked rock and roll like a street gang," he wrote of the band that became Velvet Revolver. "I liked their ferocity and … commitment." Weiland joined the band, and the result was the multiplatinum "Contraband." Velvet Revolver disbanded after their second album failed to make a commercial mark.
As a creator, Weiland never truly recovered from that split. He reunited with his Stone Temple Pilot bandmates for a tour and album, but the second act didn't go over as well. His solo material drew hard-core fans; his 2011 Christmas album is, well, certainly unique.
"I'm a tenacious drug addict," Weiland wrote with devastating clarity in "Not Dead." "I give it up and I don't give it up. I put it down and I pick it up. But I'm also a tenacious recoverer. I never quit trying to quit. That counts for something."
Staff writer Lauren Raab contributed to this report.
Follow me on Twitter: @liledit
FROM THE ARCHIVES:
Our 1996 article about Stone Temple Pilot's rocky path was, in part, a story about hope
Scott Weiland told us in 1994, "We always write our best music when antagonizing each other"
"I used to feel guilty about my success, but I'm over that now," said Scott Weiland in 1998
Get our L.A. Goes Out newsletter, with the week's best events, to help you explore and experience our city.
You may occasionally receive promotional content from the Los Angeles Times.