Mick Taylor helps Rolling Stones recapture glory days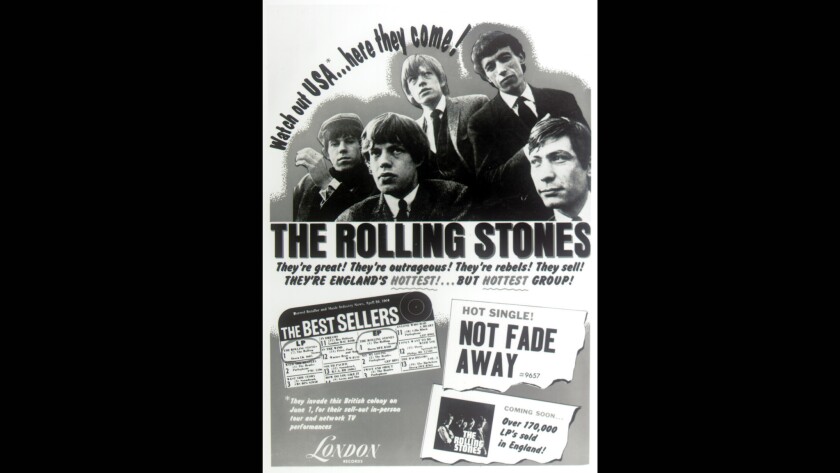 A Rolling Stones ad from May 1964.
(Courtsey of Michael Ochs Archive)
Mick Jagger at Madison Square Garden in 1969. This shot was used in 1970 film "Gimme Shelter."
(A Maysles Films Inc.)
Keith Richards in 1972 during the "Exile on Main St." tour.
(Ethan Russell / Kayos Productions Inc)
Mick Jagger during the sessions for "Some Girls."
(Helmut Newton)
The Rolling Stones' Mick Jagger appears with Bob Dylan at the induction ceremony for the Rock & Roll Hall of Fame.
(Los Angeles Times)
Mick Jagger's jazz hands at a 1994 San Diego concert.
(Los Angeles Times)
Keith Richards performing on the "Voodoo Lounge" tour in San Diego.
(Los Angeles Times)
Mick Jagger gestures to photographers as the band arrives in Germany for its "Bridges to Babylon" tour.
(Associated Press)
Mick Jagger and Keith Richards embrace in New York while announcing the band's 2005 tour.
(AFP/Getty Images)
Mick Jagger is seen in Tortonto in 2005 before the start of the band's "A Bigger Bang" world tour.
(Associated Press)
If you liked the way the Rolling Stones sounded back in the late 1960s and early '70s -- darker and bluesier than more recent conjurings -- you have a chance to hear that signature growl once again.
The Stones' 50 & Counting tour, which returns to Southern California for three shows starting Wednesday at the Honda Center in Anaheim, pays tribute to those years with no-nonsense renditions of songs such as "Midnight Rambler," "Sympathy for the Devil" and "Gimme Shelter."
It starts with the gear. Guitarist Ron Wood is usually seen with a Fender Stratocaster, but for the concert at the MGM Grand Arena in Las Vegas on Saturday night, he frequently turned to a Gibson Les Paul, with its heavier rock rumble.
Keith Richards still favors his Telecasters, but for key moments -- including his shrieking leads on "Sympathy" -- he switched to a battered Les Paul Jr.
PHOTOS: The Rolling Stones celebrate 50-years
But nothing brings back that classic hard-rock Stones sound like the man who sits in with the band for a song or two: Mick Taylor.
Taylor played lead guitar on what many consider the Stones' three greatest albums -- "Let it Bleed," "Exile on Main St." and "Sticky Fingers" -- before quitting over his perceived lack of songwriting credit.
A virtuoso guitarist, Taylor has the chops to take a song far beyond what's written down in the lead sheets. It's hard to imagine "Wild Horses" being quite so poignant without Taylor's haunting solo. On the Stones' 1970-released live album, "Get Yer Ya-Ya's Out!," Taylor's bluesman's skill at improvisation is on full display, enabling the band to transform "Midnight Rambler" and "Sympathy for the Devil" into tunes quite different than the studio recordings.
Taylor hasn't stayed lean like his former bandmates, but when he plugged in for "Midnight Rambler" in Las Vegas, it was clear that he still had his touch. You watch him play because you don't know where he's going next, but you know it's going to sound great.
Give credit to Richards, Mick Jagger, Charlie Watts and Wood for bringing Taylor back for this tour. The Stones don't really need him; they're a monster touring act that can sell out arenas on their own.
But this particular rock corporation started off as a humble blues band. When Taylor takes the stage, however briefly, we can truly see back 50 years to the band's roots.
ALSO:
Rolling Stones invade Echo ParkThe Stones in Las Vegas: A step back in time
PHOTOS: The Rolling Stones through the decades
---
Inside the business of entertainment
The Wide Shot brings you news, analysis and insights on everything from streaming wars to production — and what it all means for the future.
You may occasionally receive promotional content from the Los Angeles Times.