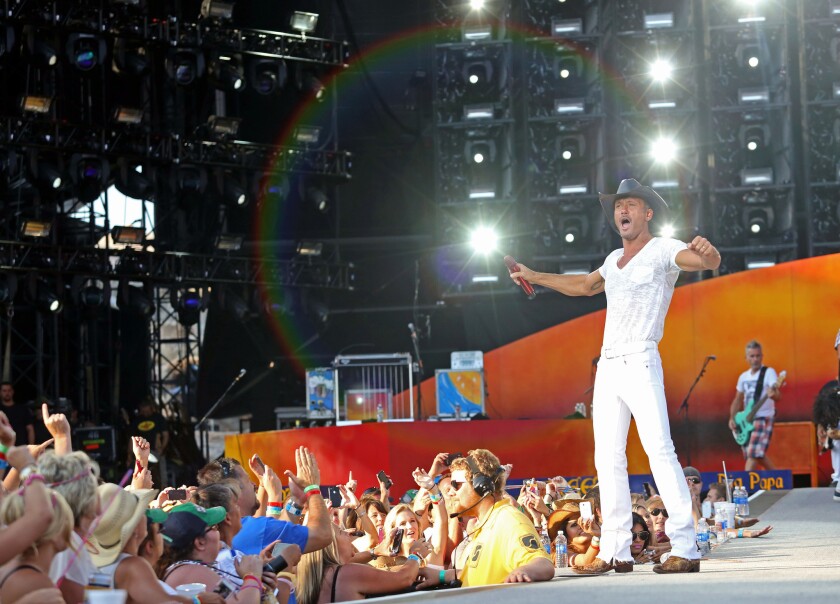 With only days before the Country Music Assn. Awards are handed out on Thursday, the Nashville publicity machine revved to life Tuesday with news of upcoming albums by two of the genre's A-list stars: Tim McGraw and Darius Rucker.
"Two Lanes of Freeedom," due out on Feb. 5, will serve as McGraw's first full-length for Big Machine Records (a.k.a. The House That Taylor Swift Built) following a two-decade run with Curb Records; that label released the singer's most recent album, "Emotional Traffic," in January.
"I always go into the studio to make the best record I can possibly make, and this one is no different," McGraw said in a statement. "But 'freedom' is a powerful word. To come into a situation where there's some weight lifted, some refreshment going on, you can feel that in the music. I think you can feel the horses gallop on this record, and where I might go and what I might do when my engines are revving."
We don't doubt the engines, at least: In July the singer put out a single titled "Truck Yeah," which you can hear below. McGraw is set to perform another new tune, "One of Those Nights," on the CMAs, where his and Kenny Chesney's "Feel Like a Rock Star" is nominated for Musical Event of the Year.
Among the competition in that category is Rucker and Lionel Richie's version of "Stuck on You," from Richie's recent set of country duets, "Tuskegee." "Stuck on You," if you were wondering, gets our vote.
Previously best known as the frontman of frat-rock faves Hootie & the Blowfish, Rucker will issue his third country album, "True Believers," on Jan. 22. It follows 2010's "Charleston, SC 1966," which produced a pair of No. 1 hits in "Come Back Song" and "This," as well as a totally excellent song about suburban romance called "Might Get Lucky." (Listen to the new disc's title track below.)
"For this album, we really paid attention to what our friends and fans were telling us on the road," Rucker said in a statement. "The result is an album that I'm so proud of because my fans really have been the true believers since I released my first single to country radio."
Truck yeah, friends and fans. Truck yeah.
ALSO:
Review: Bob Dylan at the Hollywood Bowl
Gary Clark Jr. plays every shade of the blues
Review: Kendrick Lamar roams Compton in 'good kid, m.A.A.d city'
---