Review: Van Morrison: Reveling in music and life at the Shrine Auditorium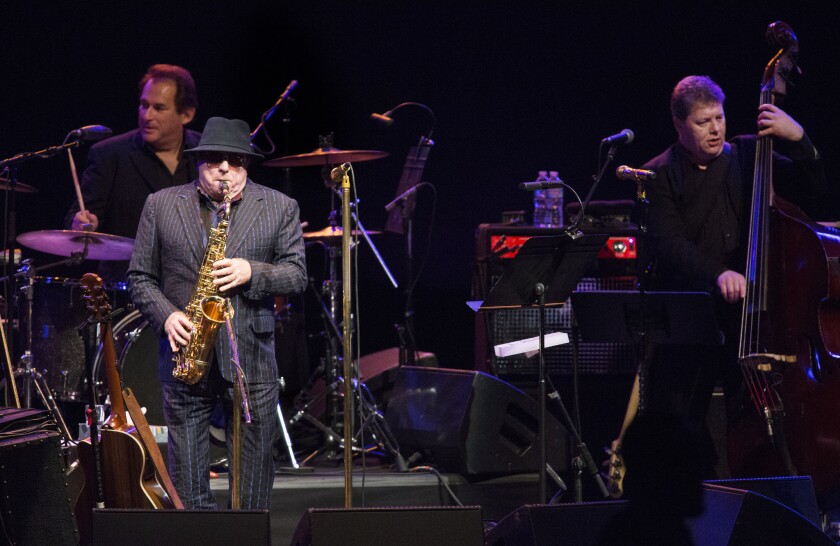 At the end of a week that began for many pop music fans with feelings of shock and loss at the death of David Bowie, another widely esteemed musician arrived in Los Angeles with a performance that reminded us why we value and feel so deeply connected to certain artists.
Van Morrison, who turned 70 in August, is less than two years Bowie's senior. Yet the singer and songwriter from Belfast, Northern Ireland, may seem more the elder statesman because he came into the public eye with his band, Them, during the early part of the British Invasion, well before Bowie's presence began to be felt.
Join the conversation on Facebook >>
His first of two shows this weekend at the 6,300-capacity Shrine Auditorium on Friday, launching a new U.S. tour leg, was a masterful exploration of music as something that reaches deeper than what is measured by sales charts.
The Rock and Roll Hall of Fame member, of course, has had his fair share of songs and albums that clicked commercially earlier in his career, and he dolloped several of those into his 105-minute show.
But it was as though he used hits of yore -- including "Moondance," "Wild Night," "Brown-Eyed Girl" and "Baby Please Don't Go" -- as bait to pull the packed audience to the deeper album tracks spanning half a century of his writing, recording and performing that served as the emotional and spiritual core of his show.
Morrison opened, in front of a tight, jazz-rooted, five-member band -- keyboadist-trumpeter and musical director Paul Moran, guitarist Dave Keary, bassist Paul Moore, drummer Robbie Ruggiero and singer Dana Masters -- blowing his alto sax on the instrumental "Celtic Swing."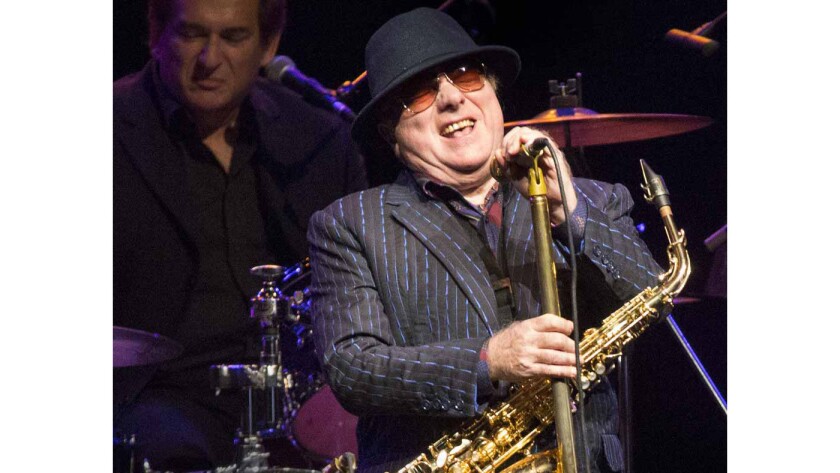 From there he took on a variety of roles: lead singer, harmonica player, rhythm and, occasionally, lead guitarist.
His rendition of "And the Healing Has Begun" was particularly comforting for those still feeling raw about Bowie's death, as Morrison sang about the restorative power of music:
And we'll walk down the avenue again
And we'll sing all the songs from way back when
And we'll walk down the avenue again
And the healing has begun
As he often does in concert, he used the basic framework of his recorded versions of songs as a springboard to in-the-moment vocal and instrumental exploration. He opened songs up, riffed and extemporized, marrying the technical dexterity of a seasoned jazz musician with the emotional acuity of a veteran blues artist.
He reached beyond his own extensive song catalog to assay "Sometimes I Feel Like a Motherless Child," hewing closer to Paul Robeson's version than to the Richie Havens rendition more familiar to those who grew up in the age of Woodstock.
He reworked even his own most familiar songs, not in the frequently unrecognizable way that Bob Dylan often re-imagines his classics, as if consciously defying fans to sink into mechanical singalong mode, but to make them relevant to who he is now.
In place of the bouncy R&B lilt he originally came up with for "Brown-Eyed Girl," he recast it this time with a decided jazz swing rhythm. "Moondance" also veered even more into jazz than his recorded version with inventive yet smartly straightforward sections he played on his alto sax in tandem with trumpeter Moran.
Perhaps the most illuminating new version of one of his signature songs was his approach to "Baby Please Don't Go." When he recorded it in 1964 with Them, when he was in his late teens, it was a forceful, desperate plea from a young man on the verge of adulthood.
Fifty years later, he sang Joe Williams' blues standard with a vastly more restrained yearning, a wish filtered through the acceptance that comes with the experience of knowing that life sometimes has something else in store than what we have in mind.
Morrison's daughter, singer Shana Morrison, joined him briefly mid-set for a spirited arrangement of "That Old Black Magic" that seemed inspired by the Louis Prima-Keely Smith version. At one point, Morrison sang one of his lines, casually flicked his thumb in his daughter's direction for her to pick up the song from there. It was a joyful moment of father-daughter communication, the master seeming to challenge her to "now show me what the student has learned."
The pièce de résistance was his performance of "It's All in the Game," an early 20th century melody written by future U.S. Vice President Charles Dawes, given lyrics in 1951 by songwriter Carl Sigman and popularly recorded in 1958 by Tommy Edwards.
SIGN UP for the free Essential Arts & Culture newsletter >>
Morrison's version has little in common with Edwards' lovely but relatively straightforward performance. Morrison uses it almost as Buddhists use "om" as a chant to help them connect with a higher realm.
He stretched each line, twisting, turning, repeating words and syllables, so when he reached the line "and your heart will fly away," Morrison led listeners with him along his transcendent path.
It wasn't, however, as if Morrison, who returns to the Shrine Saturday night, spent the night with his head in the clouds. For an artist who is notoriously prickly, who has often spent time on stage tongue-lashing band members when they didn't deliver what he had in mind, Morrison was in an uncommonly jocular mood, making quips to the audience and to his fellow musicians.
All in all, Morrison's performance was a thoroughly invigorating celebration of music, and by extension, of life that arrived just when many of us needed it most.
Follow @RandyLewis2 on Twitter. For more on Classic Rock, join us on Facebook.
MORE FROM MUSIC
Beatles step aside for David Bowie on weekend radio show
Kelly Clarkson, other 'American Idol' winners to appear throughout final season
David Bowie's 'Blackstar' farewell flanked by 'Strung Out' and 'Ace of Dance' requiems
---
The complete guide to home viewing
Get Screen Gab for weekly recommendations, analysis, interviews and irreverent discussion of the TV and streaming movies everyone's talking about.
You may occasionally receive promotional content from the Los Angeles Times.