Sunday Conversation: Since 'Loot' in the '60s to 'John Wick' today, Ian McShane still loves what he does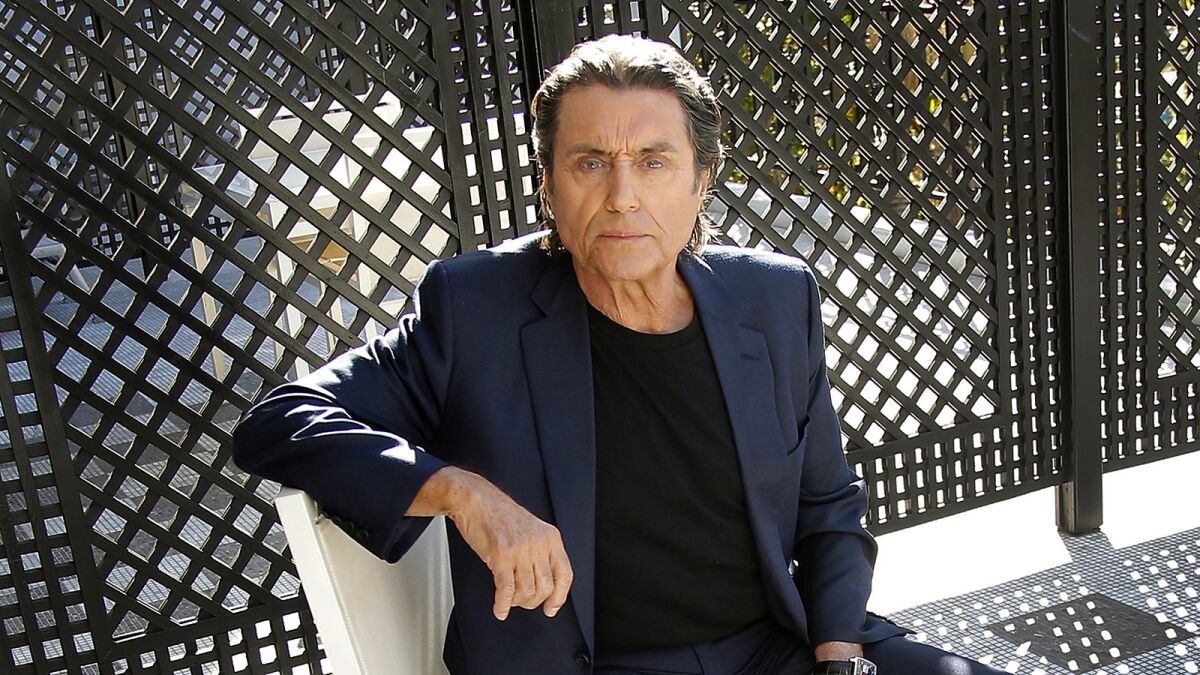 British actor Ian McShane has created a gallery of fascinating characters, including the title role of "Lovejoy" in the 1986-1994 BBC series about a rascally antiques dealer; Emily Bronte's brooding Heathcliff in the 1967 British series "Wuthering Heights," Judas Iscariot in the 1977 miniseries "Jesus of Nazareth"; and most notably as Al Swearengen, the vile, violent yet brillantly charismatic saloon owner in HBO's 2004-2007 western "Deadwood," for which he won the Golden Globe.
In the 2014 hit "John Wick," McShane introduced the charmingly mysterious Winston, who operates a swank New York hotel inhabited by assassins including the ace hitman Wick (Keanu Reeves). McShane and Reeves return along with director Chad Stahelski and screenwriter Derek Kolstad in "John Wick: Chapter 2," which opens Friday. . The action-thriller also stars Common and Laurence Fishburne.
Despite recovering from recent rotator cuff surgery, McShane, 74, is in good humor discussing "Wick" and his long career over lunch near his home in Venice Beach.
You have been working professionally for 55 years. It must have been so exciting to be a young actor in London in the 1960s.
Looking back, you think, there was so much to do. The dawn of great TV was in the 1960s. There was a lot of good stuff. I did the original "Loot" with [actor] Kenneth Williamson.
Joe Orton's second play. Did you get to know Joe?
He was a good friend of mine. Joe and I used to go out drinking after the show all the time. Joe was charming and funny.
You also were just in your 20s when you played Ava Gardner's love interest in 1970's "Tam Lin," the only film directed by Roddy McDowall. What was it like working with her?
She was great. Had a great time with her. Became friends with her. Ava was a one-off. She's one of those women who went her own way regardless without her having saying "I'm going own way." She was just a force of nature — which is why so many men went crazy about her because they couldn't control her. She was not that kind of woman.
Keanu Reeves returns as the lead character in "John Wick: Chapter 2."
Now you're reprising your role in "John Wick: Chapter 2." Your character of Winston is so much fun because he is so mysterious, running the Continental Hotel that caters to assassins with the caveat that they don't bring their business to the facility. And he almost has a paternal relationship with John Wick.
He's got a soft spot for John. The director Chad is real smart. Chad can make a movie. All the action I thought was beautiful. I think the writer knows what he's doing. Keanu, he's one of the nicest guys you'll ever meet. He's regular, good, conscientious, terrific. It was like working on the first one, which was a pleasure, except they had more money on this one!
How were you cast in "Deadwood"
"Sexy Beast" had been around. It was hugely popular. Two people from HBO came to England and said, will you come across and do this? I said, no, I don't want to do an American series. I said I really didn't. Well they just said, it's HBO and it's David Milch and it's Walter Hill. So I came out and the rest is that.
I was re-watching a scene from "Deadwood" on the Internet and you just embodied the role of Al Swearengen. That was an extraordinary series.
It was fantastic. It was all meticulously scripted. David Milch is the best producer I've ever worked with in my life. He knows his [stuff]. The three years we did was the most creative time of my life. It was like doing a workshop of theater and a TV series at the same time.
In what way?
Because there were all standing sets. You didn't have to go anywhere, no locations. So he could do what he wanted. [The schedule] would be worked out every day and if he didn't like it they would rewrite in the afternoon. You could add and change stuff. It was like while he was processing it, you were doing. Whereas I just finished the show "American Gods." …..
That's the Neil Gaiman series?
Which is coming out on Starz in April. Big big show. Eight episodes. Part of the problem was we had no standing sets. It was like a road movie for the first four episodes — it's all on the run.
Where did you shoot it?
Toronto and Oklahoma. It's about the old gods coming back and taking over new gods. I play Mr. Wednesday, who is really Odin, god of all gods, but he's portrayed in the book as this sort of con man He's getting all the old gods back together to fight the new gods. We've got Cloris Leachman, Peter Stormare, Crispin Glover. I get a love scene with Cloris Leachman.
Cloris Leachman? She's 90 years old!
What more can you ask for? She's a very old god, but she's great. How lucky to be in a profession that you only get better at and more respected for the older you are, because anything else, they'd have kicked you off a long time ago.
I know you played soccer as a kid.
I love football, soccer as you call it. My dad was a pro. You know very early if you're athletic in any way, which I was, and if you are up to a level and I never was. When I was 10 or 11 years old, kids could really play.
So when did you decide to go from soccer to acting?
I had a teacher at school who did a a couple of plays and he said, you are going to play a part. All I know is when I did the plays at school it felt very comfortable when I'm up on stage. It's like you know what you're doing. Everything clicks in place.
---
Get our L.A. Goes Out newsletter, with the week's best events, to help you explore and experience our city.
You may occasionally receive promotional content from the Los Angeles Times.