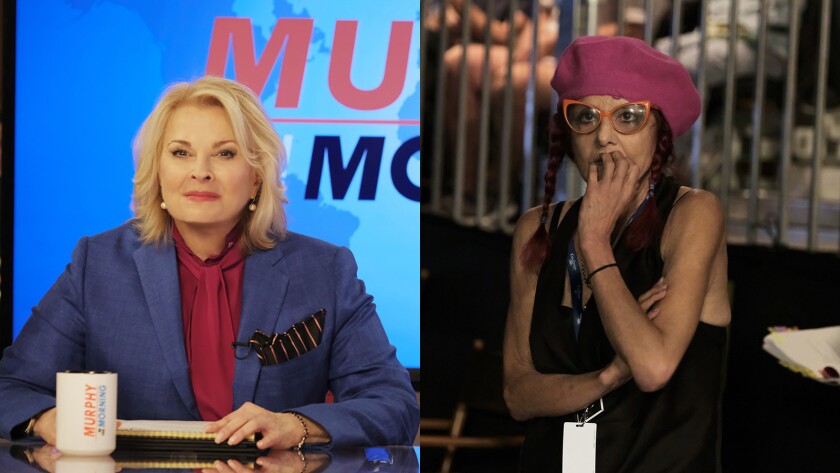 Reporting from New York City —
Pant suit nation has a new standard bearer. Hillary Clinton may have faded from public view, but another formidable septuagenarian has arrived to take on haters, dividers, enemies of liberty and a free press.
"Murphy Brown" is back, with proof that you can have both comfort and style.
During its original run, from 1988 to 1998, the show was not just a caustic political comedy but also a fashion trend-setter. No surprise, considering the star was Candice Bergen, former model, friend to Armani and Ralph Lauren, who could make a plain white open-collar shirt and khakis look runway ready. In the era of the power suit, A-list journalist Murphy Brown rocked bright-colored suits and vintage pins and brought both pussycat bows and statement necklaces to the TV workplace.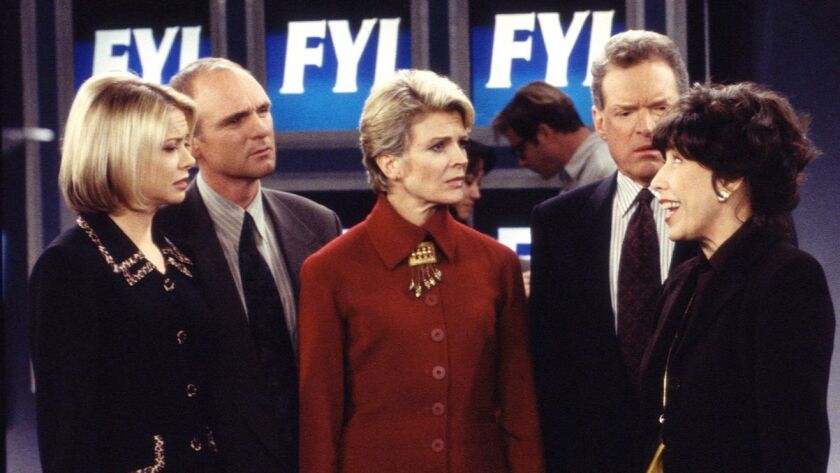 RELATED: If the most anticipated show of the fall revolves around a woman over 70, it has to be 'Murphy Brown' »
She's 30 years older now, and that iconic red suit may or may not have been banned from the set of the new 13-episode return, but Murphy's style is still a statement.
"When she was on air," said creator Diane English, "Murphy was always in a pencil skirt and jacket and very high heels. Now she's older, the clothes and the shoes are more comfortable. We brought Pat on because we wanted to kick it up a notch."
"Pat" is Patricia Field, the stylist behind such minor fashion incidents as "Sex and the City," "The Devil Wears Prada" and "Ugly Betty." She had worked with Faith Ford (who plays Corky Sherwood on "Murphy Brown") on the ABC comedy "Hope & Faith," and when Ford suggested she join the "Murphy Brown" crew, both English and Field said yes.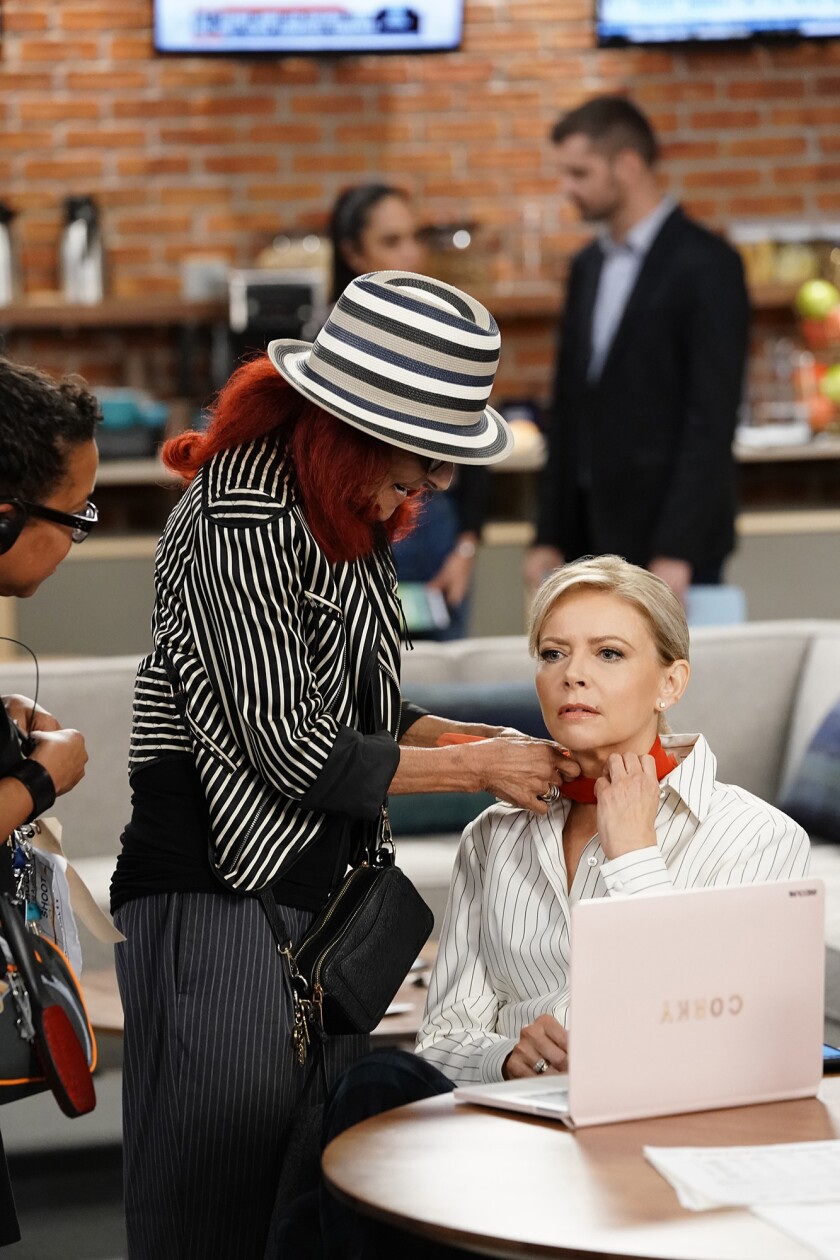 "I love sitcoms," Field said from beneath a broad-brimmed red hat, which is exactly the same shade as the sequins on her jeans, as she sat at a small table outside Kaufman Studios in Astoria, Queens. "The actors understand theater, because they are shooting whole scenes, like theater. With one camera, it's stop and go and stop and then you put it together like a jigsaw puzzle. Five cameras, everything is done on stages. Which means no trucks, no shots in the middle of the night or the middle of winter, no rain, no 6 a.m. calls, no mud… there aren't very many sitcoms shot in New York. But I love them."
She didn't pore over old episodes, because that was not the point: "My thing is to bring it up to now, not return to the show as it was. Candice Bergen has a delivery and an attitude that's timeless," she said, "and that's a big plus. Candice likes suits, I want to broaden it a little bit. Like, I was told first thing, 'No red suits.' But," she added with a laugh, "I did just find a very nice red suit."
She said she put Joe Regalbuto in dark colors to give his character, Frank, "an Italian vibe" and gave Murphy a kimono for a scene at home, and a gray sweater "to soften things a little."
For the original show, Bergen did much of the styling herself. Murphy's new style, and her new stylist, has taken some adjustment.
"You had a lot to say about the clothes," English said to her in a separate conversation about Murphy's look later that day.
"Not so much with Pat," Bergen said, laughing."Oh, but it always ends up fine," English said. "There are some really nice things, especially in the home scenes. I took those shark pajamas Murphy wore."
"The top was mine, by the way," Bergen said, laughing harder as English exclaimed in dismay. "I brought it from home."
Change is hard, and not just for the actors. Ford's character, Corky, always wore dresses or skirts, but when they started trying on wardrobe, "Pat had pants. Diane said, 'Corky doesn't wear pants.' And I said, 'Hmmm, maybe she does sometimes.'"
"Yes," English confirmed, "in the new show, we will see Corky in pants."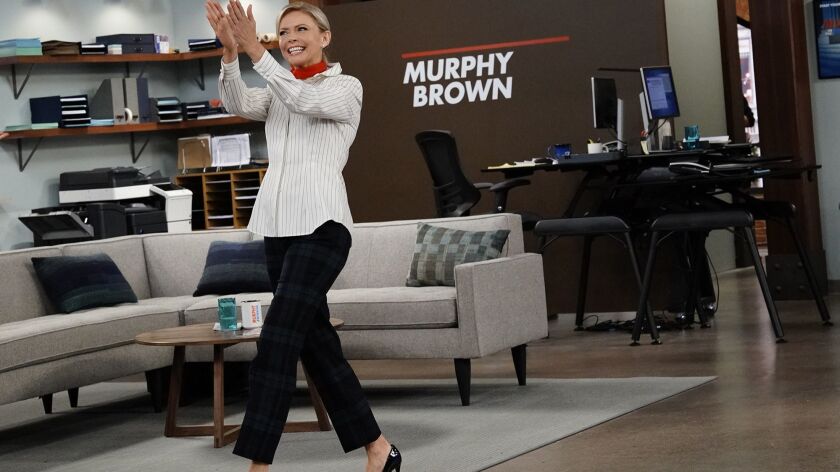 FULL COVERAGE: 2018 fall TV preview »
---